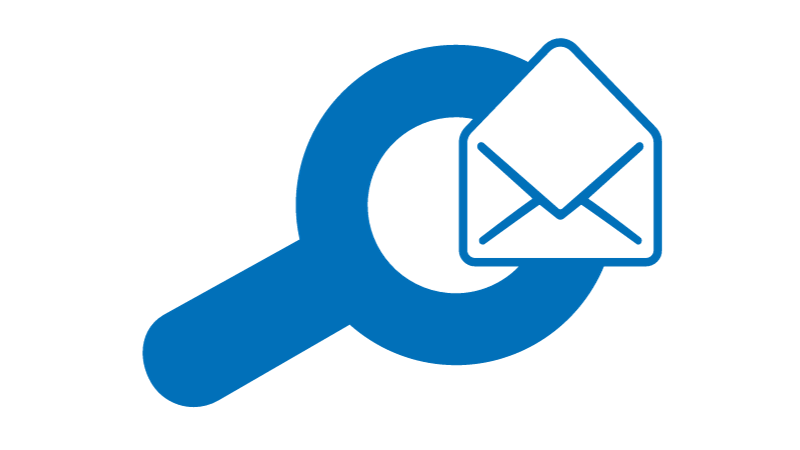 Over 4.3 billion people use emails, and there's no doubt that email communications have become abundant.
We know that you get a lot of emails every day. Some of them might be from email addresses you don't recognize. When you see an unfamiliar email in your inbox, you naturally want to know who sent it.
Therefore, this is where you can use an email reverse lookup tool to find information about unknown senders.
What is Reverse Email Lookup?
Reverse Email Lookup is a process that lets individuals and businesses track the origins of an email address—information like location, phone number, company name, social media handles, and much more.
Much like the reverse phone lookup back in the day, where we used phone directories to get information about a random phone number.
Reverse email lookup tools do the same thing. Once you enter an email address, these tools will search online directories to find the information related to that email.
We're sure, you might be wondering. In a world, where people are paying for email lookup tools. Why would someone use reverse email lookup tools?
The answer is simple, but the reasons are many:-
1) To verify the authenticity of an unknown email sender in the inbox and to avoid yourself from any online scams and phishing attacks.
2) To reconnect with an old friend whose only source of contact is the email ID that you have
3) Business inquiries (or) pitches that land in your inbox. Reverse email search helps to know about the details before you start doing business chat with a random email
4) To enrich the email of your customers who subscribed to your newsletter
5) Trying to find any criminal records and bankruptcy details of a person for background verification
And more
Hence, for all those exact reasons, there are plenty of reverse email lookup tools are available in the market.
9 (Free and Paid) Best Reverse Email Lookup Tools in 2024
You should know that reverse email search is not just a process, it's a gateway to a more informed and secure online experience for email users.
Currently, several methods and tools exist to do a reverse email lookup. Some of them are free, and some of them are paid. With free tools, you can get limited information about your email entities, whereas with paid tools, you get access to additional information about an email address.
This section lists all the free and paid tools possible to do a reverse email lookup search.
1) BeenVerified (Paid Service)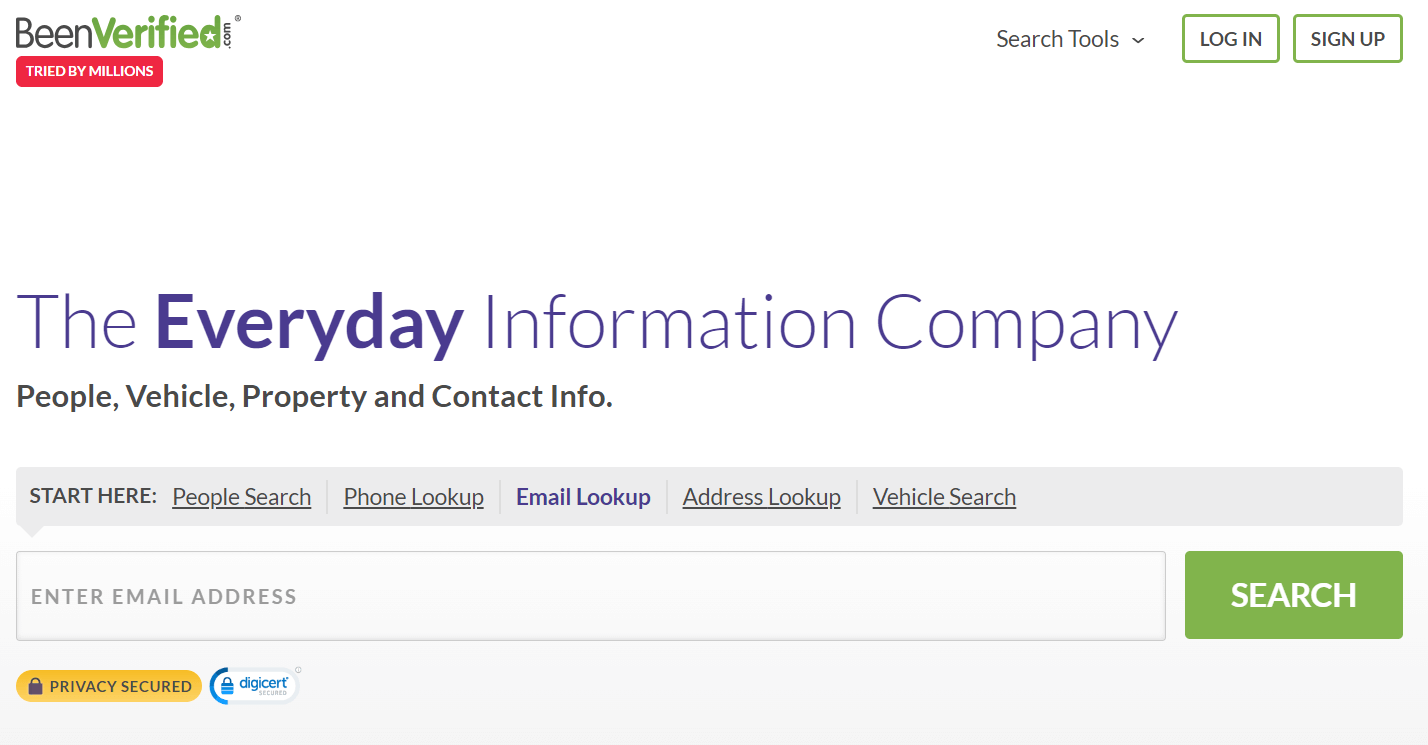 BeenVerified is a comprehensive platform offering a range of search tools, including the "Reverse Email Lookup" feature.
The platform also offers Reverse Phone Lookup, Address Lookup, Vehicle Search, People Search, and more. Indeed, there's no denying that this one tool stands at the top of our list of 'Best Reverse Email Lookup Tools.'
However, that being said, you need to keep in mind laws such as Fair Credit Reporting Act (FCRA) when it comes to how you can use the information you obtain from a reverse email lookup tool like BeenVerified.
For example, you cannot use it to check someone's employment history, check educational qualifications, steal an Identity, do tenant screening, and check for any existing credit obligations.
Apart from that, if you want to use BeenVerified, here are the pros and cons:
Pros:-
1. Comprehensive Analysis: BeenVerified provides detailed information (reports) by sifting through vast public records. Usually, these reports will include data like property records, criminal records, vehicle records, and other personal details
2. Versatile Use: Useful for online dating, looking up your caller, reconnecting with old buddies, and understanding online sellers.
3. User-Friendly: Simple and intuitive platform design.
4. Broad Database: Access to extensive databases for high success rates.
5. Confidential Searches: Ensures the person being searched isn't notified.
6. Positive Reviews: Many users have shared favourable feedback. Check their reviews here.
7. Customer Support: Provides live assistance for users.
Cons:-
1. Accuracy: Information might not always be up-to-date. However, it's the best in the market compared to most tools on this list. Also, data is exclusive to the United States
2. Not free: BeenVerified doesn't offer a free reverse email lookup. Also, it doesn't offer a one-time payment option, you have to choose its monthly subscription.
3. Report Cap: Limited to 100 reports per month.
4. Not FCRA Compliant: Can't be used for employment or tenant decisions.
2) Reverse Contact (Free & Paid)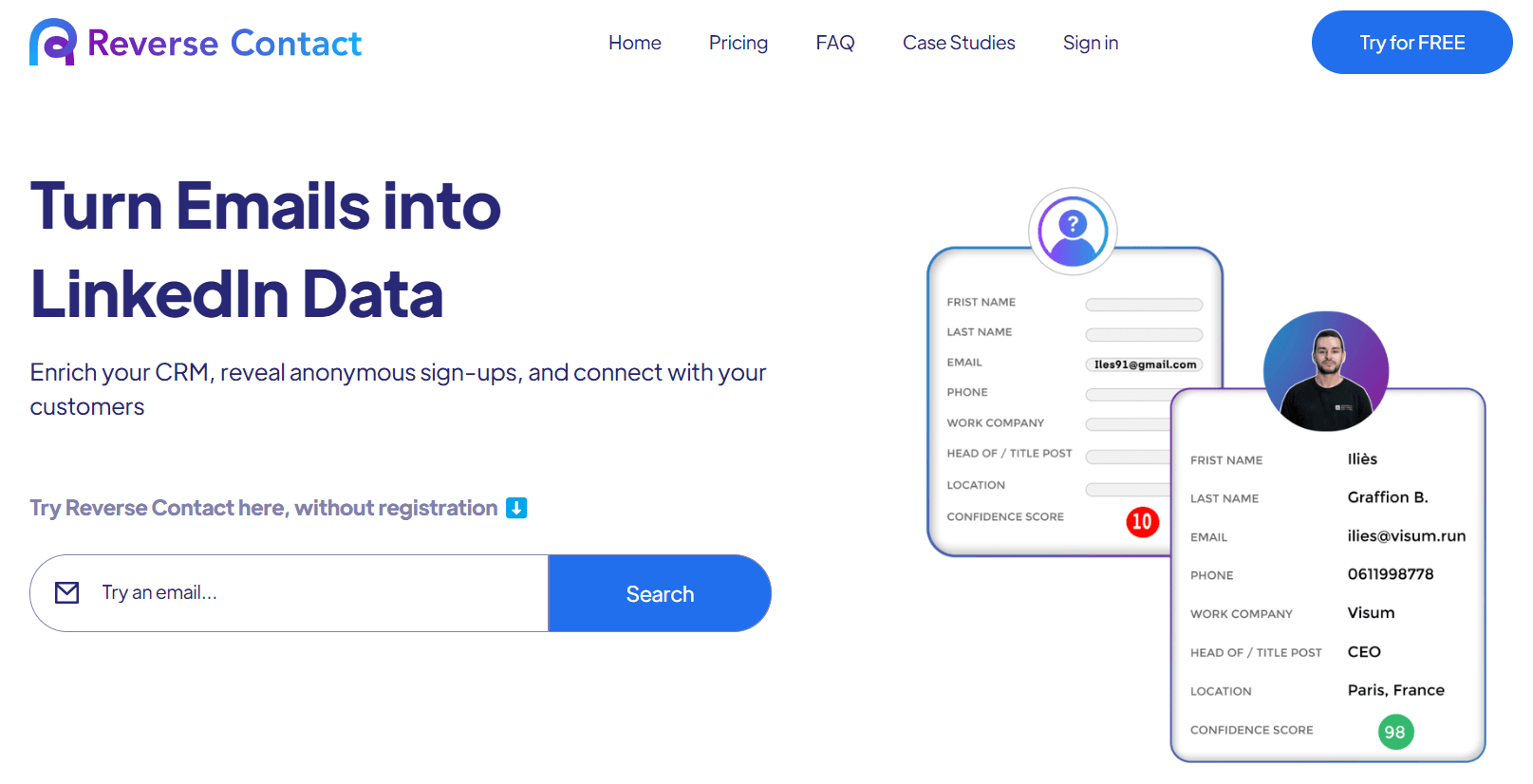 Reverse Contact is probably the most advanced tool on this list. What separates this tool from the rest is that it is specifically designed for businesses to enrich their data from emails, which is nothing but gathering information from email addresses.
But unlike the tools in this list where people manually use reverse email lookup to gather/check information of an email. Using Reverse Contact, you can perform multiple searches simultaneously, which is excellent for businesses who want to enrich their data in bulk.
Also, you can integrate it with your own CRM tool to perform a seamless data enrichment process of 10,000+ email IDs. This results in in-depth customer profiles, leading to a tidier pipeline and a significant boost in your marketing campaigns.
Masteos, a rental investment agency shared in their case study how Reverse Contact helped them enrich their 74k+ Contacts. This enabled them to elevate their profiling process, advertise more precisely, and save significant time for the business.
However, if you're not a business and want to do reverse email lookup manually, you can use their free 20 credits to find the information you need for your anonymous emails.

Note:- Similar to data enrichment if you're looking to enrich your leads for your business and want to qualify your leads based on your customer personas. Then using LeadBoxer, can help your business sort out those leads who have interests to buy from you and it can integrate with your CRM too. Check our case studies here.
Pros:-
1. Comprehensive data enrichment: Reverse Contact provides the same information, such as phone numbers, social media profiles, and possibly physical addresses too. You can leverage this data in your marketing and sales campaigns.
2. Versatility: The primary use case of this tool is for businesses. Businesses of any size and sector can use this tool.
3. High Enrichment Rate: Forest Admin one of their users, got access to 72% enriched emails within their database as they used Reverser Contact. Which meant a ton of opportunity for them.
4. CRM Integration: It seamlessly integrates with CRM systems like Hubspot, Pipedrive, Salesforce, and others, helps in streamlining the workflow for sales and marketing teams.
5. Customer Profiling: Companies can build detailed customer profiles by enriching the data from the set of emails, which is crucial for personalized marketing and customer service.
Cons:-
1. Potential Privacy Concerns: There might be privacy concerns when dealing with personal information, which businesses need to handle responsibly.
2. Learning Curve: Initially, businesses may face a learning curve in understanding how to best utilize this tool for their needs. Hence the 'learning curve'.
3. High Subscription Cost: Their monthly subscription starts at $99. For $99, you get 2000 credits per month.
4. Limitations in Data: If the email addresses are not linked to public profiles or if the users have a limited digital footprint, you won't be able to get their information from an email address.
3) Google (Free)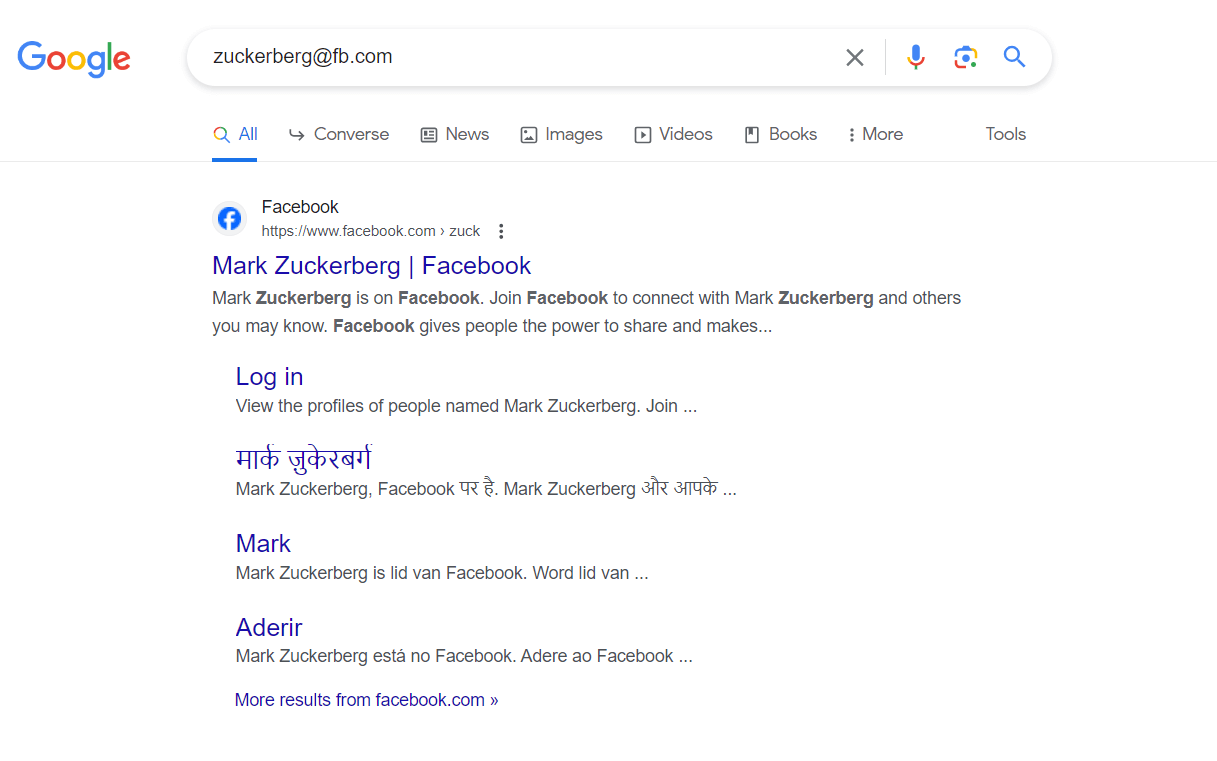 Definitely not a tool, but 'Google' is the best way to find information with reverse email lookup. You can simply paste the email address on Google Search bar to know the person's details.
If email ID isn't good enough to give you some search results, you play around with search operators like Firstname last name" + "@gmail.com, Firstname + @gmail.com.
However, the problem with using Google as one of the free reverse email lookup services compared to others is that search engines can only generate results on public platforms like online directories and social media platforms. Not private databases unlike some of the paid tools in this list.
Also, one problem with using Google, which other paid tools take care of, is that the person behind the email might have ways to know if their email is being searched for, especially if they have set up alerts.
In other paid tools on this list, the search is confidential, and you should know that they skim through a load of online and offline directories to give you all the details behind a random email.
Just like Google, you can use social media sites like LinkedIn, Twitter, and Instagram to do a reverse email lookup and find the social media handles of your email sender.
4) Spokeo (Paid)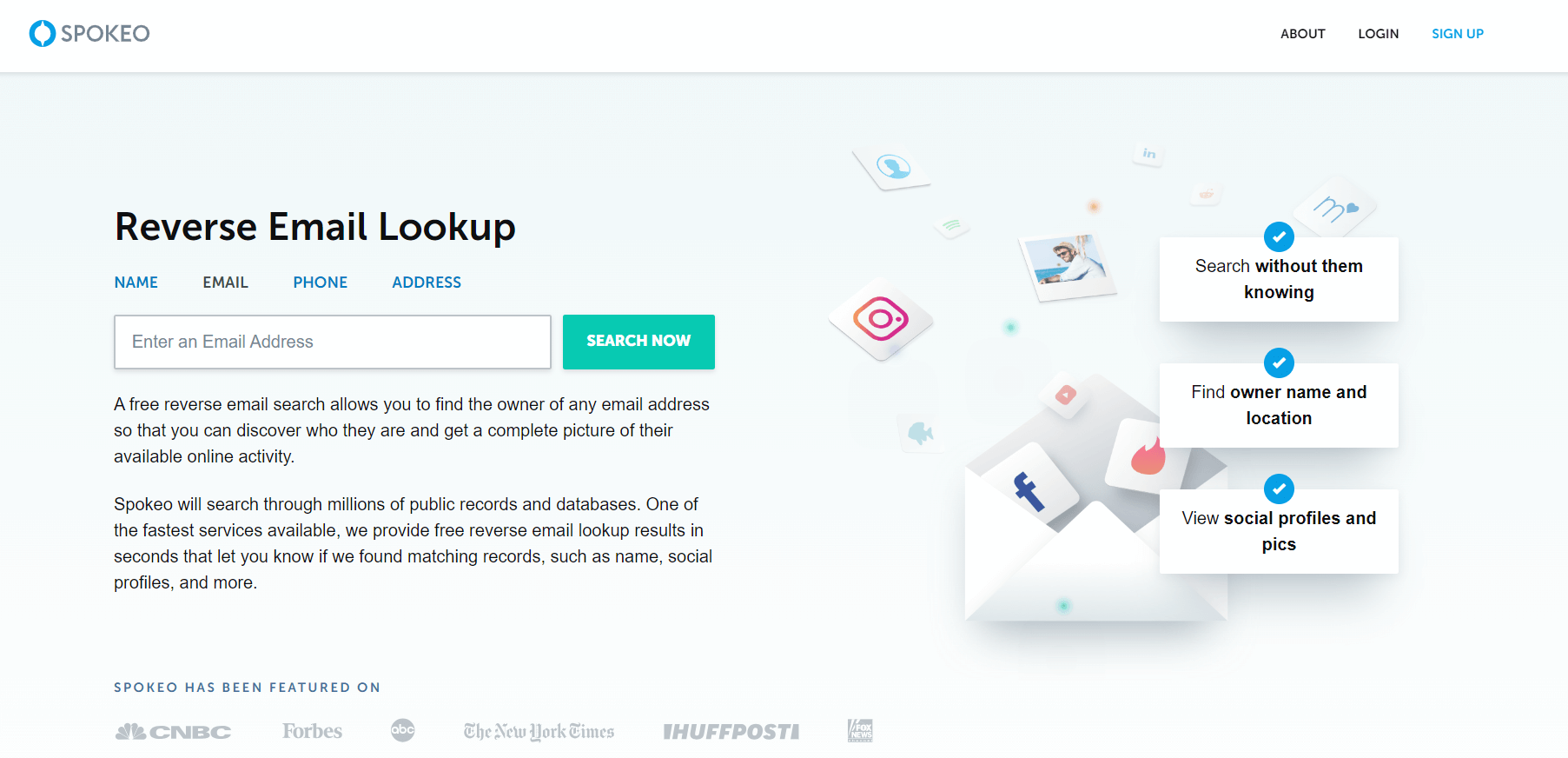 Spokeo, as a tool, answers 500k searches per day. With over 12 billion records, Spokeo can provide you with phone numbers, location history, photos, social media accounts, family members, court records, work information, and much more.
Apart from the reverse email lookup search, Spokeo offers name search, phone search, and address search. You can use these tools on your desktop and even via an IOS app.
Spokeo's commitment to transparency and trust is reflected in its community efforts, including supporting individual volunteers, nonprofit organizations, and education through scholarships and technology donations.
Pros:–
Easy to Use: Spokeo is user-friendly; all you need to do is paste your email address in the search bar
Comprehensive Search Data: It scans over 120 social sites for real-time user data, which includes dating sites, blog posts, and product reviews, amassing over 12 billion records to cross-reference.
Manual Lookups: The service is geared towards manual lookups, which can be beneficial for detailed fraud investigations and background check-ups.
Cons:-
No Automation: Spokeo does not provide automation, which means each search has to be done manually. Hence, you won't be able to do reverse email lookups in bulk unlike in Reverse Contact.
Tiered Pricing (not free): Spokeo offers three-tiered Pricing with custom plans, starting at $19.95 for 100 monthly searches.
Limited Searches Per Month: Depending on the plan, there is a cap on how many searches can be performed each month, which could be restrictive for some users.
Spokeo is a simple tool that prioritizes the depth and comprehensiveness of data over automation and high-volume search capabilities.
No need to mention that it's best suited for people who require detailed background checks of their email and are not annoyed by the manual nature of the search process.
5) People Looker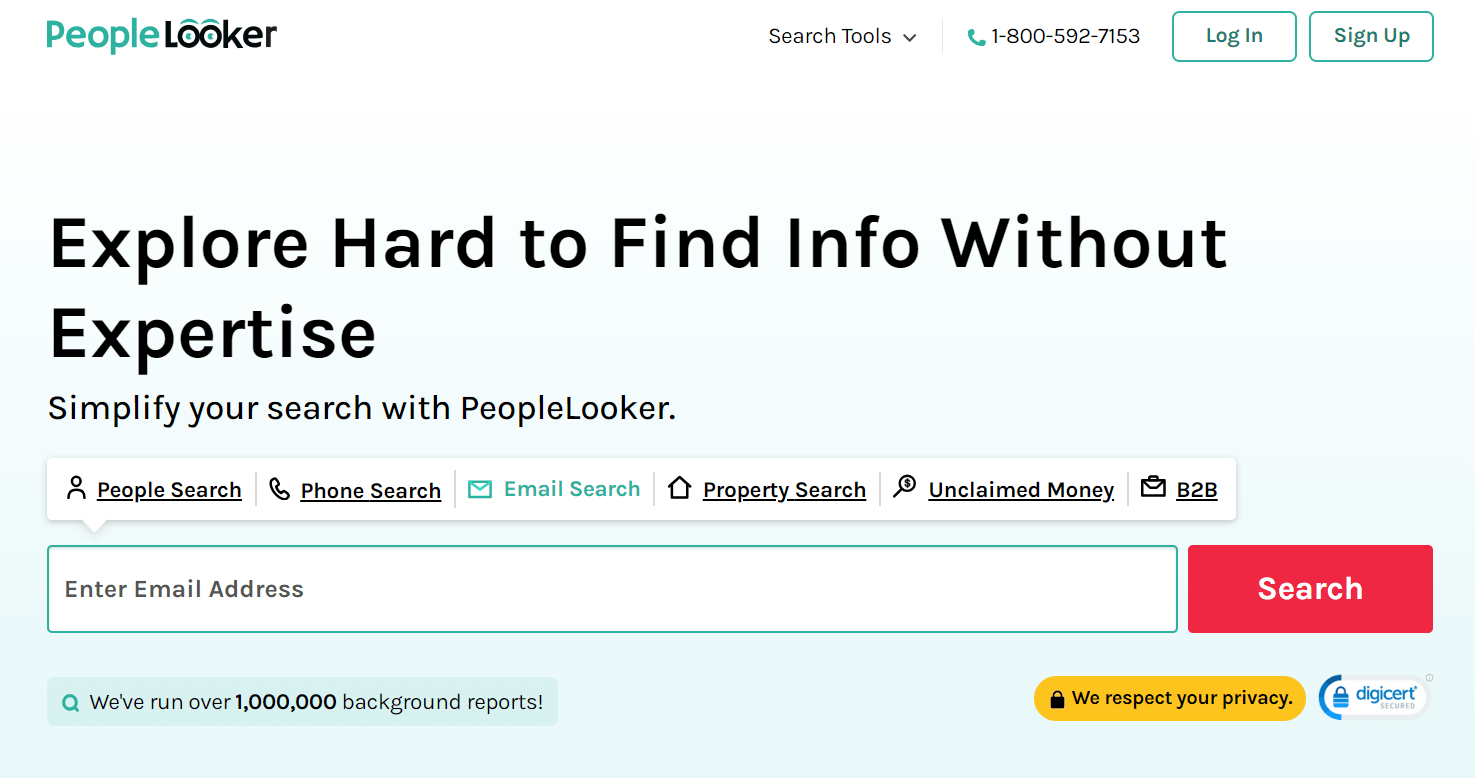 People Looker is another promising email reverse lookup tool where you can simply enter a name, address, or phone number to get the desired details.
Assume you're in an email chain where your old friends have gathered to discuss someone's bachelorette or a possible reunion. In case you cannot recognize your old buddies from their emails. Then, you can identify them all by a reverse email search on People Looker.
Just like Better Verified, the information provided by this tool is not to be used for legal purposes such as tenant screening, employment, or credit checks.
Pros:-
People Looker allows its users to search not just by email but also by name, phone number, and address, increasing the chances of finding the required information.
They offer a data removal service for you to have your information taken down from the site.
They offer a $1 trial for seven days for your email lookups. Hence, it is best for someone who needs to check a few emails
Cons:-
1) No automation like Reverse Contact
2) Their subscription starts at $23.99 per month, a little higher than the rest of the tools
3) This tool is not as powerful and fast as the rest of the paid tools on this list
6) Truth Finder (Paid)

TruthFinder helps users uncover a wealth of information about an email's owner, including their name, address, phone number, and potentially even social media profiles.
As the name suggests, the tool helps you find the truth behind those unknown emails you received, uncover the real person you connected with on a dating site, or research your business contacts with depth and detail.
TruthFinder offers a Dark Web Monitoring service designed to help individuals protect their personal information from being exploited on the Dark Web. This service actively monitors your data, such as Social Security numbers, email addresses, medical IDs, and bank accounts.
Also, TruthFinder alerts you if it finds your sensitive information on the Dark Web.
Regarding the pricing information, TruthFinder offers a range of membership options to suit different needs, ranging from $4.99 to $29.73 per month. Their reverse email lookup tool starts at $29.73, which includes unlimited reports.
Pros:-
TruthFinder has access to over 150 million records, thus enhancing the likelihood of accurate and comprehensive results.
Apart from the reverse email lookup, Truth Finders can help you with reverse phone lookup, people search, and Dark Web monitoring.
Cons:-
A full monthly subscription of $29.73 is required to access all features. This means there is no standalone plan to use their reverse email lookup
7) Social Catfish (Paid)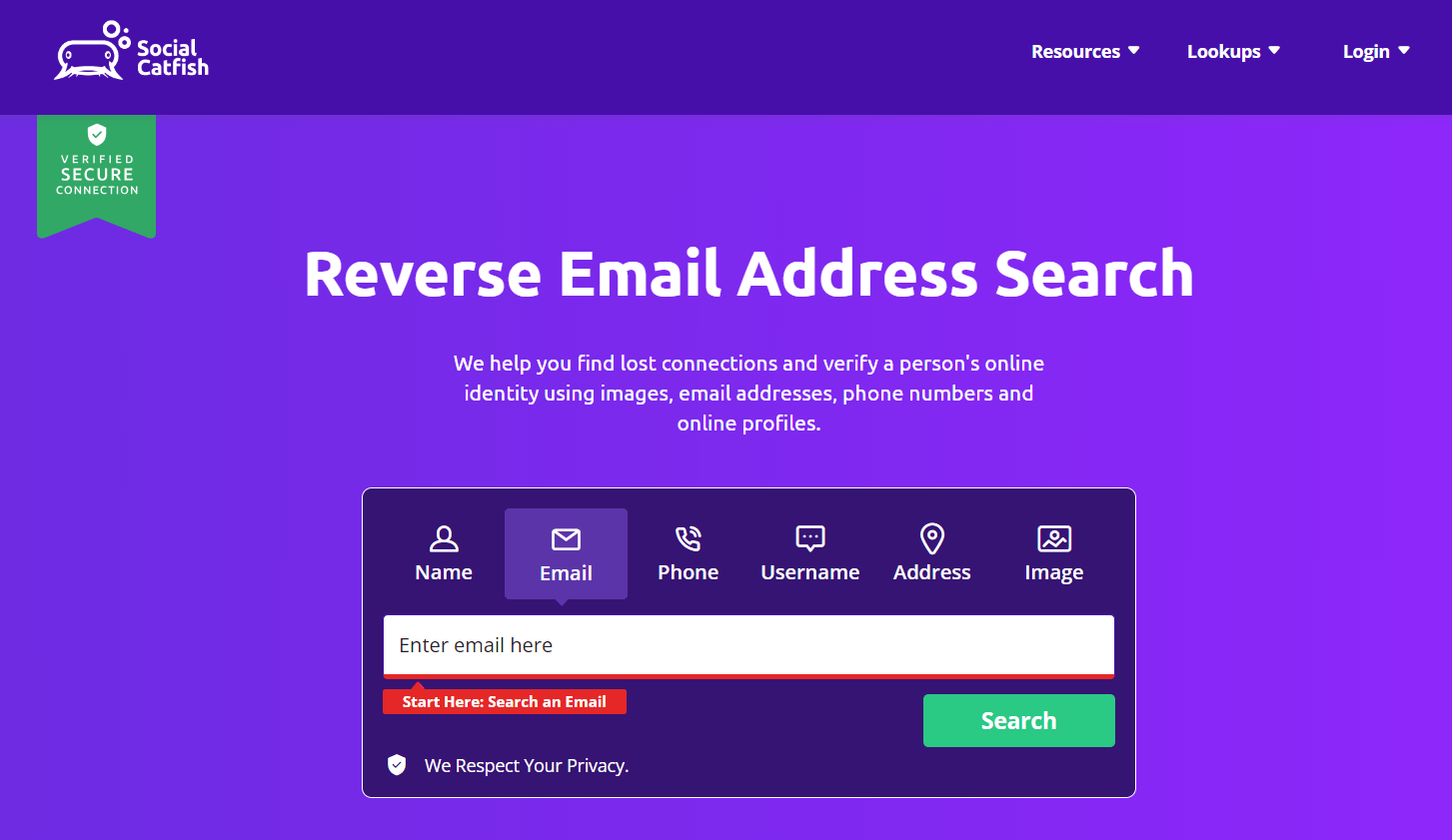 Do you know, you save yourself from catfishing, if you use a reverse email address lookup option from Social catfish.

As you can guess by the name, Social Catfish is a platform people use to make themselves aware of any possible catfish connections online.
This tool offers multiple lookup options like:-
Name Lookup
Phone Lookup
Reverse Image Lookup
Address Lookup
Email Lookup
Username Lookup
Reverse Email Lookup
Most of its users look for dating profiles, social media accounts, criminal records, and other public data linked to an email address.
The platform is known for its image reverse search capability, allowing users to find profiles using photos.
Apart from helping people avoid romance scams, Social Catfish positions itself as a reliable tool for reconnecting with lost contacts and verifying the authenticity of online acquaintances.
Pros:-
It is an excellent tool for people who want to verify the identities of online dating profiles along with some ip address
Offers a wide range of lookups apart from reverse email lookups. Thus ensuring users to gather information is in multiple different ways.
Cons:–
The Pricing starts at $27.48 / month, but for $ 5.73 you can use these tools for 3 days.
Their service primarily focuses on romance scam prevention, which may not suit for business-related lookups.
8) CocoFinder

CocoFinder is another platform in this list that offers multiple lookups. Here the information is gathered from various places, including government records, data brokers, phone operators, and many offline sources that aren't available to the public.
Apart from the reverse email lookup, other search tools include:-
People Search
Reverse Phone Lookup
White Pages
Reverse Address Lookup
Who Called Me
Inmate Search
Mugshots Search
Public Records
Criminal Records
Divorce Records
Court Records
Background Check
Obituaries Search
Unlike the Social catfish, CocoFinder is a tool suits for business entities use for business purposes. Social catfish was primarily designed for individuals to gather information about their love interests.
Whereas CocoFinder tools are more dedicated to giving out valuable information for some severe checks and business identifications.
Pros:-
CocoFinder offers a variety of lookup options
It is better for businesses that are looking for serious and detailed checks
Cons:-
No clear pricing structure
Their reverse email lookup uses information from other tools like BeenVerified, Sopkeo, and People Looker
9) RecordsFinder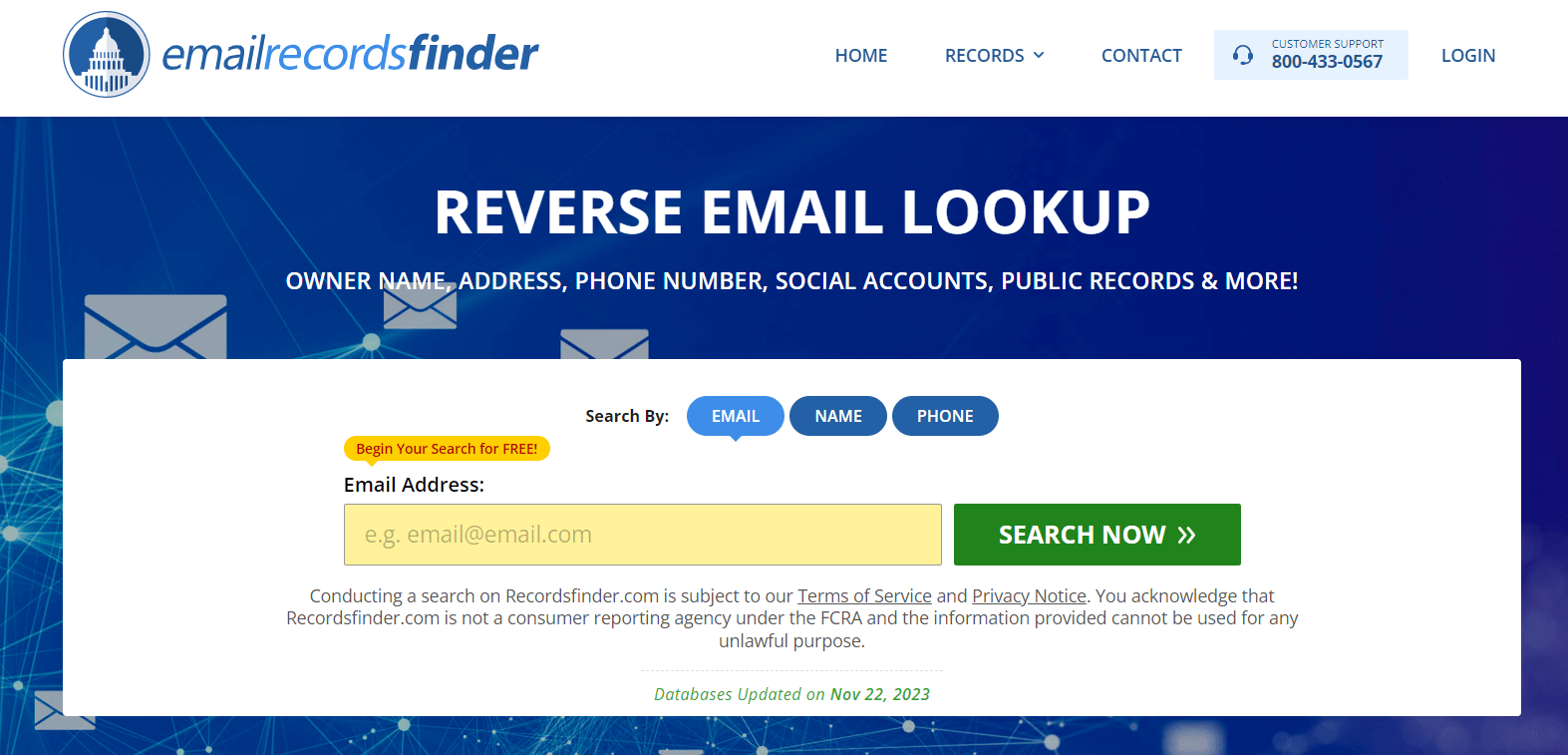 RecordsFinder is an online tool designed to simplify the process of accessing public records, and their reverse email lookup service gathers information for your given email address by accessing the records available in their database.
If you check the list of records they own in their database should give you an idea that this tool is best for people trying to validate (or) verify someone's existing criminal and legal records.
This tool indexes billions of records from over 3,000 public and private sources and brings you one comprehensive report on any individual in the United States
You can run some free reverse email lookups. But for extensive reports, you can use their trial plan for $2.95 for 7 days.
Pros:-
The best option to access any email for criminal records
They offer a paid trial plan
Cons:-
It is not best for reverse email lookups where you're trying to gather old friend's information, business-related queries, and along those lines
It has a subscription plan of $25 per month
Reverse Email Lookup FAQ Section
1) Reverse email lookup tools v/s email lookup tools?
Reverse and email lookup tools are often used interchangeably but serve different purposes. Email lookups are used to find someone's email address using details like name, company name, domain URL, etc. Email lookup tools are used to create a list for email marketing.
On the other hand, reverse email lookup tools are used to find information about the person on the basis of the email address you already have. Hence, reverse lookup tools are used for verifications and cleaning lists.
2) How does reverse email lookup work?
Reverse email lookup works by taking an email address and searching through various databases and online sources to find associated information. This includes public records, social media profiles, digital footprints, and offline records. The tool cross-references the email address with billions of data points available in its database to provide you with information like owner's name, sender's ip address, phone number, and location in some searches.
3) Does reverse email lookup work?
Yes, reverse email lookup works. But it's just that sometimes the databases might not be up-to-date with it's data points. Therefore, you won't need to worry if you're using a reliable tool.
But anyhow, if you want to cross-check the information provided by an reverse email lookup tool, you're free to do it manually by visiting their socials or maybe calling them on their phone (which is not recommended)
4) How to reverse lookup an email address?
You enter the email address into the search field, and the tool will scan its databases and the internet to find any related information that is publicly available. It depends upon tools on what information they provide, such as location, criminal records, employment details, photos, social media profiles, and more.
5) How do I find out who owns an email address?
The tools listed in this article will provide you with information publicly associated with the email address. This could include the person's name, phone number, address, social media profiles, and more, depending on what the person has made publicly available.
6) Are Paid Reverse Email Lookup tools worthy enough to buy?
Whether paid reverse email lookup tools are worth the investment depends on your specific needs and the quality of the tool. If you require detailed information, the tool has a comprehensive database that can provide accurate and up-to-date information. Such tools can aid in lead generation, fraud prevention, and customer verification processes for businesses.
7) How can reverse email lookups help in my business?
Reverse email lookups can be a significant asset for various business operations. They can help your business with enhanced lead generation by analyzing the right kind of emails, improving precise customer targeting by validating the emails, preventing fraud by detecting flags, and helping you clean lists by identifying inactive emails.
Wrap Up
Often, when people search for the 'Best Reverse Email Lookup Tool' in 2024, they expect to land on a blog post that gives them one solution to their needs.
As we wrote this article, we sensed there might be two types of people who like to use such tools. One are individuals who are using it for personal and professional reasons. The other ones are businesses that are looking to incorporate such tools into their business.
For individuals who like to do manual checks, go with BetterVerified
For businesses who like to enrich their data in bulk, go with Reverse Contact
Those are our best suggestions, you're free to play around with the others listed in our article