Tracking the online behavior of customers and prospects is becoming increasingly important. This helps to understand who's visiting a website, why they're there, and how the organization can contact them. While understanding website behavior is vital, tracking emails is also essential. That is where an email tracking plugin comes into play. These tools can attach to a user's email provider and track who opens a message, when they do so, and much more. LeadBoxer is happy to introduce their new, sophisticated Outlook email tracking plugin. Before giving it a try, it is important to understand how it works and the benefits it provides for organizations.
Keep reading, or use the following links to "jump" ahead:
How Does the Outlook Email Tracking Add-In Work?
The LeadBoxer Outlook plugin is a feature that gives organizations better control of their email management process.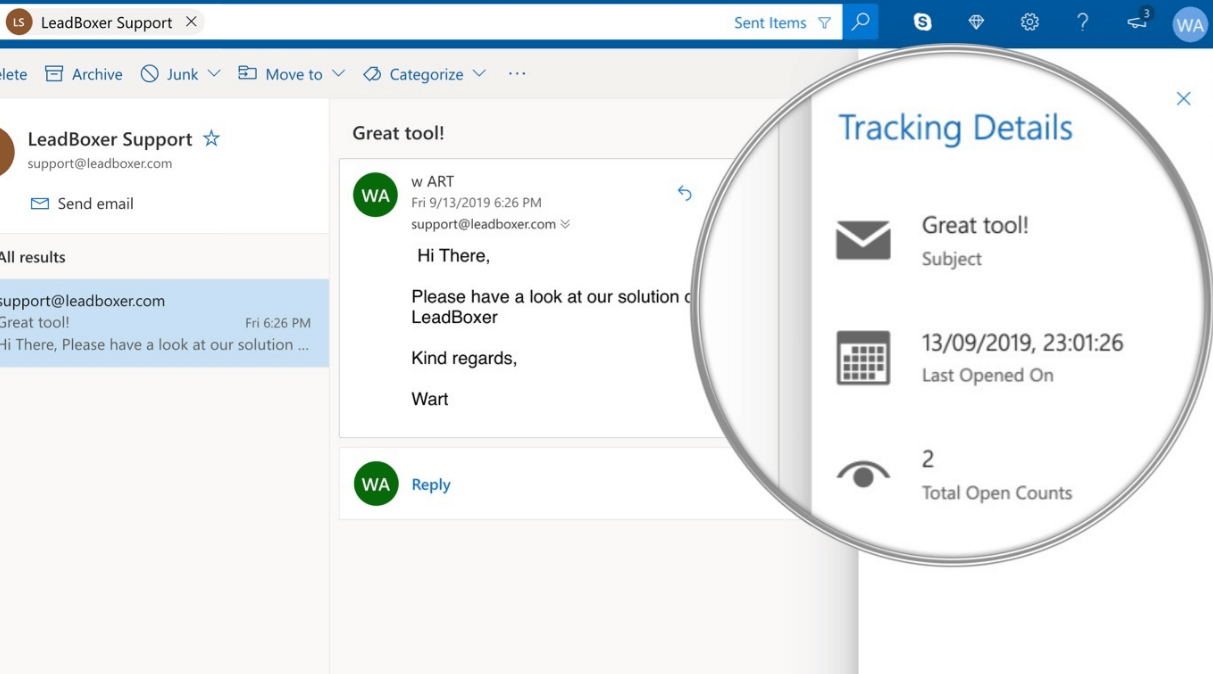 The picture above is an example of how the tracking details appear in an Outlook account. The user can clearly see what email was opened, the time it was seen, and how many people viewed it.
This advanced tool can easily be downloaded to an Outlook account, giving instant access for improving lead generation efforts. That is not all; this sophisticated plugin also provides the following:
Aside from tracking who opens emails and when the LeadBoxer Outlook plugin also tracks link behavior. The tool understands what links are clicked on, allowing a business to learn more about its customers or prospects.
When an email link is clicked, users of the plugin are able to see which exact link was chosen. This may help to paint a clearer picture of the customer's needs.
Auto-On or Off Capabilities
Users may wish to employ the Outlook email tracking plugin only at certain times. Luckily, this advanced tool allows teams to do this with ease.
Users can simply switch the plugin on or off, giving them complete control. Users can also schedule the add-in feature to automatically turn on or off at set times. This customization is very convenient and can make an organization much more efficient.
While the Outlook plugin brings many benefits, it also effectively integrates with Leadboxer's other valuable tools. When a customer or prospect opens an email, LeadBoxer will determine if that user is a qualified lead. If they are, LeadBoxer will give them a lead score.
This Outlook email tracking add-in helps sales teams understand more about their customers and where they are in the sales funnel. It can help organizations learn more about the user's interests, making it possible to strategically target prospects for further engagement.
Those who integrate this plugin also have the ability to see the website behavior of their email users. When someone clicks on an email link, it will take them to the organization's website. This advanced tool then tracks everything the user does on the site, providing many valuable insights.
What is even more beneficial is that LeadBoxer will remember the website and email behavior over long periods of time.
For example, let's say someone clicks on an email link and looks at a few site pages. Years later, they go to that same website for more browsing. LeadBoxer will remember every detail of the online behavior from both instances.
The lead generation platform will then use those valuable insights to determine qualified leads and understand more about customers. If a user ever returns back to the same website, LeadBoxer will track every move. This can provide extremely valuable analytics to help power lead generation efforts.

Email Tracking Pixel
This Outlook plugin solution is all made possible thanks to something called an email tracking pixel. To learn more about how these can help lead generation efforts, read this post from LeadBoxer: How to Use an Email Tracking Pixel to Identify Sales Leads.
A tracking pixel usually comes in the form of a 1 pixel-by-1 pixel transparent image. This is then placed in the header, body, or footer of an email. When an email that contains the image is opened, the tracking pixel will load.
After the email has been seen, a message is sent to the server that indicates the action taken by the recipient. This is exactly how the process works for the LeadBoxer Outlook add-in. When the plugin is integrated, these tracking pixels are placed in every single email sent to customers.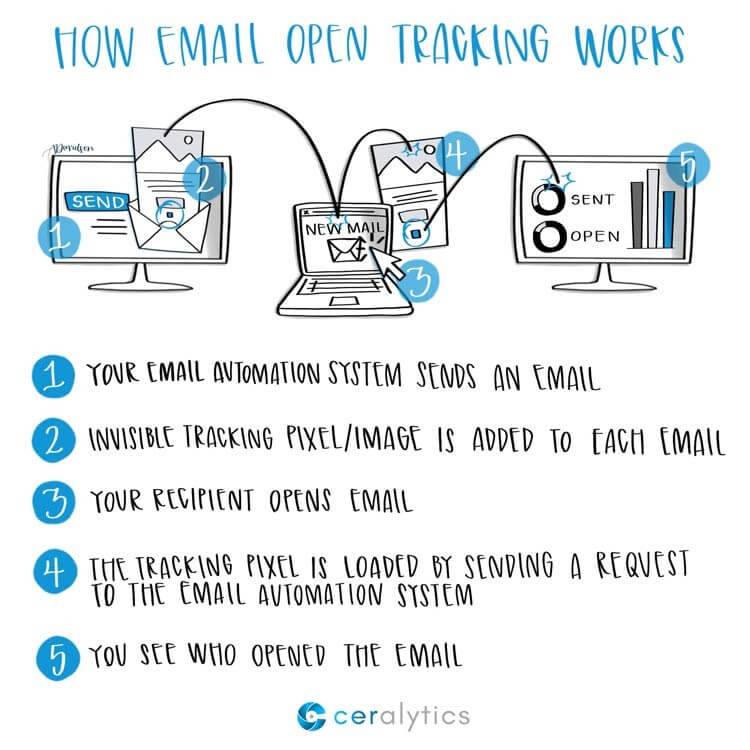 Benefits of Email Tracking
While estimates show there are currently 3.9 billion daily email users worldwide, having an effective email marketing strategy is imperative. As technology has advanced greatly over the years, email tracking services are becoming more popular.
Here are a few benefits of utilizing an email tracking solution:
Email tracking provides users with many insights regarding their customers and prospects. These can be used to boost outreach efforts and cater to the specific needs of the user. Learning which emails are opened, what's clicked on, and how the user maneuvers around a site can provide tons of useful insights.
One example of this involves a customer that opens up an email multiple times in one day. In this case, the organization may reach out to this user to see if they need any assistance. Chances are, they may be highly interested in buying a product or learning more.
Some email users get annoyed if a business continues to send them emails, even if they have never opened up a single one. Email tracking allows organizations to better understand how successful their emails really are.
If a recipient did not open up the first, chances are they will not view the follow-up emails. When email tracking is used, businesses can make smarter decisions about who should be on their email list. These details can also help businesses determine if changes should be made in their email development process.
The LeadBoxer Outlook plugin allows teams to work smarter than they ever have before. Instead of blindly sending emails to potential customers, this tool helps specify the best prospects to target.
A team within an organization may spend countless resources trying to reach potential customers. When they are unsuccessful, it can be difficult to understand the best course of action moving forward.
When email tracking software is integrated within a team, it provides more clarity on the success or failure of the group's email strategy. If there is room for improvement, changes can be made to gain better results.

How Email Tracking Impacts Lead Generation
Lead generation is a hot topic for businesses around the globe. However, many businesses struggle to have the right strategy in place. That's when leads drop and profits shrink.
Email tracking is geared towards powering lead generation efforts. It does this by providing valuable data for organizations to make faster and smarter decisions.
The LeadBoxer Outlook plugin offers a wide variety of details once a customer or prospect opens up an email.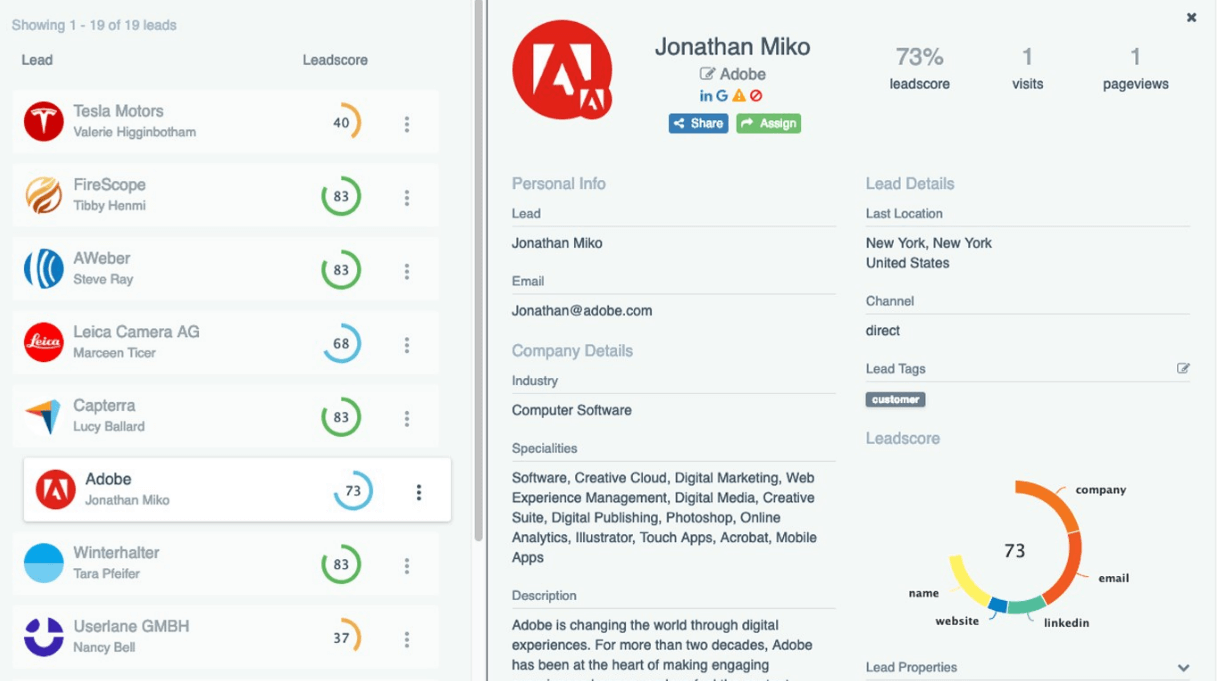 Once a user opens up an email, details will then be displayed, similar to the graphic shown above. The information populated may include:
Name of Lead
Last Location
Industry
Specialties
Description
Lead Tags
Visits
Pageviews
With all of this data at the fingertips of the user, targeting customers or prospects becomes that much easier. Businesses can use these detailed metrics to build ads, adjust marketing campaigns, and execute lead generation strategies.
While some email tracking solutions limit the number of emails that can be tracked, that is not the case with LeadBoxer. Its Outlook plugin enables users to utilize this feature on each and every email they send. This means ample opportunities to gain more leads.
LeadBoxer's email tracking Outlook solution provides users with an unlimited number of accounts. Whether an organization has two employees or two hundred, each and every person can utilize this plugin. This feature can also help drive more leads.

Installing the Outlook Plugin
LeadBoxer has made it extremely easy to integrate their email tracking plugin into an Outlook account.
To take advantage of this feature, be sure to follow these steps:
Open Outlook, then download and install the add-in
Restart the Outlook app, then click on the setting symbol
Find your LeadBoxer dataset ID, then copy and paste it into the field that populates
Note: This number can be found in your signup email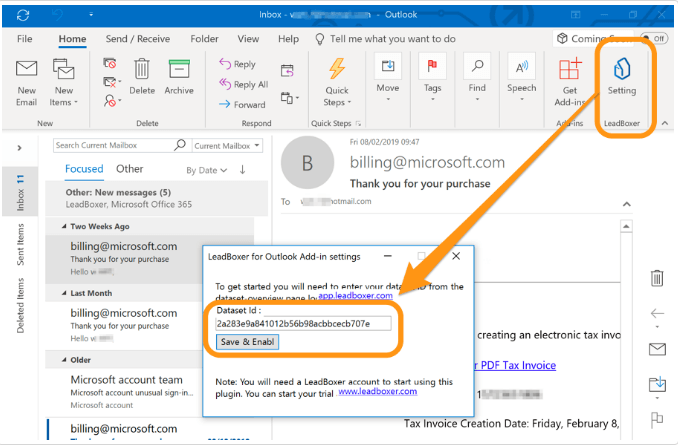 Next, compose an email as you normally would, then click on the track email icon located near the top of the screen.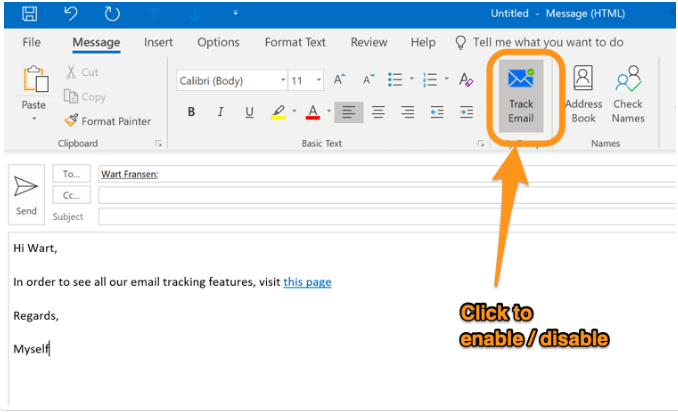 While LeadBoxer offers an exceptional email tracking plugin, they also provide many other incredible tools to help organizations succeed. Schedule a demo with LeadBoxer today to find the high-quality leads that drive business growth.