Businesses, particularly B2B models, rely on successful navigation of the sales journey to close the deal, like lead generation platforms. One of the most important stages of the journey is the beginning, which means lead generation. All companies have limited amounts of energy and resources to accomplish their goals, so it's crucial to spend these on the right prospects.
Continue reading for an examination of why automation is a necessity in sales today and a breakdown of are the top five lead generation systems or "jump ahead" to the following topics:
Lead generation is the starting line for all sales. The research and efforts spent on this step will determine the rest of the sales cycle. Rather than burying employees with manual identifying and qualifying, automating the process with a lead generation company can kickstart a smoother customer journey.

What is Lead Identification and Lead Qualification?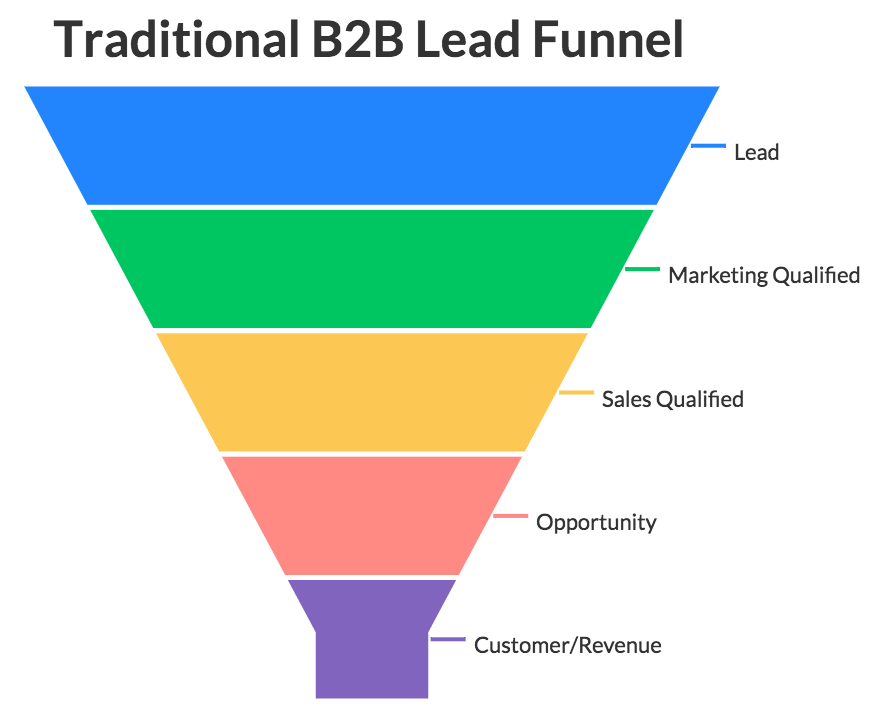 The first stage in any sales journey is pinpointing the prospects worth reaching out to, or in short, identifying leads. The next step is determining if these potential clients are worth your time and energy, also known as qualifying leads.
While there are many manual ways to determine the value of prospective clients, finding ways to streamline the process can help your company focus its efforts on closing the deal. The easiest way to simplify lead generation is through automation by investing in a platform that meets your needs.

Lead Generation Software and Data Analysis
Understanding the role data plays in automated lead generation will help your company better utilize any chosen tool. This data provides insight into a prospect's engagement with your brand, as well as information that helps tailor your marketing strategies for maximum outcomes.
Lead generation companies help you accurately target clients who will benefit from your services. The data analysis from these platforms works to help break down information provided by online engagement, as well as score prospects based on their actions.
By tracking online traffic across your platforms and identifying these visitors, lead generation companies help you target customers and pitch your services based on their needs.
Lead generation companies help you see which parts of your brand visitors are engaging with. With this insight, you can tailor your marketing and sales strategies to highlight the ways you will be able to help these customers.
Top lead generation companies are able to collect contact information from anonymous web traffic, which makes it simple to connect with these prospects. Using a lead generation platform allows you to see how qualified these online visitors are in terms of benefiting from your services.
Crucial insights provided by this type of software kickstarts the sales journey. By targeting leads most in need of your services, your business will be able to increase sales conversions.

Understanding Lead Generation Software
Automation is one of the most important features of lead generation software. Instead of using employees and company resources on manual paperwork for data analysis, automated software streamlines the process by doing the crunch work.
Platforms track website and email engagement to identify potential prospects. By having a list of potential clients given to you, with data to illustrate their recent activity, your team can focus on selling instead of research.
So, how do you decide what software is best for your business? "Lead generation platform" has become a loose term covering several different types of technology.
Programs like LeadFeeder and Snitcher are considered IP lookup tools. Their main function is identifying potential leads based on the IP addresses that visit your website. While online visitor identification is an important part of lead generation, other platforms offer more robust operations to dive deeper into the sales cycle.
Taking it a step further, other programs focus on providing contact details from visitors who engage with websites. Lusha and Seamless.ai are tools that create lists of email addresses and other contact information from online engagement. This gives a business the ability to get in touch with potential leads after being identified by the software.

The Top 5 Lead Generation Software
Getting the most bang for your buck is important when it comes to lead generation companies. You'll want a program that offers both lead generation and IP address verification for website traffic. A strong combination of data analysis and integration capabilities will go a long way to helping simplify and strengthen your generation process.
1. LeadBoxer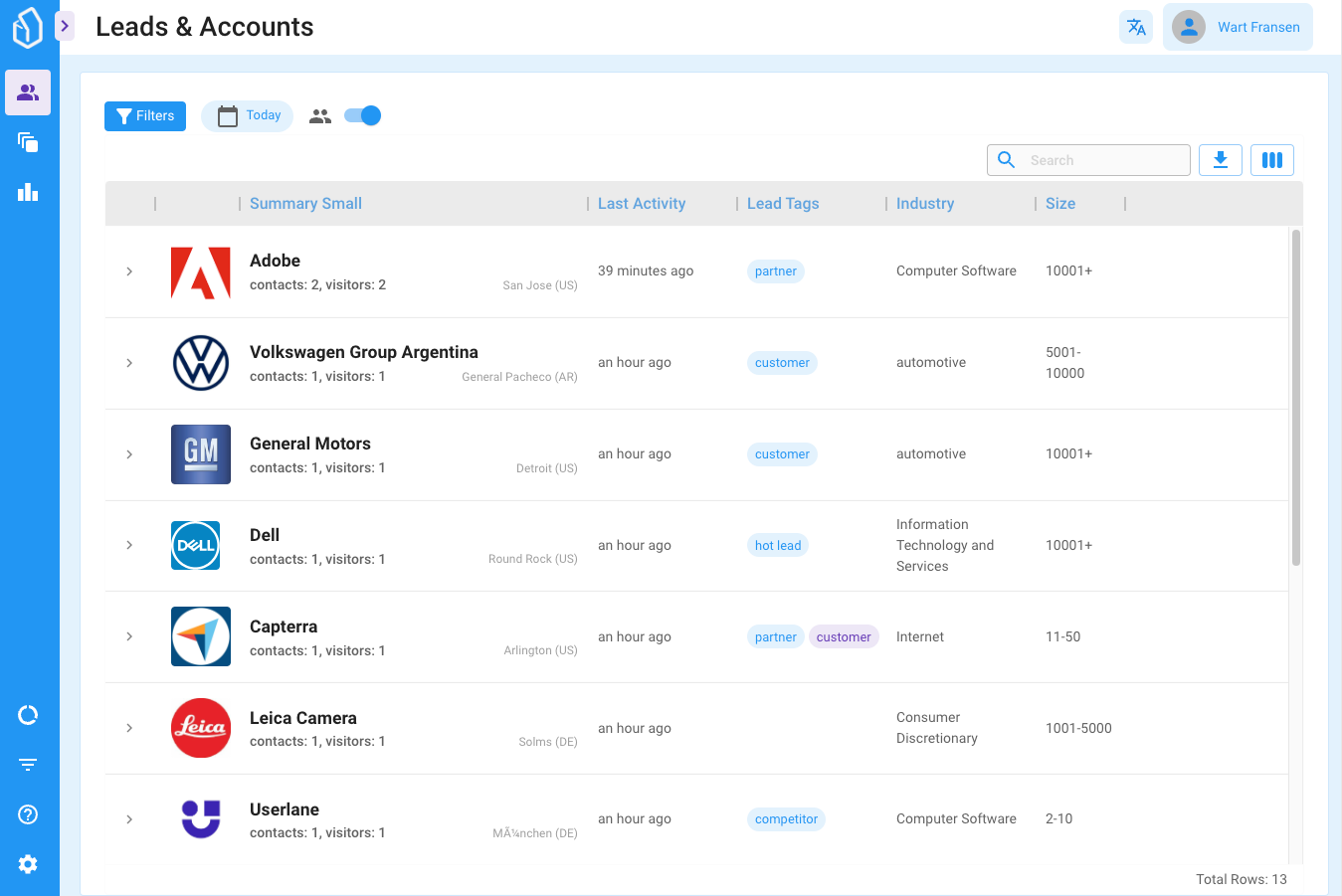 A strong choice that analyzes data across multiple channels, LeadBoxer is a platform with built-in features designed to enrich company or personal data. LeadBoxer makes your best leads easy to find so you can turn them into customers. It is a complete solution; from marketing campaign through to qualified leads – use leadboards to manage MQLs.
Included are powerful filters and intuitive scoring algorithms to divide your audience into segments. Results can be synchronized or exported using native solutions.
Free Trial. Click here to Get Started.
Top Features:
Website, newsletter & email tracking
Enriched firmographic data
Sync with your CRM or B2B Marketing Automation
Accounts view for ABM
Automatic lead scoring
Email notifications
Workflow automation
Auto form tracking
Campaign tracking
Integrations: Hubspot, ActiveCampaign, Marketo, Google Data Studio, Clearbit, Active Demand, Gmail, Outlook, Copernica, Google Big Query, Zapier, Google Tag Manager, MailChimp, Drupal, LinkedIn, WordPress, and Pipedrive. Open API.
Pricing: Free trial and starting at $195/month billed annually. See pricing for details.
Pros: Ease of use. Intuitive, automated reporting, flexible, syncs with 1st-party data, automatic scoring, multiple integrations, and tracks email and newsletters. Tracks BOTH companies and individuals. Compliant.
Cons: No ROI tracking, no free lite version
2. LeadForensics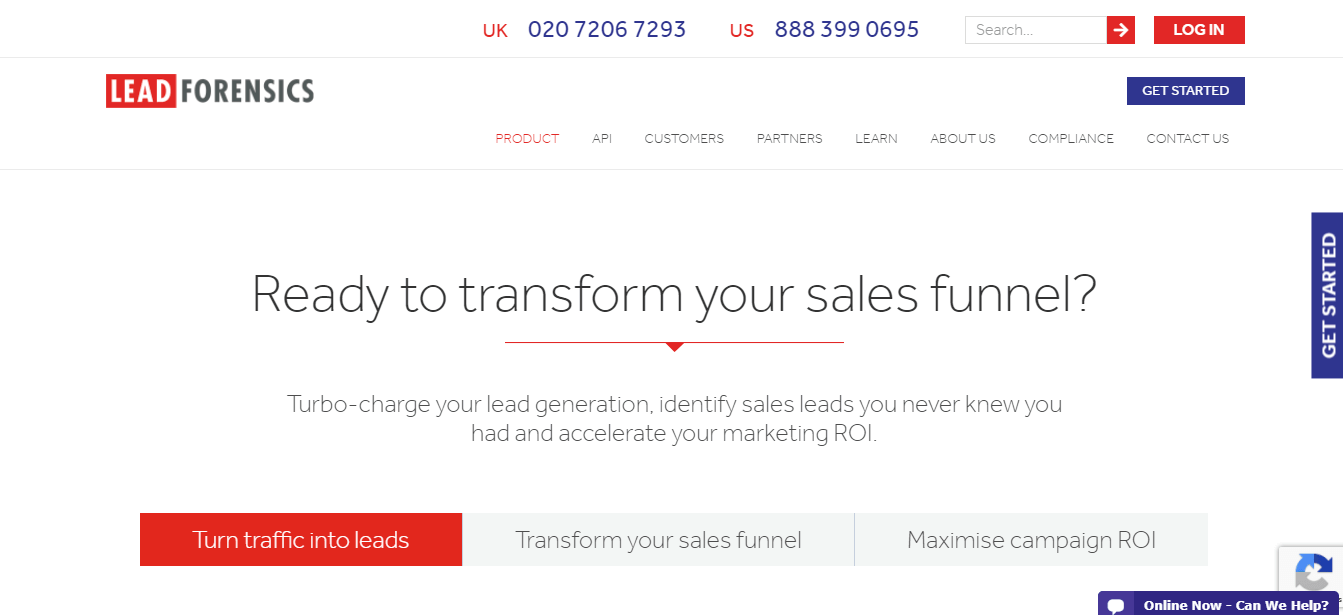 LeadForensics is a software that works to uncover the identity of website traffic, so you can turn website visitors into actionable leads. This platform allows you to utilize it as an additional data source to gather names, job titles, and contact information of site visitors.
LeadForensics also analyses the engagement on your site. You will be able to see what was searched for, which pages were visited, and how many times they have visited your site.
Features:
Website & email tracking
Smartphone app for easy access
Lead manager for the organization
Upload your own data to track potential clients
Data insight
API
Lead scoring
Email notifications
Integrations: Salesforce, ZOHO, Microsoft Dynamics
Pricing: Flexible; Free trial + plan created based on your needs
Pros: Identifies leads in real-time, lead scoring based on multi-criteria system, customizable, provides integration options
Cons: Does not give a price plan upfront; fewer integration capabilities than competitors
3. Albacross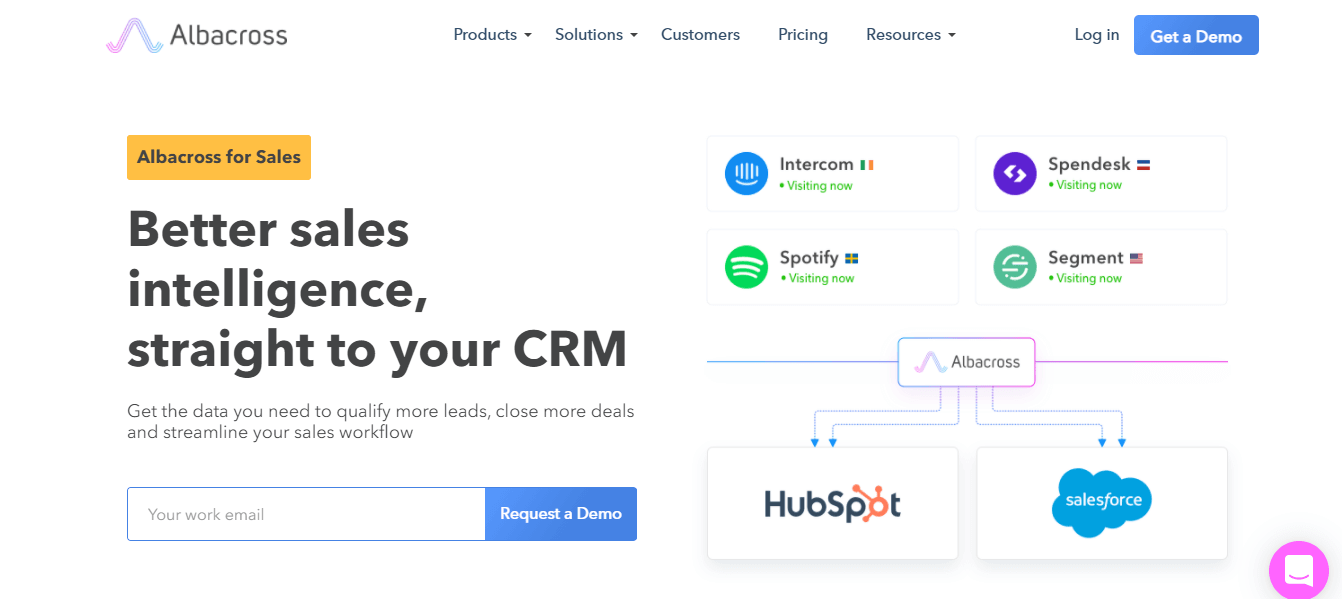 Albacross brings together revenue teams to accelerate conversion rates. Their lead generation software works on identifying anonymous visitors, analyzing engagement, as well as segmenting and qualifying prospects. This platform allows integration with most major tools and CRMs for easy data access.
Features:
Website engagement tracking
Lead identifying and qualifying
CRM integration
API
Easy organization for captured leads
Automated email reports
Flexible filtering
Integrations: HubSpot, Sugar CRM, Salesforce, Pipedrive, Slack, Microsoft Dynamics, ZOHO, Base
Pricing: Flexible; Free trial; Pricing plans are discussed with Albacross to determine the best fit for your needs
Pros: Easy to use; integrates with most major CRMs and business tools, customizable
Cons: Lacking pipeline management feature, no upfront pricing
4. Leadfeeder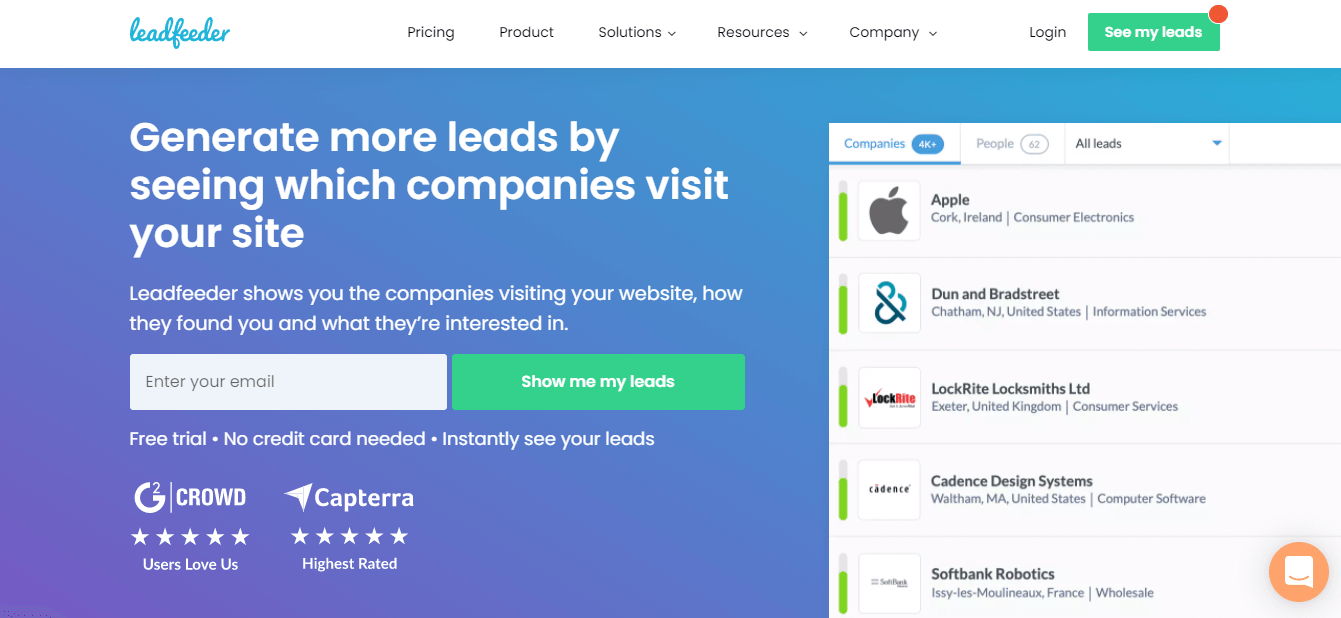 This platform focuses on bringing web intelligence to businesses. Leadfeeder wants to help integrate your sales and marketing team to create a smoother process and increase conversion rates. The software identifies anonymous web traffic, qualifies potential leads, provides important contact information, and syncs data with your CRM.
Features:
Website tracking
Contact insights
Automatic Lead Scoring
Personal email alerts
CRM integration
Unlimited users
Company search function
Versatile filtering
Integrations: Pipedrive, Mailchimp, Salesforce, Hubspot, ZOHO, Zapier, Microsoft Dynamics, Slack, Active Campaign, Google Hangouts Chat, Google Data Studio, Google Analytics
Pricing: Free trial; Free lite version; Plans start at $63/month
Pros: Strong integration system, lower cost than many competitors, allows as many users from your company as you would like
Cons: No in-depth data analysis, functions mostly as a "look-up" tool
5. KickFire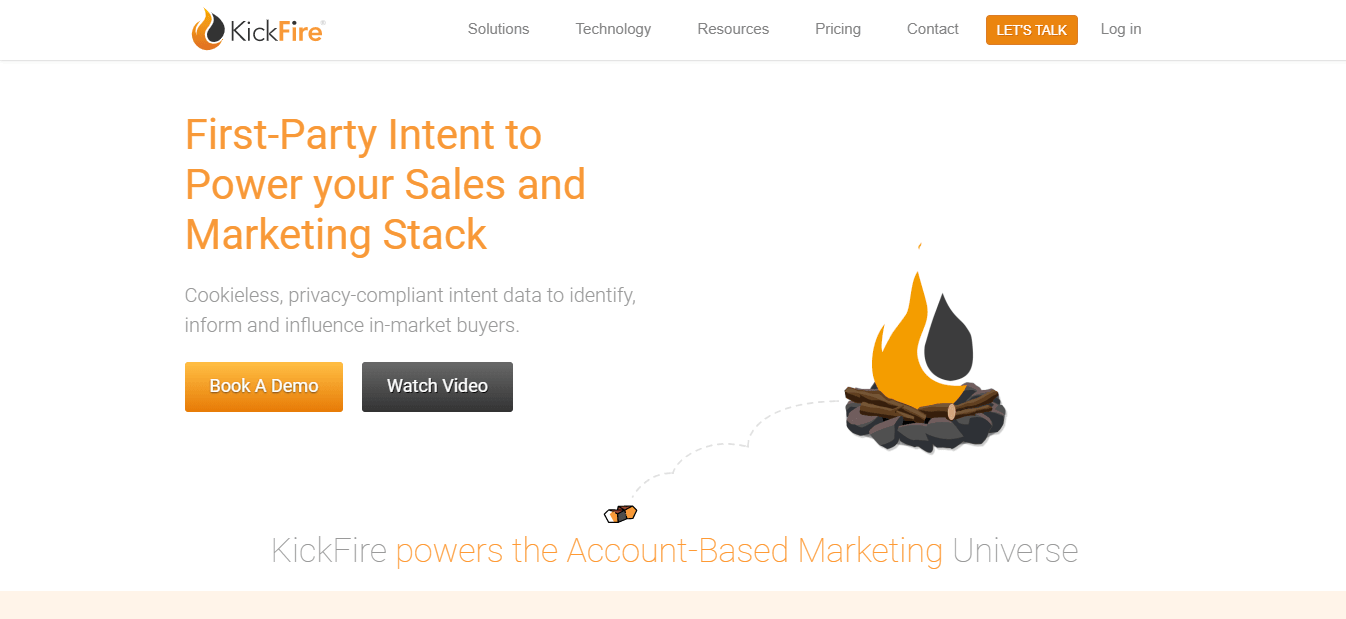 KickFire's IP address intelligence translates IP addresses to companies and provides vital data for B2B organizations. KickFire enables access to this data across multiple channels including their LIVE Leads platform, API, and software integrations that best fit your company's needs.
Features:
Website & email tracking
Real-time lead alerts
Lead management
Lead scoring
Live dashboard feature
API
Integrations: Adobe, Act On, Drift, Eloqua, Ensighten, Google Marketing Platform, Integrate, Intercom, LiveRamp, Marketo, Openprise, Segment, Sitecore, Slack, Tealium, Connectwise, HubSpot, Microsoft Dynamics, Salesforce, Sugar, ZOHO, Constant Contact, Mailchimp, Active Campaign
Pricing: Free trial; Plans created based on your company's needs
Pros: Large list of integration abilities, customizable software, ROI tracking, free lite version
Cons: Short 7-day trial window before purchasing

Getting Started with Lead Generation Software
Overall, lead generation software can be a complete game-changer for most companies.
For small and large companies alike, automation will speed up the sales process and result in higher conversions to sales. Important data insights are provided in real-time, so your team will never miss a hot lead again.
Having the right lead generation platform is crucial for encouraging productivity and can play a huge role in targeting sales efforts that lead to successful conversions. Take the leap for a more productive sales team, and get started with your free trial of LeadBoxer today!