Identifying who visits your website provides important data your sales team can leverage to scale your business. People visit your website because they are interested in what you offer. Not all website user data is equal and the more detailed information you get, the better.
As great as your website is, only 2% of your visitors will contact you. That means 98% of your website traffic will visit, browse and leave without heading a call to action. Additionally, you don't know much about these passive website visitors, which makes it difficult to develop a strategy for convincing them to return.
In this article, you'll learn what website visitor information is available, how to access it, and why it's important. You can go further and learn how to contact those visitors and make them more likely to become customers. That way, you and your sales team can keep your pipeline filled with high-quality leads.
Continue reading or use the links below to "jump" to topics:
The Benefits of Identifying Website Visitors
Why is it so important that you know who visits your website? What is the value of using technological tools to identify them? Gathering and properly analyzing this information or data is crucial to your sales success for a number of reasons:
For one, there's no telling why 98% of visitors are leaving without taking the next step in the buyer's journey.
Are they outside your target market?
Is there an issue with the landing page?
Identifying visitors to your site will help you find the answers to all these questions.
The major problem is that by not having an understanding of who is coming to your site, you are missing out on huge opportunities! There is no way to measure who among that 98% of visitors might convert and become a loyal customer provided the right user experience and proper nurturing. Knowing your visitors can make a big difference to your bottom line.
What Website Visitor Information is Available
Google Analytics does a great job at showing a snapshot of a website's overall performance. It breaks down a website's audience, their demographics, behavior, how they were acquired, and what the conversion rates are. Best of all, it's completely free.
Some key performance indicators and reports to keep in mind when looking at Google Analytics are:
Demographics – The age and gender of site visitors will let you know if who's visiting aligns with your ideal client profile.
Location – Like demographics, knowing the geographic location of visitors is useful for understanding if your digital marketing strategy is attracting ideal clients.
Device – This shows whether visitors are using a desktop or mobile device.
Acquisition – Knowing how a visitor arrived at the site can show you how well your marketing strategies are working and help identify potential areas for improvement.
Behavior Flow – This shows the journey from popular landing pages to other pages on the site, highlighting where traffic drops off and visitors leave.
Session Length – Knowing how long visitors are staying on a site provides insight into how useful and engaging it is.
Bounce Rate – If there's a high bounce rate associated with a site, you may need to look into the time it takes to load pages or the overall site design.
Popularity – Knowing which pages are most and least popular can help you decide which are best suited to connect to paid advertising.
Google Analytics 4 
Google Analytics has long been the gold standard for collecting and analyzing website visitor data. The platform provides information such as the number of users, the type of device used and the user's source. Google Analytics 4 is a great starting point for learning about the type of people who visit your site.
Google Analytics offers a variety of reports that highlight different website traffic data. Here is how to use the new Google Analytics 4 platform to identify website visitors:
Log into your Google Analytics account (or create an account)
Create a property (the website you want to track traffic for) and add a tracking code
Go to Acquisition, then All Traffic, then Channels
For more detailed analysis, go to the Source/Medium Report under All Traffic
For step two, here is how you add the tracking code to your property (website):
Under Admin, select the right account in the account column.
Go to the Property column and select create a property
Enter a name for the property and select your time zone and currency.
Click on show advanced options
Turn on Create a Universal Analytics property
Enter the website URL and select either the HTTP or HTTPS protocol
Create both a Google Analytics and Universal Analytics property (code tags).
Accept the terms of service and data processing amendment and hit finish
You can further identify website visitors with the Network Report which looks into acquisition data, behavior and conversion rates. This is found under the Audience category and the Technology sub-category in the Google Analytics menu. The Network Report bundles visitors into the service provider they're using to access the site.
However, when it comes to gathering and qualifying leads, Google Analytics falls short. The Network Report doesn't show the name of individual visitors, their role within a company, their contact information or their unique behavior.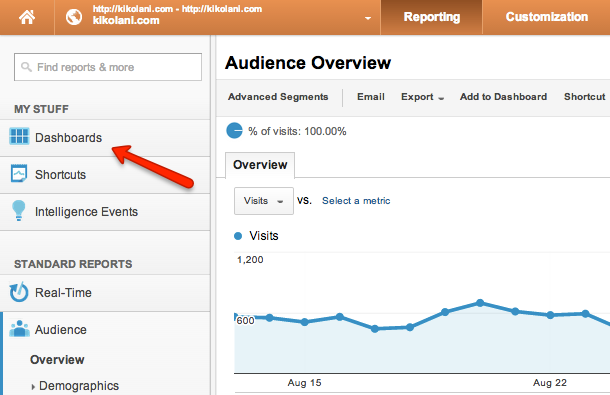 Software to Help Identify Website Visitors
Not all website visitor identification tools are created equal. Some are bare-bones but budget-friendly, able to identify visitors and nothing more. Others can turn that data into action, showing you which of those visitors are worth pursuing as a possible client.
New Tools Available to Identify Website Visitors
Tools that analyze website visitors have been around for years. However, the online lead generation landscape has changed since 2020 with the Coronavirus pandemic. More people are browsing the web and shopping online than before the pandemic, which increases the importance of website visitor tracking.
With the ease and speed of online shopping, you'll get more website visitors. The increased importance of website conversion means you can't rely on people merely finding your site. Below are tools that help you take advantage of increased web traffic and land more conversions:
LeadBoxer
Cost: $195/month for the basic plan and $505/month for the premium plan. There is also a free trial.
LeadBoxer not only identifies website visitors, it turns that information into actionable data that accelerates your sales pipeline. This is done by capturing around 50% of visitors that would otherwise remain anonymous. 
You can track your users' online behavior including website visits, email opens, newsletter clicks, advertising and social media use. This offers a comprehensive view of website visitor engagement. LeadBoxer can also provide visitor details such as the prospect's industry and specialty.
Based on the criteria set by the organization, LeadBoxer calculates a lead score for each prospect. The higher the lead score, the more promising that prospect is. Sales reps know instantly who is most likely to convert and who isn't.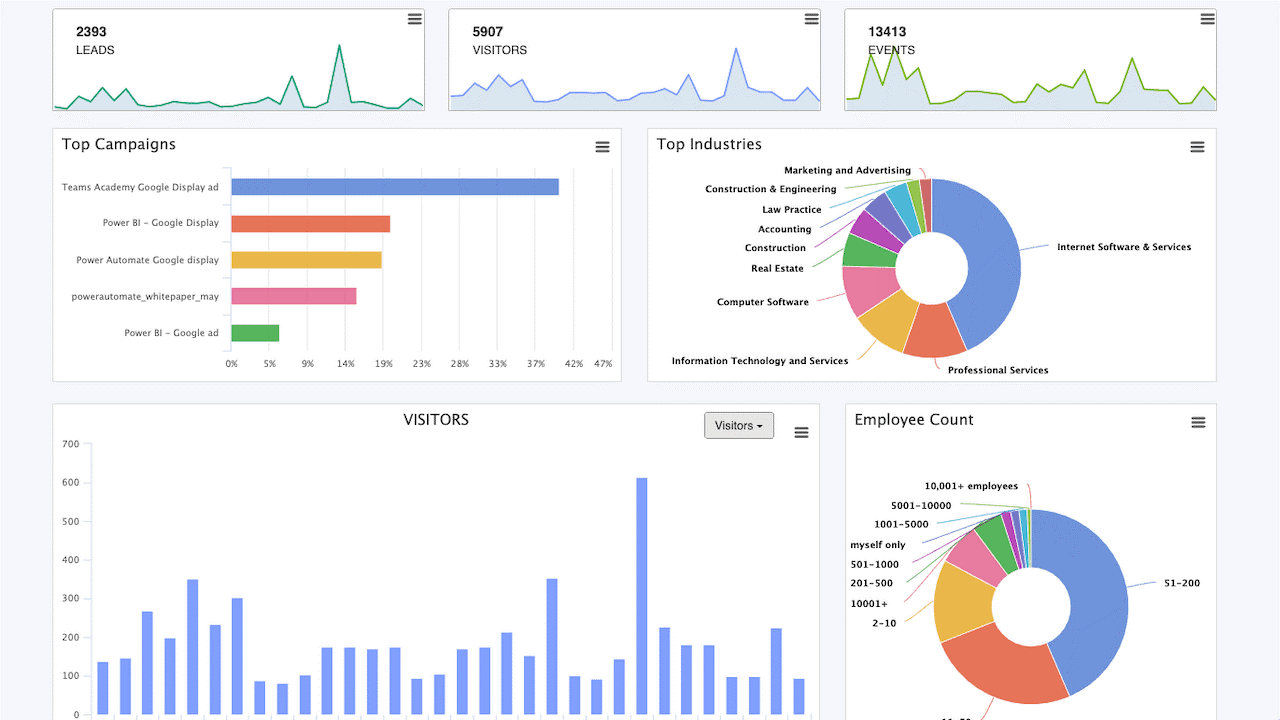 Hubspot Sales Hub
Cost: Free for individual salespeople. There is also a $50/month option and a $1200/month enterprise option that utilizes all HubSpot features.
Hubspot Sales Hub is a tool for managing a sales pipeline with visitor identification and lead qualification tools built in. Hubspot shows what companies are visiting a site in real-time and how many visitors there are from each company. You'll see what pages they're visiting and the number of page views they've made.
Hubspot collects information like company size and geography, then turns them into filter options. Using filters helps sales reps hone in on only those prospects that meet specific ideal client criteria.
Salesforce Sales Cloud
Cost: Has four pricing tiers ranging from $25/month/user to $300/month/user. There is also a free trial.
Salesforce Sales Cloud is a pipeline management system with added features that identify website visitors. It highlights what marketing campaign generated a lead and what effects that campaign has on the pipeline. This allows organizations to make informed decisions about where to invest their marketing budget.
There are also functions like lead scoring that help sales reps follow up with only the most engaged prospects. With Salesforce Sales Cloud, it's easy to route and assign leads to the right rep.
Overall, Salesforce best accumulates data on existing customers. It combines a customer's social content, the deals they're involved in and what they're saying about a product or service.
Visitor Queue
Cost: Ranges from $16 to $160 per month. The basic plan identifies up to 100 company visitors per month and the top-level plan identifies up to 1,000 visitors per month.
Visitor Queue is a user-friendly, simple visitor identification tool that tracks company contact and visit information. It also tracks visitors' social media accounts. It displays the name, contact information and user data of visiting businesses.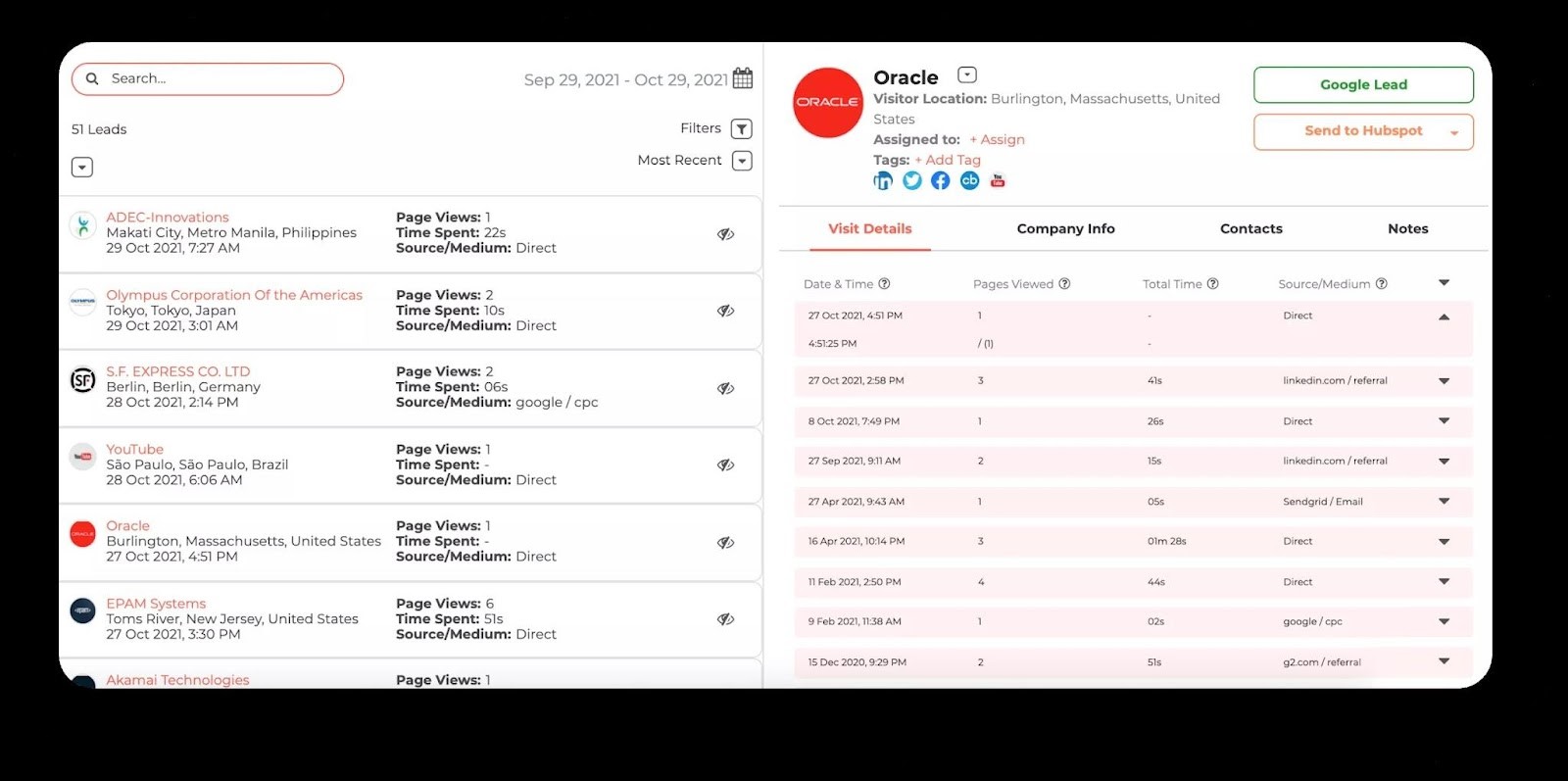 Leady
Cost: $149/month. This plan identifies up to 3,000 visitors per month.
Leady is unique in that it helps you better invest in the right marketing campaigns. Leady automates your marketing process, enriches Google Adwords and creates highly relevant content campaigns for your ideal buyers. This helps you develop a list of prospects to fill your sales pipeline.
Happierleads
Cost: $69-$129 per month. Plans range from 100 lead identifications per month up to 1,000 leads per month.
Happierleads offers information on website visitors including contact information, the number of visits, length of visit and pages viewed. Features include:
Company-level visitor identification
IP and network data
Firmographic data of companies
Behavioral and demographic filters
Automated lead scoring
Real-time phone and email information verification
IPinfo.io
Cost: $99/month to $499/month
IPinfo allows you to find out who visits your website through IP data. This IP provider specializes in IP to geolocation, company and carrier, ASN, VPN detection, IP ranges and hosted domain data. IPinfo is simple, scalable, user-friendly and handles 420 billion API requests per year.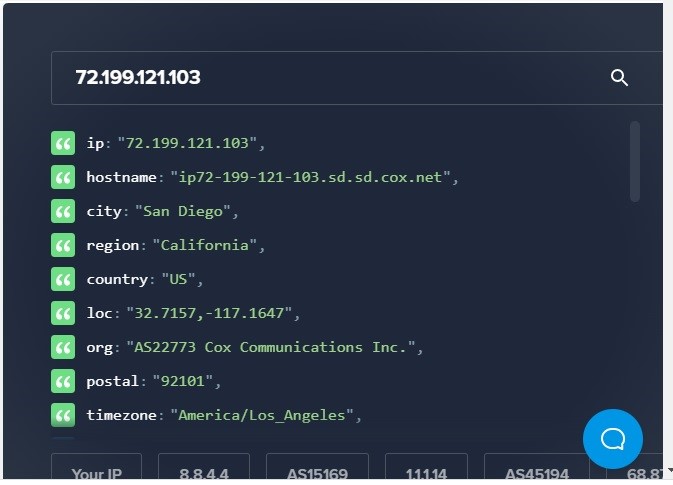 User.com
Cost: Starts at $249 per month and goes up to $1349 per month
User.com is an all-in-one marketing automation platform that boosts website engagement and improves conversion. This is done using a single data source for your customers. User.com allows you to reach clients through email, live chat, chatbot, push notifications, dynamic page content and more.
ExactVisitor
Cost: There is a limited, free tier available and a $50/month basic tier where you'll have up to 100 lead identifications per month.
ExactVisitor is a B2B lead generation software that identifies the real person and companies visiting your website. It analyzes how they got there, their behavior and their purchasing intent.
With ExactVisitor, you'll get alerts when key accounts visit your site, insights into technologies visiting companies use and website personalization.
LeadRebel
Cost: $19 to $305 per month depending on the plan.
With LeadRebel, you can get daily email summary reports, employee contact details and support for multiple websites. This software uses company-level reverse IP lookup for its data so you can get visitor information even if they work remotely.
Visitor Insights
Cost: You must call for a quote.
Visitor Insights offers a front-end funnel builder that uses information on buyer intent. It also allows customers to outsource marketing programs. Visitor Insights is not GDPR compliant in the EU.
Visitor Insights feature tracking pixels, user identification data sources, Identity Graph, user contact information and buyer intent details. Visitor Insights is not reliant on website visitors already in your CRM.
WatcherMe
Cost: $80/month to $299/month across three pricing plans. Some of the unique features of WatcherMe include:
Real-time email alerts
Website activity tracking and basic lead scoring
Smart filtering on good leads
LinkedIn company contact discovery
Visitor reports
Steps to Identify Website Visitors
Identifying website visitors with the right tool couldn't be easier. LeadBoxer, for example, comes with a pixel that automatically starts collecting data as soon as the code is installed. There are also several third-party integrations you can use with your existing marketing stack and CRM platform.
If you want to try this out without committing to anything, LeadBoxer offers a free trial account. Setting up LeadBoxer with your site requires just a few steps. Best of all, you don't need to have any coding experience to get it done.
After you start your trial account, follow the steps below to identify your website visitors:
1. Install the Pixel
LeadBoxer comes with a Lead Pixel, a snippet of JavaScript code that needs to be dropped into the backend of your site. To track incoming traffic on the entire site, install the Lead Pixel into the footer. For specific landing pages, install the pixel into the code for those pages.
If you have a WordPress site and you don't want to code, LeadBoxer created a user-friendly WordPress plug-in. Once the pixel has been installed, all incoming visitors are automatically tracked.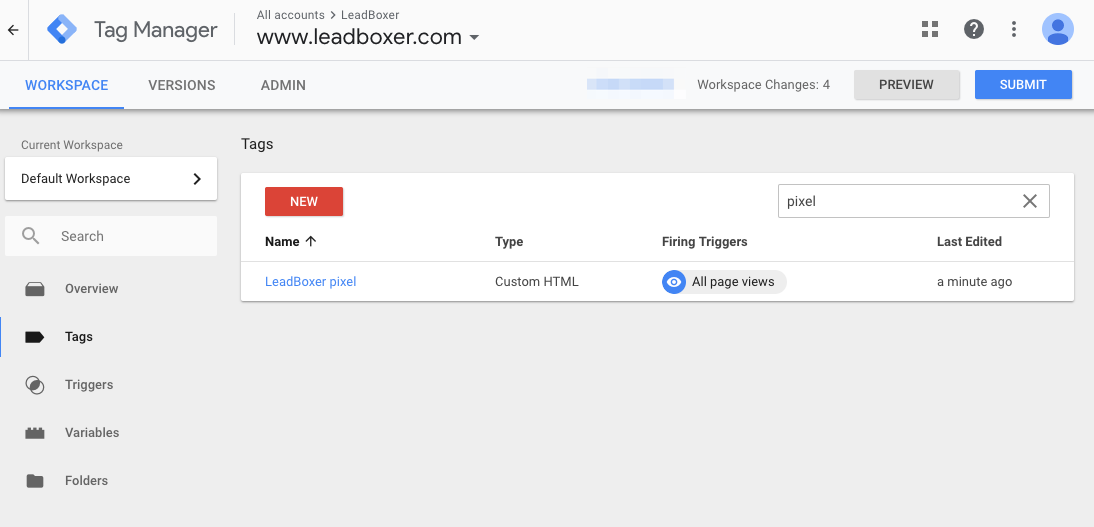 2. Integrate With Other Tools
LeadBoxer seamlessly integrates with many third-party tools, such as Google Analytics, MailChimp, Slack and Pipedrive. When it comes to enriching visitor profiles and qualifying prospects, start by focusing on LinkedIn, MailChimp and website contact forms.
Capturing a visitor's LinkedIn information is a quick and easy way to populate their profile. You can easily connect to their LinkedIn page and reward them with a white paper when they provide their information.
Identifying and qualifying leads from your MailChimp newsletters is even easier. To track who is clicking newsletter links, add the "?email=*|EMAIL|*" merge tag to any links you want to track. To track email opens and reads, install the email tracking pixel into your email template code.
3. Establish Leadscore Criteria
LeadBoxer automatically calculates a lead score that will indicate how likely a prospect is to convert. This helps sales reps know which leads they should prioritize over others.
You can adjust how LeadBoxer calculates a lead score by establishing unique criteria. What criteria you set will depend upon the organization's ideal client profile. Consider the following for lead scoring:
Buyer Profile
It's important to have a thorough understanding of your organization's ideal client profile. Include fields on contact forms to help gather information so you'll have data to use when calculating the lead score. You can give points for answers that align with the profile and take away for those that don't.
Company Information
More than likely, you want to know the size of the prospect's company and how to reach them. Therefore, it's a good idea to add points to the lead score for this kind of information.
Online Behavior
High levels of engagement with your site are a likely indicator that a prospect is interested in your product or service. Toggle points for page views, visit length, downloads and visit frequency over a 30, 60 or 90 day period.
Email Engagement
This doesn't just mean that you should add to the lead score if someone is on your email list. Instead, prioritize high open rates and click-through rates. These are more meaningful indications of interest.
Social Media Engagement
The more a prospect interacts with you on social media, the higher their lead score should be. LeadBoxer can help track Facebook or Twitter likes, retweets, shares and click-through rates from your posts.
Spam Detection
Sometimes bots fill out contact forms and interact with your site. Things to look for include using all lowercase letters when filling out forms or using Gmail or Yahoo email addresses.
After establishing lead score criteria, you can automatically see which of your website visitors are worth following up with. You can then have LeadBoxer send alerts the next time ideal prospects engage with your site. That way you or the assigned sales rep can contact them while your company is still fresh in their minds.

Start to Identify Website Visitors and Increase Sales Leads
There are several reasons why it's vital to know who is visiting your site and how they're interacting with it. You'll know if your marketing campaigns are working or if your ideal buyers are noticing your product or service. It also shows if there are weak points where visitors are dropping off and navigating away from your site.
But that's not all website visitor identification is good for. With this data, you'll be able to optimize campaigns and site design. Knowing your site visitors increases the number of prospects available to you, keeping your sales pipeline filled.
A solid website visitor identification tool automates this process and enables you to invest in the best prospects. Using the data collected about your visitors is the first step toward a highly productive pipeline.
Looking for more qualified leads?
LeadBoxer offers lead identification and lead intelligence through website and email tracking. Watch the Video or Book a Demo to learn more.