We all know that making a sale is the act of exchanging a product or service in return for cash, but there is far more to selling than what meets the eye.
With B2B e-commerce sales predicted to exceed B2C e-commerce sales by 2020, B2B selling is constantly growing. So, what are B2B sales, and how are they different from B2C sales?
In this article, you'll learn how businesses use varying strategies to sell to each other and what type of software they can use. Using the information provided, you'll be able to determine which selling techniques are best suited for your company and how you can use these to effectively increase B2B sales.
Use the links below to navigate each section:
What Are B2B Sales?
B2B sales refer to business to business selling: when one company sells products or services to another company. B2B selling uses a multitude of strategies; some which we'll cover later in this article.
Business to business selling is often a complex process, involving several decision makers to close a sale.
There are two types of B2B sales that can be made:
A business selling products or services to a company which can then use these to manufacture or sell their own products. One example of this is a food wholesaler selling ingredients to a bakery, so they can produce their own baked goods.
What Are B2B Sales?
B2B sales refer to business to business selling: when one company sells products or services to another company. B2B selling uses a multitude of strategies; some which we'll cover later in this article.
Business to business selling is often a complex process, involving several decision makers to close a sale.
There are two types of B2B sales that can be made:
A business selling products or services to a company which can then use these to manufacture or sell their own products. One example of this is a food wholesaler selling ingredients to a bakery, so they can produce their own baked goods.

BidFood is an example of a B2B business providing food for businesses who serve their own customers.
A business selling products or services which meet a company's needs. For instance, a company selling software services, such as email or an e-commerce platform.
Decision makers in the B2B selling process can include sales representatives, senior executives, board of directors, the financial department, legal services, researchers, CEOs, and more.
In a business with between 100 and 500 employees, an average of seven decision makers are involved in B2B sales.
How Are B2B Sales Different from B2C Sales?
In contrast to business to business selling, B2C sales refer to business to customer sales: when a company sells products or services to an individual customer.
A few examples of B2C selling include:
A sales representative selling a gym membership
Grocery store selling groceries
An online fashion store selling clothing to an individual
Retail stores selling a range of goods
Essentially, the buyer of the goods or service is the end user of the product.
It's possible for a company to offer both B2B and B2C selling – a hotel selling rooms to individual consumers and conference rooms to businesses is one example.
B2C selling strategies can include using marketing campaigns to provoke an emotional response from the buyer, using social media influencers to create a connection with the buyer, and hosting contests.
B2B sale techniques require marketing strategies which are usually directed to a company's specific requirements.
Let's delve into eight B2B strategies you can use to make sales.
Looking for more qualified leads?
We offer Lead Identification and Lead intelligence through website & email tracking
How to Do B2B Sales: 8 B2B Sale Strategies You Can Use
Every product or service needs a sales strategy, no matter how great it is. With several decision makers to impress, using an effective marketing technique is the difference between a no and a yes.
So, how can B2B businesses close more deals? Here are eight sales strategies to use:
Research Your Prospects
Knowing who your prospects are can make or break your sales. Research has shown that at least 50% of prospects are not a good fit for your business.
While 100% conversion is relatively unknown, gathering data from your prospects will give your sales team an increased chance of closing a sale.
Researching your prospects doesn't need to be time-consuming, especially if you have a large pool of potential customers to contact. Knowing which specific aspects to research before that important phone call or email will enable you to create a tailored conversion.
Your research can include
The Prospect's Background
What is your prospects mission and values?
How many employees do they have?
What do they offer?
How large is the company?
Search their website or LinkedIn page to find answers to these questions. For example, here's a look at ConvertKit's LinkedIn with a link to a list of people who work there: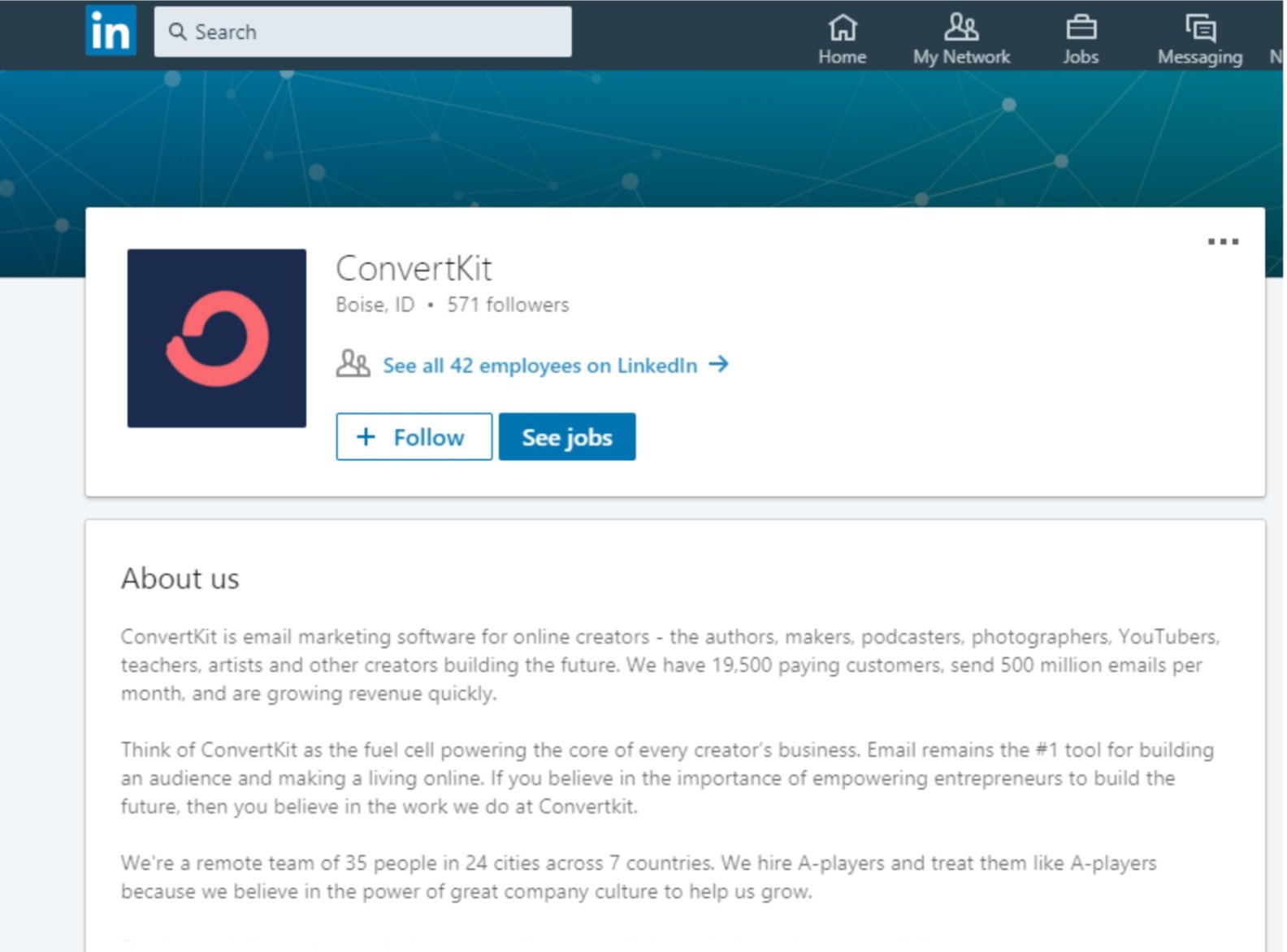 Additionally, explore their social media platforms, search for company mentions in publications, and read any blog posts they've written to help shape your conversion – what products or services are they talking about? Have they attended any events?
Who Are the Decision Makers?
Reach out directly to key decision makers to save time on your sales process. You'll often find key decision makers are listed on your prospect's website, which may appear in the 'about us' section or 'our story'.
For example, Eight Hour Day Studio use their about page to provide visitors information about their founders: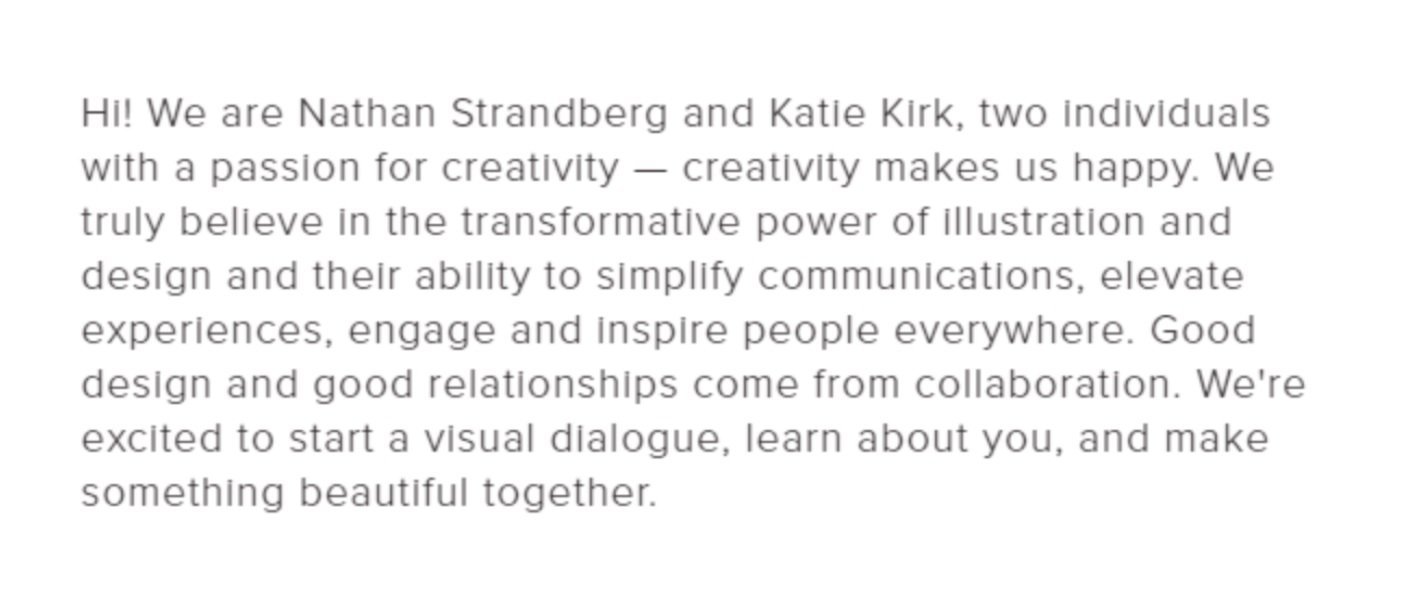 The contact page may also provide suggestions on who to contact for purchasing decisions, for instance, a contact name in a specific department.
LinkedIn is a goldmine for finding key players in a company. See if you can find information on who works for the company, their job role, and how long they have been employed at the company. Those who have only just started working at the company may not have as much influence in decision making as others.
Once you've found a few potential prospects, you can use an email finder to identify the prospect's email address.
What are Their Pain Points?
Before you contact your prospect, you'll need to be aware of how your product or service addresses their pain points.
What does your prospect require that you can offer a solution to?
Are they currently using any products or services which you can offer a better alternative to?
You can include this information in your conversation with your prospect. For example, if your prospect is using social media adverts to drive traffic to their website, you can ask them if this method has been meeting company goals. This presents the opportunity for you to offer an alternative which may be cheaper, more cost-effective, or provides improved results.
Who are Their Competitors?
Analyzing your prospect's competitors allows you to determine what they're doing better.
While decision makers don't enjoy hearing which aspects of their business are not performing as well as their competitors, you can use this to your advantage by showcasing how your product or service will give them an advantage over their rivals.
Focus on Building Relationships
As the B2B sales process is longer than the B2C selling process, developing a close relationship with your prospects can be highly beneficial. Relationships are important as the majority of B2B businesses lose 45 to 50% of their clients over the course of five years.
In comparison to B2C businesses which tend to have one-off payments or small subscription payments, B2B sales are generally of higher value than B2C sales, representing thousands of dollars in revenue. Losing just one customer can create a huge dent in revenue, so it's essential to place your customers at the heart of your business.
Focus on developing valuable relationships with your customers to fuel your marketing efforts. Customer satisfaction prevents your customers from leaving and helps you to hook prospects.
Having a valued relationship with your customer also encourages them to talk about your product or service. Word of mouth is the most powerful aspect influencing a purchasing decision.
With the B2B sales cycle increasing by 22% over five years due to more people becoming involved in purchasing decisions, building a relationship with your prospects is extremely valuable.
How can you build meaningful relationships with your prospects?
Create a lead nurturing strategy. In other words, help your prospects to get to know your business. According to Forrester Research, businesses with an effective lead nurturing strategy generate 50% more sales.
Educate and inform via your marketing strategies. This can include content marketing.
Build trust by acknowledging your prospects concerns. We'll go into detail on this topic shortly.
When it comes to building customer relationships, think about the long-term focus of your B2B business. Stop concentrating on closing the sale and start putting customer satisfaction at the center of your goals.
Build an Effective Website
94% of B2B buyers conduct online research before making a purchasing decision. This includes social media, online reviews, blogs, search engines, and websites. Having a dedicated website for your B2B business helps prospects to understand more about your business.
Your website helps you to stand out from your competition by allowing you to present your company's mission and values.
What is your unique selling point?
One way to develop your unique selling point is to state a result plus target sector plus guarantee. For example: "we help B2B businesses to implement a content marketing strategy and increase leads by 10% or we'll return your money."
Additionally, your website is the center of your content marketing strategy, such as blog posts and lead magnets. Your website is where you can present your products and services to your prospects.
Your content plays a key role in lead generation. However, if your website is clunky or poorly designed, it's not going to entice potential customers. Your website design should focus on being accessible and aiding business goals with a simple navigation, contact page, social media links, designated pages for specific resources, and optimized for mobile usage.
Establish a Social Media Presence
Being present on social media helps you attain customer research, as well as discovering more information about your competition.
Social selling is another option to consider. Companies incorporating social selling into their B2B sales strategies perform 15% better than those without a social selling strategy.
Social selling helps you to find and target key decision makers, focus on real people, and establish warm leads, helping guide them through the buying process. In contrast, traditional selling involves cold leads and finding random contacts, making the selling process more difficult.
67% of a buyer's journey is now through digital means. Research has found that 90% of decision makers never respond to cold callers, emphasizing the importance of nurturing your prospects before closing a sale.
Using social media as part of your content marketing strategy helps you to establish yourself as an expert in your industry, aiding trust with your prospects. You can share content you've already published on your website or share exclusive content, such as interesting statistics, behind the scenes information or stories from satisfied customers.
One of the best places to start with your social strategy is LinkedIn. LinkedIn boasts over 560 million members and 80% of B2B leads are generated via the social platform.
Why is LinkedIn so successful for B2B lead generation?
Many business decision makers are present on LinkedIn
These decision makers use LinkedIn to actively make business decisions. Let's face it, they're not on LinkedIn to scroll through your family photographs
LinkedIn has 260 million active users each month – 40% of which, log in daily
So, how can you use LinkedIn to your advantage?
Promote your website content, including blog posts, eBooks, white papers
Connect with decision makers
Use your company page to generate leads by stating your mission, values, promoting a piece of content, and regularly posting updates
Join relevant B2B groups which are in your target audience
Create your own LinkedIn group to help establish your authority
Publish tailor-made content directly to LinkedIn publisher
Create Content to Aid Your Prospect
Your content marketing strategy should include resolving any queries your prospect has, helping you to build trust. It also helps you to establish your brand as a leader within your market as you can share your expert knowledge.
Your content should focus on teaching rather than selling to nurture relationships with prospects. Creating high-quality content early in the buyer's journey aids this process. Educational and authoritative content which is consistently published can drive organic traffic to your website via search engines and inbound links.
Gated content allows you to offer your best content in return for your prospects email information, allowing you to add more prospects to your lead nurture strategy.
Your content marketing strategy might include
Blog posts
Educational articles
Webinars
eBooks
Videos
Whitepapers
Reports
Guides
Quizzes
Courses
For example, HubSpot has their own academy, featuring a range of recognized free courses which are available in return for a prospect sign up: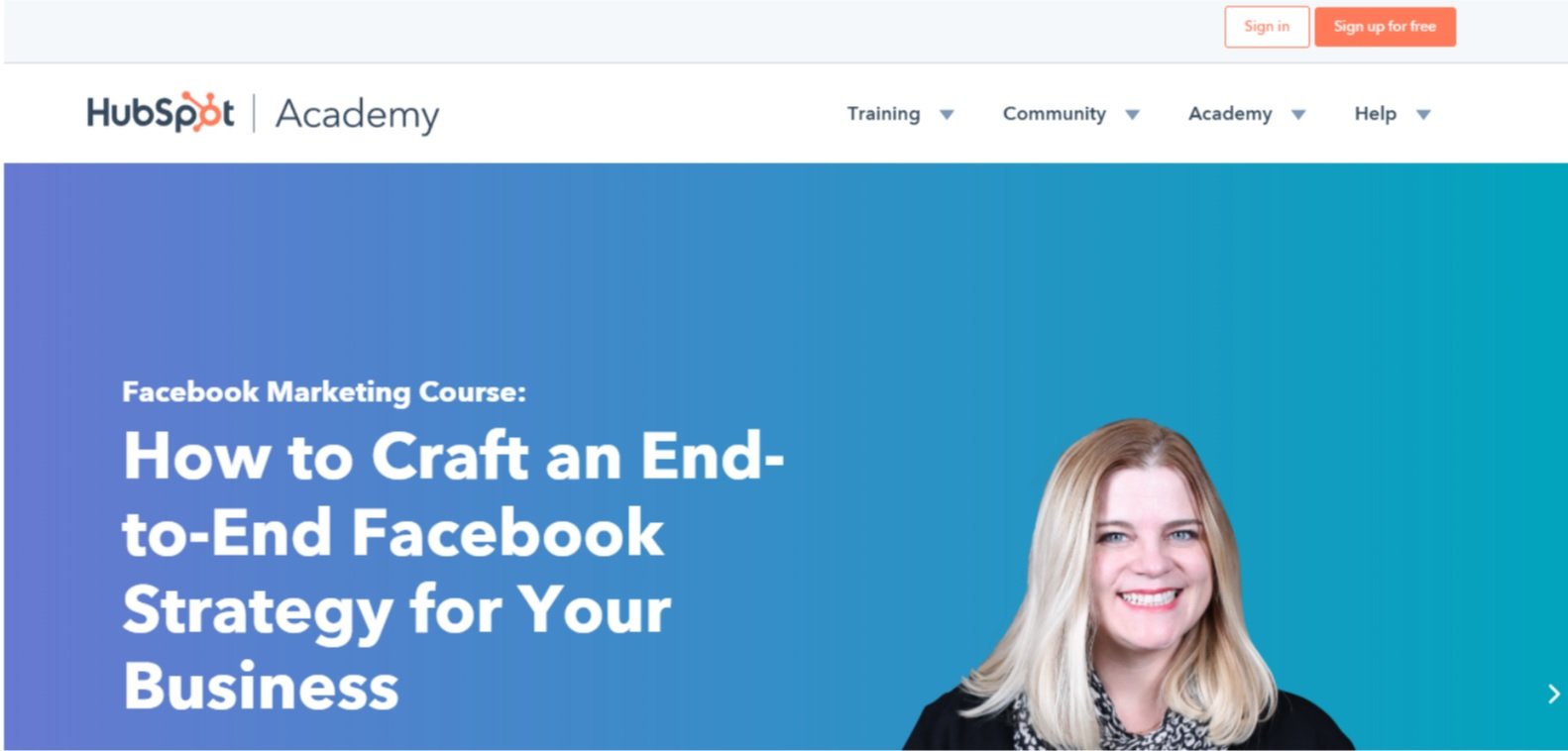 Create a content library to guide prospects through the buyer journey and provide knowledge to help them make a buying decision. Your content library should include content which answers your prospects queries.
As an example, Credit card processing software company, Square Up, addressed a potential concern from restaurant prospects via a blog post on how new customers can find their restaurant: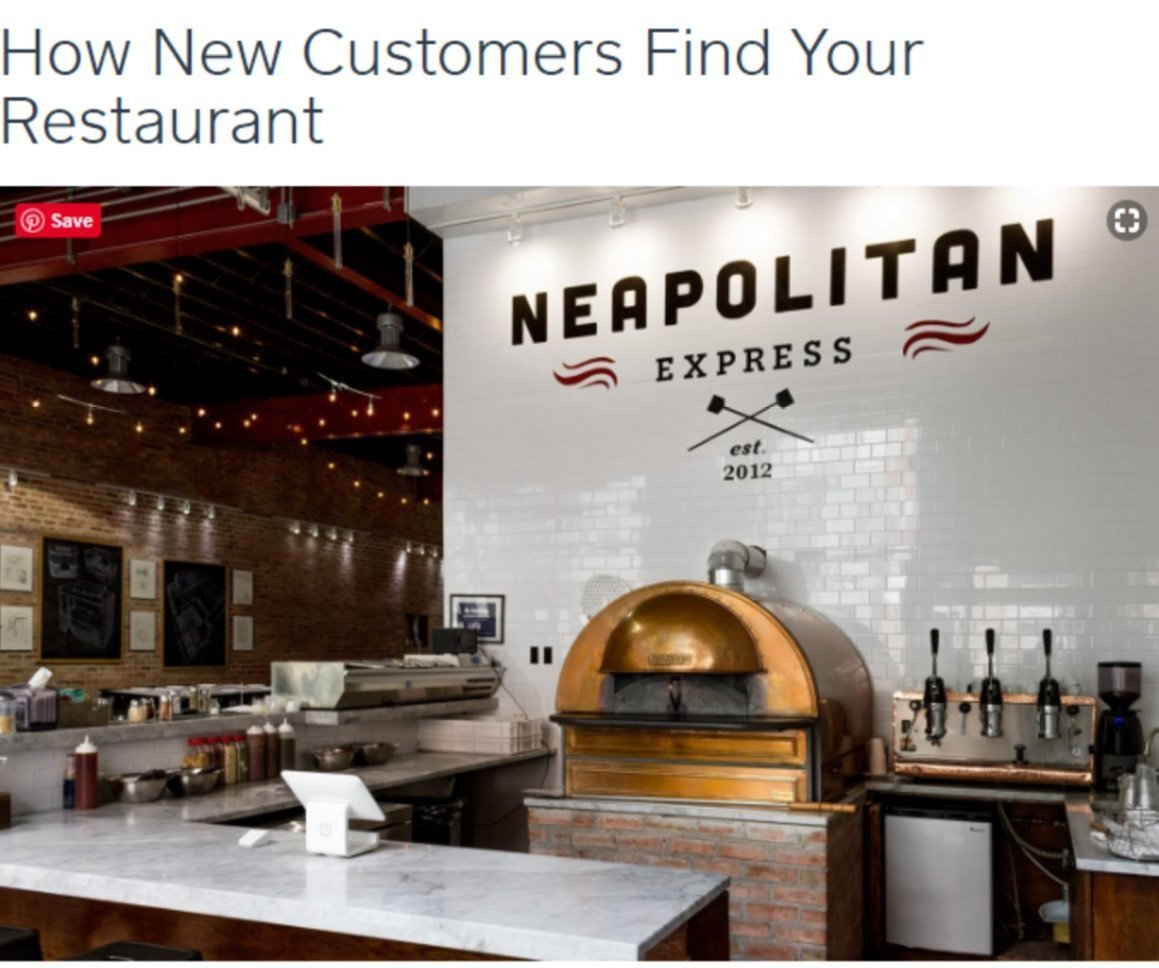 This can help to ease concerns from prospects worried that they won't be able to afford the software.
Your content library can also be shared by your sales team when interacting with prospects. Research has demonstrated that decision-makers are more responsive to salespeople who include articles, case studies, and/or white papers in their outreach.
Utilize Email Marketing
In a survey by Marketing Sherpa, 64% of respondents believed that email marketing delivers the biggest return of investment in comparison to other marketing tactics.
Email marketing is a crucial part of your B2B sales strategy, assisting in turning prospects into buyers. Once a prospect has given their consent for you to email them, you can use a variety of content to nurture them.
Types of emails you can send include:
Newsletter

– an announcement, blog post round-up, events, or recent news. Think about what information you can offer to benefit your prospect. Maybe you could announce a free guide on one of their pain points or announce a free workshop where they can learn new skills.

Educational content

– this could be an extract from one of your articles, a preview of an eBook, or a separate piece of content which your prospect will learn from. Remember to focus on education rather than selling in your emails.
Personal email – when your lead is getting closer towards the end of your sales funnel, you may wish to send a personalized email. This type of email enables you to directly contact an individual rather than addressing a group of people. Personal emails can address an individual's queries and personal pain points, potentially closing the sale. As an example, LiveChat use a personalized newsletter to hook prospects: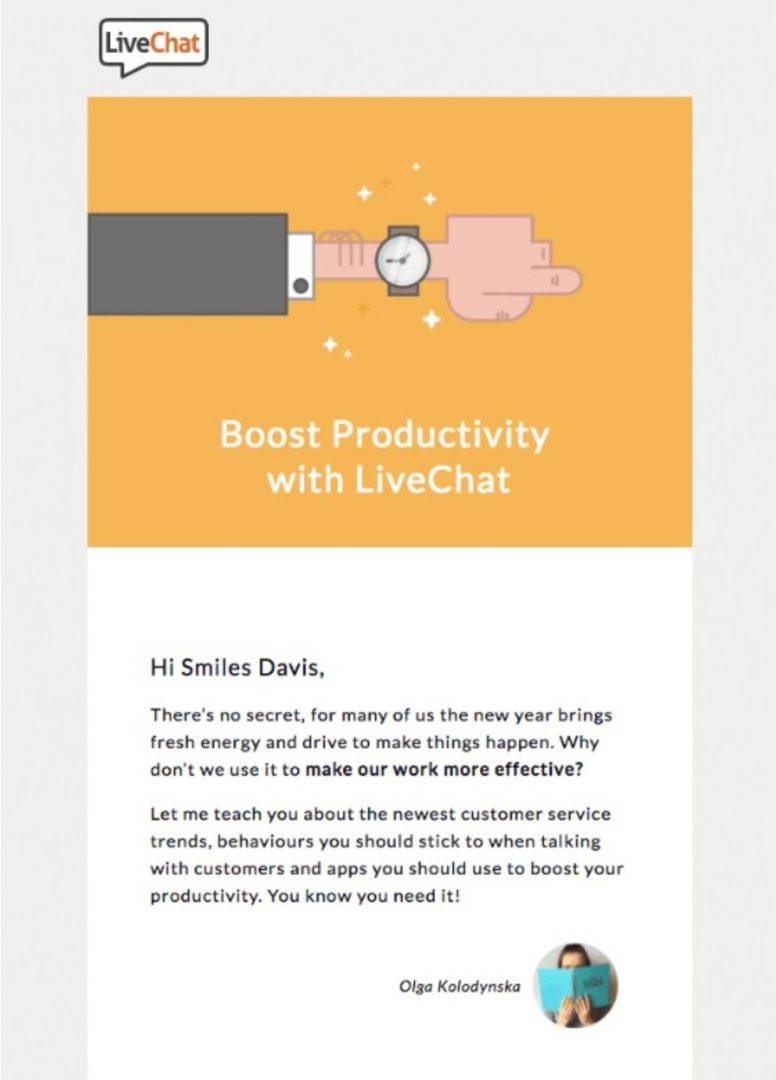 Provide Real Results
Prospects don't just want to know about your product or service; they're interested in real results! What can you do for your prospect to help them achieve their goals? Be specific with numbers.
Real results can be fantastic for presenting in case studies on your website. Your case studies allow prospects to see your success stories, viewing your strategies and work process.
Really B2B use case studies on their website to showcase client results: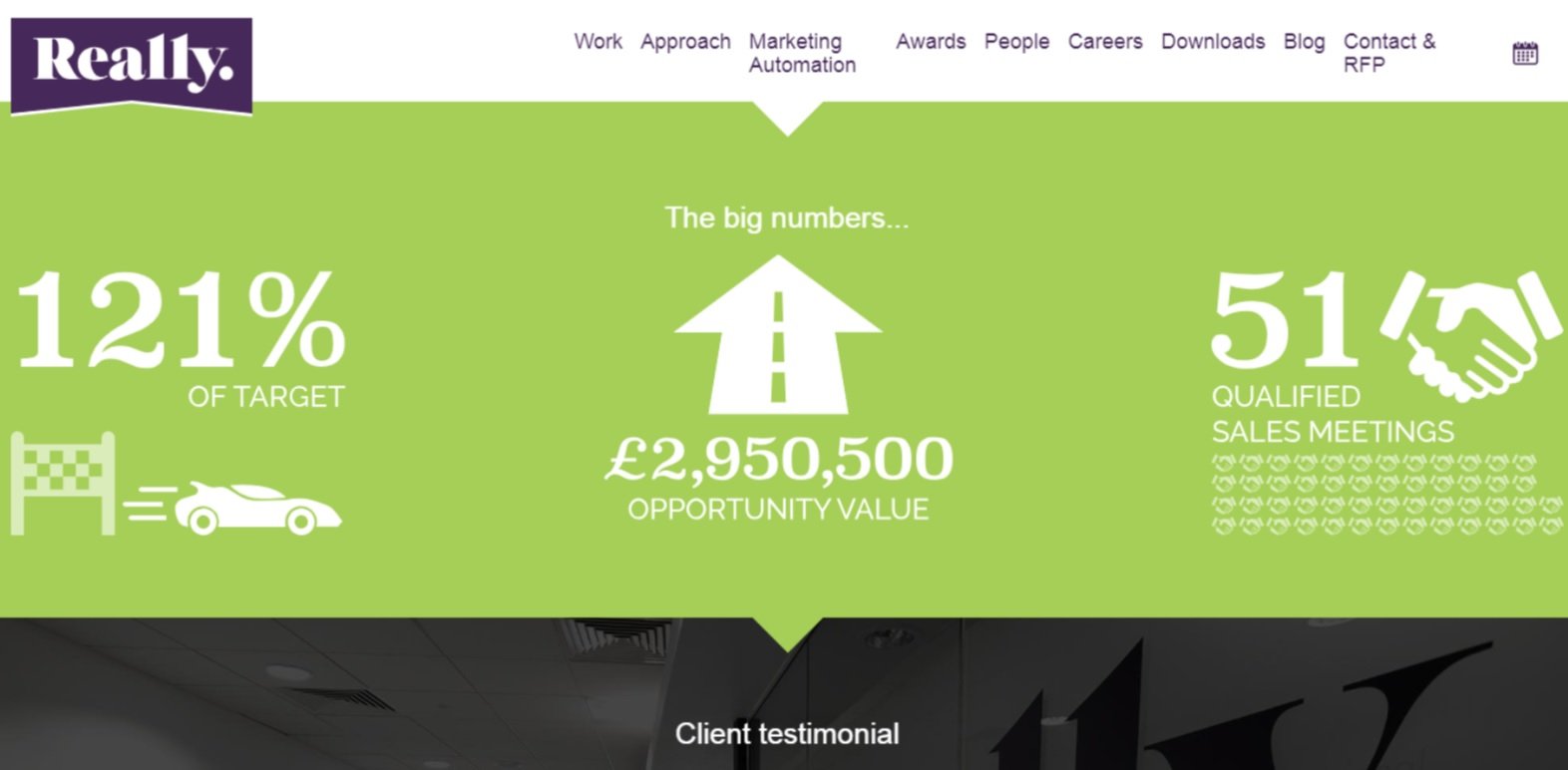 An engaging case study can use a question and answer format, a who, what, where format, or your own unique format – just remember to clearly state what your prospects goals were, what you did, and the specific results you achieved.
Attend Events
Attending events or hosting your own brings you closer to your prospects. 69% of B2B marketers say events are effective, while 64% of marketers use events and trade shows for lead generation.
Your event marketing plan could involve one of your sales team speaking at an event, hosting an exhibit at a trade show, sponsoring an event, or co-hosting an event with a company not in direct competition with yourself.
Sales Software for B2B Sales
Sales platforms assist B2B businesses in serving their customers. B2B sales software can involve order processing, nurturing prospects, membership only areas, marketing, and more.
There are varying sales software for B2B sales. Here are 5 sales software to consider:
LeadBoxer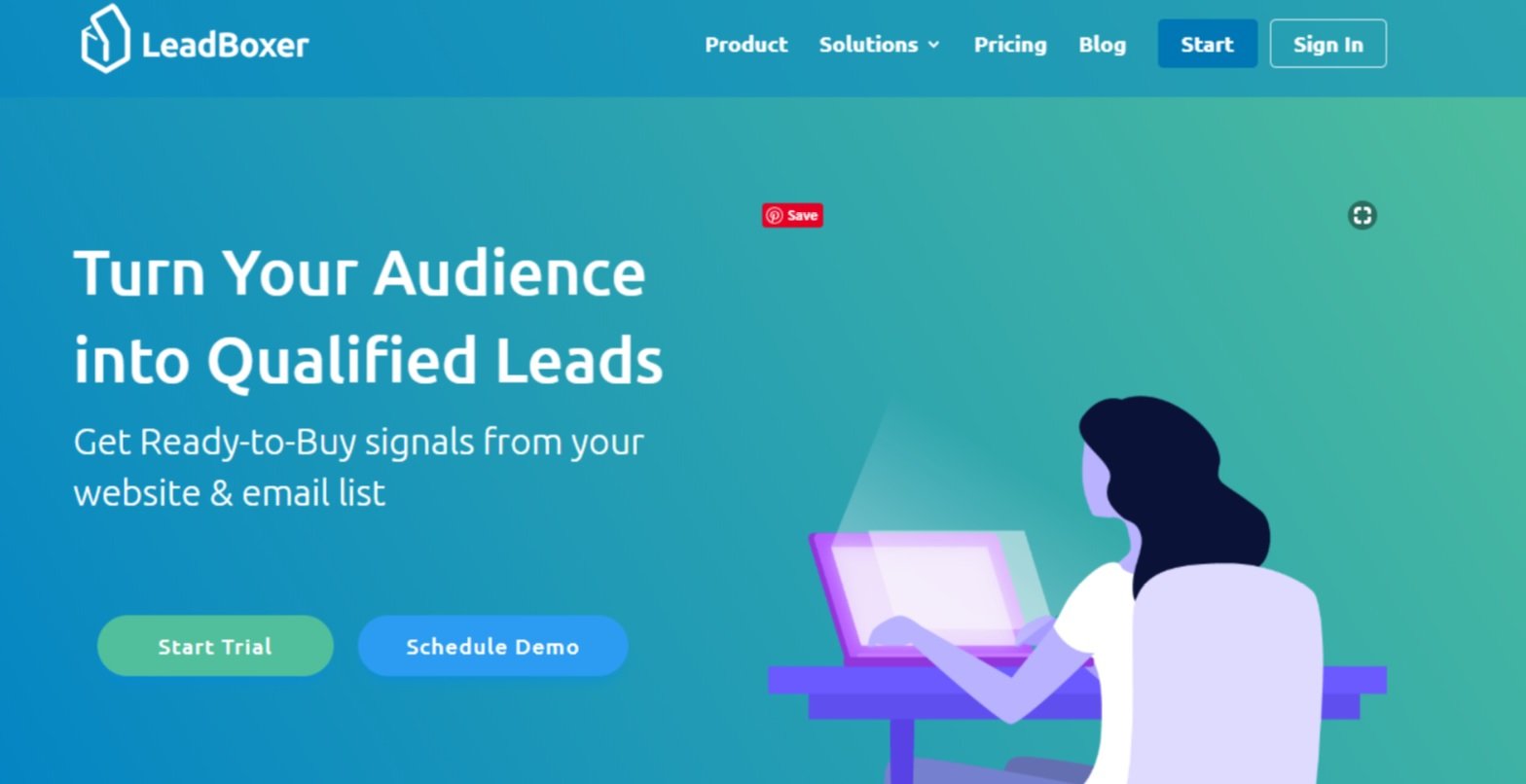 LeadBoxer is a lead generation platform which provides real-time information about visitors to your website. It helps you find new leads by analyzing your web traffic to identify and segment users. All website data is examined, including logins, downloads, forms, and clicks.
You can generate new leads for your business, pursue them quickly due to real-time analytics, and create segments.
Who is LeadBoxer suitable for: Any business with an online presence.
Free trial available: Yes.
Campaign Monitor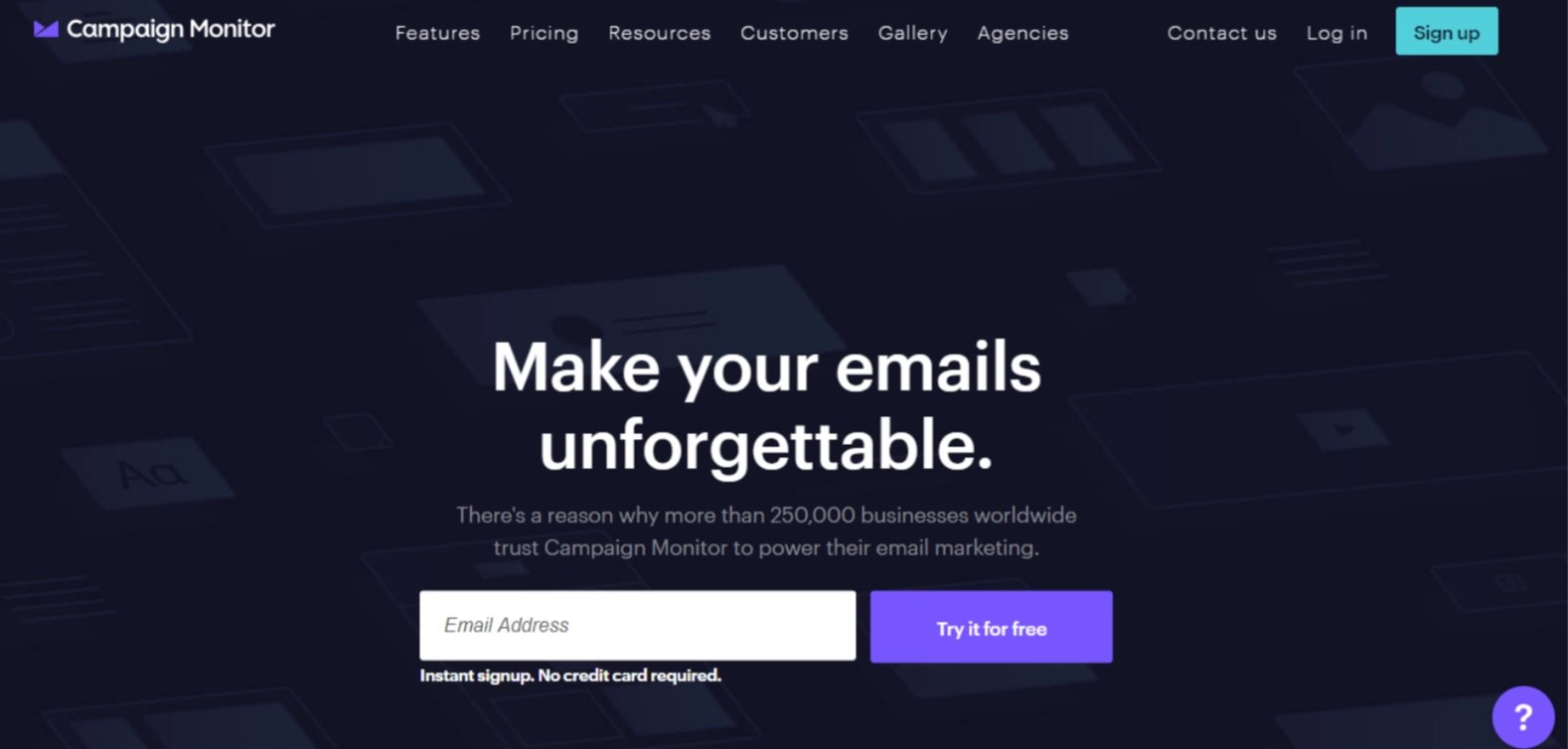 Campaign Monitor is an email marketing platform that allows you to send personalized emails to leads and customers. Sign up forms can be customized and transactional emails can reflect your brand image.
Campaign Monitor offers an array of templates for your email campaigns. A drag-and-drop email builder provides simplicity to users.
Who is Campaign Monitor suitable for: Any business using email marketing as part of their B2B sales strategy.
Free trial available: No. However, users can access all features for free. Payment only occurs once emails are ready to be sent.
LinkedIn Sales Navigator
We've already noted that LinkedIn is an effective platform for lead generation. LinkedIn Sales Navigator assists you in this process by offering an advanced lead search, an easy way to saves leads, lead recommendations based on an algorithm, and a method of engaging with prospects.
Pursue the right people in your target audience and keep track of any changes.
Who is LinkedIn Sales Navigator suitable for: Any business searching for new leads.
Free trial available: Yes, to eligible users.
ClearSlide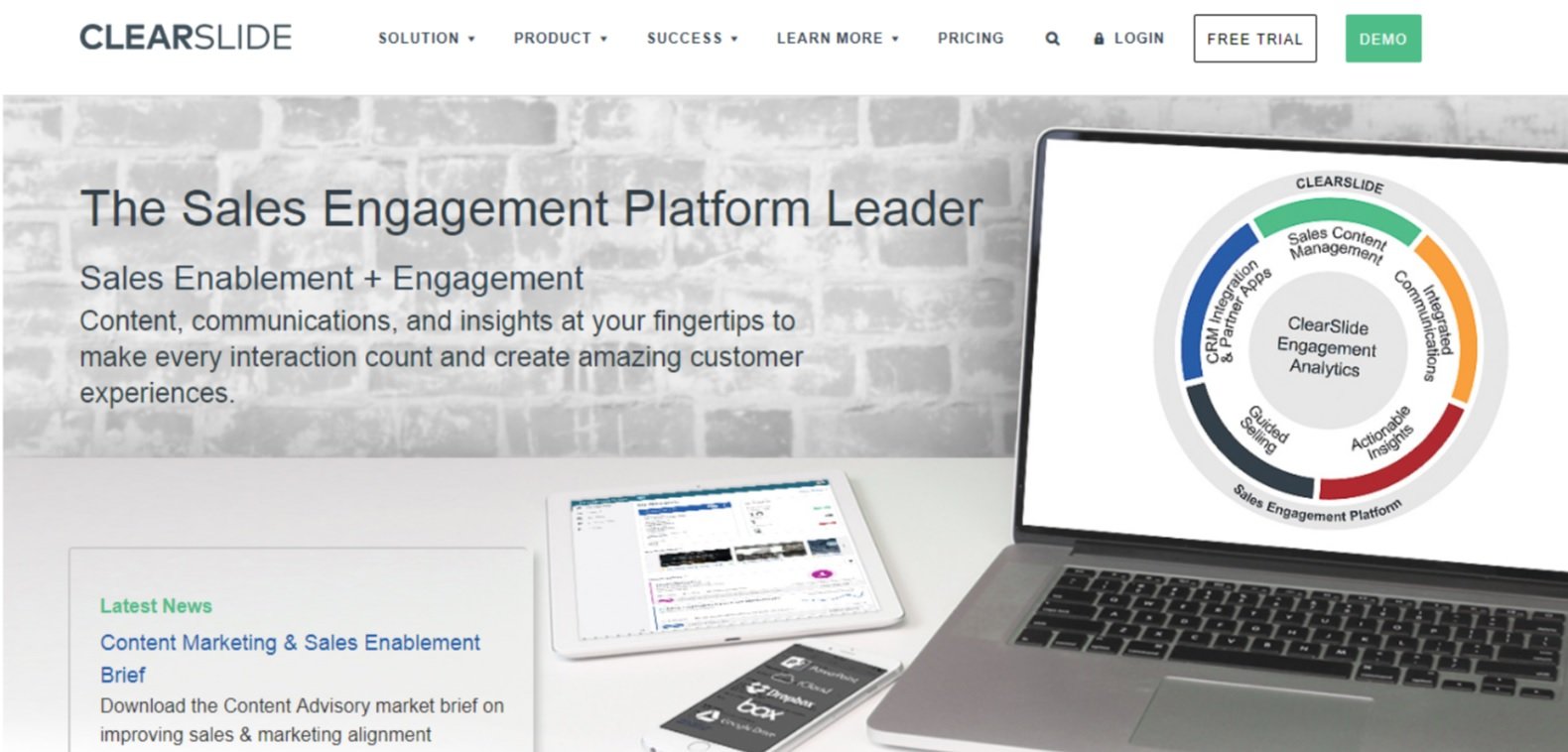 ClearSlide is a sales engagement platform that allows users to share sales materials, track email campaigns, host materials for sales calls, provide web conferencing, and create slides for presentations.
It can be used for product demonstrations, sharing presentations with customers, and recording meetings.
Who is ClearSlide suitable for: Any business using video in their B2B sales strategy.
Free trial available: Yes.
HubSpot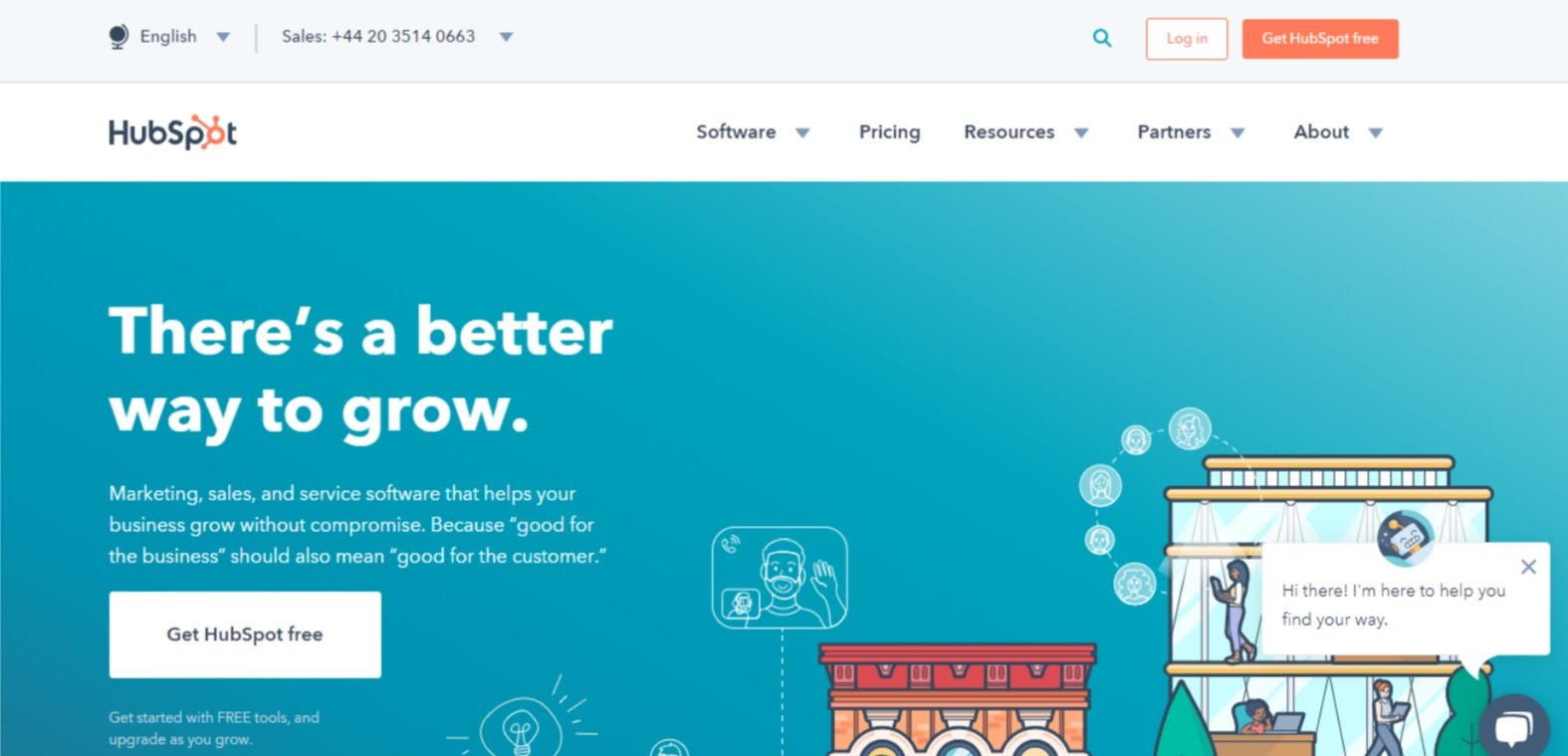 HubSpot is an inbound marketing software platform containing a content management and customer relationship management system. With HubSpot, you can convert visitors into leads, drive web traffic to landing pages, and get your content in front of your target audience.
You can record every interaction you have with a customer, organize a workflow for teams, automate marketing, and much more.
Who is HubSpot suitable for: Any size of business
Free trial available: Yes, HubSpot offer a free customer relationship management system for clients.
Business to Business Selling with Multiple Strategies
B2B sales is often a complex process with several decision makers. Several strategies can be used to gain leads and close sales, with some businesses using multiple strategies for lead generation.
The first step starts with customer research and knowing who your prospects are. Once you've established a target audience, you can use content marketing, social media, and events to build an online presence and build a trusted relationship with your potential customers.
B2B sales software like lead generation software makes sourcing leads and creating a warm relationship easier.
Using the strategies and software in this article will give you a great head start in the B2B sales sector.
Looking for more qualified leads?
We offer Lead Identification and Lead intelligence through website & email tracking