The key to giving your customers a great experience is to walk in their shoes. And by empathizing with your clientele and understanding their motivations, your company will be able to drive product design and service based on what customers need most. As Kevin Stirtz says, "Know what your customers want most and what your company does best. Focus on where those two meet." And a customer journey map is one tool that can help you look into customer behavior, motivations, and needs. Most importantly, this knowledge will help improve your relationship with customers, boost sales, and help you accomplish your business's goals. So in this article, we'll cover the following questions you may have about customer journey maps:
What is a Customer Journey Map?
A customer journey map is a visual representation of the stages a customer takes before accomplishing a certain goal a company has for them. To clarify, it takes into consideration a customer's pain points, emotional needs, and actions. So this type of map illustrates the customer narrative as they engage with a brand.
Most customer journey maps look at the entire customer lifecycle. Starting with the introduction to the brand and continuing to post-sale support services – with all the steps in between.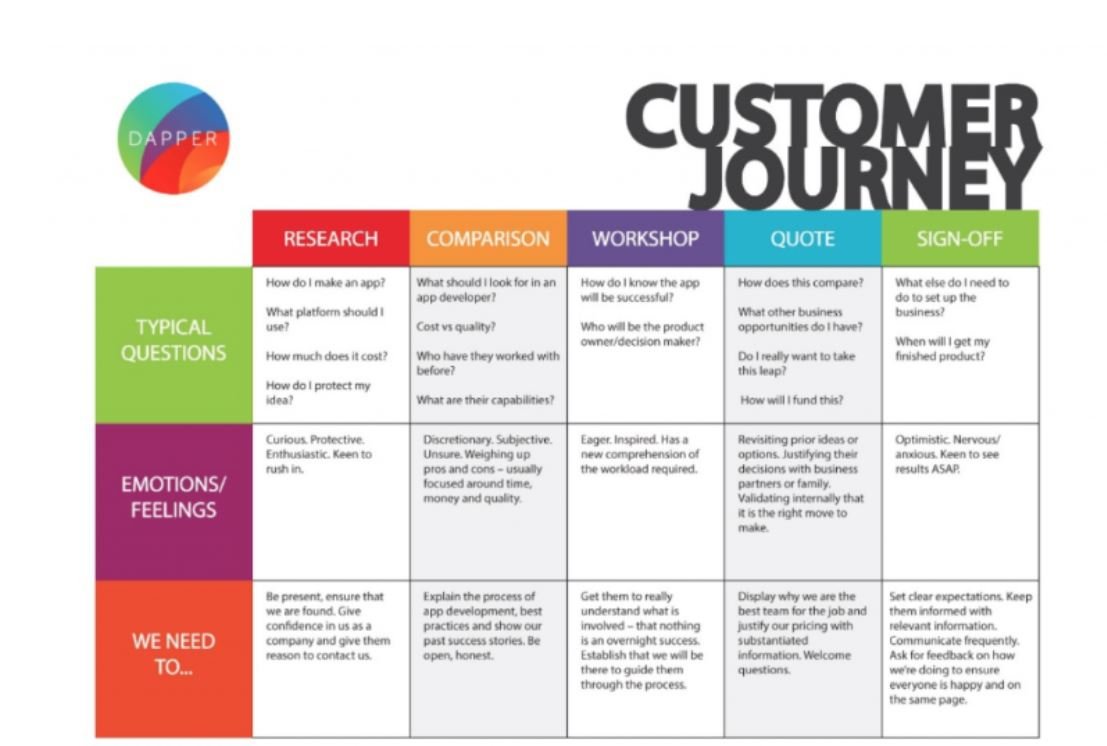 Often, these stages are displayed in a linear fashion. However, a customer's engagement with a business is not always so simple. And graphs can display cyclical customer journeys or journeys through multiple channels.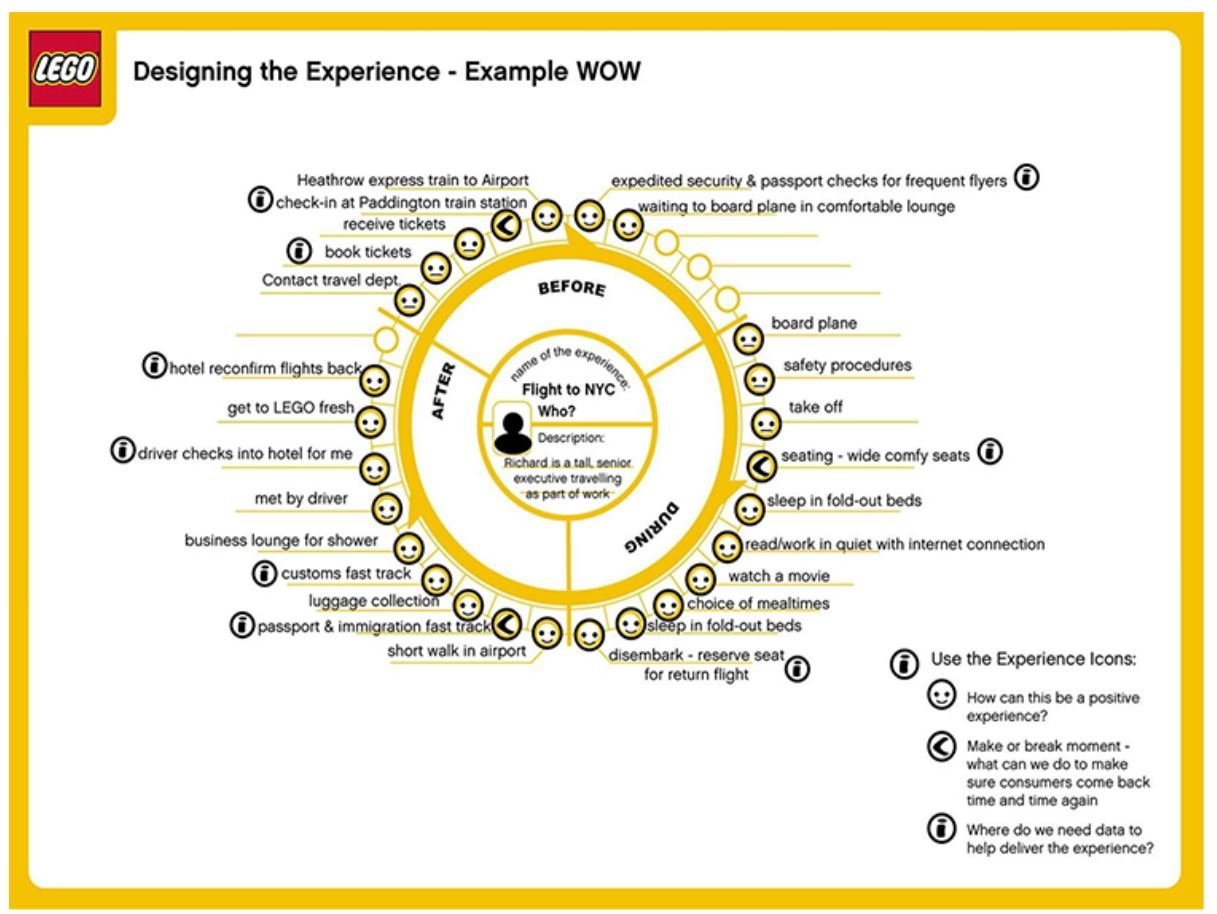 Source
Companies can take this opportunity to creatively communicate analogies about how different leads interact with the brand, such as through a tornado analogy: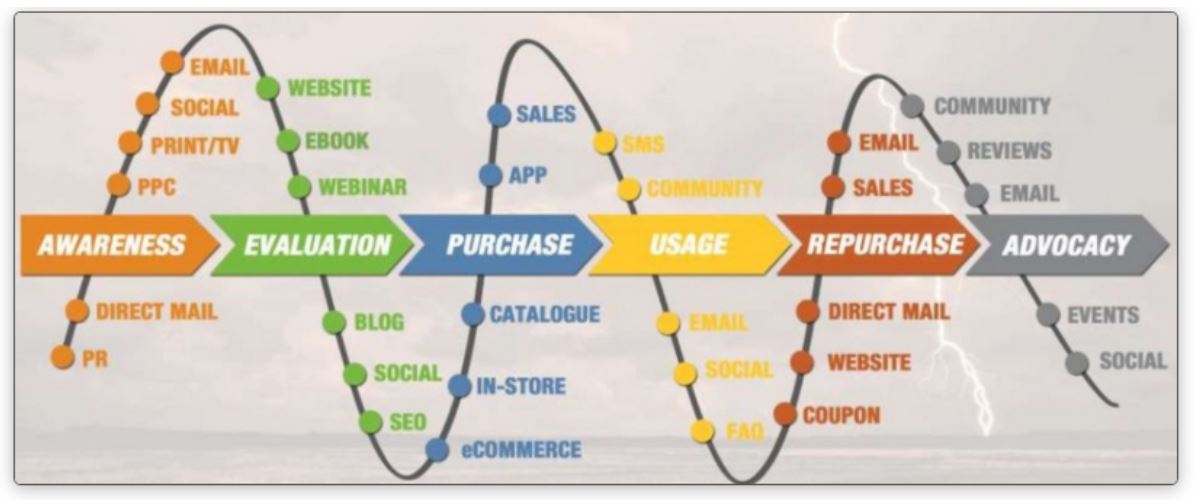 Common Elements
Though customer journey maps can vary, they have shared essential components. Here are the following elements that the diagrams will have in common:
Persona:

A profile of the brand's clients, offering demographic and psychographic information. Companies usually have diverse client groups. So each customer journey map should be catered to each unique persona that the company wants to learn more about.

Designated Touchpoints:

Important moments when clients interact with the brand. (Paid advertisement, sign up form, social media engagement, a purchase, etc.).

Moments of Truth:

Touchpoints that can make or break it for a customer.

Performance Indicators:

Evaluative factors that measure how customers are responding at certain touchpoints. To clarify, these often measure the customer's emotional state or satisfaction levels along their path.

Visuals:

The visual element of the journey map displays the path the customer takes on their journey. In many cases, this can be a linear illustration. In other cases, it makes more sense to show the cyclical nature of the customer cycle.
These diagrams are not internal pipelines, sales processes, or any other funnel your business might create from a developer point of view. These are purely focused on the customer experience. And visual demonstration needs to make sense for your company, product, and most importantly, your customers' perspective.
Looking for more qualified leads?
We offer Lead Identification and Lead intelligence through website & email tracking
Why Should you use a Customer Journey Map?
As Sam Walton wisely said, "There is only one boss. The customer."
And with that in mind, companies know the importance of understanding their customers. There is no use in designing a product without understanding those who will potentially use the product. In other words, what their needs are, what their communication style is, and how they feel about the product in their life.
Companies that take time to study and analyze real data on those they serve yield better results. And brands that strategically map the customer's journey showed a 24% increase in return on marketing investments and reduced service costs by 21%.
On the other hand, assumptions about a customer base can be the downfall of a company. Take Shyp for example.
Shyp had a great idea for easy and cheap package delivery services for individuals. But neglected the fact that people don't actually ship personal products very often. Building a financial model around what could've been, rather than the customer's reality, led to the ruin of a startup with high potential.
What can we gather from this information?
So assumptions lead to failure, or at the very least, large loss of opportunity. Data and real customer insight can lead to significant returns.
Certainly, journey maps are critical in knowing customer realities. And this is the most important information to have when running a business. Other benefits of journey maps include:
Improved customer engagement.
Improve customer-centric practices.
Departments working together better and reduced gaps between silos.
Assessing effectiveness of touchpoints and teams responsible for them.
Improve your inbound marketing and lead qualification approach.
Provide framework for assessing customer experience ROI.
Types of Customer Journey Maps
There are several different types of customer journey maps. Here are four main frameworks to consider when organizing a potential diagram.
Current State
Current state maps are an honest assessment of the present experience users have when interacting with your brand. And this is not a graph showing the ideal way a customer would move through the pipeline. But rather the current reality. In other words, the journey map shows how certain touchpoints are succeeding or failing.
Are clients falling through the cracks on social media? Are they dissatisfied with customer service? How are email campaigns performing? Current state diagrams can give you the answers you need to improve the customer experience.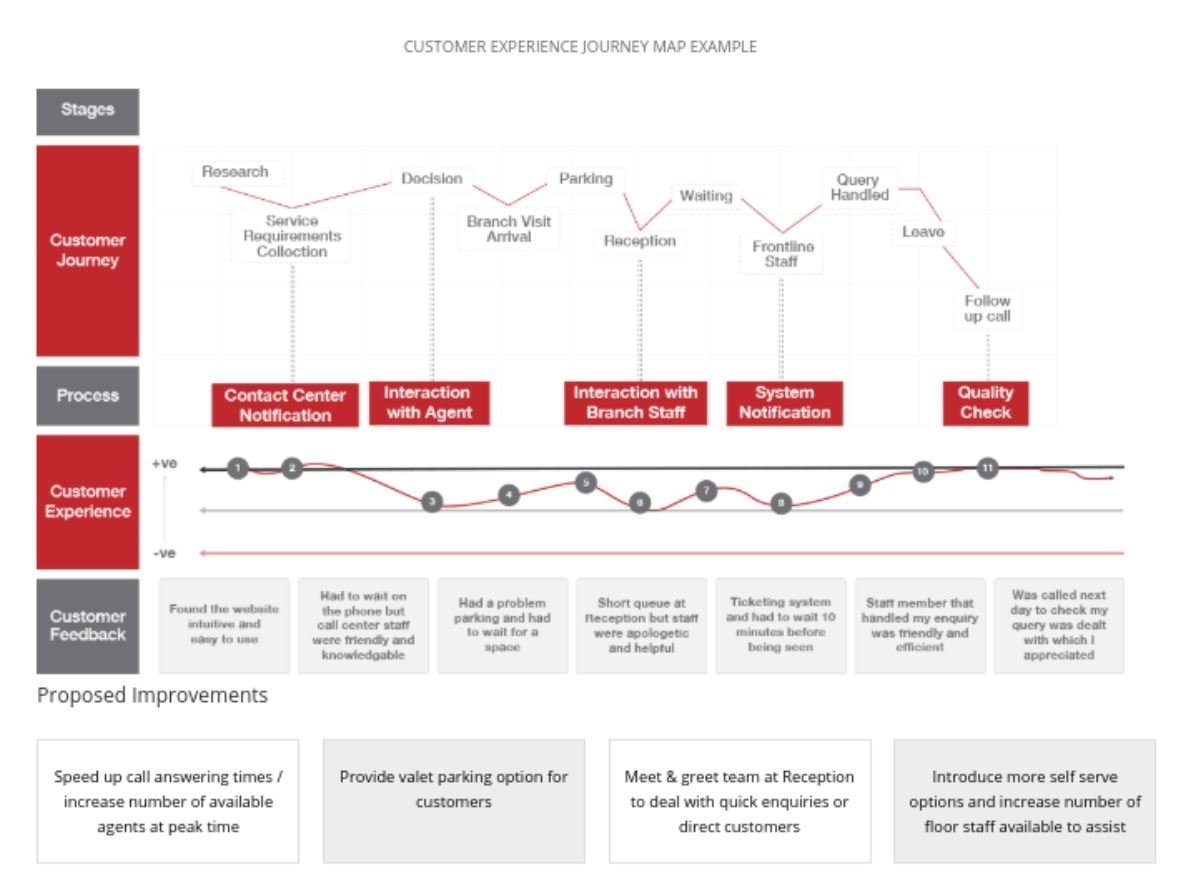 Future State
Future State maps are what you would like the customer process to be. This type of mapping is helpful for communicating to different departments the ideal process for achieving customer goals.
Future state maps are not primarily based on current data. Instead, designers use their imagination and customer empathy to anticipate what users will experience after certain decisions are put into practice or marketing material is produced.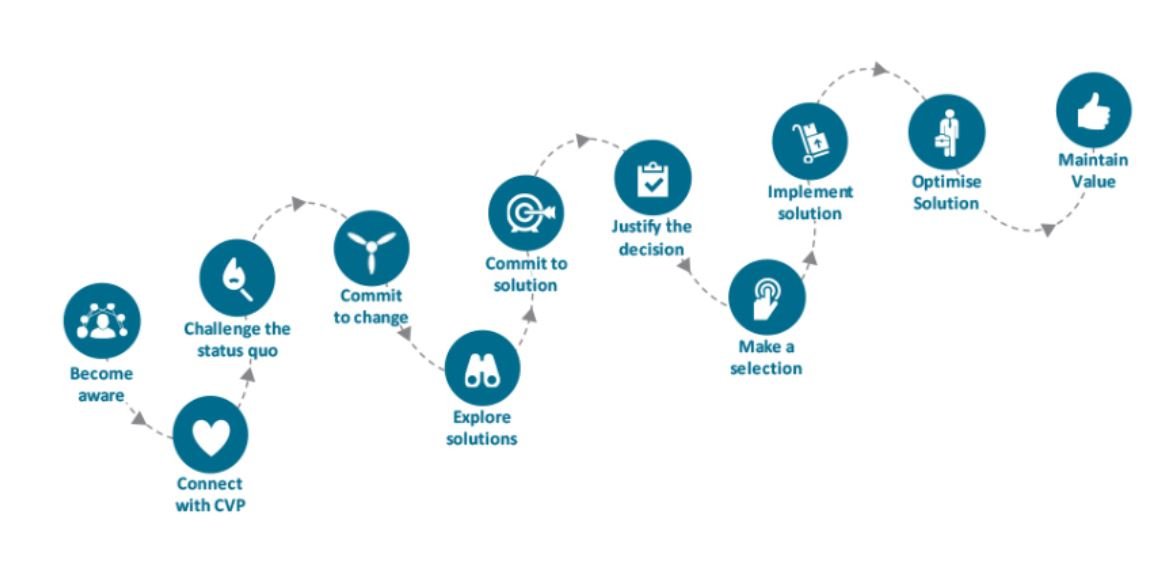 Day in the Life
The goal of this type of map is to show what the daily life is of specific personas. These maps dig into the pain points of customers, their motivations, their emotions, and what they need from a product throughout their normal daily routine.
They are also helpful in understanding specific demographics and their behavior at certain points during the day.
Marketers can learn when personas are distractedly browsing on social media and likely to make a purchase or when they are stressed trying to get kids to school. Knowing the timing of a particular email or message can make all the difference.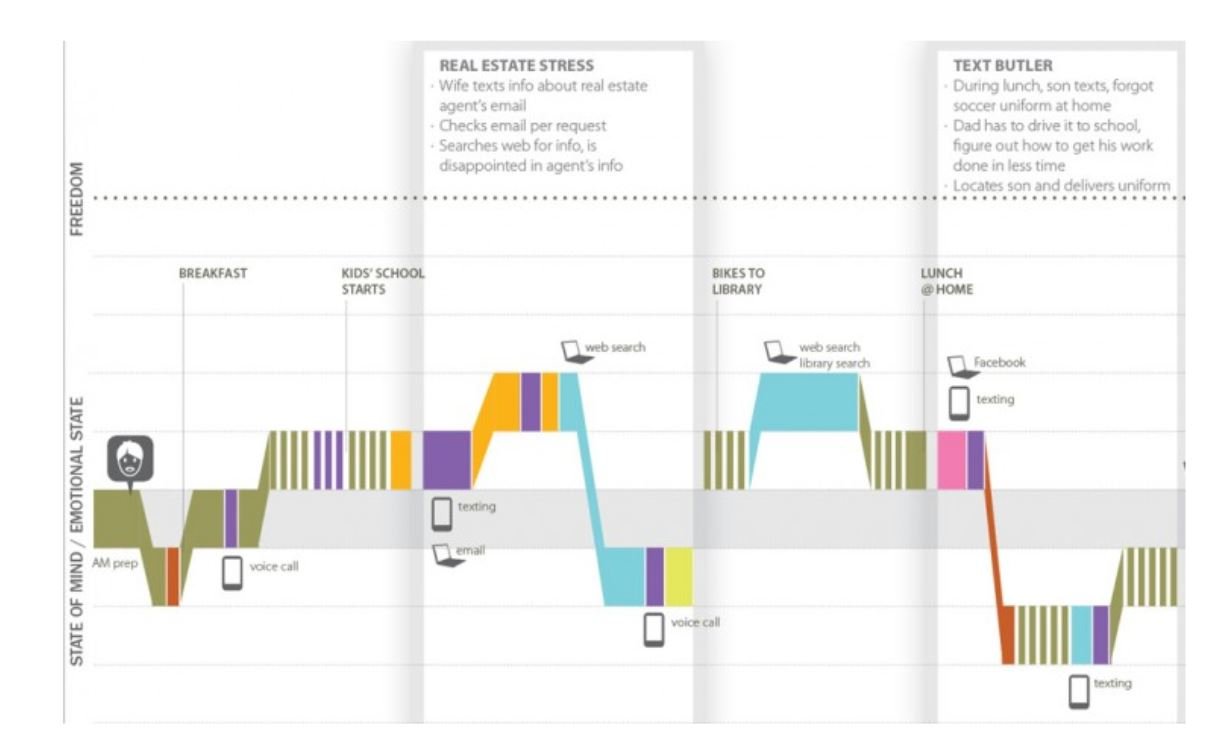 Blueprint
Blueprint graphs are based on another current or future state map. They also include systems, processes, and tools that are used to bring all elements of the customer experience together.
They give a more detailed picture of how the customer is actually engaging with the company, allowing for deeper insights into pain points and the necessary support needed.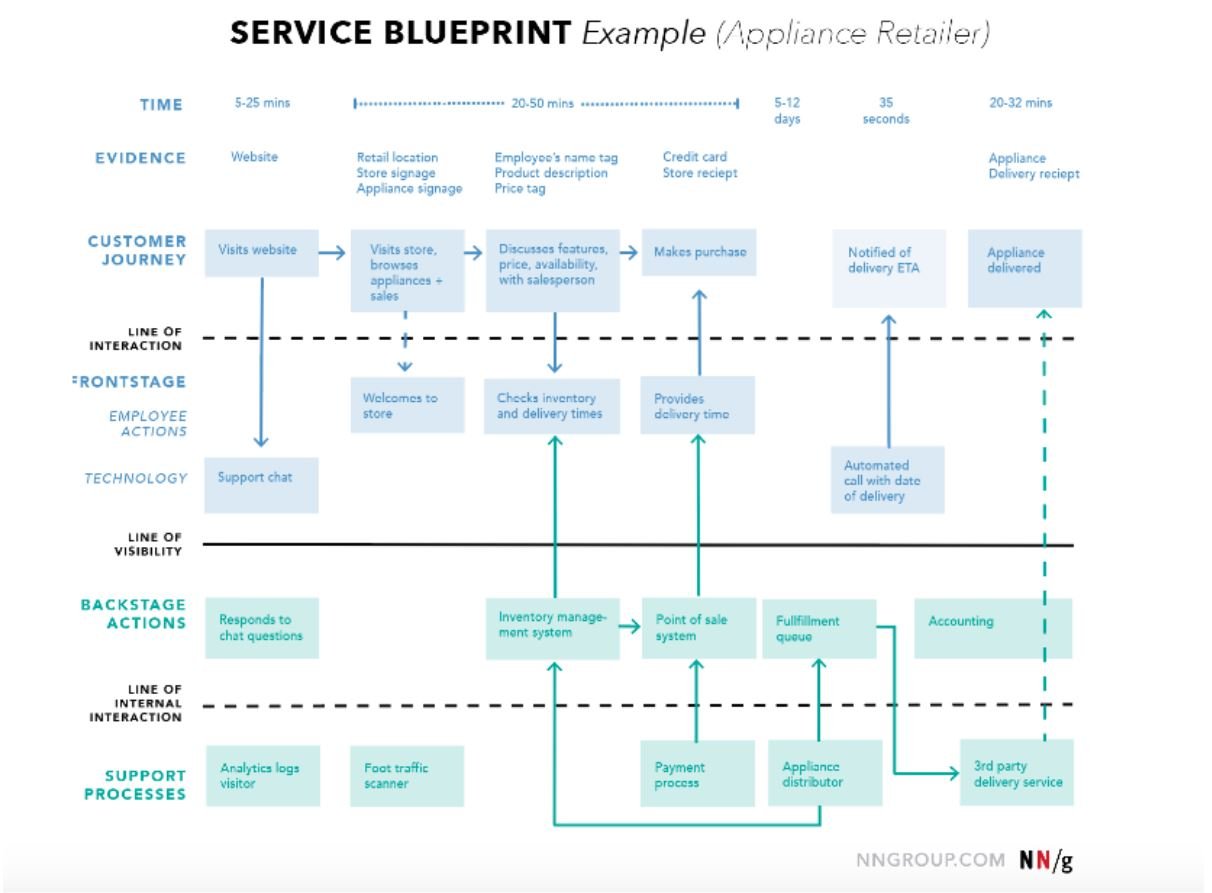 Case Studies of Journey Maps That Work
Businesses have different strategies, different demographics, and different products. Each company will have to determine which touchpoints and associated factors they want to understand. Different factors can include:
B2B vs B2C business models
Subscription-based vs transactional services
Size of scale
Types of personas
Because journey maps are tailored to the specific needs of each individual company or department within that company, we are going to take a look at three case studies that provide insight into how these maps can allow business people to walk with their clients.
The YMCA
The large YMCA branch in the Greater Twin Cities undertook the process of customer journey mapping in order to improve member wellbeing and loyalty. This business model is based on subscription services. Customer journey mapping was a valuable tool to grow customer retention rates.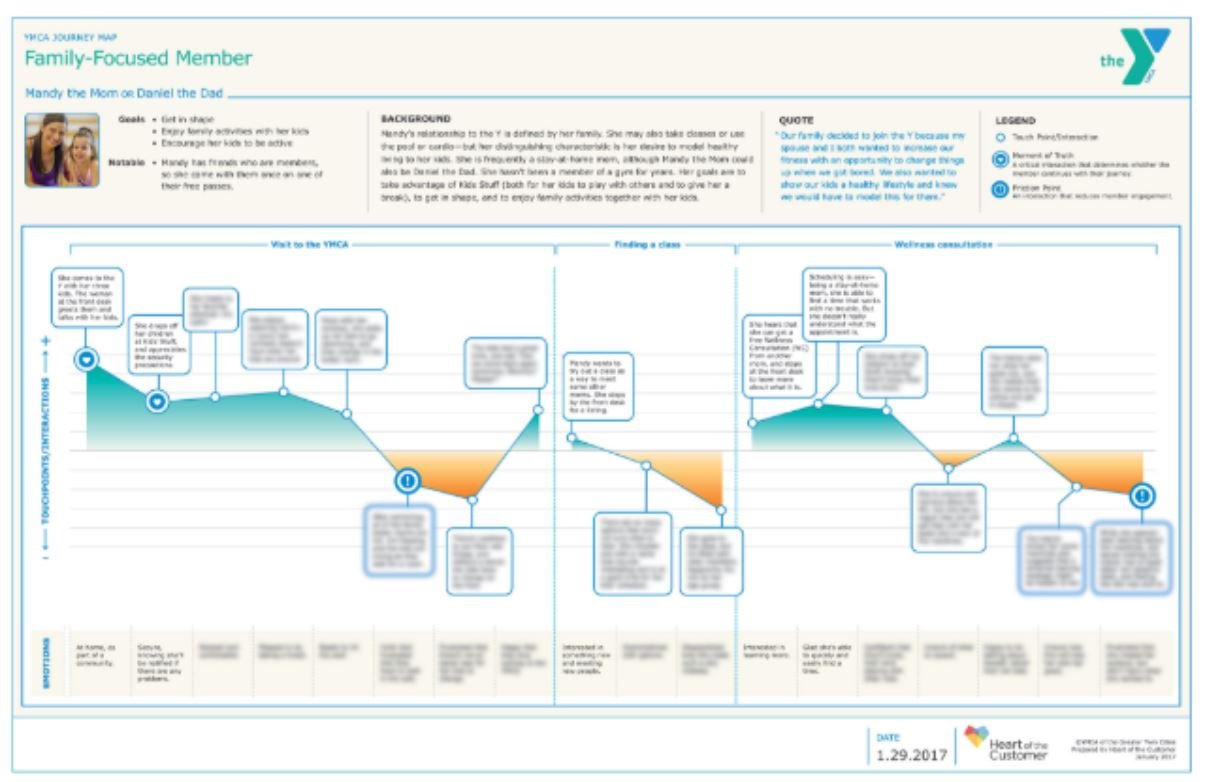 After leaders met and agreed that putting the customer first was a top priority in their organization, they put their heads together to make hypotheses about their customers and to determine which personas they were going to study and within which parameters.
Research led to the development of different personas and richer understanding of their motivations, pain points, and moments of truth.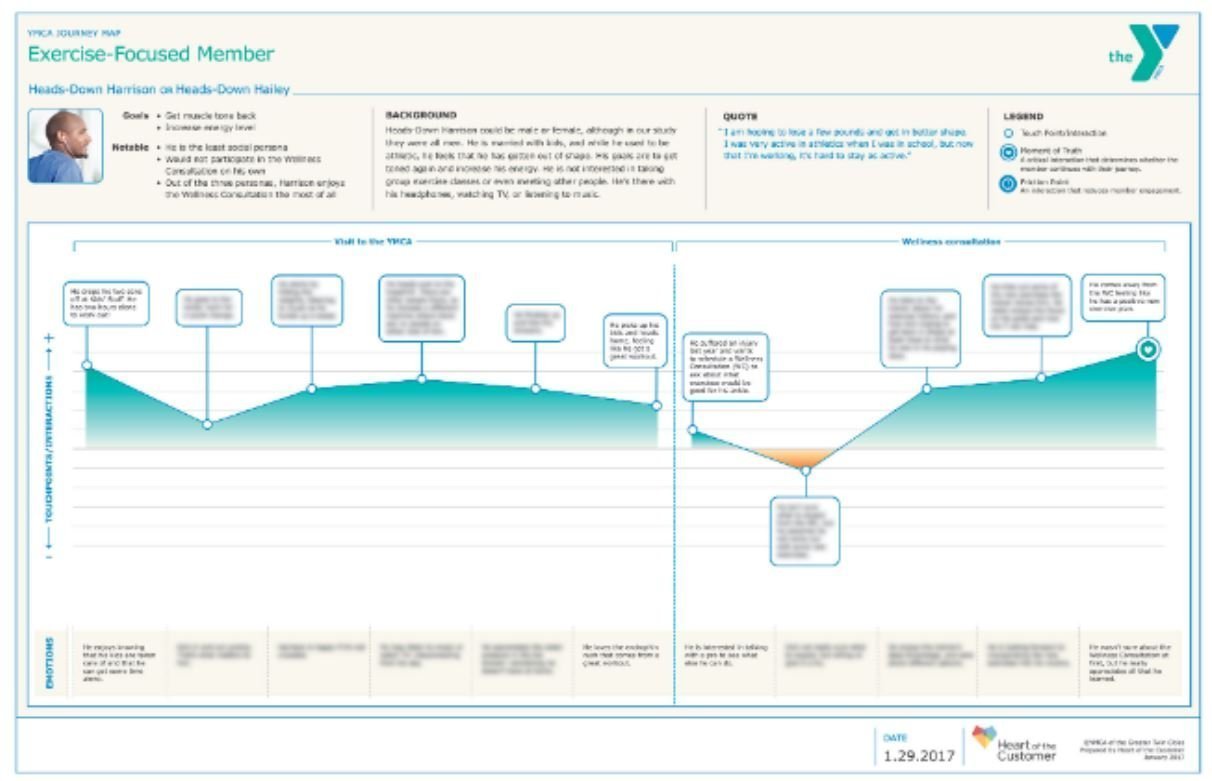 After gathering and organizing customer insights, the Y was able to put their new knowledge into action. This has lead members to greater trust in the Y and a greater user experience.
A Health Insurance Provider
An anonymous health insurance provider needed to conduct customer mapping with the passage of the Affordable Care Act (ACA). This company was interested to see how certain personas were choosing health coverage and their behaviors before deciding.
This image is not the exact customer journey map used but is a close hypothetical example: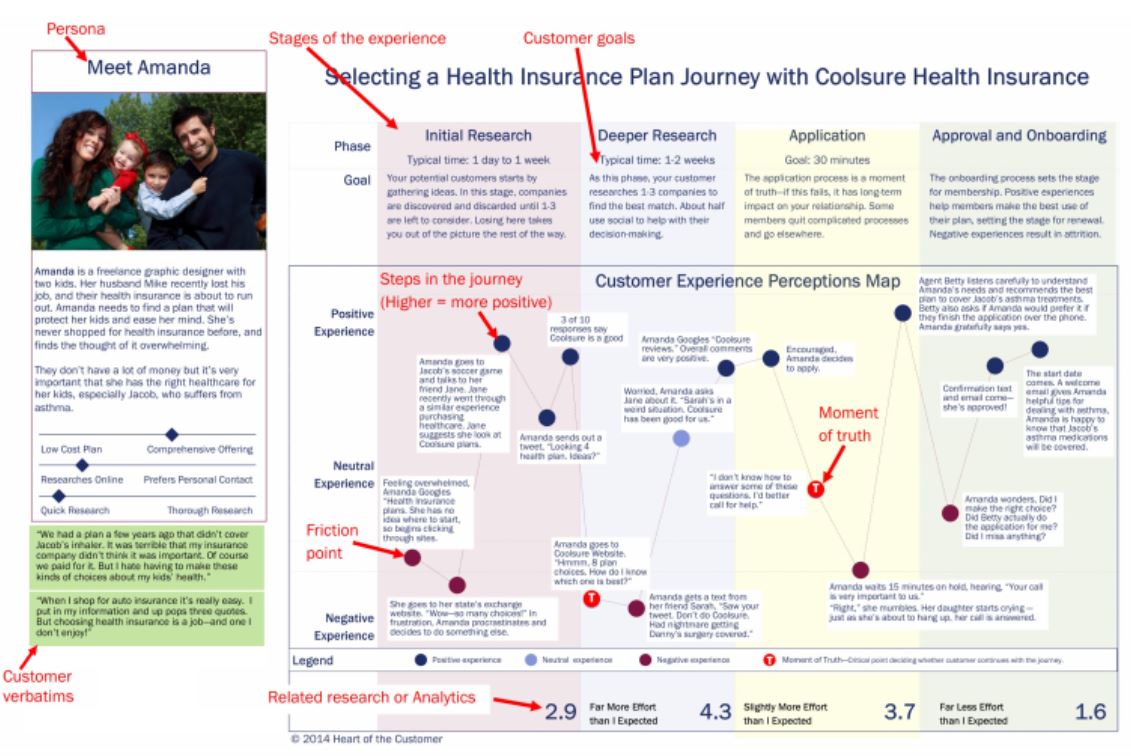 The insurance company found that different personas could not be treated equally.
Some groups wanted to do most of their research online, whereas others wanted human interaction with a support specialist before committing to this insurance company.
The company was better able to field questions that each persona asked and understand what channels to use when communicating with potential clients.
Amadeus ePower
Amadeus ePower is an online travel booking engine. When this company prioritized understanding their customers' journeys, they saw great change in their organization.
When starting the mapping process, Amadeus aimed to learn more about their website usage across the customer journey, unmet customer needs, and to generate ideas based on these findings.
Their customer mapping project took place over five weeks. The process started with determining personas, which included travelers and travel agents, and doing interviews with real customers. They also used previous research they had already collected.
Secondly, they conducted a workshop with stakeholders where they identified key elements of their map and created potential illustrations. After this, consultants and their creative team used these ideas to create the final customer journey maps.
In this case, the company had two specific personas so they made two separate customer journey maps.
This is what their mapping process looked like:
According to Tran Dzien Nguyen, Head of Amadeus's Online Solutions, "Customer journey mapping has changed the way we perceive unmet needs and approach the development process…it's a game changer for us."
These three businesses serve different customers with varying needs. Going through the process of customer mapping allowed these companies to organize their customer data into an easy-to-understand, big-picture diagram.
These clear illustrations enabled the businesses to know the different types of clients they serve and how to cater to their needs.
Steps to Create a Customer Journey Map
Designing an easy-to-read and informative map can be a daunting process. The key to yielding a successful result is to develop the map one step at a time. Here are seven necessary steps to build your map:
Prepwork
Setting Objectives
Discovering and Defining your Personas
Determining Touchpoints
Identifying Performance Indicators
Do the Research
Put your Map to Use
1. Prepwork
First things first. Executives have to come together and show buy in. Stakeholders need to believe that customer journey mapping is important enough to warrant company time and resources.
Once all key players have agreed that understanding their customers through this process is necessary, they will need to have specific conversations to direct the rest of the project.
Some key topics stakeholders need to discuss include:
Why is this project important?
How many resources will be allocated to the journey map?
Does our company need advice from professional consultants?
What time frame will be given to this development?
What conflicts or challenges might arise with this project?
Which type of map will be most useful for our company?
2. Setting Objectives
Once your team is committed to understanding the customer journey, leaders will need to determine what the goals are for the map.
The objectives chosen will be influenced by where the business is struggling or experiencing change, what research and pre-existing assumptions they have and the vision they have for the future of their company.
3. Discovering and Defining Your Personas
Companies often think they have a good idea of their customer base, but when they take a closer look, they find surprises.
A critical part in the mapping process is doing research on the types of customers a company has. Once they have determined the different segments of their client base, they can determine which personas they want to narrow their journey map on.
Not all personas will experience one company in the same way. To yield the most benefit of a customer journey map, each map needs to be tailored to a specific customer profile.
4. Determining Touchpoints
Working in groups to brainstorm all the different touchpoints a customer experiences can be helpful. In this day and age, customers are being funneled to companies through multiple channels and each channel needs to be noted and later measured.
Sign up forms, social media engagement, emails, call centers, and organic traffic online, all need to be considered and evaluated. During your research, it will be clear which of these touchpoints are often moments of truths.
Understanding how touchpoints are working or where inefficiencies lie is key to understanding why retention rates are down, why customers abandon their carts at the last moment, or any other common experience that is trending within your company.
5. Identifying Performance Indicators
As a team, leaders need to put their heads together and determine what they want to measure when a customer engages with the brand. Usually, these factors include:
Customer Actions
Thoughts
Customer Emotions
Motivations
Points of Frictions
6. Do the Research
Once you have decided which touchpoints and customer factors you want to chart, it is time for the legwork of the project: research.
For compiling an effective map, there is a place for both quantitative and qualitative research.
Quantitative customer research can be pulled in from customer data platforms.  A platform like LeadBoxer can help you identify your website visitors and track all your website behavior and online activity.
This solution has the ability to capture visitors' contact information before they make contact. This allows sales teams to track their journey whether or not the visitor has signed a form.
Qualitative research consists of interviews with smaller groups of people (or "Focus Groups"). This research can be useful for getting a deeper look into the emotional state, needs, and thoughts of clients that quantitative data has a hard time capturing.
7. Put Your Map to Use
Journey maps should be actionable and relevant to different stakeholders. Find a simple way to illustrate multiple factors that will compel leaders with different perspectives to action.
This journey map focuses on one persona, has quantitative and qualitative feedback displayed, includes various performance indicators, and has a section with opportunities listed: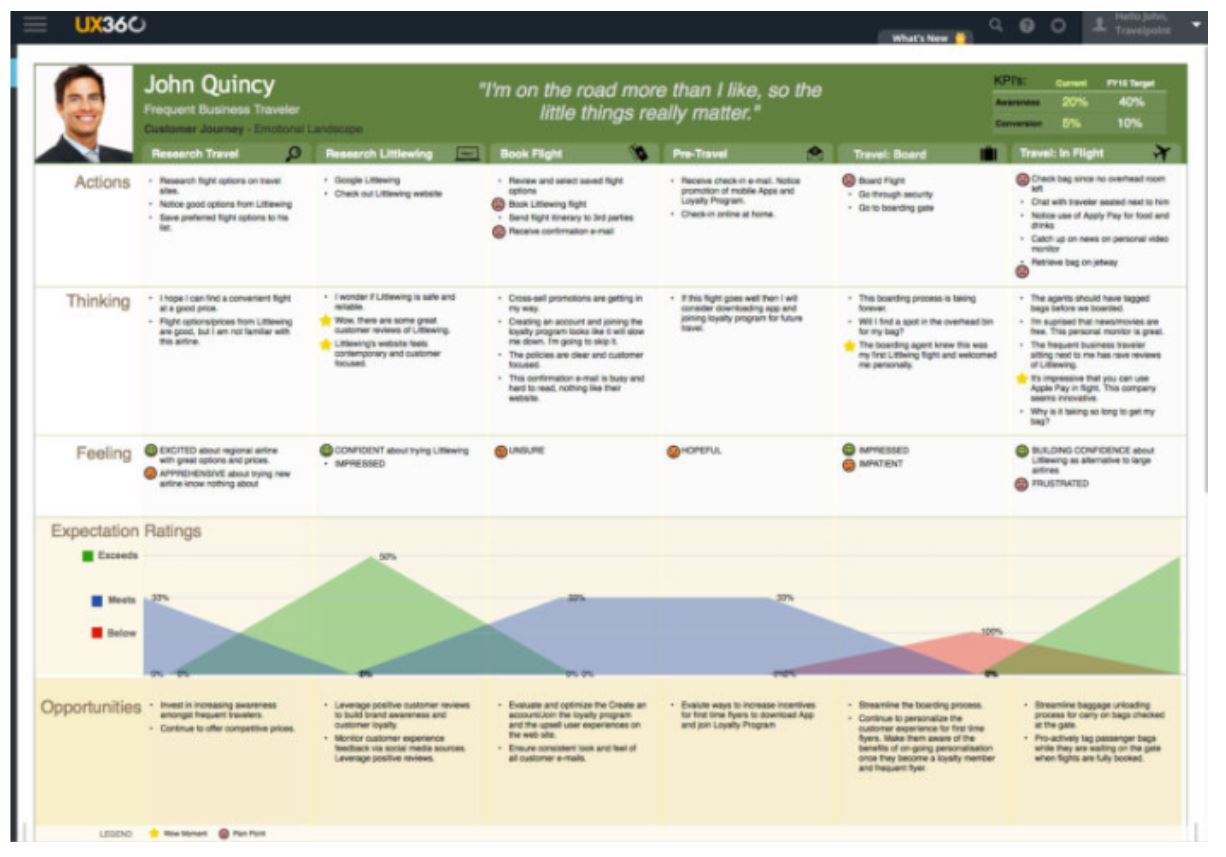 With all the research and data organized in a clear way, it will be easier to convince stakeholders why certain actions need to be taken and what opportunities the organization needs to take advantage of.
Another good idea to convince fellow stakeholders to make change is to take the customer journey yourself when possible.
Teams that go through all of the customer journey themselves will have an enhanced understanding and empathy towards the customer every step of the way. After all, we are all human and have some shared expectations of modern technology, customer service, and other business practices.
Once actions are put into place, your team will need to decide when and how to evaluate the changes. Customer journey maps will need to be updated periodically to show how changes have impacted the customer.
Customer Journey Map Templates
As we saw in the case studies, every company has a different path when building their customer journey maps. There is no one size fits all approach with this process. Though different companies will have to shape their diagrams uniquely, looking at different templates can be helpful when designing your own map.
When deciding on a template, be sure to keep these considerations in the back of your mind:
The template must be persona based
The type of journey map must make sense for the goals of your organization
Design can incorporate the customer phases specific to your brand
There is space for the touchpoints and evaluative indicators your team determined
Both qualitative and quantitative data is incorporated
Actionable items are displayed
With these factors in mind, continue reading to get a sence of the templates that could be modified for your business.
Current State and Future Map Templates
Current and Future Map templates will appear similar. The only difference is that the information your business puts in will represent the present reality or what your business expects to see in the future.
This template can be downloaded for free from Interaction Design Foundation: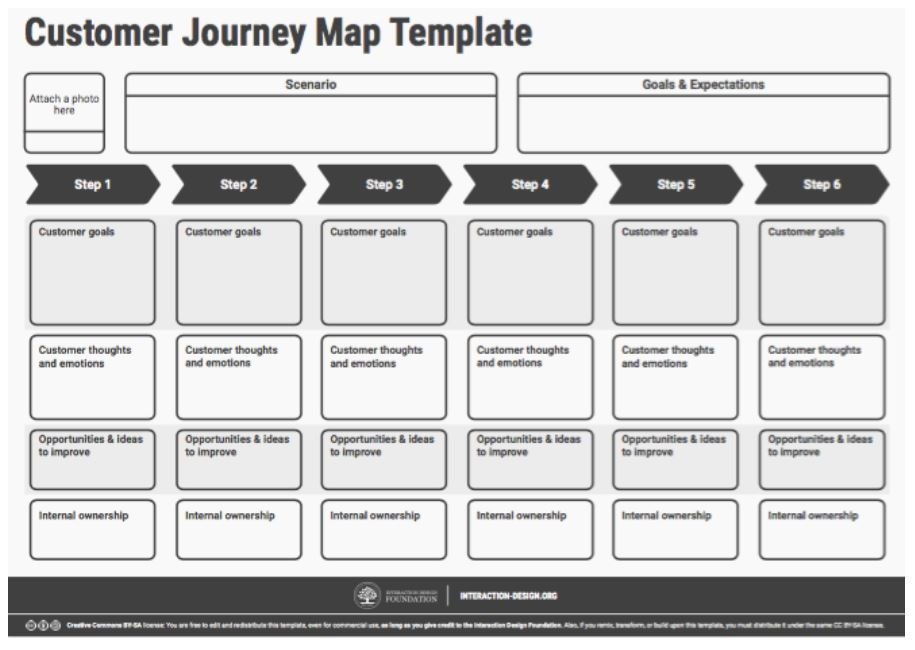 Here is another from MightyBytes: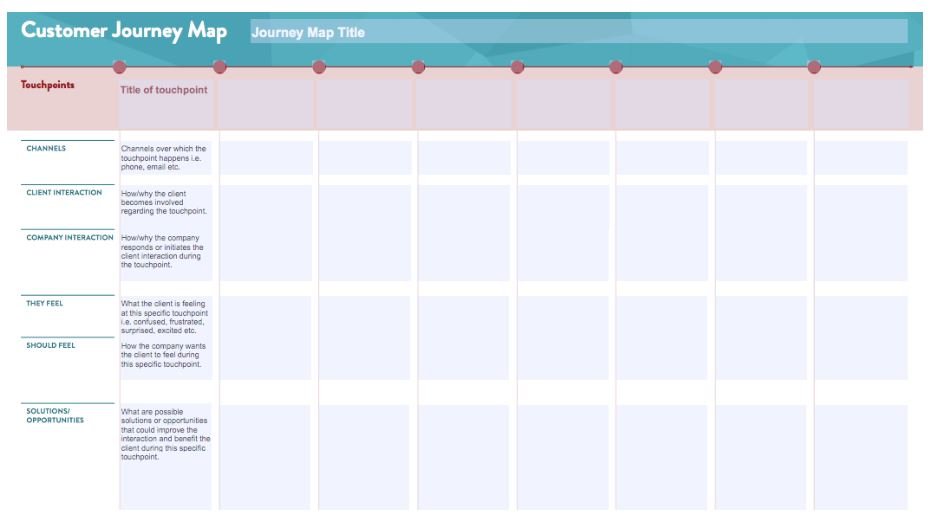 Day in the Life Map Template
A Day in the Life Template will include customer insights from their daily life. Here is a simple template to get started: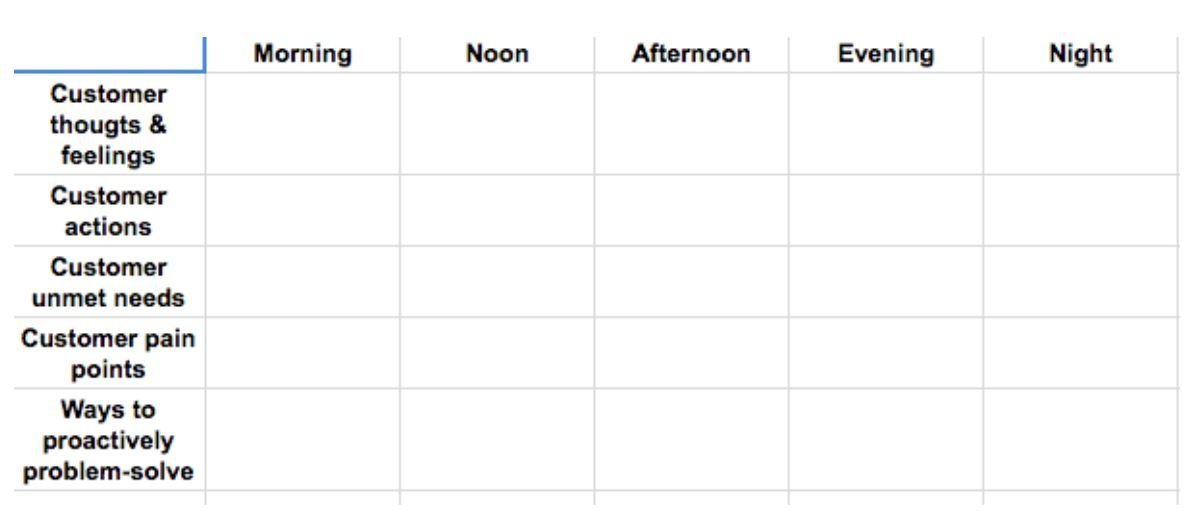 Service Blueprint Template
A service blueprint can be a good graph to have alongside a current or future state map. These diagrams show what physical evidence is used to give the customer their experience.
For example, this would include staff, product, physical tools, or any other tangible tool that is along the customer path. Service blueprints usually include front-stage interactions, back-stage interactions, support processes, physical evidence, and customer actions.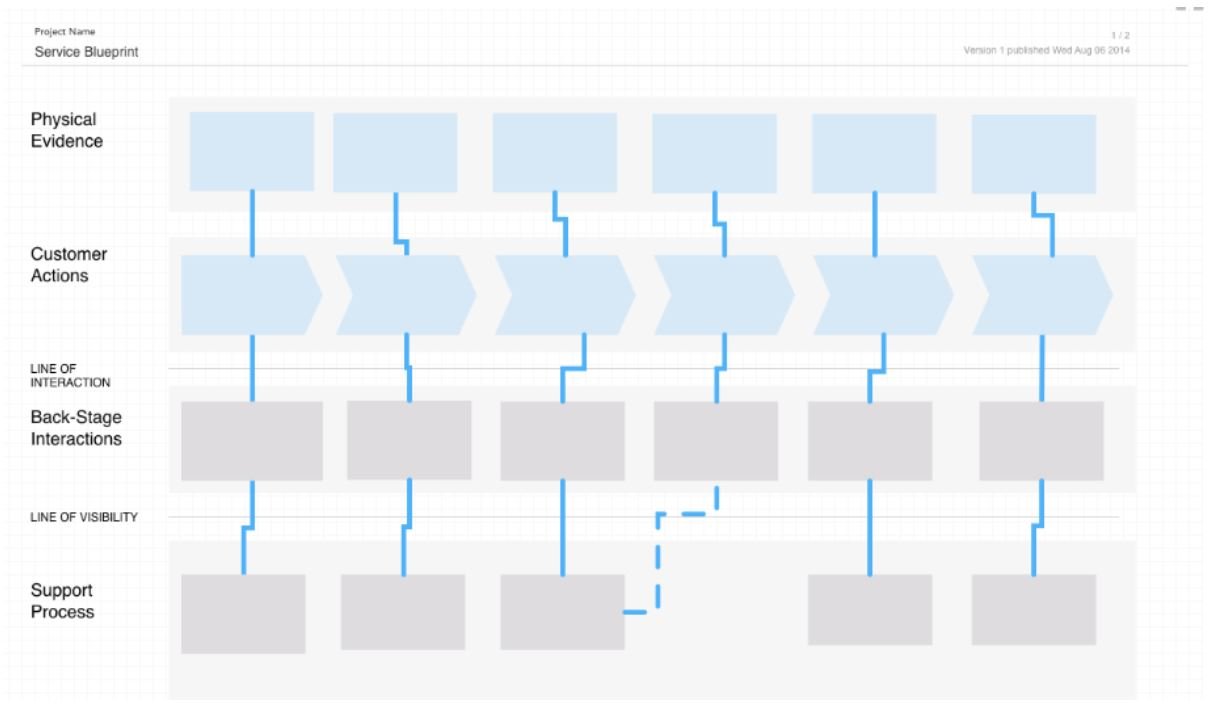 Remember: The Customer Knows What They Want
At the end of the day, it is the customer who determines if your product is worth spending money on or not.
Some products, like B2B services, take an entire team of people and extensive research to agree on a subscription. Other business models rely heavily on impulsive buyers. No matter what type of business you are in, what matters most is happy customers.
Knowing what customers want, need, and feel is the most essential part in ensuring their happiness. A customer journey map will help you get a lot further down that road
Looking for more qualified leads?
We offer Lead Identification and Lead intelligence through website & email tracking