Are you struggling to find enough time in the day to fill your prospect pipeline? Truth is, every sales rep has the same amount of time in their day. But the difference? Only some of them use sales prospecting tools to help them find prospects faster, and close deals quicker.
In this guide, you'll find:
Let's look at the best 30 sales prospecting tools on the market that can fill your prospect pipeline:
Tools to Help You Find Prospects
1. LeadBoxer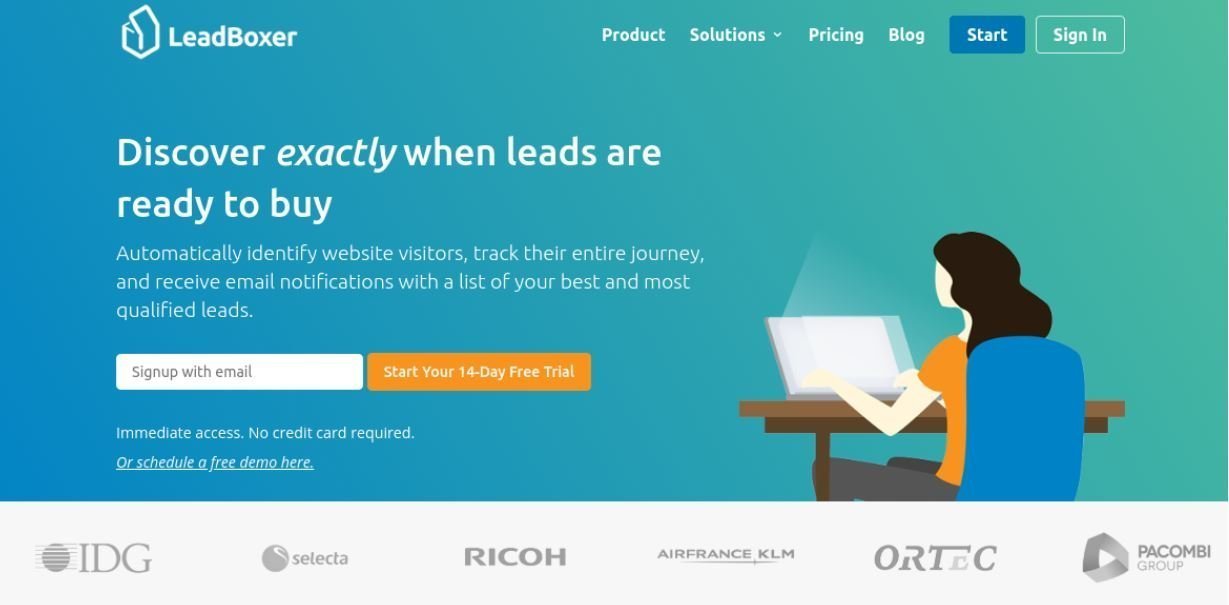 Price: Starts at $99/month
Free trial: Yes
What it's all about:  
LeadBoxer is a one of the best sales prospecting tools that tracks activity on your website and email behaviour and finds prospects before they even contact you. The tool provides vital information you need to follow up with a prospect such as their interests, their company name and the size of their organization: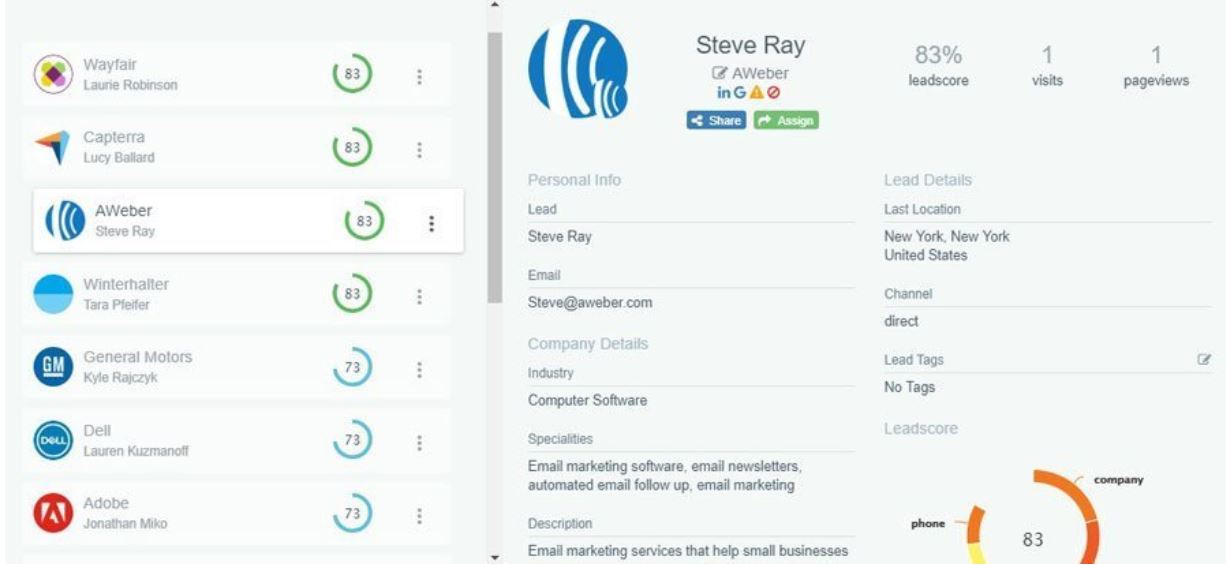 By giving you a birds-eye view of the lead or customer, you can then decide if they are worth following up, or if they aren't a good fit for your company.
Plus, you can set criteria to exactly what you need from a website visitor to flag them as a prospect. LeadBoxer will automatically assign the profile with a leadscore. This gives you a super clear visual of prospects who are a good fit for your product. And don't forget about lead generation versus prospecting, there sure is a difference between.
If you're prospecting and would like to focus on identified leads, you can do that easily with LeadBoxer. When you're setting up your criteria in the LeadBoxer dashboard, all you need to do is adjust the email address slider and visitors with a known email address will be given a higher lead score.
The same criteria can be added to company size, phone numbers and number of times the person has visited your site.
No more dead ends, LeadBoxer only puts verified leads into your pipeline.
Looking for more qualified leads?
We offer Lead Identification and Lead intelligence through website & email tracking
2. Dux-Soup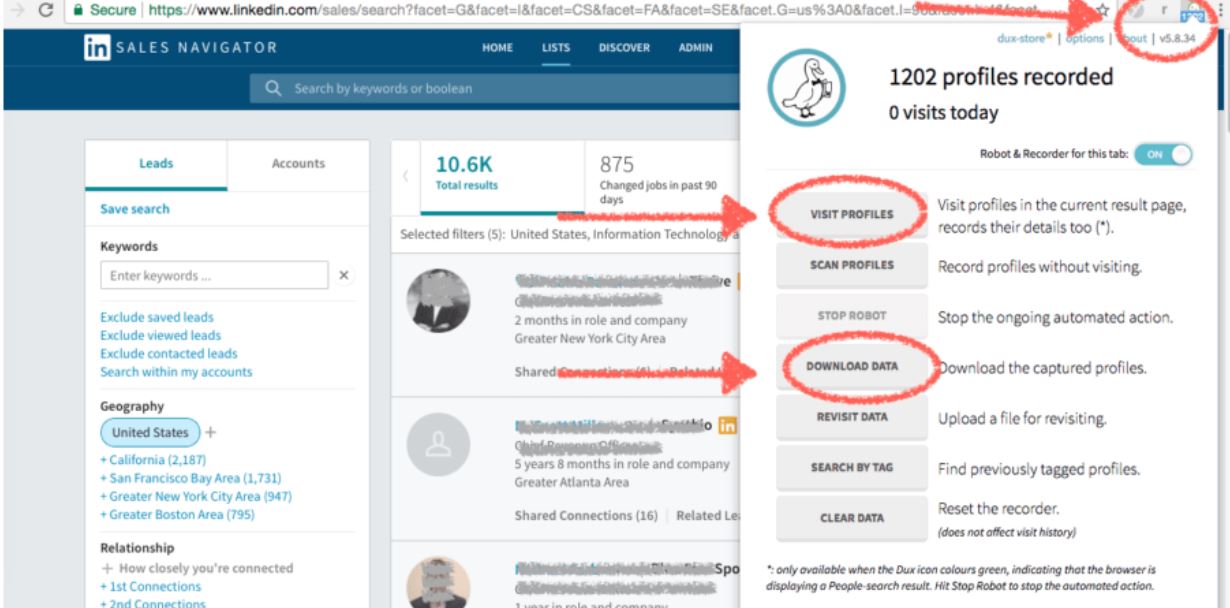 Price: Professional Plan – $11.25/month, Turbo Plan – $41.25/month
Free trial: Yes + limited free forever plan
What it's all about:
If you find the majority of your prospects on LinkedIn, this tool is about to save your life.
Dux-Soup automatically scrapes leads for you and invites them to connect with you over LinkedIn.
What the tool does is looks at your LinkedIn prospect profiles, tracks their movements and then, sends them a personalized message from your account. What's more, the tool will also follow up on warm leads through 2nd and 3rd LinkedIn connections for you.
Not only does it contact prospects for you, but the tool interacts with your CRM as well and not all sales prospecting tools do that. Once Dux-Soup reaches out to a prospect, it then tracks the progression of the interaction and transfers everything into your CRM. This means your entire team will stay in the loop with the clients you bring into the company's pipeline.
3. LeadSift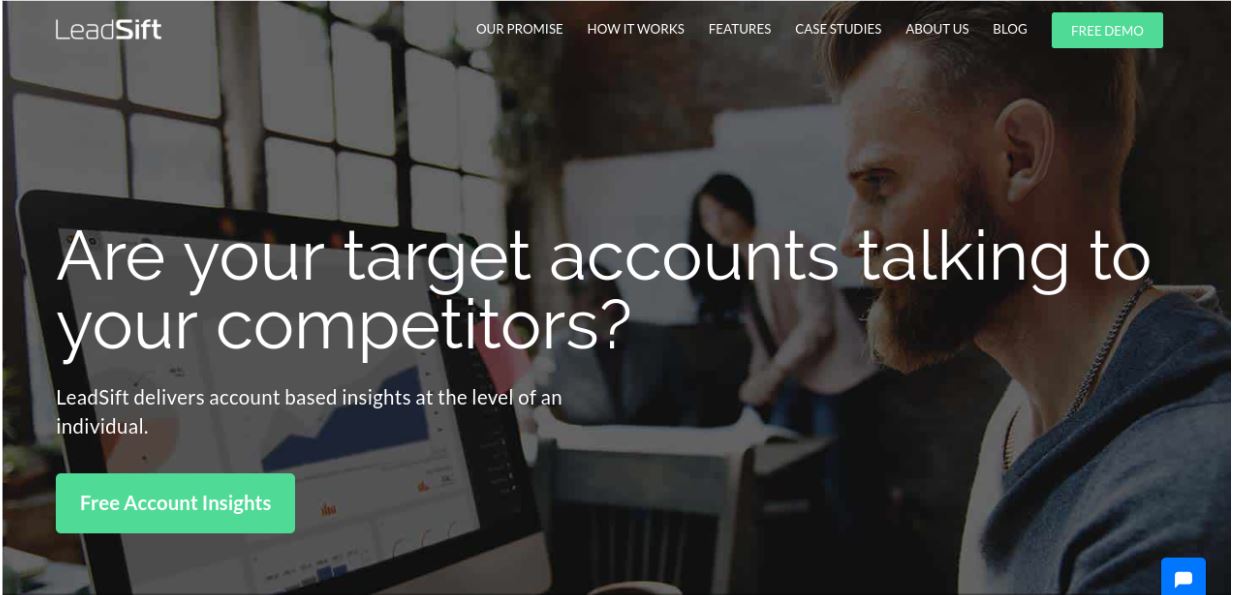 Price: It's a mystery! The company offers "custom" price plans.
Free trial: Yes + forever free plan for first 50 accounts
What it's all about:
How many times have you contacted a prospect and found out that they aren't actually ready to buy?
It's not only frustrating, but it takes a big chunk of time out of your working day as well.
That's where LeadSift comes into play. It tells you when you're prospecting and only targets people who are on the buying journey.
No more wasted time on those who aren't ready to buy.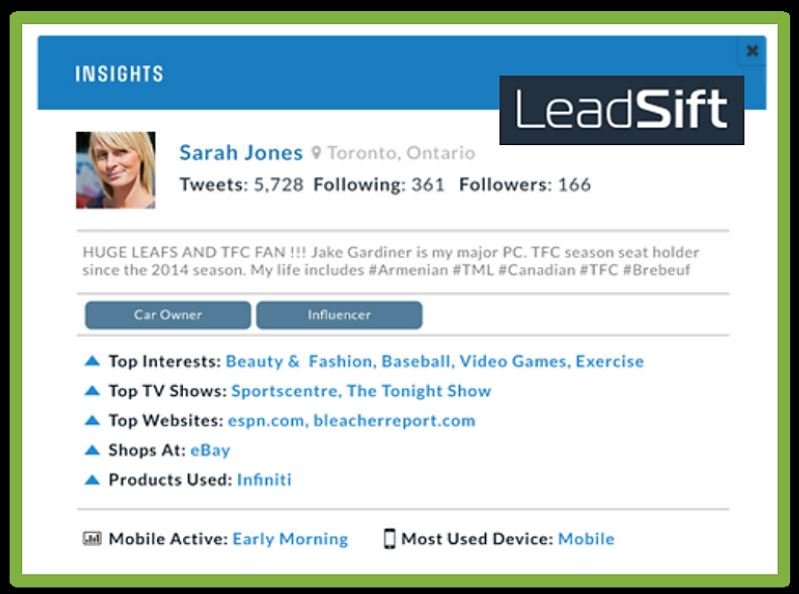 According to LeadSift, only 3% of leads are actually interested in buying a product, which means a lot of people you're putting an effort into are never going to buy your product. This tool eliminates prospects who are months or years away from purchasing and leaves you with a pool of prospects who are ready to buy. Right now.
But we've saved the best until last with this one. LeadSift steals some of these prospects from your competitor's websites. The tool automatically watches your biggest competitors and, if a prospect begins engaging with one of them, you'll be the first to know (along with getting their email address, too).
4. Capterra

Price: It's free!
Description:
Not exactly a prospect scraping tool, but Capterra is great for finding new companies to target.
Depending on what industry you're selling your product to, Capterra can filter through millions of companies in a matter of seconds and give you a list of potential targets. And there are few sales prospecting tools that are capable to do this.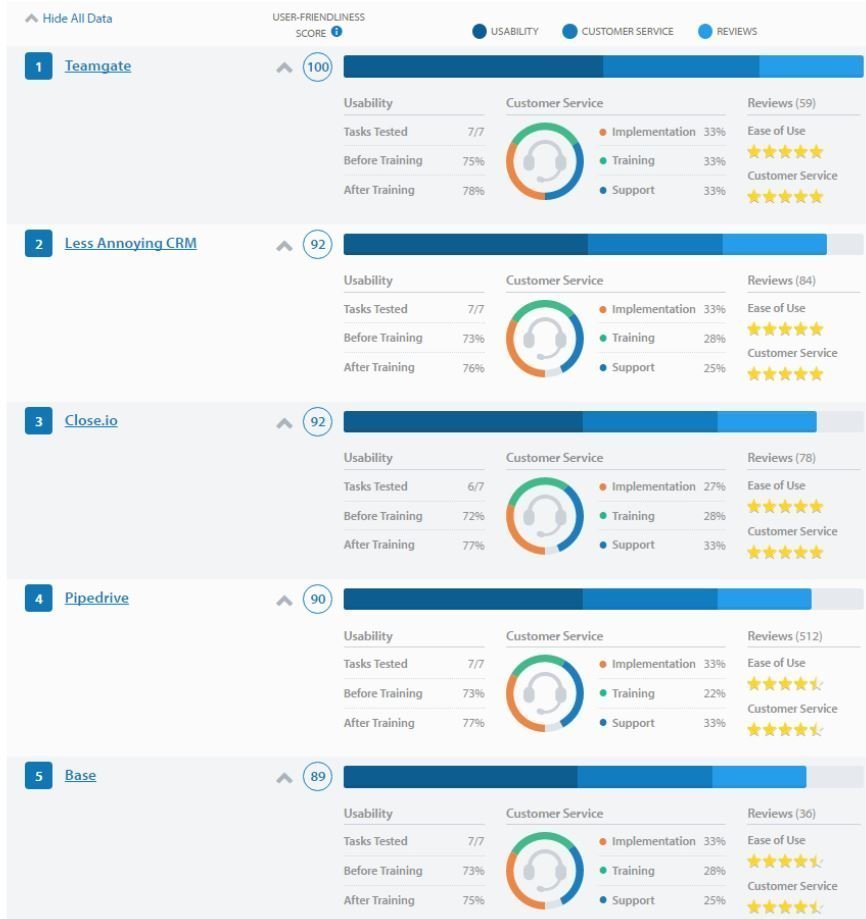 From there, your sales team will be able to filter through them and find prospects a lot quicker than they would if they stuck to Google searches.
5. MatterMark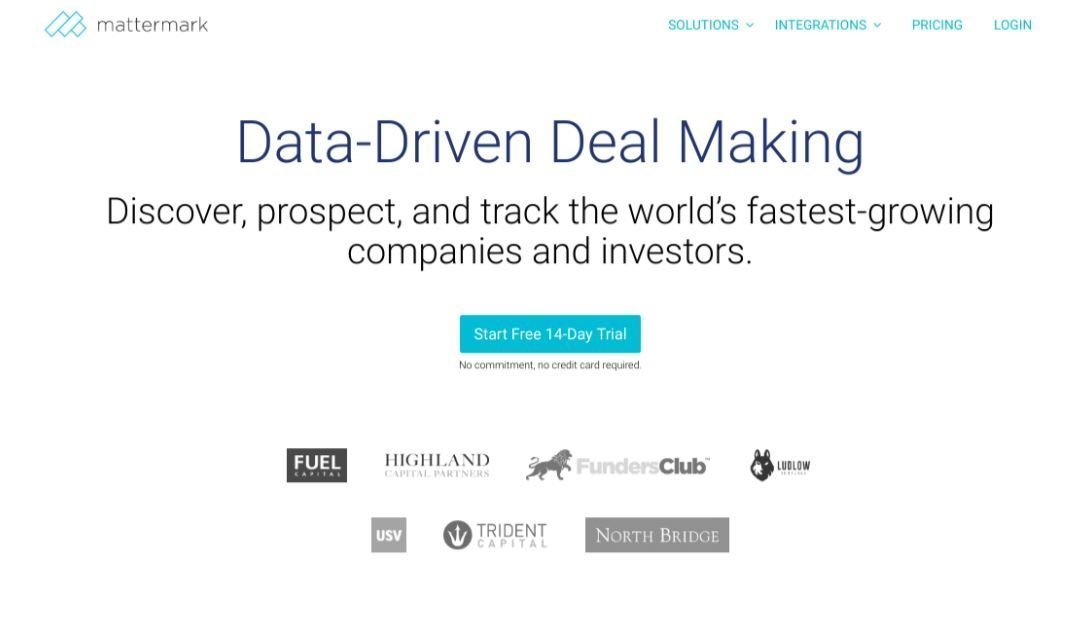 Price: Starts at $49/month.
Free trial: Yes! You get 14 days.
Description:
Mattermark is a sales rep's best friend because it searches for prospects using super specific filters.
Want to narrow down a prospect search by company size? How about a business model? B2B? Industry? Niche?
You can do all of that on Mattermark – one of the best sales prospecting tools.
It's also integrated with a lot of the big name CRMs on the market, so the tool can cut back on dreaded admin time.
A neat hack with this tool is it lets your sales reps save a specific list. If one of your reps has searched for B2B companies with 50+ employees in the Seattle area and found promising results, they can use the same search for next time (and change it up when they need to).
6. CrunchBase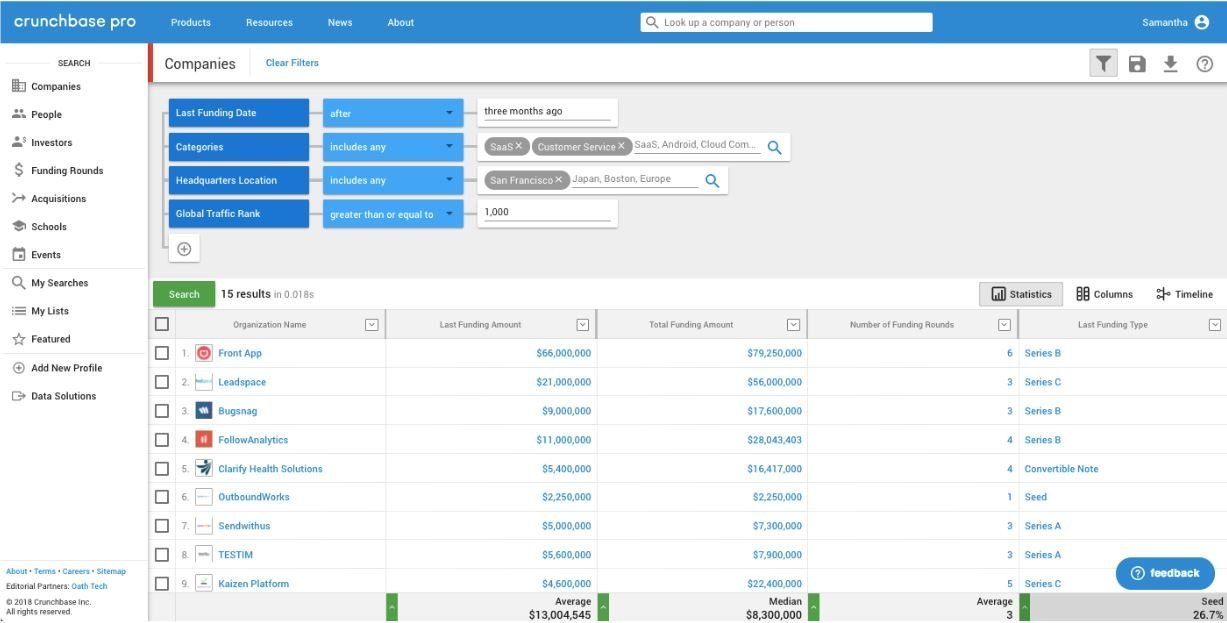 Price: Starts at $29/month, then moves up to a custom plan
Free trial: Yes, CrunchBase offers a free plan
What it's all about:
CrunchBase is THE tool to use if your company is looking for prospects in growing companies and innovative startups.
For sales teams, the tool gives your reps an important insight into a company's funding rounds, business category, and their date of establishment. A lot of companies on the database also have contact information on their listing, along with a bit of information about the company's structure.
Once you've conducted a search, you can export your findings into a CSV file and add them straight to your CRM to make following up easier. This is very convenient for any sales prospecting tools.
7. LimeLeads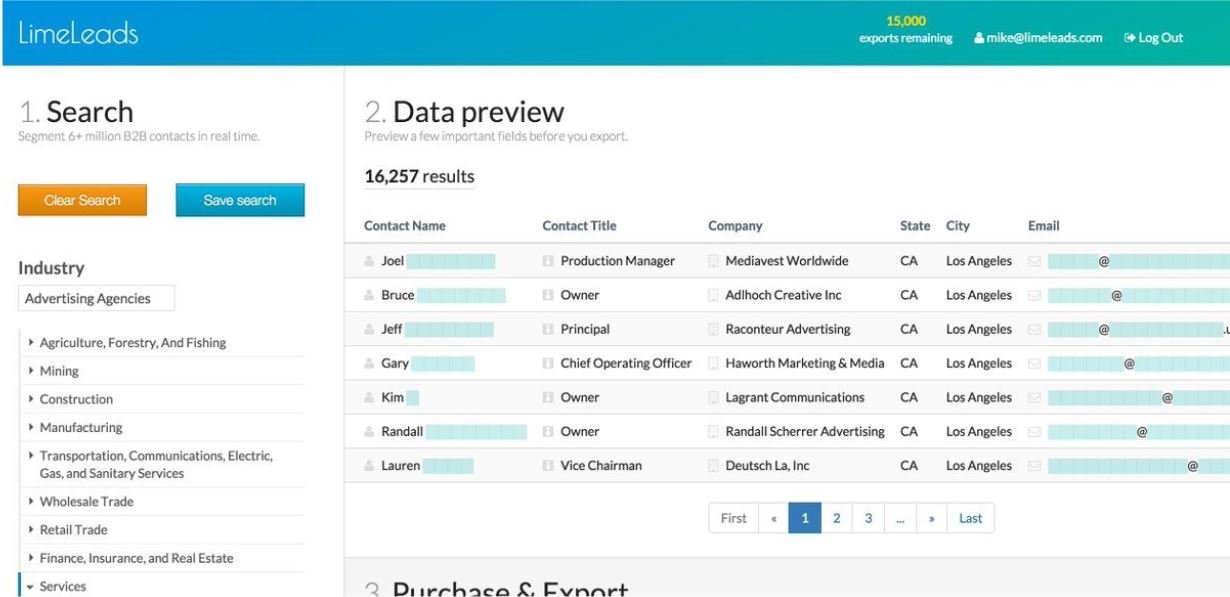 Price: Professional Plan – $11.25/month, Turbo Plan – $41.25/month
Free trial: Yes + limited free forever plan
What it's all about:
LimeLeads is a great tool for sales prospecting as it doesn't cooperate with fake data.
The tool was built by a bunch of B2B marketing veterans that were sick of a lack of credible data being available. Its main goal is getting you prospect lists that are accurate.
The tool integrates with CRMs and will enable sales teams to put together a list of prospects in 30 seconds or less.
8. Salespanel.io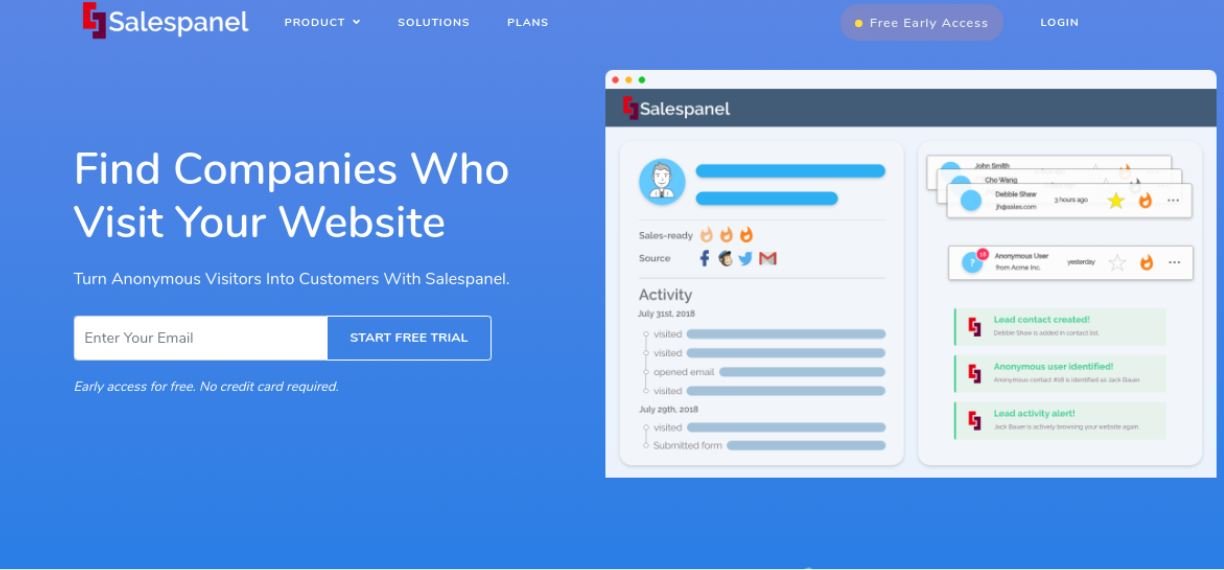 Price: Custom pricing plans depending on your needs.
Free trial: Yes + free forever plan.
What it's all about:
Salespanel.io is a relatively new tool in the sales space. The tool scrapes your website visitors and tracks their activity.
It finds the person's social media profiles, company details and bio before feeding them straight back into your dashboard to follow up.  

9. ZoomInfo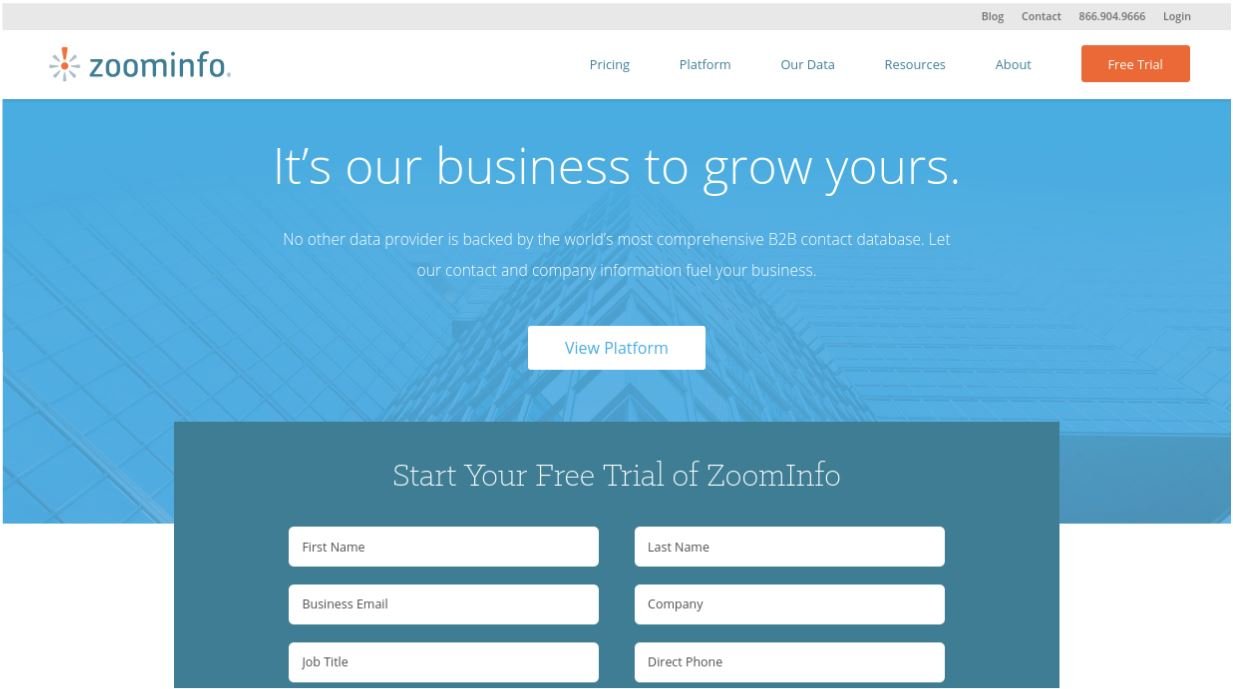 Price: Custom pricing depending on your needs
Free trial: Yes
What it's all about:
ZoomInfo is a huge database that can help your sales team qualify prospects.
It gives you more than just a company's name and address. It can also find an email address of key decision makers in a company. 
Tools for Finding Email Addresses
10. ViolaNorbert

Price: Starts at $39/month
Free trial: Yes, your first 50 leads are free
What it's all about:
To use VoilaNorbert, you'll need a prospect's first name, last name, and company website. In return, you'll get their email details: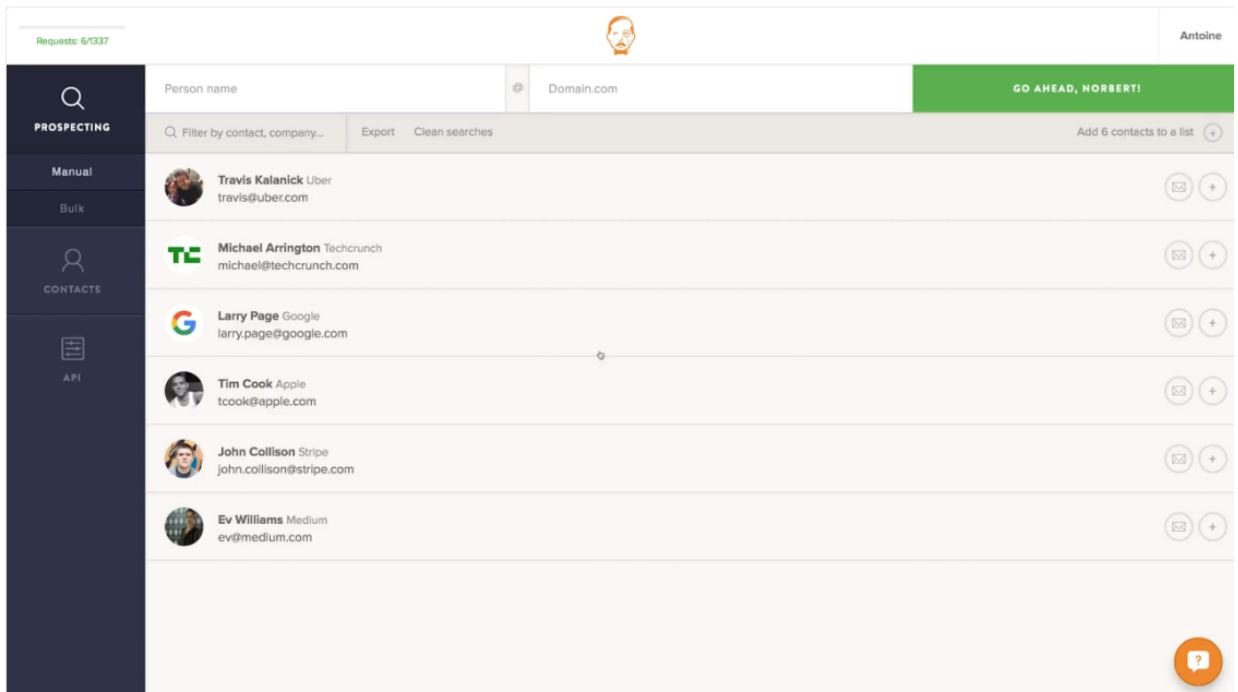 11. Hunter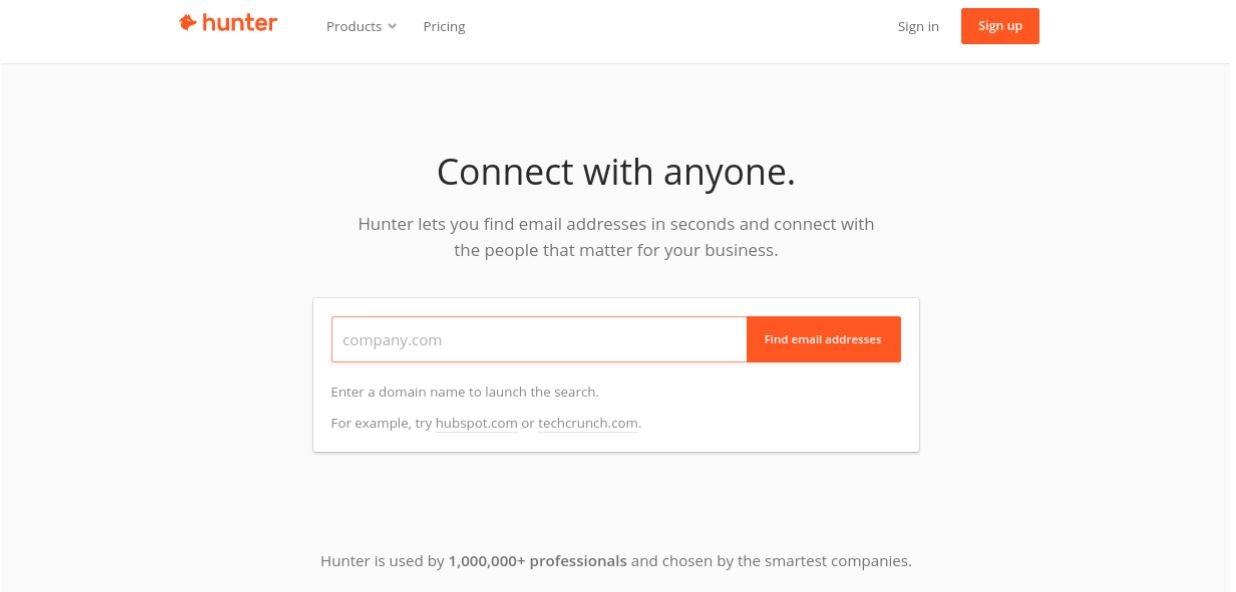 Price: Starts at $39/month
Free trial: First 100 email lookups are free
What it's all about:
Hunter is a Google Chrome extension that can dig up any email addresses linked to a specific domain name.
If you are looking for an address for a key decision maker but you can't find it, Hunter will figure out a pattern behind the company's email addresses so you can effectively guess the email.
For example, let's say you're trying to get in touch with Mirko Rakic, a software engineer at Hunter. Just let the tool do its thing: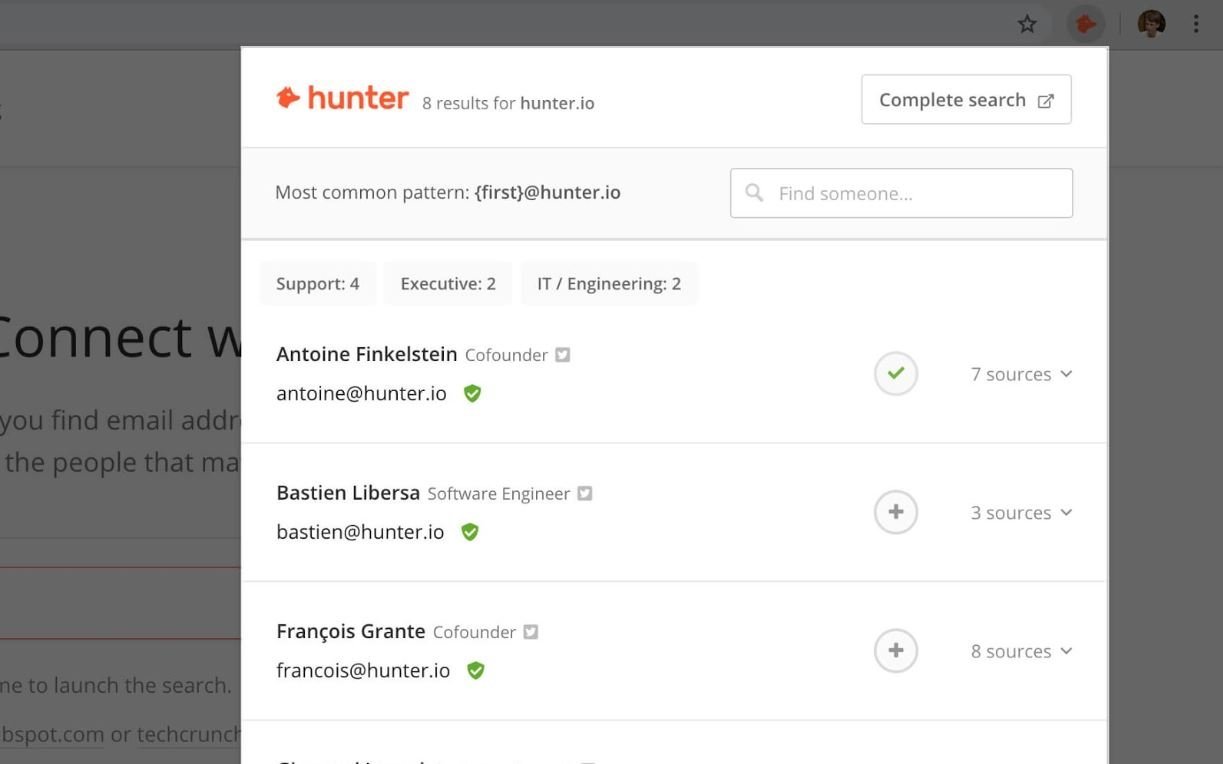 We are going to hazard a guess that Mirko's email is mirko@hunter.io
The tool also has a Google Sheets add-on so you can gather email addresses in bulk automatically, and then add them to your CRM.
12. Prospect.io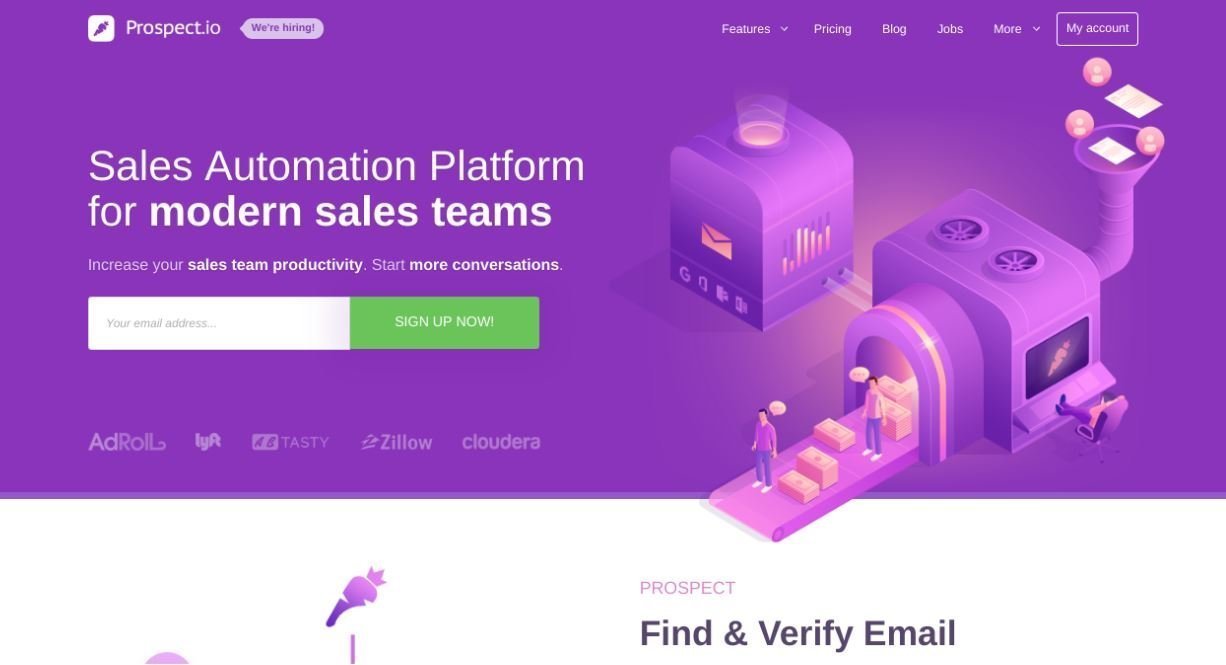 Price: $99/month for 1000 leads.
Free trial: No
What it's all about:
Prospect.io is one of the few sales prospecting tools on this list that can integrate with most big name CRMs.
Apart from being able to work with CRMs like Salesforce and Hubspot, you can build and manage email campaigns from the tool's dashboard as well.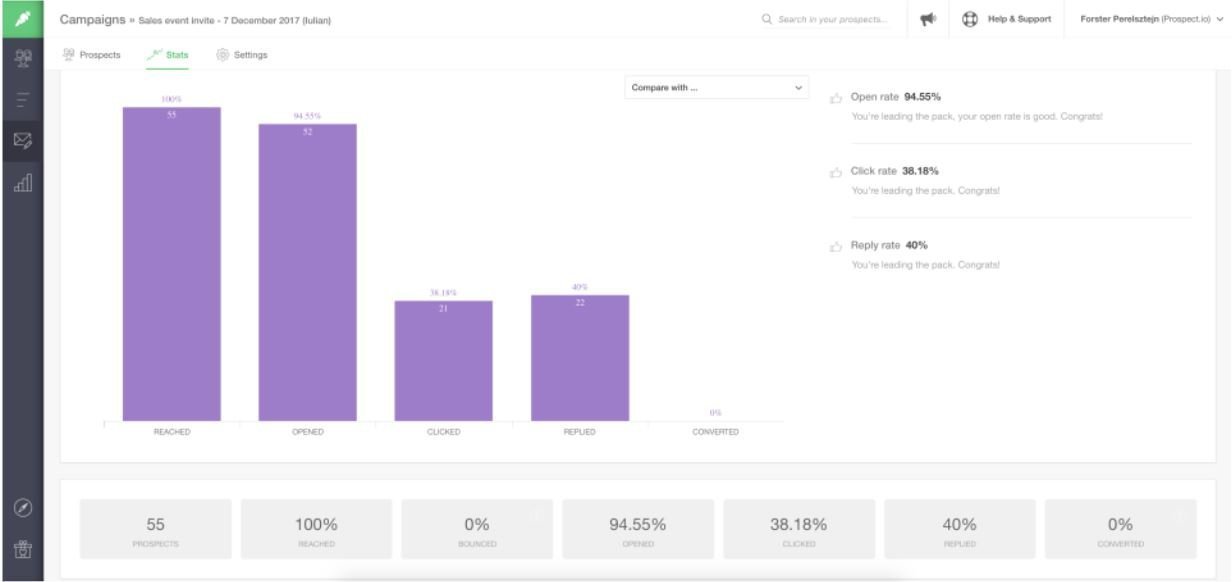 If you're working on Google Chrome, Prospect.io has a custom extension to use on the browser.
13. SellHack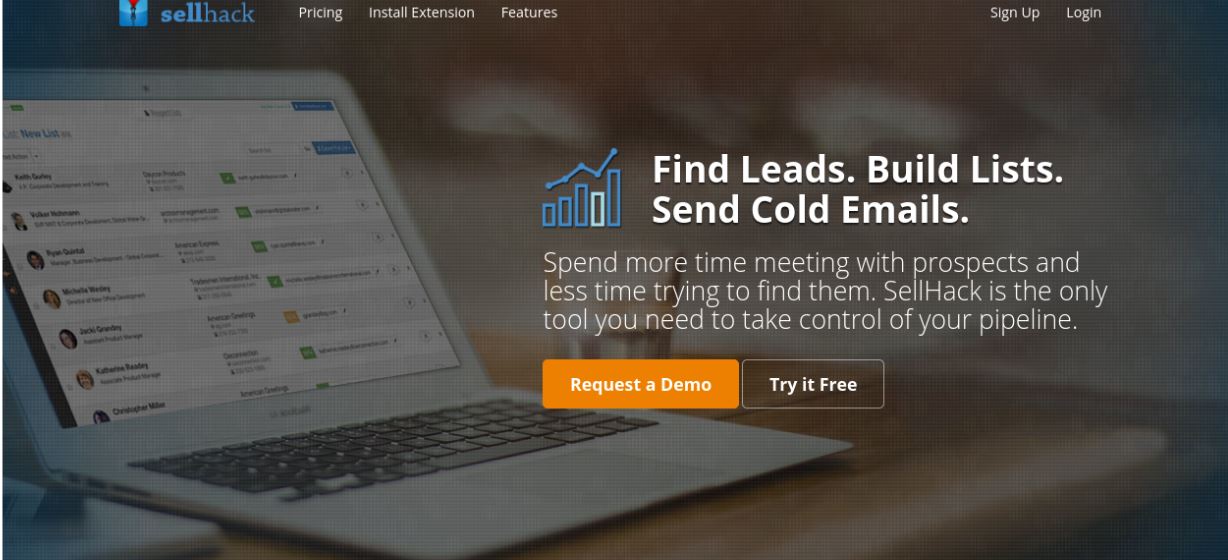 Price: Starts at $3/month for 100 leads
Free trial: Yes
What it's all about:
SellHack sells itself as a tool for sales reps who want to completely automate the prospecting process.
The tool can gather a list of prospects automatically, so sales teams can spend more time closing.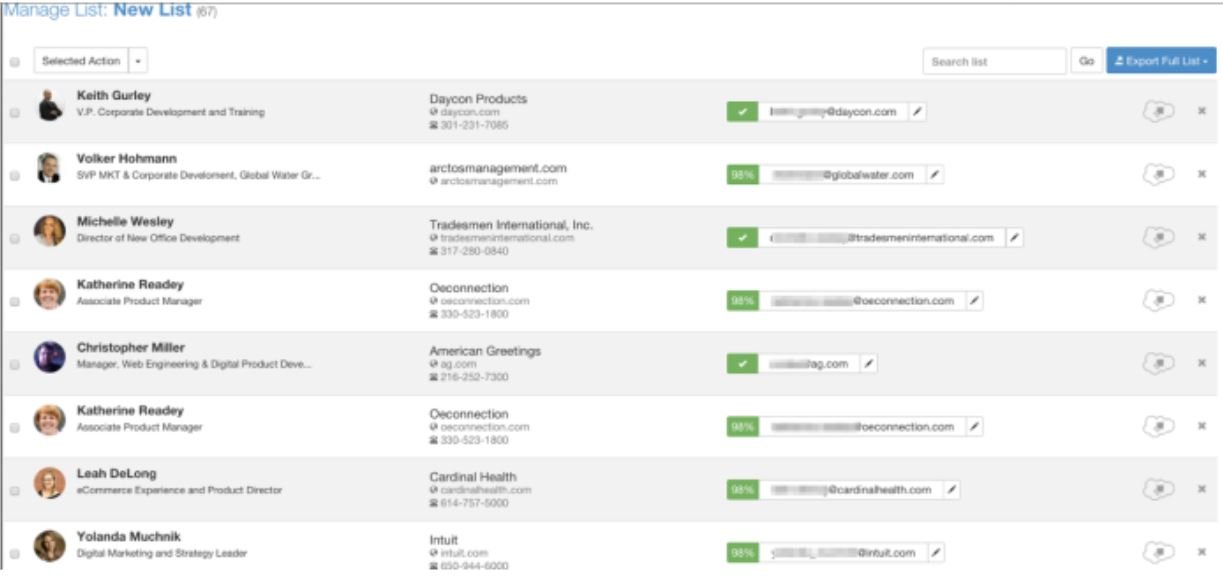 But you won't get a list full of bogus emails either—SellHack verifies every single email it pulls through LinkedIn.
14. LeadFuze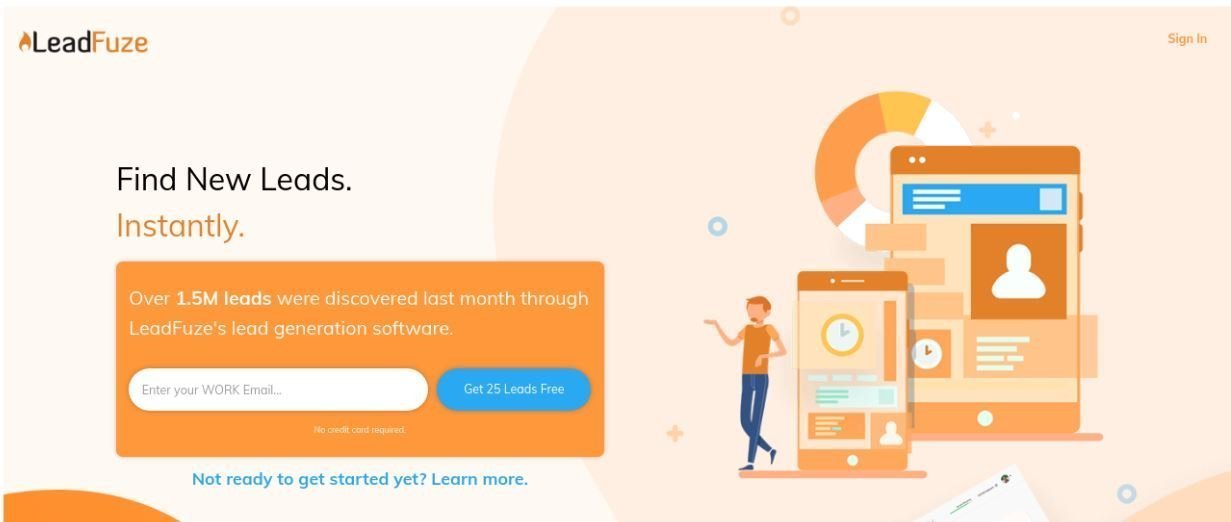 Price: Starts at $97/month
Free trial: First 25 leads are free
What it's all about:
Here's another tool that works well with LinkedIn. It takes a look at your prospect list, with a focus on those on LinkedIn, and switches them from contacts into prospects.
If you feel like you've run all your resources dry, LeadFuze has an email finder tool that can fish out emails from a bunch of third-party sources.
According to LeadFuze, they "find the most accurate email possible."
15. AeroLeads

Price: Starts at $49/month
Free trial: Yes
What it's all about:
AeroLeads is more than an email finder, it provides a full breakdown of information on a prospect.
With the tool, a sales rep can do a simple web search and find out not only an email of a prospect, but also their business name, key decision maker names, phone number, location, and even social media profiles.
It's a tech tool. AeroLeads has an algorithm that filters through all the results and only gives you the best ones.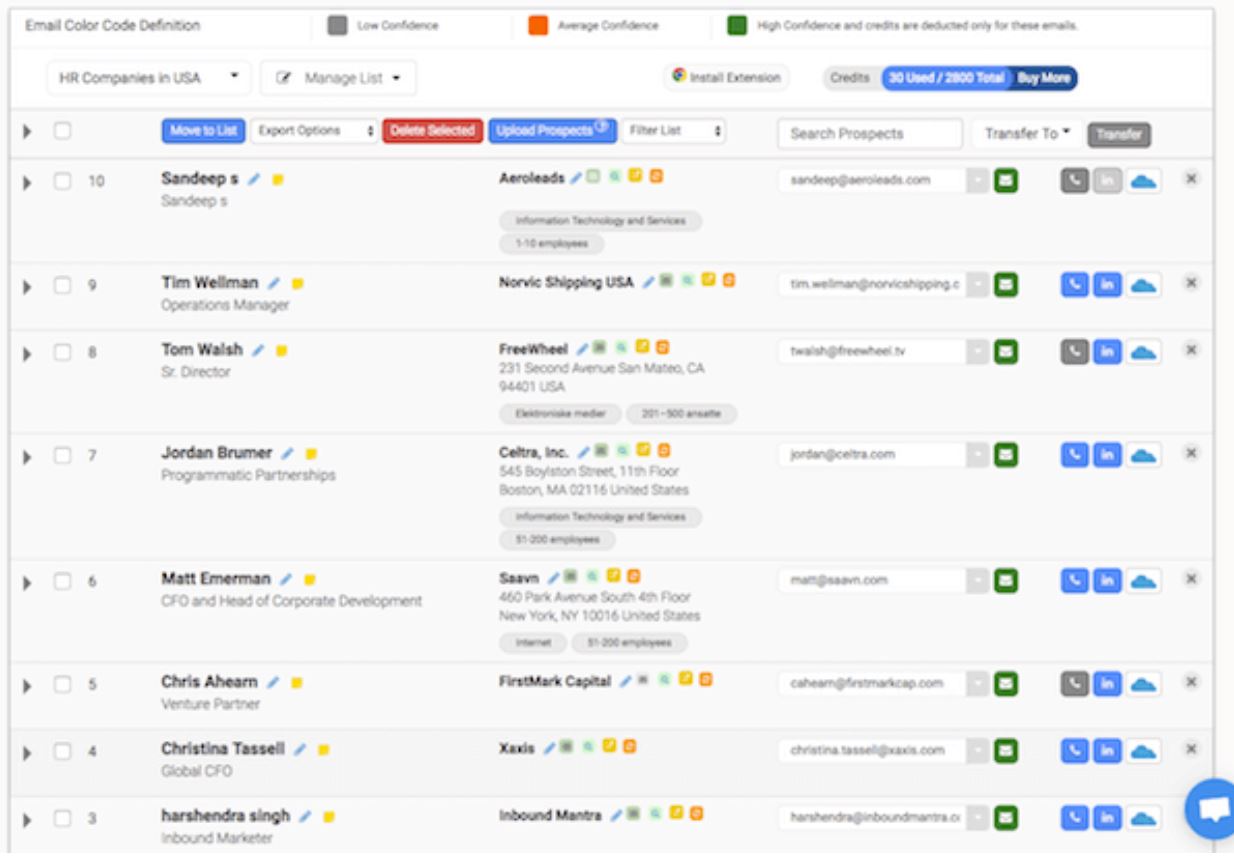 Not only does the tool scrape the entire internet for you, but when you're finished, you can download your results into a CSV file and add them straight to your CRM.
16. Skrapp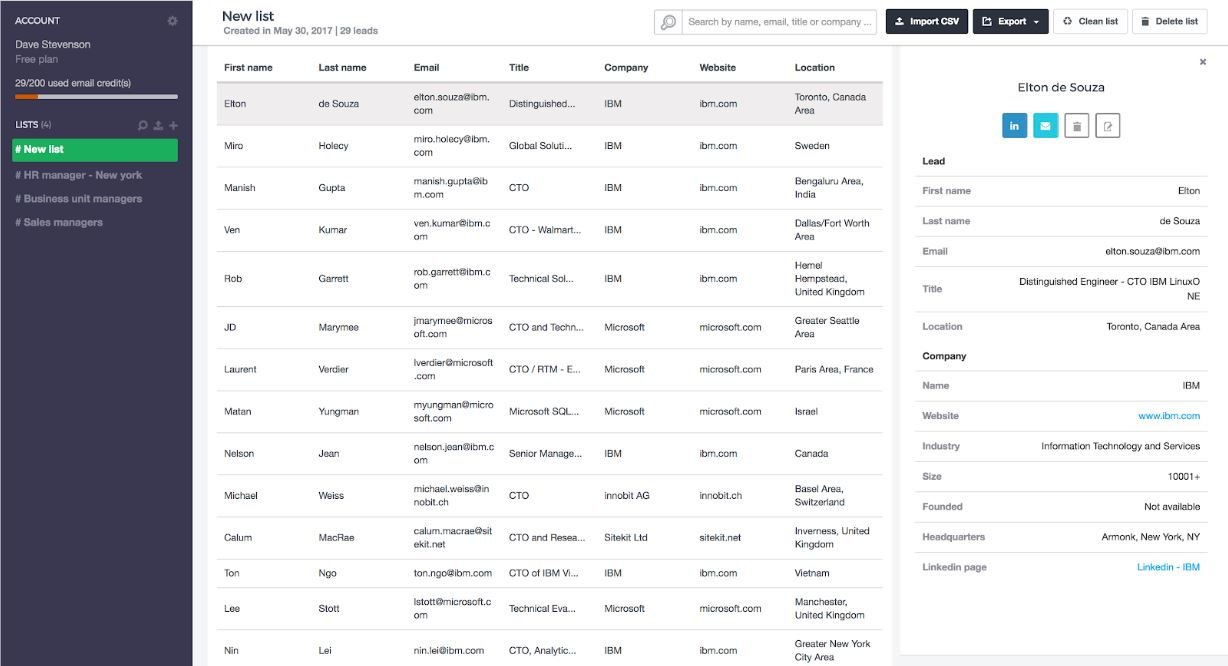 Price: Starts at $49/month
Free trial: Free for your first 100 emails
What it's all about:
Skrapp is built with one goal in mind—finding email addresses from LinkedIn accounts.
The tool has a Google Chrome extension which you can use when you are on a prospect's LinkedIn profile to see what email address they used to sign up to LinkedIn with.
Once you've found their email, you can save it to a list to use later while you search for more targets.
Tools to Help Pitch Prospects
17. Charlie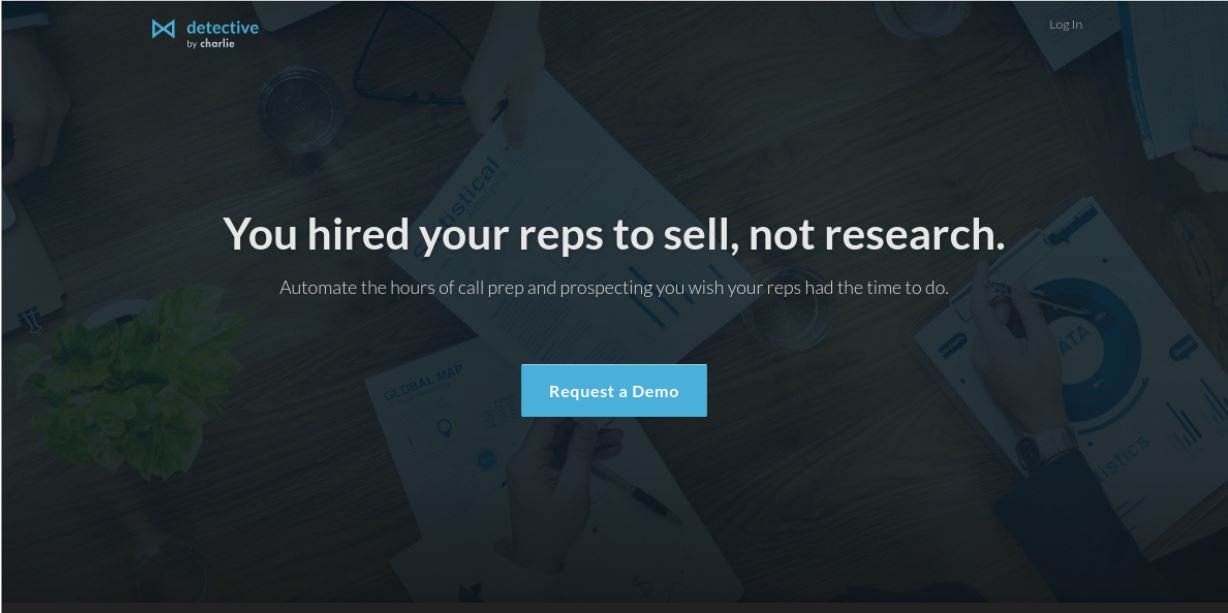 Price: It's all very hush and varies by team size
Free trial: No
What it's all about:
If you want to set yourself up for a pitch with as much information as possible, Charlie is your guy.
Just provide a prospect's details, and it'll return to you a one-page sheet on your prospect. You'll be given information on prospects like their passions, hobbies, professional history, and any news about their current company.
Who knew prepping for a pitch could be so informative?
18. Owler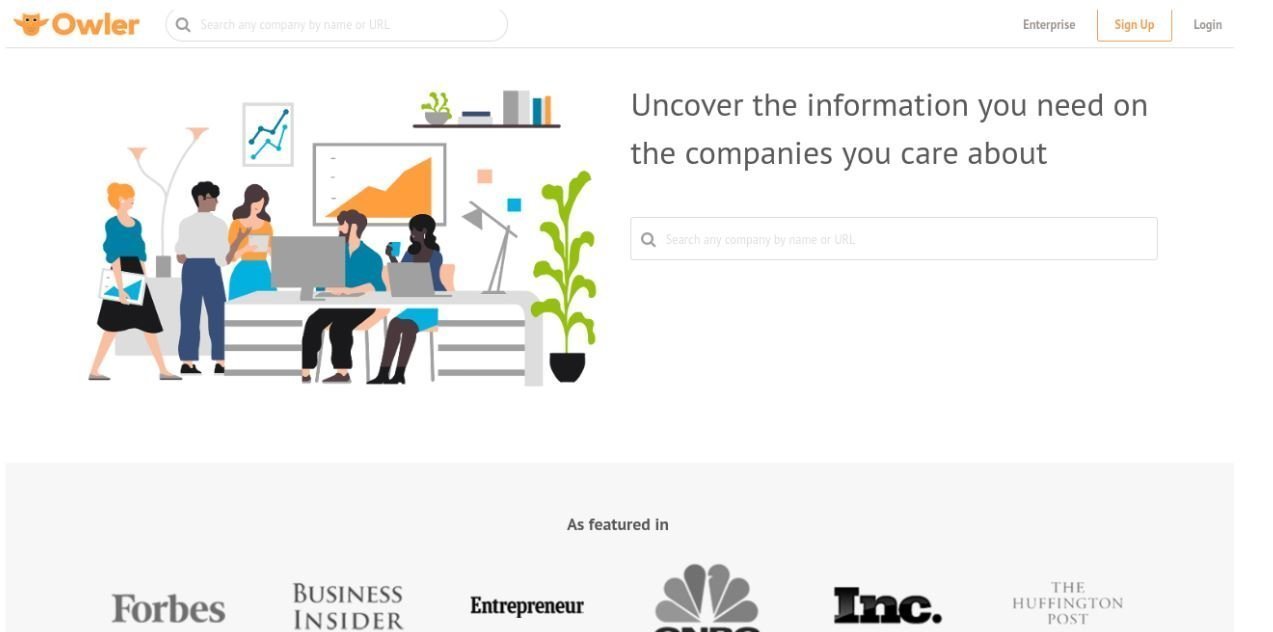 Price: It's free!
What it's all about:
Owler is a free database that's filled with information about who a company's top competitors are.
Plug in the company of a prospect, and you'll not only find out who they're up against, but you'll also be given their social media accounts, number of employees, and annual revenue.
Plus, you can find about their funding history and any acquisitions that have taken place.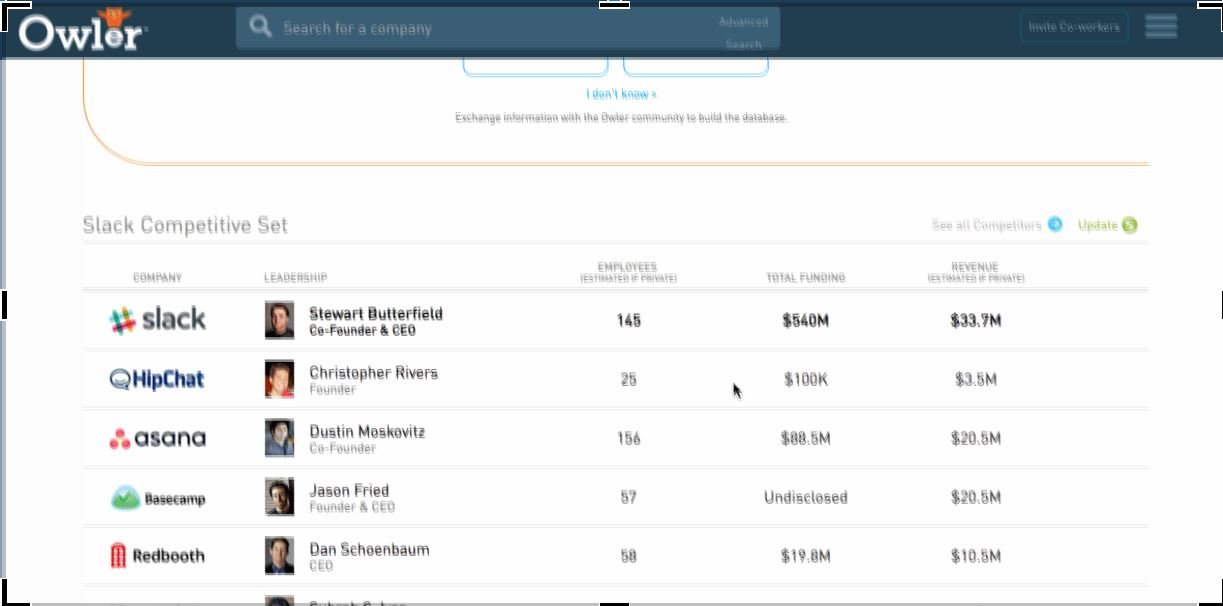 19. Crystal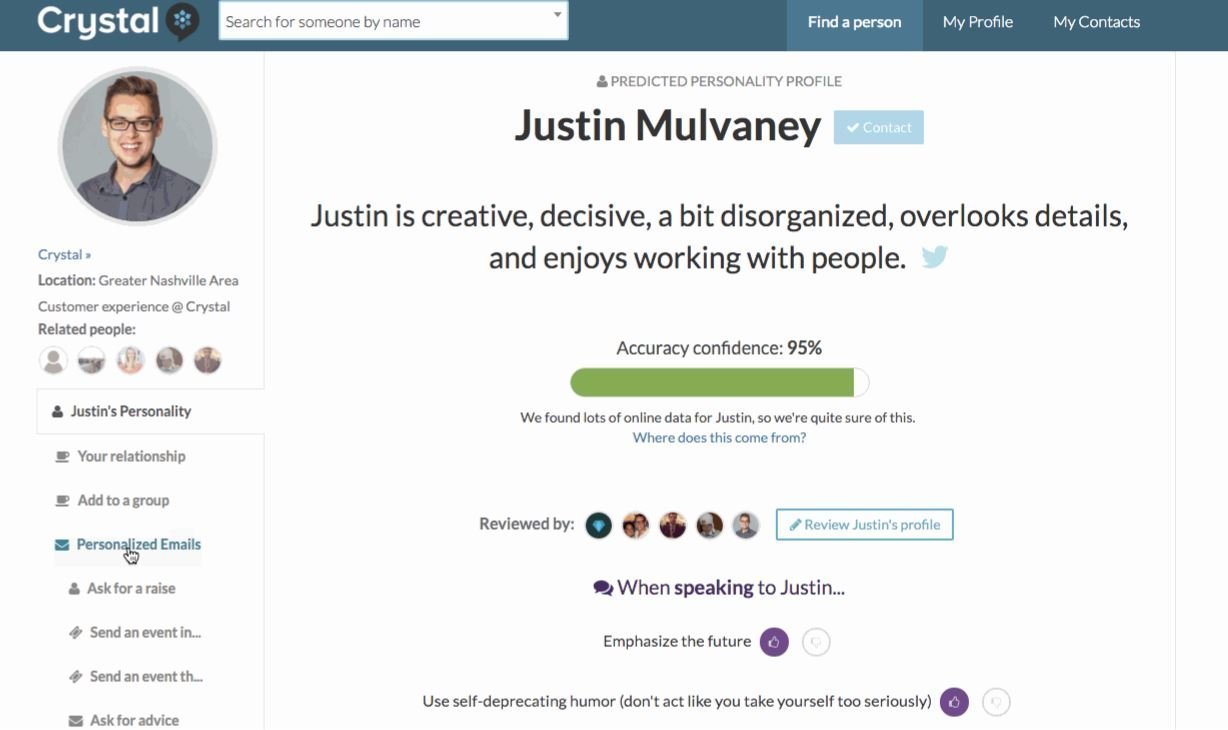 Price: Starts at $29/month
Free trial: No
What it's all about:
Crystal is like having a coach for pitching prospects.
It doesn't give you links to a prospect's Twitter account. But what it does do is provide eerily detailed insight into how your prospect talks, how they behave, and what drives the decisions they make in their business.
The tool uses social media and text analysis and runs them through an algorithm to figure out exactly what conversations and tone you should approach a prospect with.
It's like a mind-reading tool for sales teams.
20. Nudge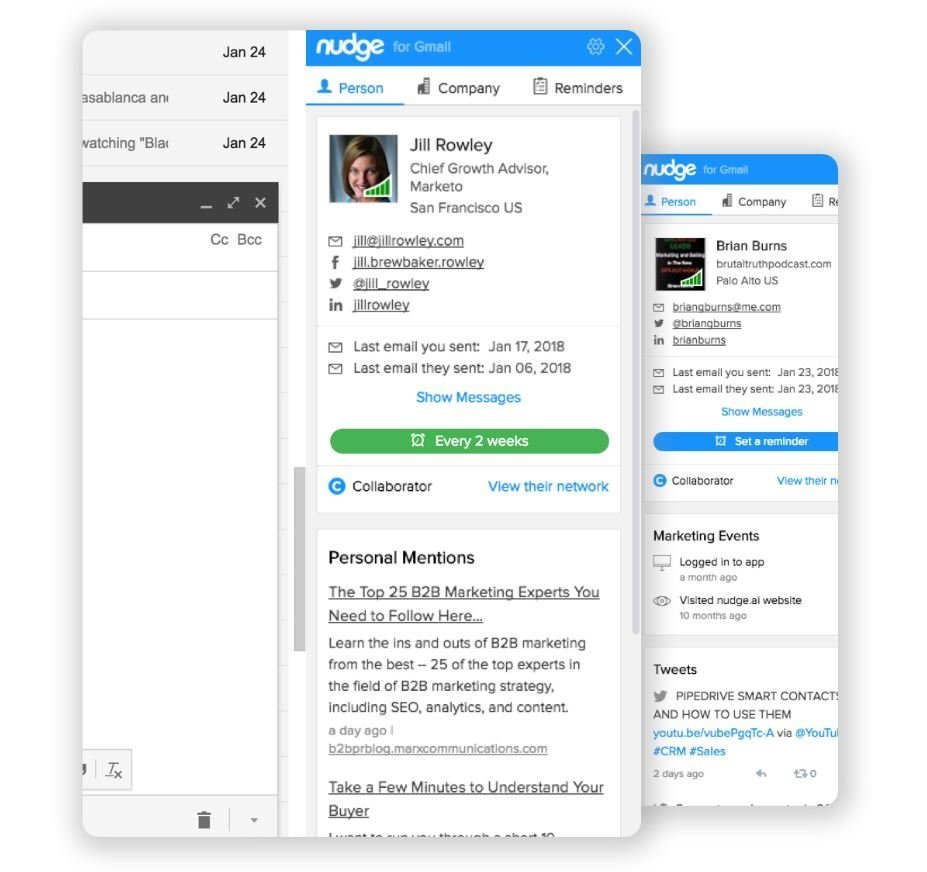 Price: Starts at $19.95/month
Free trial: Yes
What it's all about:
Nudge digs into the background of a prospect so you don't have to spend hours doing it yourself.
Ever prepared for a pitch and thought, have I contacted this person before? Maybe I've dealt with their company on another occasion? Is there anyone at the company who has actually worked for your company in the past?
Instead of spending hours of your day trying to find out yourself, Nudge does it for you. Plus, it can rate the relationship you have with a prospect from "very weak" to "very strong", so you know if you need to put in a bit more work with them.
21. Mention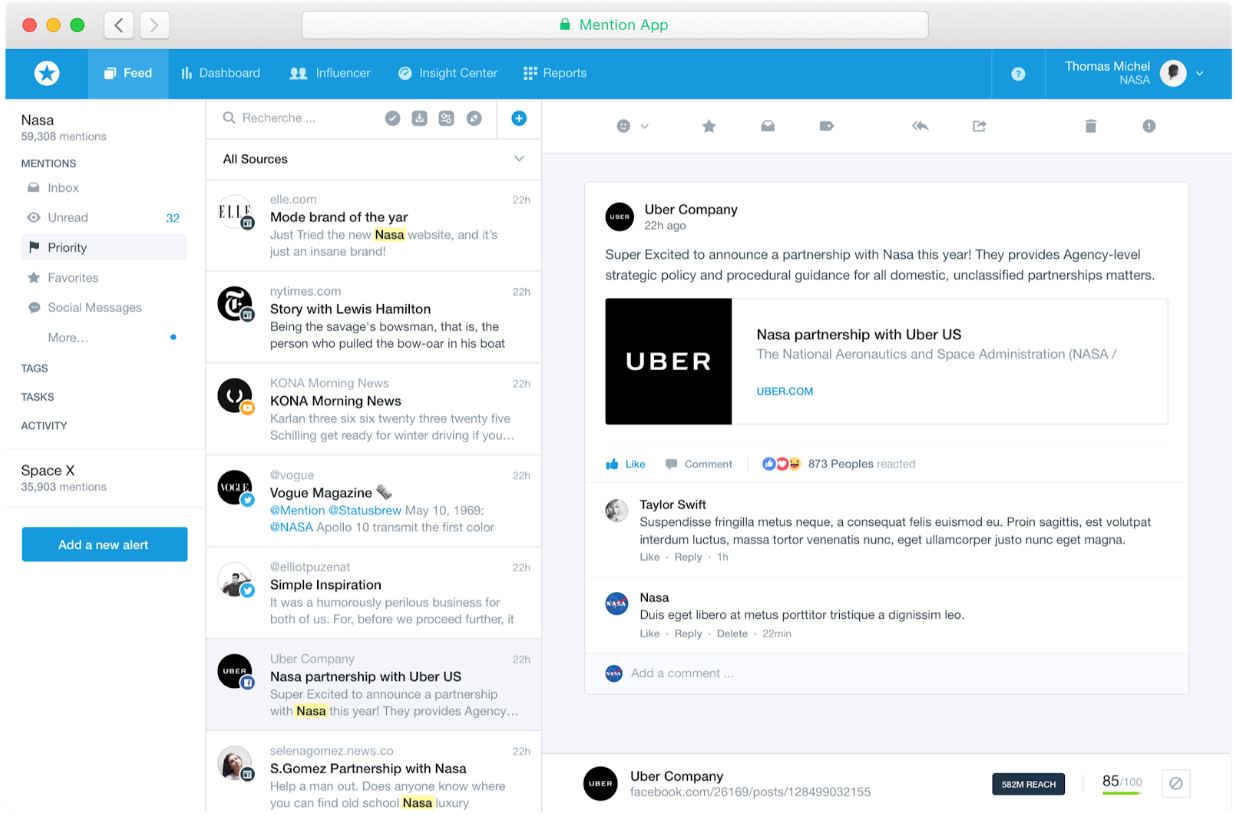 Price: Starts at $25/month
Free trial: Yes
What it's all about:
Struggling to get a prospect on board? Try sharing in their successes with the help of Mention.
Mention is a media-monitoring tool that can help you follow a prospect's success. If a prospect's company just celebrated a major win, or they were recognized for an award in their industry, congratulate them first.
What better way to shine a good light on yourself and your product by shining the light on them first?
22. Siftery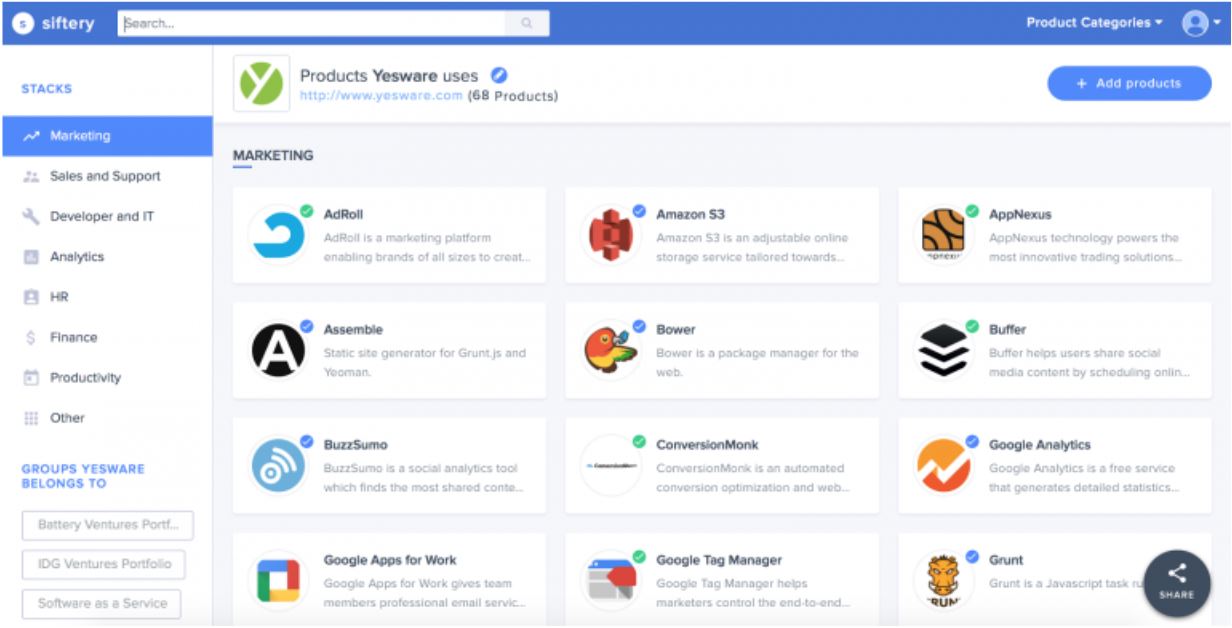 Image source
Price: Starts at $160/month
Free trial: Yes
What it's all about:
Siftery does one thing and it does it well: finds competitors. You can plug in a prospect's company to find out exactly what products they're using so you can plan your next move.
Not only that, Siftery can filter what tools your prospect's company is using down to individual departments. So if your prospect is in the marketing department, you'll uncover all the sales prospecting tools the marketing team uses.
23. Apollo.io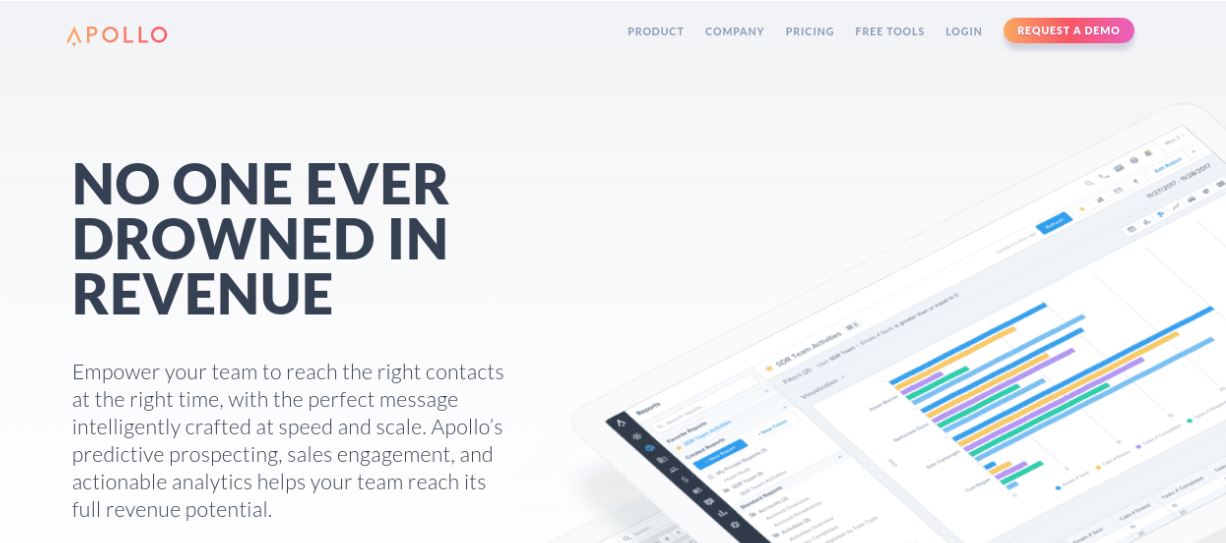 Price: Custom plans available
Free trial: Yes + forever free plan
What it's all about:
Apollo finds the perfect things to say to your prospect for your next email or call.
The tool gives you recommendations on what to say by judging a prospect's online persona. It also integrates with your email, CRM, and professional networking sites like LinkedIn so you're covered no matter what platform you're using.
24. Emissary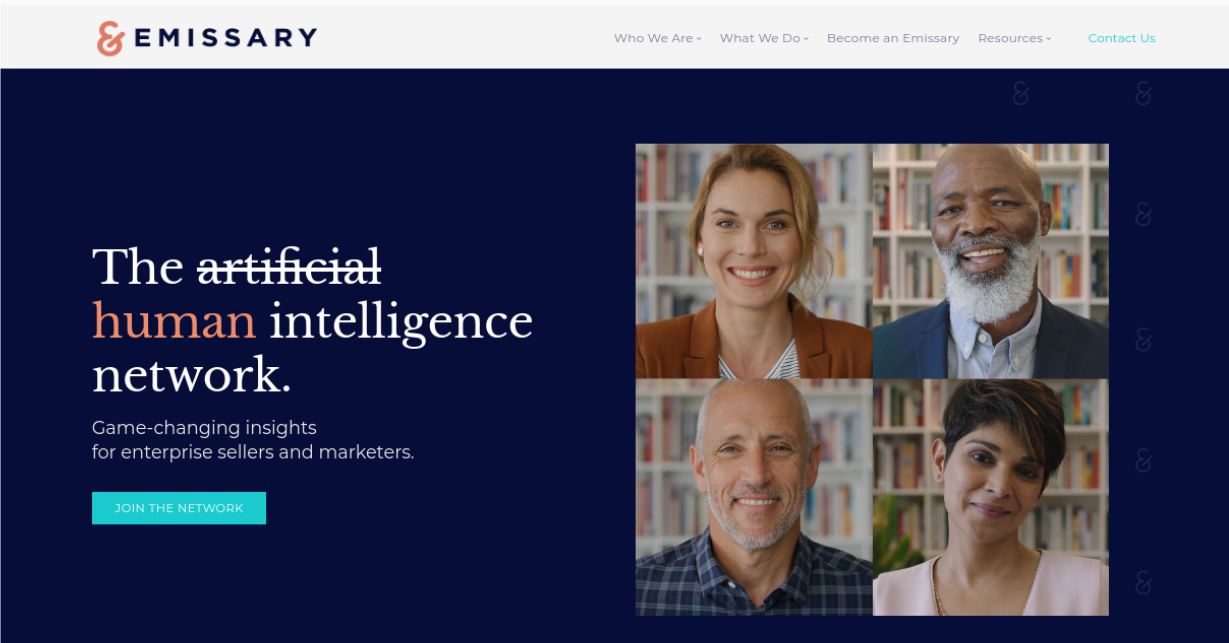 Price: Custom plans depending on your needs
Free trial: No
What it's all about:
Emissary was built by a product leader at Google, so you know it has to be good.
Using the tool, you can unlock critical information. Information that goes beyond the standard analytics and data you'll find on other sales prospecting tools.
Is a prospect you've been working on really a key decision maker in the company? Or is there a hidden influencer that you've failed to spot? Emissary can tell you.
Plus, the tool will chart the best paths on how you should approach your prospect.
Tools to Automate the Boring Stuff
25. PandaDoc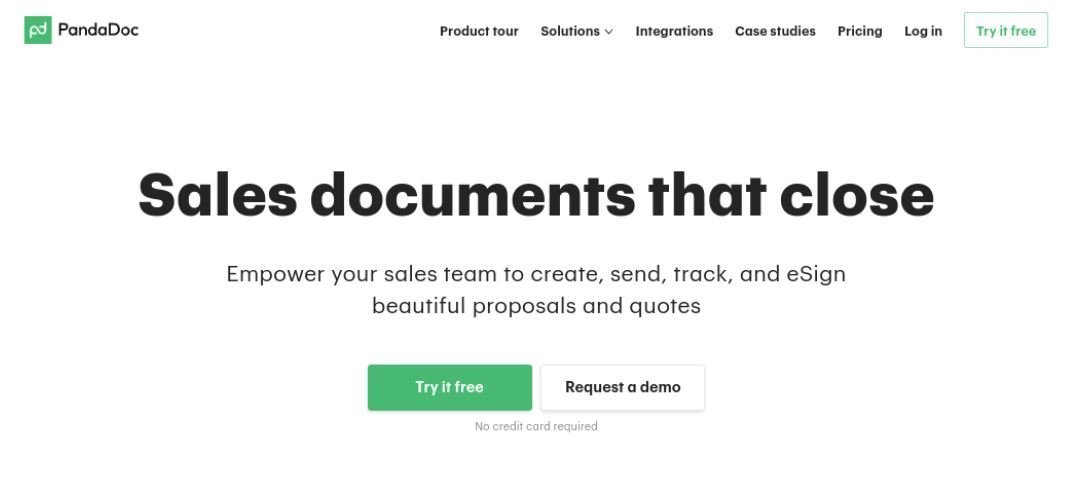 Price: Starts at $49/month
Free trial: Yes
What it's all about:
Nobody likes doing admin work, especially your sales team. We all know they would rather be out selling than creating quotes.
This is where PandaDoc comes in. The tool can save your team a massive amount of time by automating daily tasks like quote creation and tracking contracts. It also gives your sales team access to a bunch of proposals so they can just fill in the blanks, rather than drawing one up from scratch.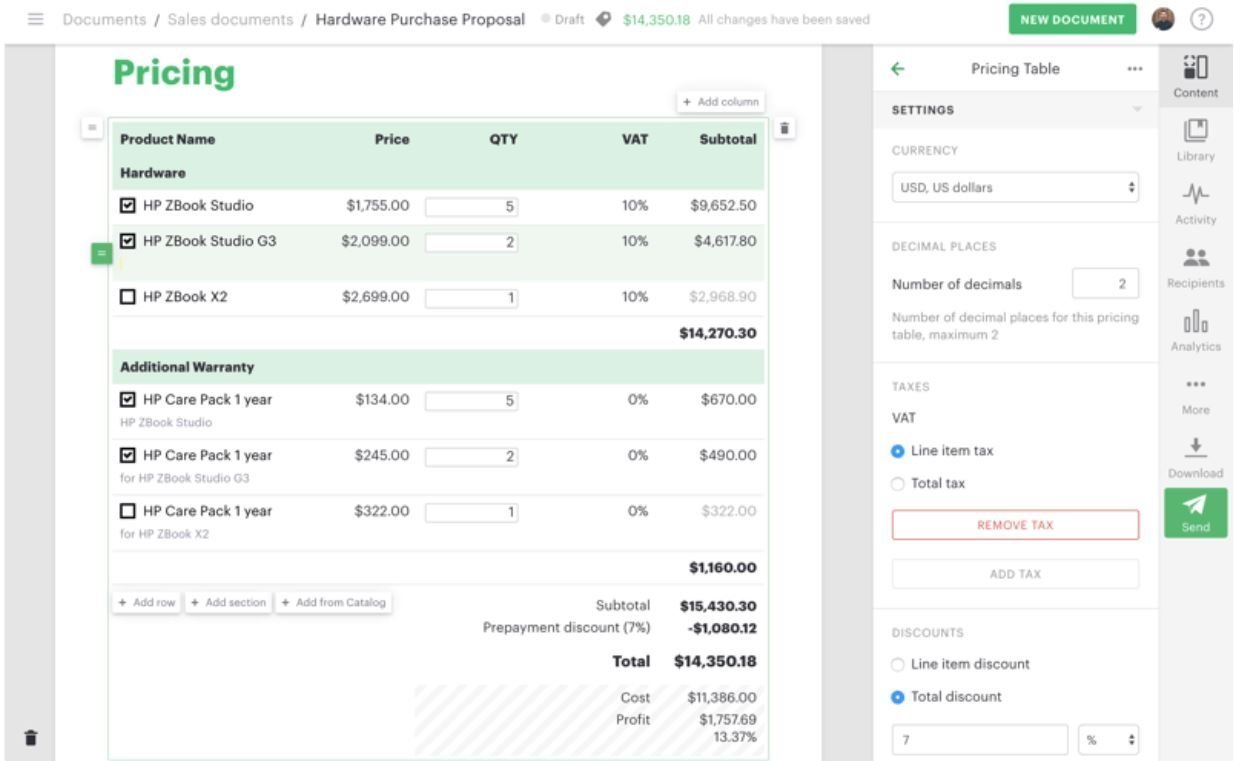 Everything is kept in the PandaDoc dashboard, so your team can track sales activity and check if a contract has been signed. If it hasn't, the tool will automatically send a reminder.
26. Calendly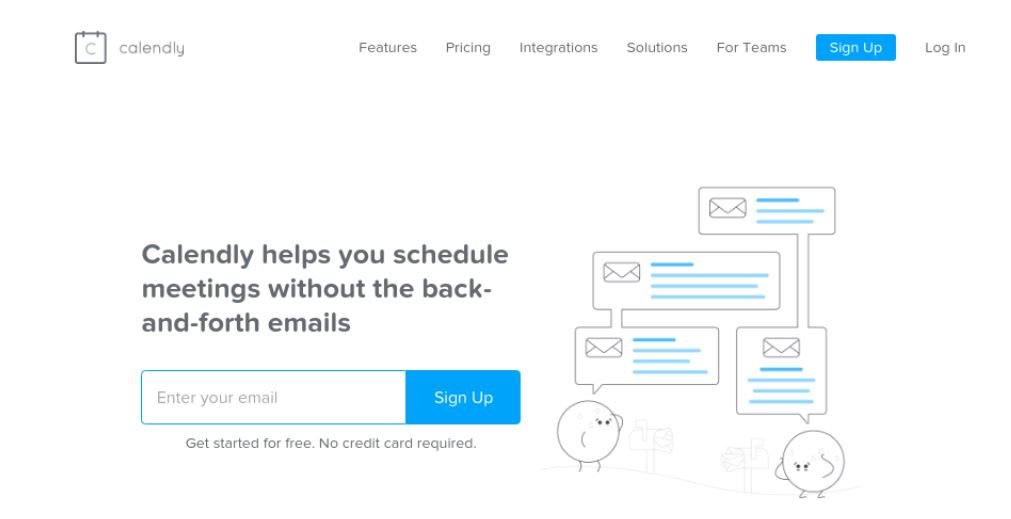 Price: Starts at $8/month
Free trial: Yes
What it's all about:
Back and forth emails to organize a meeting with a prospect is high on the list of the worst parts of preparing for a pitch.  
If you're constantly getting caught in a 15-email exchange before settling on a meeting time, you need Calendly.
The tool lets you set up a schedule, and then your prospect can choose what times suit them best.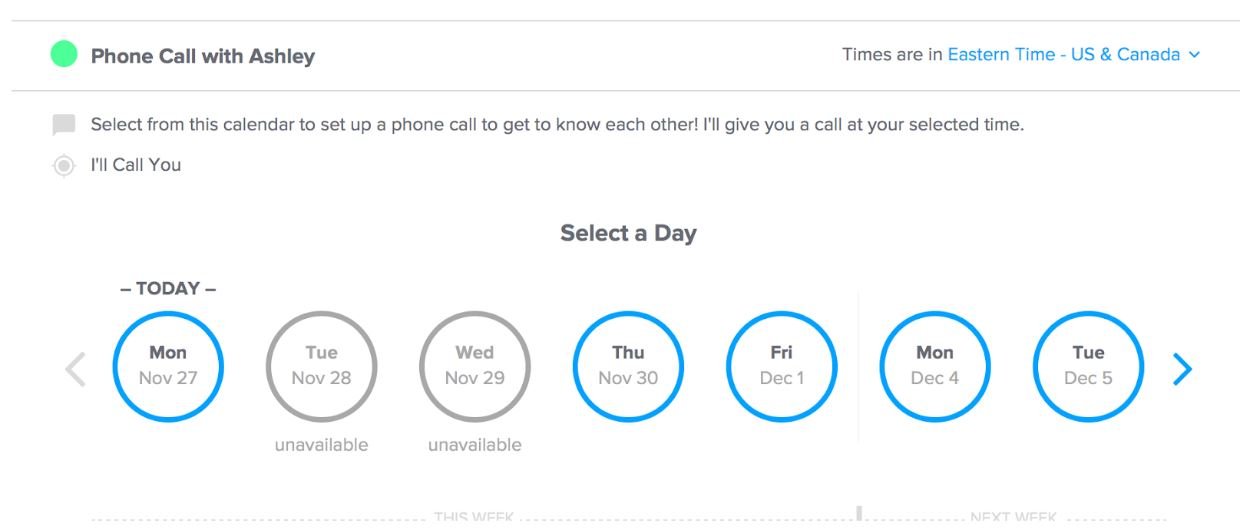 Once your prospect has picked a date, Calendly automatically removes the time slot from the system so you won't be double booked, and adds it to your chosen calendar.
27. Outreach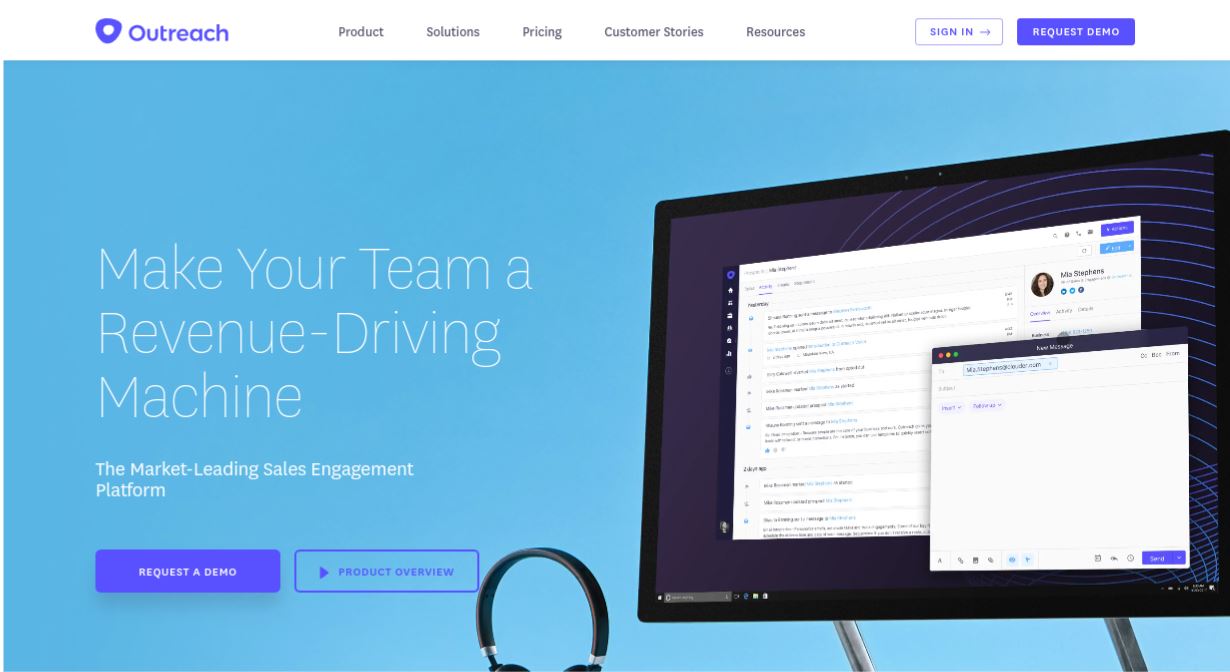 Price: Custom pricing depending on needs
Free trial: Yes, a demo is available
What it's all about:
Outreach sets up touchpoints for your prospects so that when they're interacting with you, they are replied to straight away.
The earliest stages of a customer's journey are the most important, and if they aren't looked after, they'll leave. Outreach will automatically reply to a prospect, and then if you don't receive a reply from them, it'll follow-up with them again.
Don't think of it as a bot, but more a sophisticated messaging system. It'll A/B test every message that's sent, so you know which ones work best and why.
28. Boomerang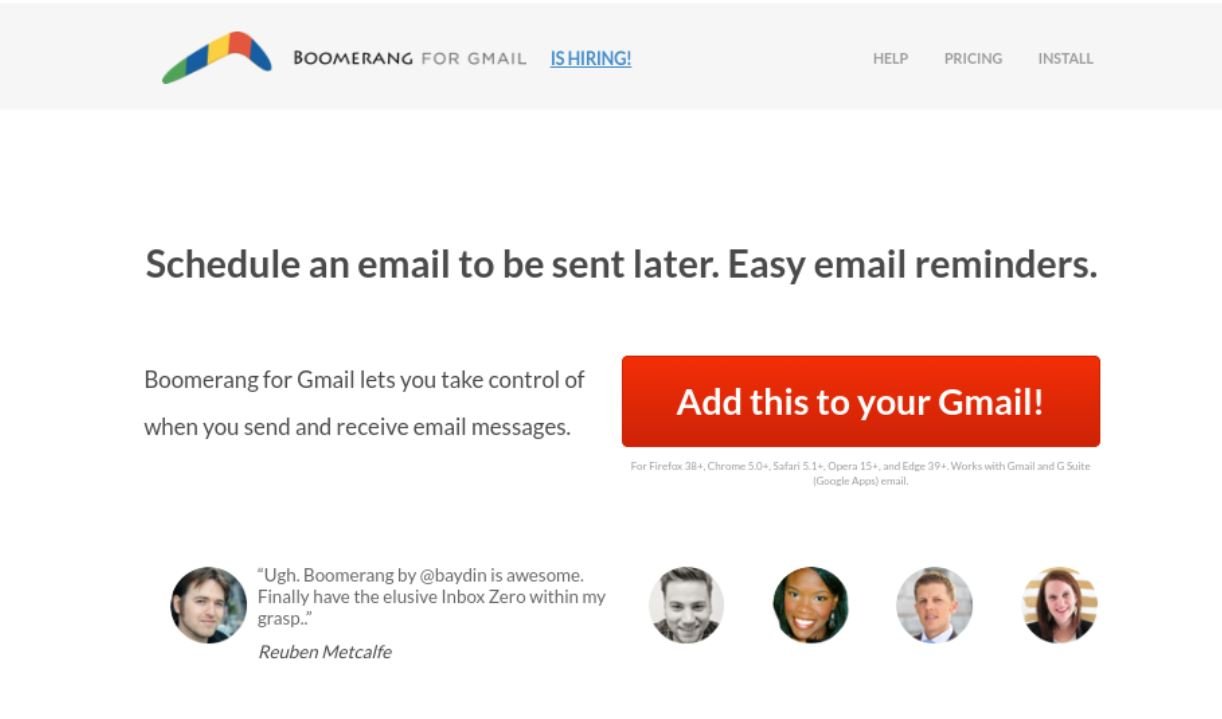 Price: Starts at $4.99/month
Free trial: Boomerang offers a free basic plan
What it's all about:
Are some of your prospects in a different timezone? Maybe you get distracted by new emails hitting your inbox every 5 minutes?
Boomerang can help your team stay on track with scheduled emails. It has a function that will let you schedule an email to be sent in advance, so it hits your prospect's inbox at the perfect time.
Plus, you can set it up for automatic follow-ups. If a prospect hasn't replied to an email in a couple of days, Boomerang will follow up automatically.
29. Yet Another Mail Merge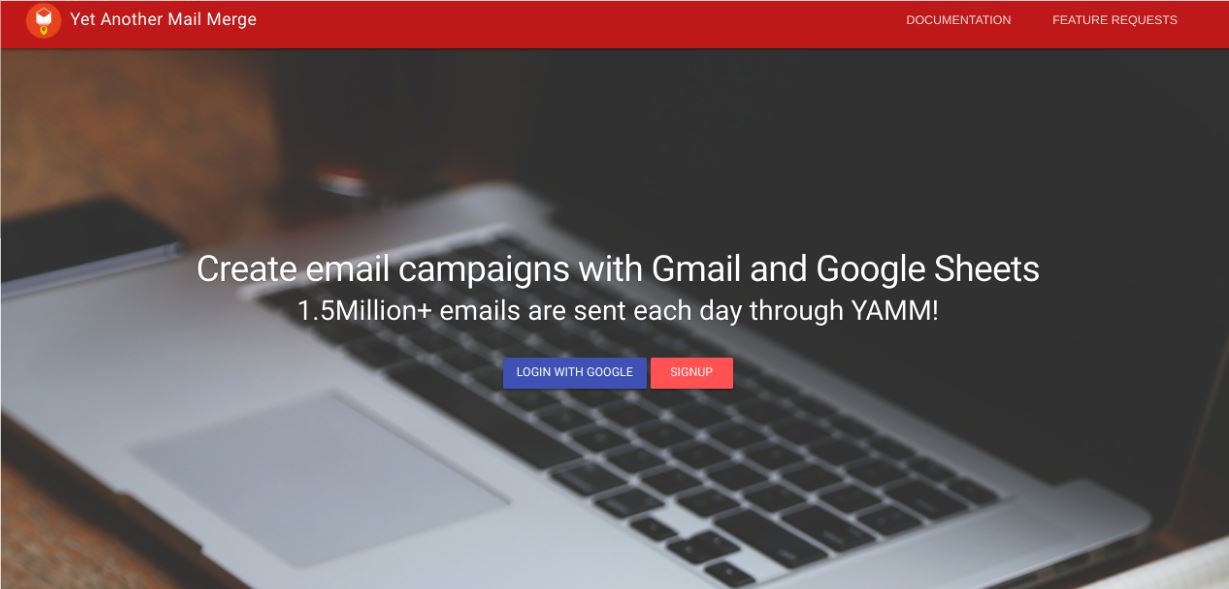 Price: Starts at $24/year
Free trial: First 50 emails of the day are free
What it's all about:
Want to see who's opening your emails?
Yet Another Mail Merge links your Gmail with Google Sheets and tracks your email opens. If you're casting a wide net to prospects and want to know who is actually biting, this tool is for you.
30. GlobalMeet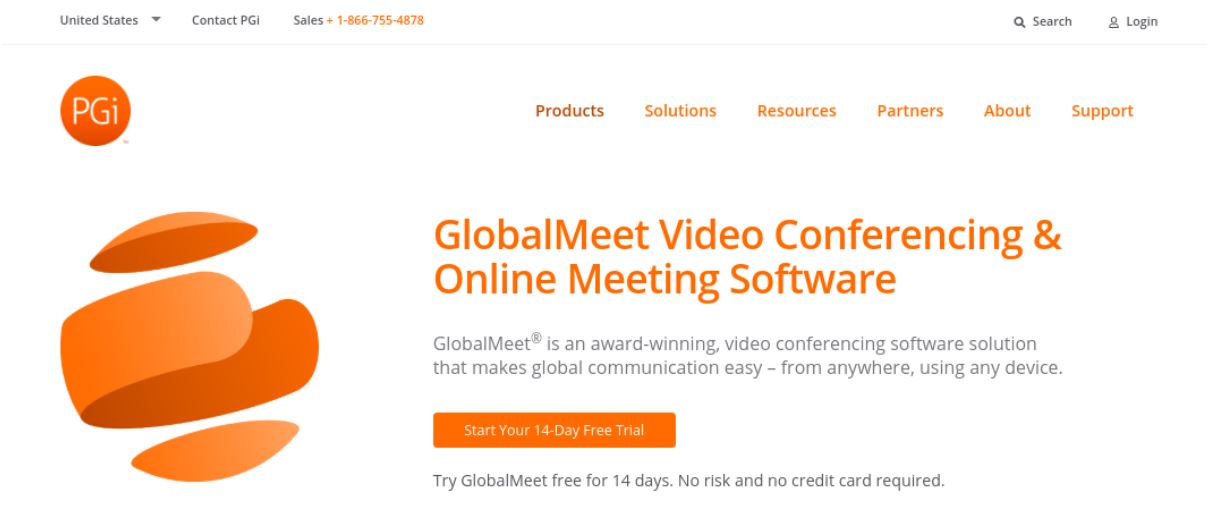 Price: Starts at $12/month
Free trial: Yes + limited free forever plan
What it's all about:
Every company uses different tools for meetings, so it can be frustrating when you end up with dozens of tools on your desktop.
GlobalMeet lets you have meetings through their cloud-based software, so no download is required.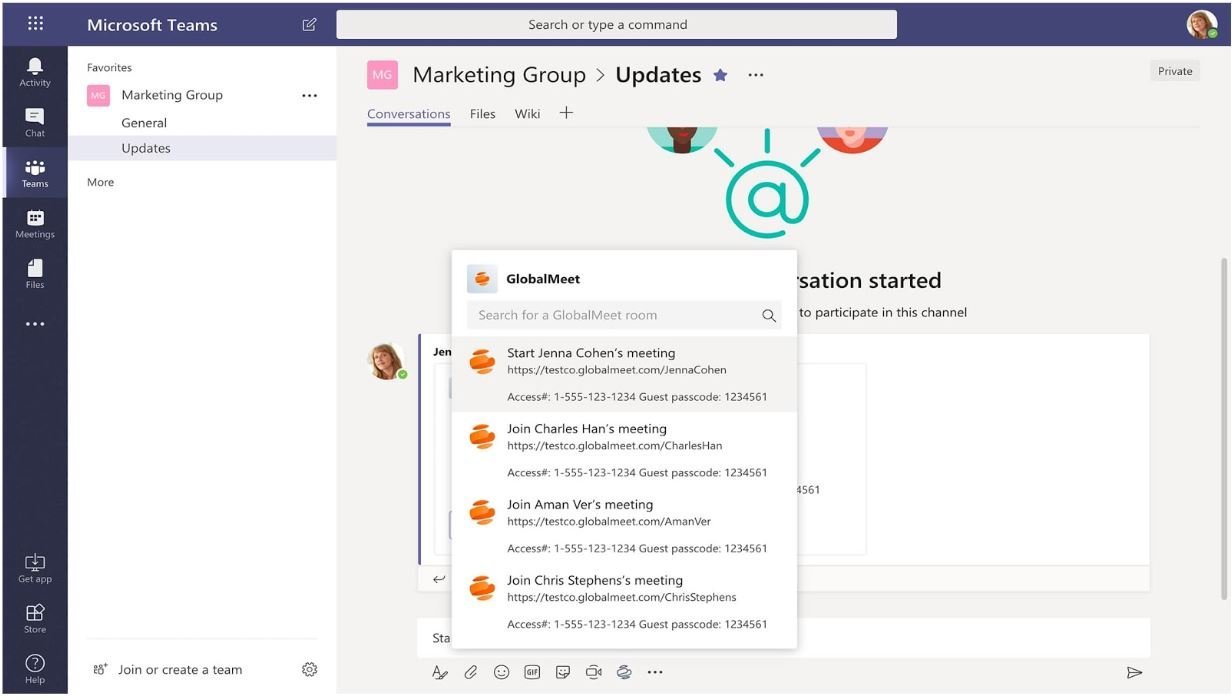 To get a prospect to join you in a meeting, all you need to do is send them a link and the meeting is ready to go!
Smarter Prospecting Closes More Deals
If filling your pipeline is taking up too much time, there are ways to automate a lot of the work that goes into landing a new client.
Spending hours trawling through LinkedIn, following up on emails, and preparing for pitches are all tasks that can now be done with a sales prospecting tool.
Picking the right tools will save your team hours of time on admin work and get them back to doing what they do best—closing deals.
Looking for more qualified leads?
We offer Lead Identification and Lead intelligence through website & email tracking