Blog posts, ebooks, email drip campaigns, and similar marketing activities will replace traditional advertising.
It's a bold statement, but it's hard to deny that there is currently a massive surge in interest in content marketing from all types of brands underway.
With this surge in interest in content marketing happening, a more tactical approach is now required to turn readers into email subscribers, social followers, repeat readers, and then eventually customers.
There is a very simple reason why content marketing will replace traditional advertising: it works really well.
The State of Content Marketing
HubSpot, a notoriously phenomenal content marketing machine, explained the following in their most recent State of the Industry report:
"Inbound campaigns achieve higher ROI than outbound. This holds true across different company sizes and budgets… Every company [HubSpot] surveyed—regardless of marketing spend—was three times as likely to see a higher ROI on inbound marketing campaigns than on outbound."
A higher return on investment from content marketing than traditional advertising means that the rise of content-focused agencies is immanent.
Content-focused agencies will be masters at brand management, strategic planning, and measuring the impact of their work. They'll have some attributes of traditional agencies but will ultimately dominate traditional agencies by being more agile and less monolithic, not using fear-based marketing tactics.
Content Marketing Works Best With Advertising
The title of this article may make it seem like we have a negative view of traditional advertising, but that is far from the case. We think that content marketing is most powerful when combined with advertising.
Content marketing efforts should be synchronized with traditional advertising.
To coordinate it with traditional advertising, you need to not replace traditional marketing with it.
This is a mistake that a lot of companies are making. They go all-in on content marketing and forget that traditional advertising has the potential to positively impact their content marketing efforts.
When you do things like advertise your blog articles on Facebook or Twitter, you can target the people who you want to learn about your company more easily. This means that you can introduce your brand or enhance the perception of your brand to the people who will find the most value in your product or service.
The previous statement on synchronizing content marketing with traditional advertising perhaps somewhat contradicts the title of this article: Content Marketing Will Replace Traditional Advertising. We are going to stick to that title because traditional advertising agencies are bound to transform into content agencies.
The Transition from Advertising Agency to Content Agency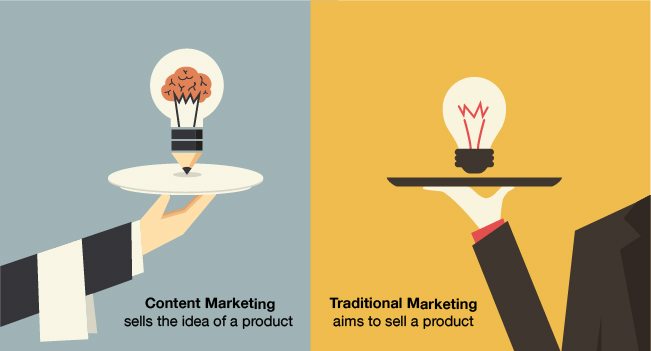 Advertising agencies are going to be forced to make a transition to content agencies if they want to survive. They'll be forced to make a transition to being content focused because the traditional ideology of interrupting a TV show or story online is going to simply annoy people and not build brand equity— interrupting an experience will subconsciously make people perceive a brand negatively (especially if a brand in continuously interrupting experiences).
The content agencies that will win will be extremely good at doing the following:
Making content that both attracts and holds an audience.
Crafting memorable experiences around content.
Creating content that is so fascinating that viewers will want to share the story on social networks. When people share content, it's peer-to-peer validation of a brand, which has an immensely positive effect on the growth of a brand.
The Opportunity
There is a massive opportunity for brand growth with content, especially since we are in the beginning of the true evolution of content marketing. The opportunity here lies behind most marketers and traditional advertising agencies misunderstanding content right now. Most marketers and agencies are misunderstanding content because they aren't creating content in a way that is compelling or attracts bigger publications to cite and quote it. It is being made with a focus on why the brand is great, rather than why the potential customer is great.
The content marketers and agencies that will do best in this marketing shift will be the ones who best recognize and appreciate more than just content creation, but also branding, strategy formation, media planning, audience targeting, and have a keen understanding of business and meeting business objectives in measurable ways.
How will your brand embrace the content revolution?