It's a commonly cited statistic that only 2% of sales are made during the first meeting. That's about a one in fifty chance that your initial pitch will result in a done deal. A strategic and optimized sales follow-up process is your best bet for getting the results you want.
In this article, you'll learn how to set up your sales follow-up process from start to finish so that it's primed for success. While setting up the process may seem daunting, the right CRM tool or email tracking app can help you automate many parts of the process. This allows you to focus on the steps that require a personal touch so your leads feel valued and more willing to buy.
Use the links below to navigate to each section:
How to Start the Sales Pipeline
To set up your sales follow-up process for success, start by automating the process from the beginning of your pipeline. This is the point where you collect data on potential leads, pinpoint high-quality contacts, and make your initial outreach. Automating this process will help you invest time in only the most promising leads.
1. Capture Leads
The first step of your pipeline is to gather information on potential leads. Common ways of doing this include contact forms on your website, email list sign-ups and activity, or even simply interacting with certain pages and social media profiles.
Not sure how or which tool to use to generate leads? Check out this list of 19+ tools recommended by sales and marketing experts.
Looking for more qualified leads?
We offer Lead Identification and Lead intelligence through website & email tracking
How to Start the Sales Pipeline
To set up your sales follow-up process for success, start by automating the process from the beginning of your pipeline. This is the point where you collect data on potential leads, pinpoint high-quality contacts, and make your initial outreach. Automating this process will help you invest time in only the most promising leads.
1. Capture Leads
The first step of your pipeline is to gather information on potential leads. Common ways of doing this include contact forms on your website, email list sign-ups and activity, or even simply interacting with certain pages and social media profiles.
Not sure how or which tool to use to generate leads? Check out this list of 19+ tools recommended by sales and marketing experts.
2. Prioritize Leads
Not all leads are created equal. Some will be worth your effort more than others. A leadscore is a single number that helps you quickly identify who is most likely to buy. 
Many CRM tools and lead scoring software calculate the leadscore by tracking a lead's website visits, newsletter opens, website clicks, social media engagement, and more. 
Using a leadscore offers numerous benefits for your sales process, including increased measurable ROI, conversion rates, and sales productivity. The infographic below takes a look at a few of these benefits in more detail: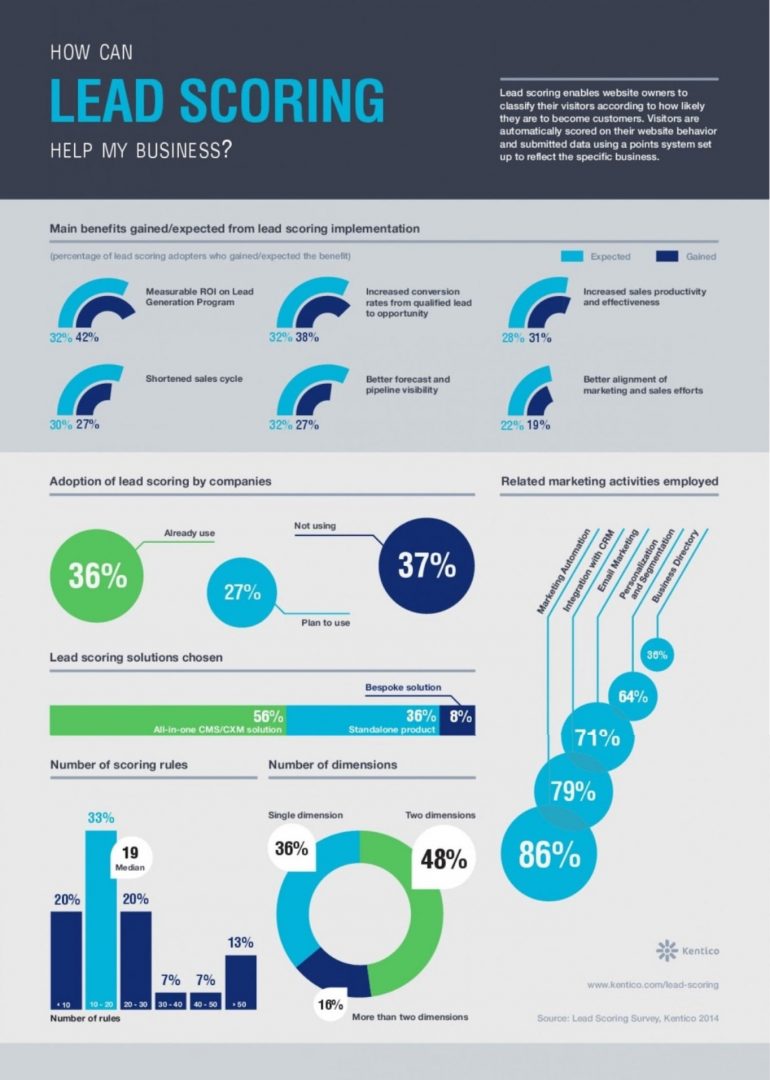 Kentico's 2014 survey showed that over 60% of companies already used or planned to use lead scoring techniques. If you're not already taking advantage of this tool, you could be missing out on benefits that your competitors aren't.
A tool like LeadBoxer can generate the most accurate leadscore possible by comparing the criteria for your ideal buyer to the online behavior of your potential lead. From there, you can use this information to decide whether or not to continue the sales process with this particular contact.
3. Create an Alert
After setting the criteria for a promising lead, you can create an alert with your CRM tool for when that lead next engages with your website, emails, advertising, or social media. By calling a lead immediately after they express interest in your brand, you increase your chances of establishing contact with them significantly.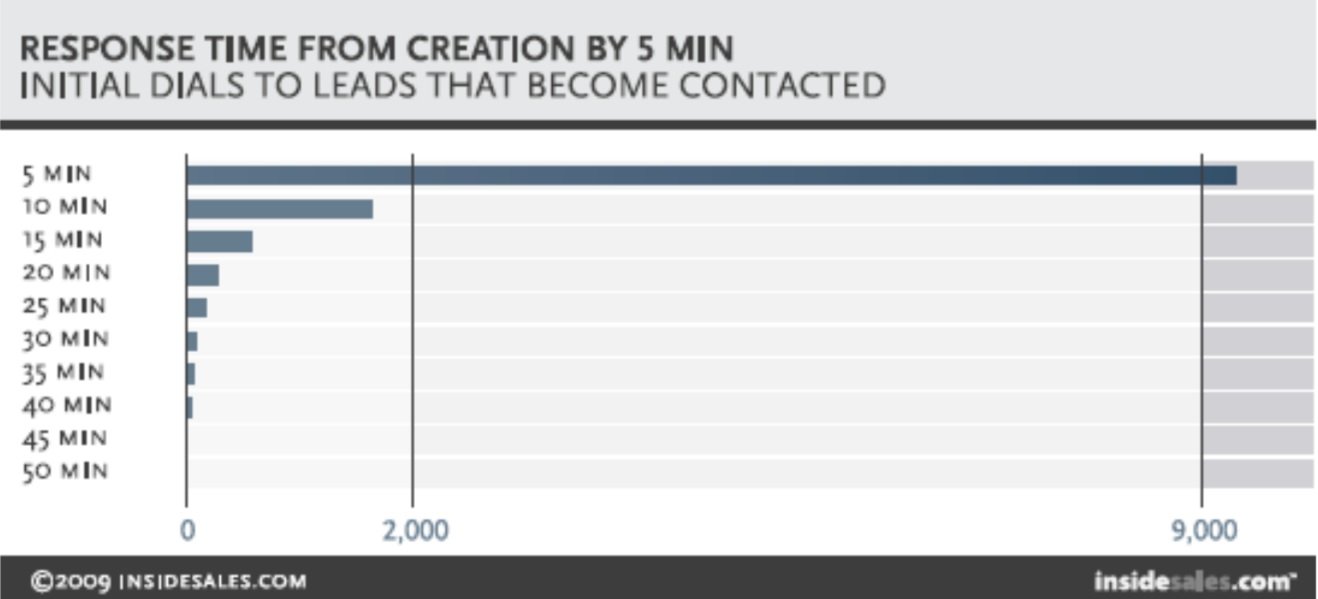 Source
According to a study by LeadResponseManagement.org, the odds of contacting a lead if called in five minutes versus 30 minutes after that lead expresses interest drop 100 times, therefore it's essential to make contact as soon as possible after lead activity.
4. Initiate Contact with Leads
When it comes to reaching out to leads, the email versus cold calling debate rages on. With so many studies, statistics, and lists out there touting the benefits of one method over the other, it can be difficult to decide whether or not you should initiate contact with an email or a phone call.
Your CRM tool can help you decide.
Take a look at what you know about the lead. Is this person higher up in the organization and likely to have a packed schedule? Email might be the way to go.
Are they older or seem like they might prefer a more personal touch? Consider picking up the phone. However, if you call and leave a voicemail, it's good form to immediately follow up with an email recapping the purpose of your call.
Whether reaching out by email or phone, follow this formula for a message that gets noticed:
Open with a clear reason for connecting. Skip the bland and overdone openers like "I just wanted to touch base about…". Get straight to the point by introducing yourself, then defining how your product or service can solve your lead's potential problem.
Add value. This initial contact is not actually the time to make your pitch unless you want to risk turning some leads off. Warm up and nurture leads by offering them something of value for nothing, such as a free resource, whitepaper, or consultation.
End on a clear call-to-action. Give leads a reason to get back in touch. Offer to schedule a meeting so you can explain how they can make the most of the free resource you just sent them.
By beginning your lead qualifying process with this automated and strategic method, you'll be able to easily book meetings where you can make your actual pitch.
Sales Follow-Up Timeline: When to Send Follow-Up Emails
You've made initial contact, had a formal meeting where you made your pitch, and feel confident about your lead. But remember that only 2% of first meetings end in a sale. More than likely, you need a consistent sales follow-up process to bring the deal home.
However, if your initial email (or even your post-pitch follow-up) receives a "no" response, don't give up just yet. A popular statistic confirmed by multiple studies reveals that 80% of leads will say "no" to an offer five times before they eventually say "yes." Sending follow-up emails at strategic times is therefore a necessary and common part of the process.
If you aren't already using one, you should use a CRM tool or email tracking app to help you complete the next steps. Knowing whether or not your emails remain unopened or not will influence when you send a follow-up message, as well as what kind of message to send. This list of 10+ best email tracking apps for Gmail and Outlook can help get you started.
Free E-Book: Click here to download LeadBoxer's free E-Book, "7 Things to Consider in an Email Tracking App"
Here's a list of the kinds of follow-up messages to send and when to send them:
After You've Formally Met and Made Your Pitch
By now, you've hopefully had a meeting where you formally made your pitch and the lead was qualified enough to continue the sales process. You'll then need to send a post-pitch follow-up in order to carry you to the next stage. Follow up 1-2 days later with a message like this:
Show your appreciation. Quickly thank the lead for meeting or speaking with you.
Review their pain point. Restate any of the lead's pain points that arose during the meeting and how your product or service can solve those problems.
Answer any questions raised during the meeting. If you promised to look into a lead's problem or question during the meeting, review your findings now. This is also a good time to attach a particular resource, such as a whitepaper, that would address the lead's question or pain point.
End on a call-to-action. Don't let a good thing go to waste. Be direct in asking the lead how they would like to move forward.
When the Lead Needs to Consult with Their Supervisor
Sometimes the lead you pitched may need to consult a supervisor before making the final decision to buy. In this scenario, you'd want to follow up 4-5 days after making the pitch. This gives the lead enough time to speak with their team. Use this structure to reach out:
Show your appreciation. As with the first follow-up email, quickly thank the lead for meeting or speaking with you.
Reference the boss. Ask what their colleague or higher-up thought of your proposal.
Make a clear call-to-action. Ask for a quick follow-up meeting to discuss the next steps.
When the Lead Opened Your Email But Didn't Respond
Your CRM tool or email tracking app shows that the lead opened your email or clicked a link or attachment inside but didn't respond. This might happen when you try to make initial contact, or if you send along an additional resource after making your pitch. Contact them soon (within 1-2 days) with the following message:
Ask how they liked the resource
A simple "How are you enjoying XYZ whitepaper?" will do.
Offer to walk them through it. Mention how you can help them get the most out of the resource in order to solve their business problem.
End on a call-to-action. Offer a time and date when you can talk them through their questions.
When You Need to Follow Up the Unanswered Follow-Up
If after a few more days your follow-up remains unanswered, try engaging them with more valuable content. For businesses that create blog posts or whitepapers as part of their content marketing strategy, this is a fairly pain-free step. Use this template for composing your email:
Ask again if they've taken a look at your resource. Even if they haven't responded to your first follow-up, remind them of the valuable asset you originally offered them.
Offer another resource. A second article or piece of content from your company's website may be a better fit for answering this lead's questions.
Ask how to move forward. As always, end on a clear call-to-action, in this case by asking if they're still interested in your product or service and would like to discuss how to move forward.
When It's Time to Break Things Off
It's a bummer, but it happens. After several unanswered and unopened emails, it's probably time to break things off. However, some sales reps report that this email gets as much as a 76% response rate. Consider the following structure to make the most of a graceful exit:
Mention that you haven't been able to get in touch. Keep this light and non-judgemental, or you risk putting off the lead. Things happen, and maybe they've just been really busy.
Ask if there's a better time to connect. Fiscal years, budget planning, or waiting on additional sources of funding can play a huge role in whether or not your offer can even be considered at present.
Ask to close their file. If timing doesn't play a role in their decision, ask the lead if you can close their file. This final call-to-action is sometimes enough to elicit the response of an interested lead who has simply been too busy.
With any of these follow-up emails, a CRM tool or email productivity app will allow you to compose your messages in advance. You can then schedule them to send at the desired time or in the event that one of your previous follow-ups is unopened or unanswered.
Sales Follow-Up Tips & Techniques
The following tips and techniques can help optimize your sales follow-up process, no matter where you are in the pipeline.
Schedule and Automate Follow-Ups…
Scheduling your responses to send according to the timeline above is essential for keeping your sales process moving. Many CRM or email productivity tools will allow you to compose and schedule emails to send at a later date, or in the event that a previous email went unanswered.
…But Don't Automate Email Content
While it's a good idea to consult email templates for how to structure your responses, avoid leaning too heavily on the same template and language for every lead. People know when they're receiving a formulaic response and may opt to pass on your offer. Taking the time to craft a personalized response shows how much you value their potential partnership.
Keep Emails Brief
In a world where inboxes are becoming increasingly cluttered and attention spans increasingly short, it's best to keep your emails to the point. Boomerang, a provider of email productivity software, did a study on over 40 million emails to find out what the response rates were for different email lengths: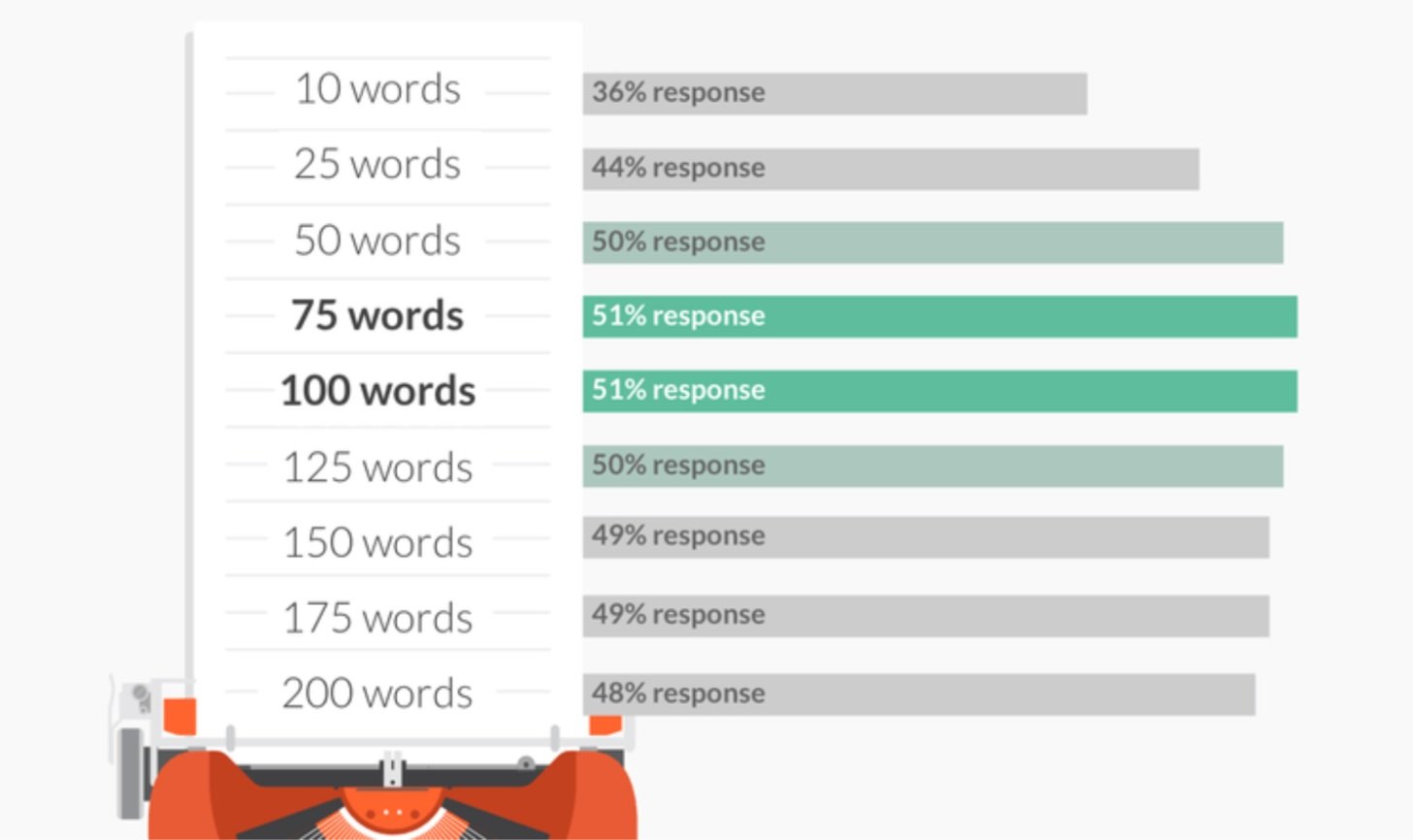 Boomerang's results show that there's a bell curve to response for email lengths. Write an email that's too short or too long and you decrease your chances of getting a response. The sweet spot for email length is between 50 and 125 words, which earn response rates of 50% or more.
Avoid Bland Statements
Opening statements like "I wanted to circle back…" are tired and signal that you don't have a clear reason for getting in touch. Be direct instead, often by referencing the lead's previously established pain point and how you can solve it.
Back Up Your Claims
It's not enough to claim that you can solve a lead's pain point. Back up your statement with a compelling result, metric, or customer testimonial. This helps establish trust between you and your lead at every stage of the sales process.
Stay Human
This long-standing advice is as true as ever: remember that you're a human first and a salesperson second. The same goes for your lead.
Approach them with the same respect and understanding that you would afford a friend, colleague, or acquaintance. Not only will you see better results, but you may also see an increase in your own personal job satisfaction.
For more ways to optimize your follow-up process, check out this complete guide to email tracking for B2B sales teams.
How to Automate Your Sales Follow-Up Process
While the sales follow-up process is relatively straightforward, you quickly learn that there are a lot of moving parts. The right tools will help you automate and optimize the process for better results and better account expansion. While there are countless options out there, here are a five to get your search started:
LeadBoxer
LeadBoxer features automated solutions for many of the steps covered in this article. The tool collects and populates contact information for leads that visit your site, open your newsletters, or exhibit other online behaviors.
It then assigns leads a score to help you decide if you want to continue the sales process with them. There's also an alert function so you know the best time to reach out and make initial contact. Once you do, LeadBoxer's Gmail extension makes it easy to track and analyze all the emails you send.
HubSpot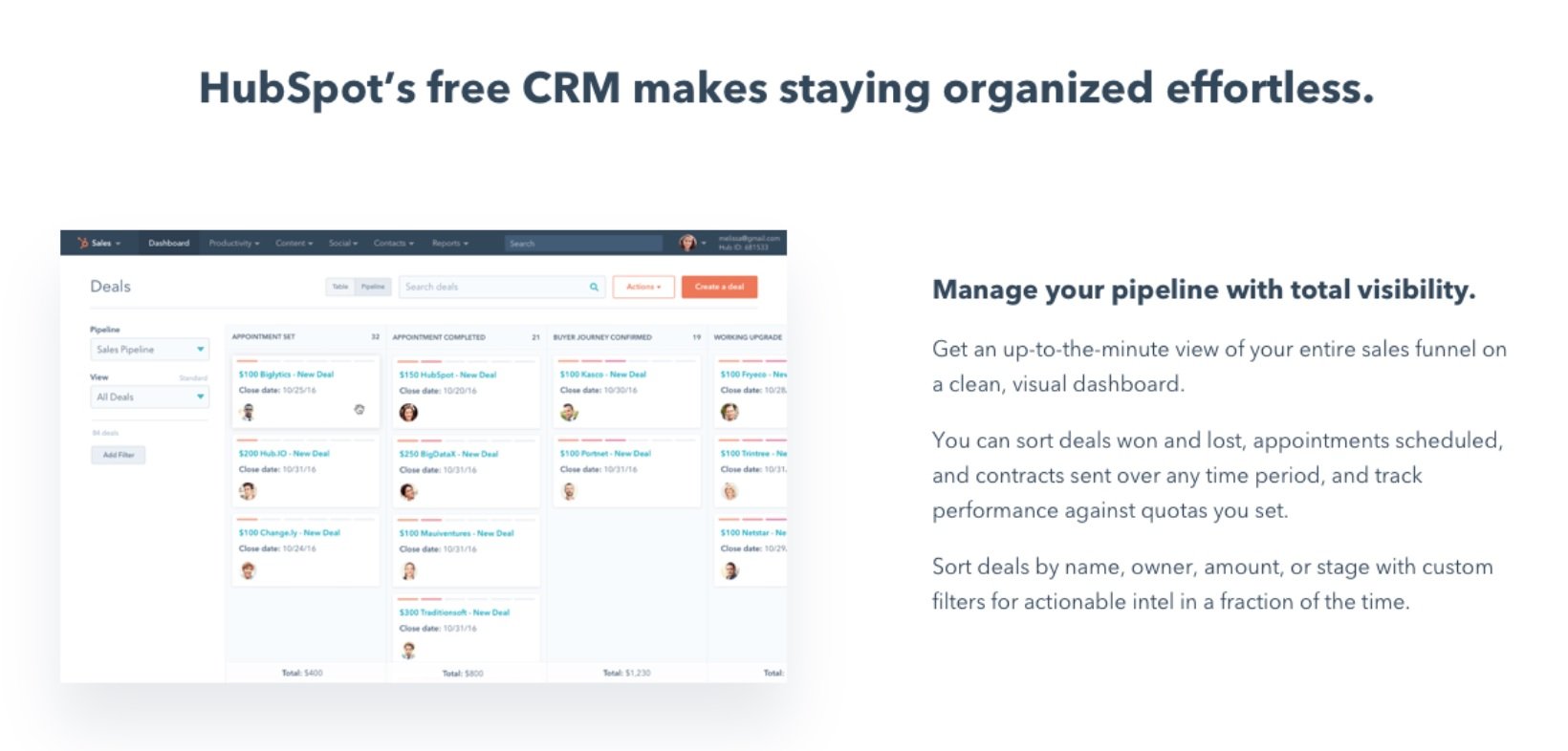 HubSpot's CRM has much of the functionality you need to automate your sales follow-up process. The interface features a kanban-style board so you can quickly see which stage of the sales pipeline each lead is in.
You can also schedule personalized emails, track opens and downloads so you can respond immediately, measure the performance of email templates, and show availability for easy scheduling.
Agile CRM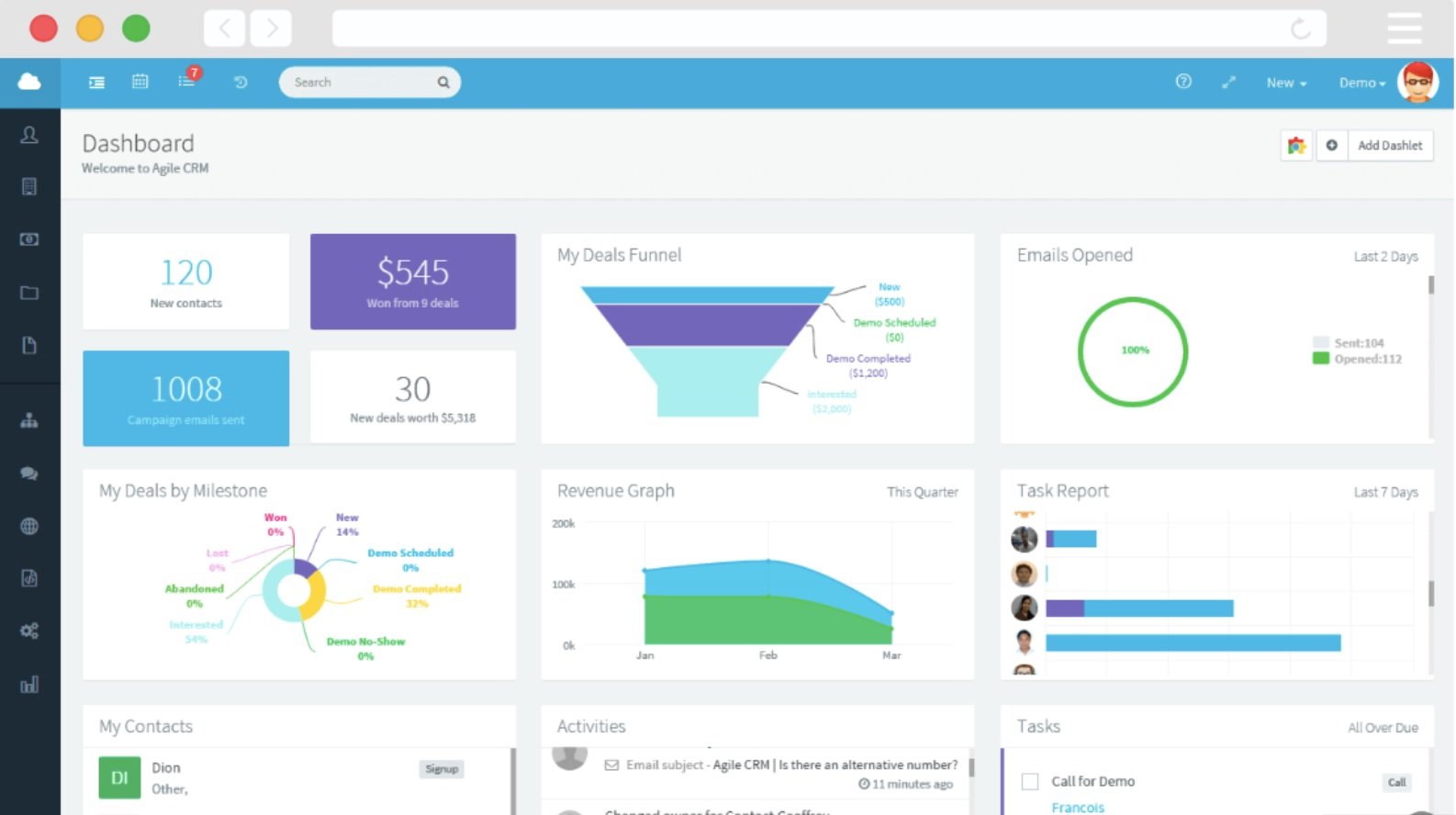 Like HubSpot, Agile CRM allows you to track which phase of the sales process each lead is in.
It records each interaction with the lead and creates events for calls, meetings, follow-ups, and more. On top of that, it analyzes lead behavior and calculates a leadscore so you can decide when and how to proceed.
Gmelius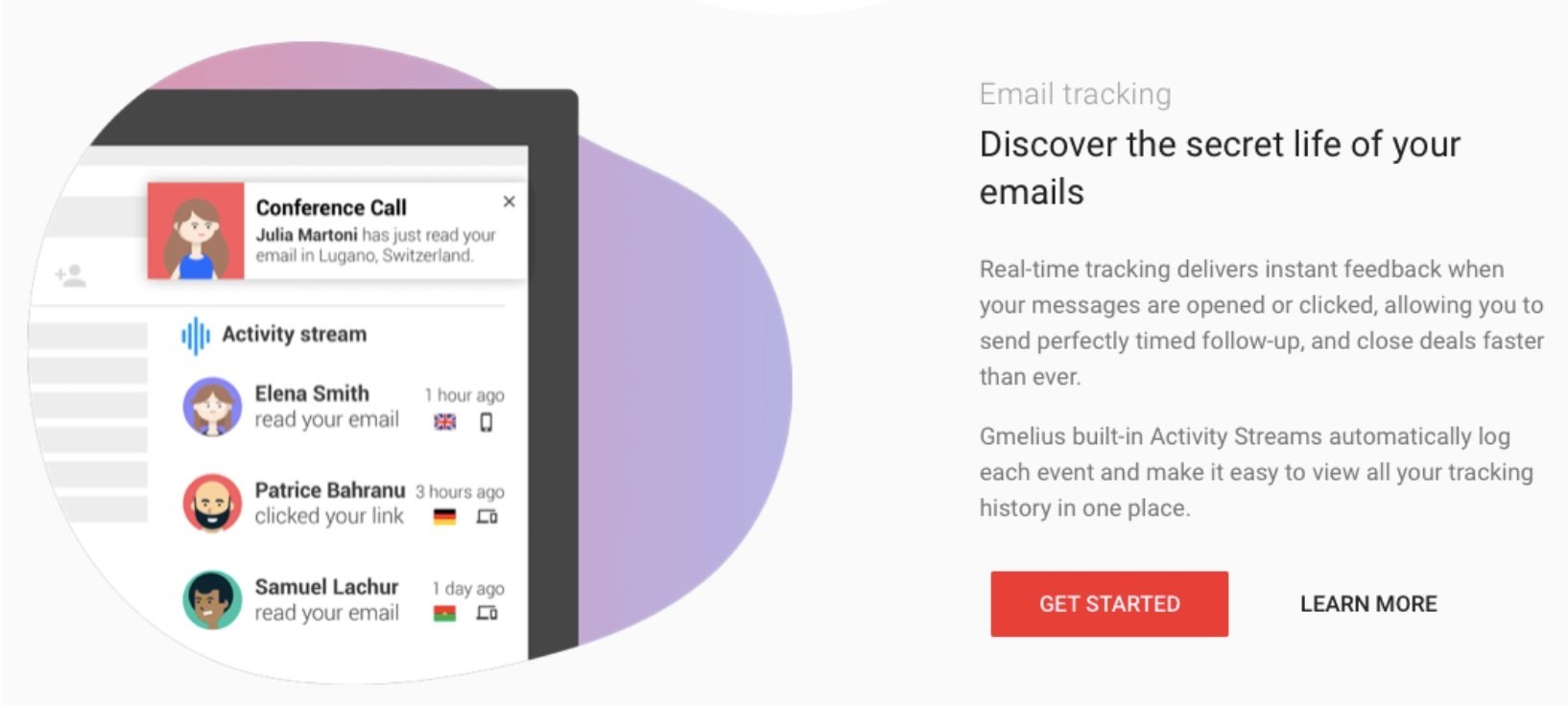 Gmelius is a free solution for someone who wants a lightweight tool seamlessly integrated with their Gmail inbox. The tool tracks emails and delivers instant feedback so you can send the right follow-up.
You can even see which templates are most effective, then personalize and schedule them easily. Leadscores and contact overviews are not a feature, but Gmelius can be integrated with a more full-service CRM to cover all your bases.
Pipedrive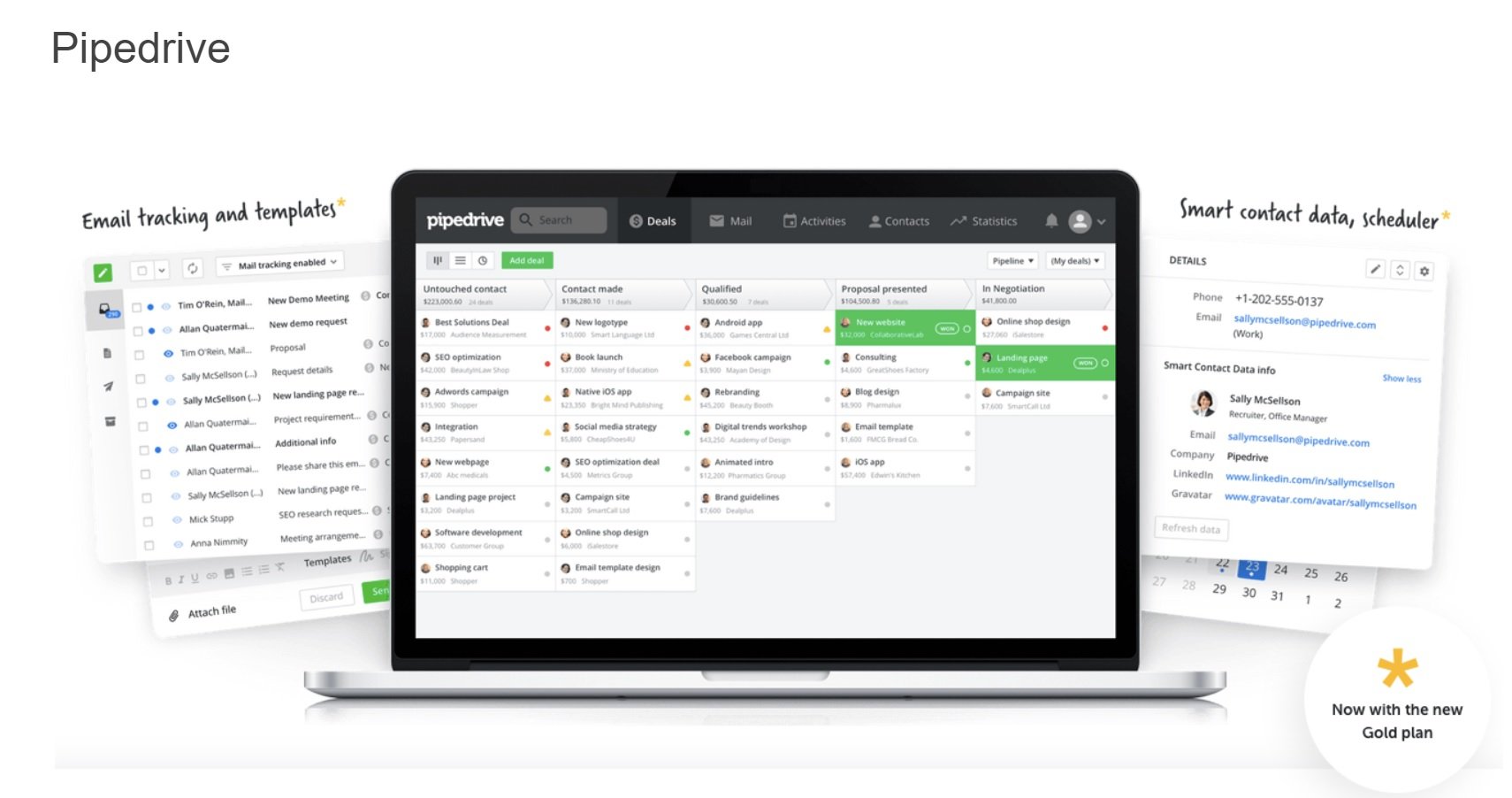 Like Gmelius, Pipedrive focuses on a few core strengths for sales teams that prefer a lightweight tool. Its key features include tracking emails and calls, an interface that provides a streamlined overview of where everyone is in the sales process, and prioritized follow-up tasks that automatically shuffle to the top of your to-do list.
However, emails cannot be composed and scheduled to send automatically and there's little insight into how likely your contact is to buy.
Each sales team will have different needs and considerations. No matter how much or how little automation and functionality you want, there's likely a reasonably priced (or free) tool that will optimize your sales follow-up process.
What to Do After Closing a Sale
You did it. With the help of the right tool, you were able to successfully nurture your lead and close the sale. However, the sales follow-up process doesn't end there. Here are a few tips for making the most of the deal and laying the groundwork for a second sale:
Send a Thank You Note
While this step is hopefully common sense, it's important enough to warrant repeating. Send a quick but heartfelt thank you note immediately after finalizing the deal. By thanking your customer for doing business together, you ensure a lasting partnership (ie. a repeat customer).
Check-In
After your new customer has had time to get to know your product or service, reach out to see how they're enjoying it. Soliciting feedback is also useful for improving your product and your customer experience. This step establishes trust and grows the relationship in preparation for the next step.
Make a Second Sale
By developing a relationship with your customer, you will have hopefully primed them to resign their contract automatically. If they don't need to resign a contract but there's an opportunity to make an additional sale, now is the time to start that process. The work you've done to create your first follow-up process will help you do it.
Start Building Your Automated Sales Follow-Up Process
Reaching out to leads at the right time and with the right message can make or break your sales process.
From capturing and qualifying leads to making contact and setting meetings, a high-converting sales follow-up process can have a lot of steps and moving parts. It can quickly become too much to manage on your own, unless you like inputting data into spreadsheets and setting countless reminders on your calendar.
Luckily, the right tool for your needs can streamline much of the process. Setting alerts, tracking unanswered emails, and sending previously composed emails at scheduled times can simplify your job and allow you to focus on what matters, aka communicating in a compelling, meaningful, and human way.
Looking for more qualified leads?
We offer Lead Identification and Lead intelligence through website & email tracking