Is your business operates across multiple domains and you aren't already taking advantage of cross-domain tracking? Then you're probably missing out on the sort of insights that could turbocharge your marketing and sales. Cross-domain tracking is a tool that's all but essential for businesses with two or more sites. For example, the main website, a cart checkout site, a knowledge base, or a marketing campaign site.
In this guide, you'll learn what cross-domain tracking is, why it's important, and what tools are available to help you access it. By the end, you'll know if this tracking is right for your business and which tool is best for your needs. With this kind of tracking and sales prospecting tools in your tool belt, you'll be able to market more effectively to individual users and earn more sales.
What is Cross-Domain Tracking?
This kind of tracking gathers data about two or more sites. In particular, the navigation path from one site to another during a single session.
One Domain Tracking
For businesses with one domain, such as www.example.com, Google Analytics has made it simple and free to install a tag so that you can monitor data like:
Pageviews
Unique visitors
Average session duration
Acquisition
The flow of traffic between pages
You can even see what specific businesses are viewing a site thanks to Google's ISP identification.
If your business has a second domain, you can install a separate Analytics tag that will record data for that site. However, the reports for both sites are kept separate.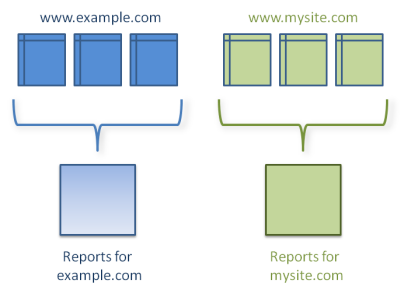 Therefore, if a user begins a session on www.example.com and then navigates to www.mysite.com, the data report from www.mysite.com will treat it as a new session. Instead of a continuation of an activity that began on www.example.com.
Cross-Domain Tracking
If you want to treat a session that begins on www.example.com and ends on www.mysite.com as a single entity instead of two unique sessions, then you'll want to use cross-domain tracking.
The data for both sites will then be presented as a single report, like so: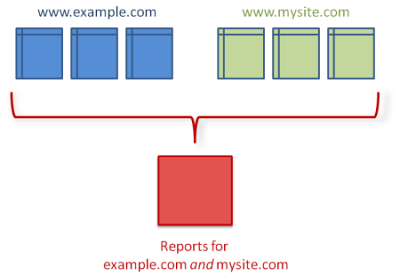 It's possible to use Google Analytics or other software to enable cross-domain tracking, as you'll see in a later section. Depending on which tool you use, you'll either get a bird's eye view of how the average user engages with your sites, or you can follow the experiences of unique visitors and then get actionable insights that your sales and marketing teams can use.
Why is Cross-Domain Tracking Important?
This kind of tracking can have different benefits for multiple divisions in business, chiefly marketing and sales.
For Marketing Teams
Marketing teams who are looking to improve the buyer's journey across multiple sites and create a better customer journey map likely need to use it.
For example, if your business has some form of Lead Generation component or shopping cart checkout housed on a separate domain, cross-domain tracking allows marketing teams to analyze what's working across multiple domains to help convert visitors to buyers and what needs more refinement.
Here's an example of how this might look in Google Analytics: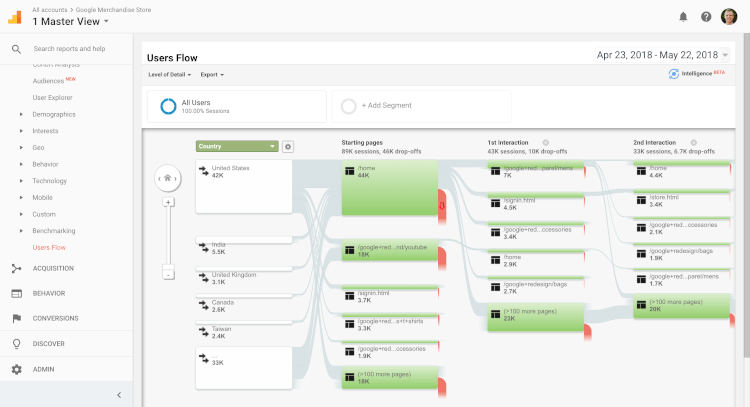 This User Flow report shows what pages visitors navigate to and from over the course of their sessions. You can see which paths are most common, as well as which pages users are more likely to bounce from. With cross-domain tracking, you can observe this flow across more than one site.
Cross-domain tracking can also make it possible to serve specific content to users across multiple domains based on their previous behavior, especially if you're using a tool that's designed to identify website visitors and respond to their behavior. This kind of targeted marketing can increase conversion rates.
For Sales Teams
Sales teams who prioritize a user's level of interest when qualifying leads will find cross-domain tracking useful. It provides a more detailed picture of visitors' engagement with one brand across multiple domains, giving sales teams a better frame of reference for how engaged, qualified and possibly interested a lead is.
Data about a user's engagement or intent data is often used to calculate a lead score or a number value that describes how promising the user is as a lead. The example below shows a site user with a lead score of 83.
Tracking engagement across multiple domains is essential for qualification and accuracy. Without cross-domain tracking of user engagement, you might be missing out on leads who are more engaged on one site but not the other.
How Do You Install Cross-Domain Tracking?
There are a few different tools that can enable tracking, including Google Analytics and LeadBoxer.
Google Analytics
Setting up a Google Analytics tag for one domain is pretty straightforward. Most people with basic web maintenance skills can figure it out on their own.
Things get more complicated when it comes to cross-domain tracking. If you decide to go with this method, it's best to bring an experienced engineer into the picture who can install it correctly and maintain it as necessary.
Check out this guide for a complete rundown of how to install it with Google Analytics. As you'll see, it's a fair bit trickier than installing single domain tracking.
Even with this method, you won't be able to track individual users. Google Analytics can give you a sense of what businesses are using your site and how users on average are engaging with the site, but it's not designed to get any more granular than that.
LeadBoxer
LeadBoxer is platform for identifying and tracking individual users and their actions across one or more sites, where it is enriched, segmented and used  to calculate a lead score. This lead score helps sales teams know who they should invest their time and energy toward to nurture that lead into a customer.
Marketing teams can also benefit from LeadBoxer. They can get under the hood of individual users and see what content they're engaging with across one or multiple sites, then target them with content that's reflective of their previous behavior.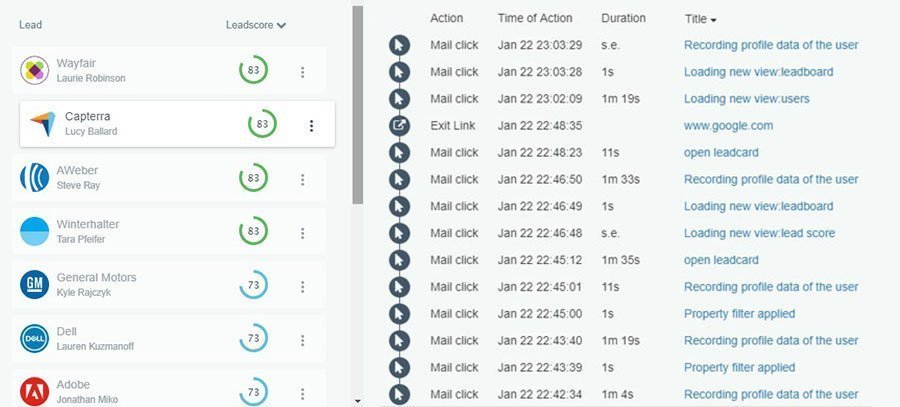 In short, the big difference between Google Analytics and LeadBoxer is the ability to zoom in on a single user and take action based on their behavior. LeadBoxer also makes it possible to identify visitors who would otherwise remain completely anonymous, so you can reach out and make contact with these users in the event of B2B sales.
Cross-domain tracking is a standard feature included in LeadBoxer and can be enabled for you without doing any additional work.
To get started, schedule a call with LeadBoxer and ask for a trial with cross-domain tracking.
Installation is easy, simply install the same pixel in all your domains and we will take care of connecting the users/sessions without the use of 3rd party cookies!
All in all, LeadBoxer is a painless way to get cross-domain tracking at your fingertips. For more information about how to install t tracking with LeadBoxer, click here.
Opentracker
Opentracker offers a blend of Google Analytics and LeadBoxer features. Its primary purpose is to track unique visitors in realtime. Cross-domain tracking comes standard with this tool and is easy and intuitive to access.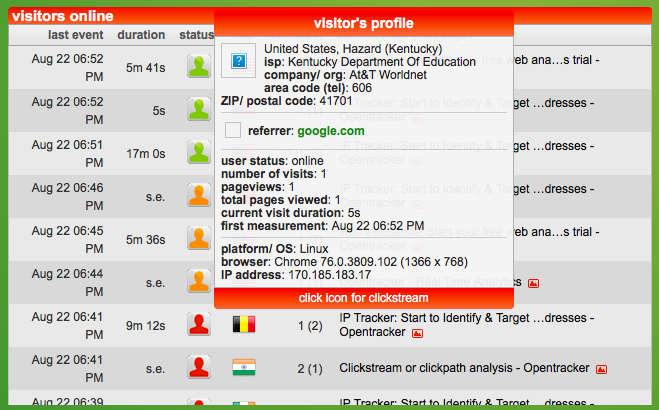 Unlike LeadBoxer, Opentracker doesn't calculate a lead score or provide actionable insights about prospects to sales teams. It can identify a visitor's company, but it doesn't capture name and contact information the way LeadBoxer can.
Turn Visitors Into Buyers With Cross-Domain Tracking
If you have multiple related websites that users are likely navigating between during the same session, then cross-domain tracking is essential for capturing a complete picture of visitors' online experiences. Cross-domain tracking is possible with Google Analytics but installation can be tedious and prone to mistakes. Analytics also doesn't allow you to identify unique visitors.
If you want the ability to give visitors a face and a name, gauge their potential as a lead, and notify your sales team about when they should reach out and turn that lead into a customer, then LeadBoxer is a more appropriate tool. Best of all, installing cross-domain tracking with LeadBoxer is so easy that anyone with basic web maintenance experience can install it.
Sign up for a demo call of LeadBoxer today and try out cross-domain tracking in minutes.
Looking for more qualified leads?
We offerLead Identification and Lead intelligence through website & email tracking