You wake up, check your phone, and immediately delete three spam emails without even opening them. Make your coffee, hop in the car, and encounter a handful of billboards on the way to work.
Drive home, tuning out the loud, angry men arguing on a talk show, and the ads that too frequently interrupt them. Get home, realize your sister's birthday is next week, look up great gifts for cat-lovers, and send her one. Make dinner, using a recipe that was emailed to you by a food blog you follow and go to sleep.
We all encounter an endless barrage of marketing every day. Some of that marketing is effective and made with the help of sales AI, and some of it's, well, annoying. This division between effective and ineffective marketing strategies can be acutely seen when comparing inbound vs outbound marketing.
This guide will cover the differences between the two, and offer tips on how you can use them to convert leads into sales for your business.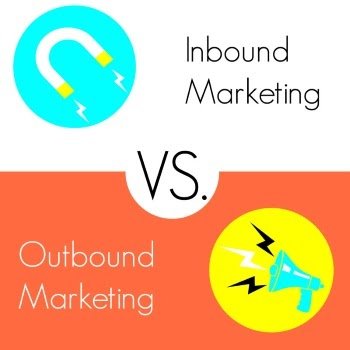 What is Outbound Marketing?
Outbound marketing is how your grandfather was marketing. It's often referred to as the "classic" form of marketing.
To outbound market, companies initiate the conversation with consumers by sending messages out to them. These messages come in the form of television commercials, telemarketers, billboards, radio ads, and email spam, in other words—things that make your day a little worse when you see and hear them. If it was bird hunting, the company would be covering their eyes with a blindfold and wildly shooting into the air in the hopes that eventually, with time and enough bullets, they would hit something.

Effectiveness of Outbound Marketing
If that last description didn't get the point across, let me emphasize here, outbound marketing is not a very efficient way for businesses to market. It's hard to track the return on investment (ROI);  it has trouble producing lead conversions, and it is becoming less effective with every day that passes. This can be attributed to the increased availability of customer data platform software designed to combat it, like email spam-blockers which continue to become more sophisticated, and the fact that with increased frequency, people are watching and listening to media on commercial-free streaming services.
Outbound marketing costs more than other forms of marketing, too, with a study by Doyen Digital finding that it's 61% more expensive than inbound marketing strategies, and requires more labor. Yet, most organizations still spend an astonishing 90% of their marketing budgets on outbound marketing.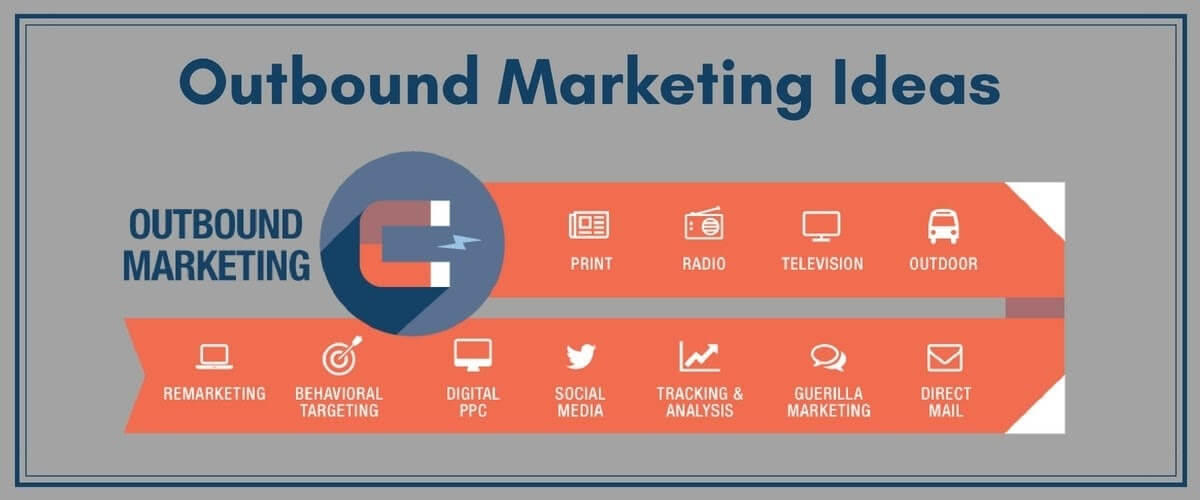 What is Inbound Marketing?
While outbound marketing requires you to start the conversation with consumers, inbound marketing is how you get consumers to start the conversation with you. Outbound marketing is screaming through a bullhorn a message consumers have no interest in hearing; in contrast, inbound marketing is attracting consumers to your site who are already interested in your product or service. Inbound marketing does this through content marketing. Some examples of content marketing include blogging, SEO, social media, and opt-in email marketing, where Mailchimp integration can help.

Effectiveness of Inbound Marketing
Inbound marketing has become more popular recently because it's effective. It involves attracting and nurturing promising leads, using content to provide valuable information to customers, and in the process build trust with your clients.
A survey by CRM Daily found that half of the companies who started using inbound marketing saw a 25% increase in ROI. Inbound marketing had 30 times the lead conversion rate of outbound marketing. When asked which marketing tactic actually resulted in the most high-quality leads, 59% of marketers said inbound, 16% said outbound, and 26% said self-sourced leads.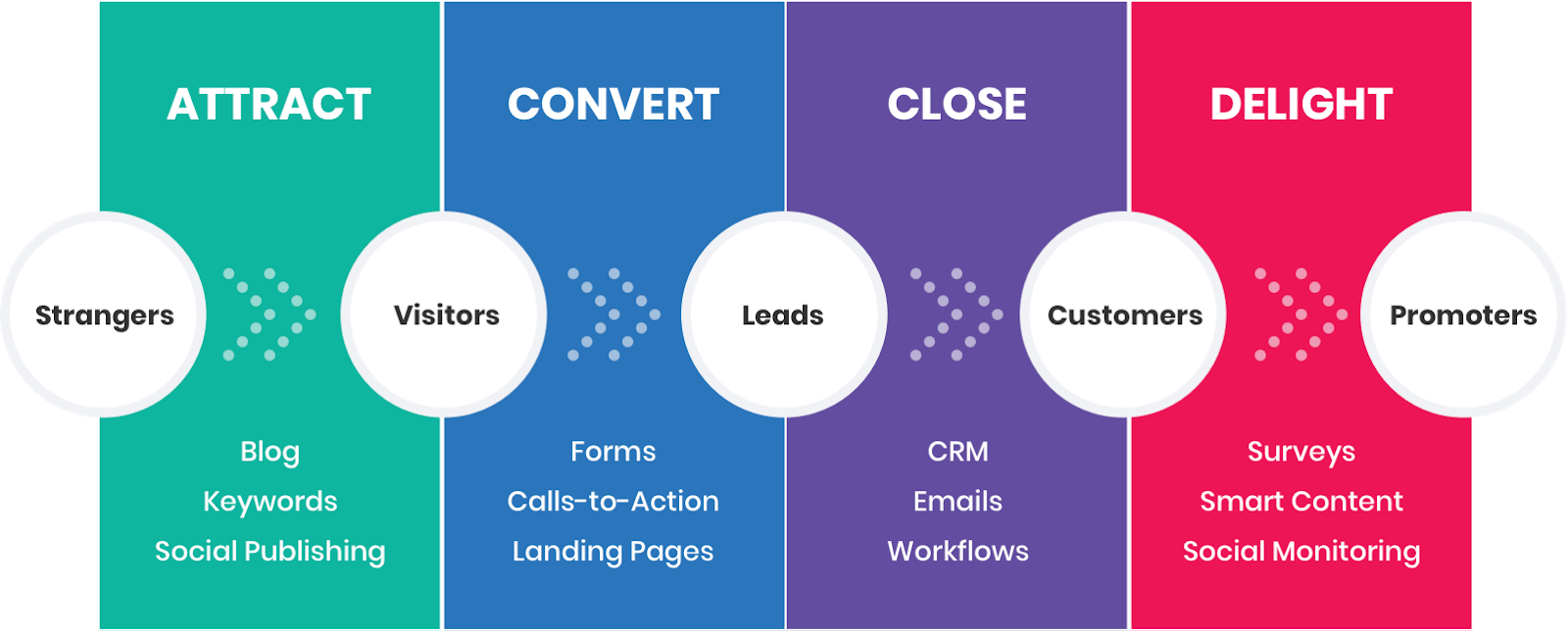 Inbound vs Outbound Marketing
Outbound marketing is much less effective than inbound marketing. It costs more, requires more work, but doesn't actually drive more business for companies. Because of this, organizations who find that their marketing is ineffective should consider reallocating their budget and time from outbound marketing techniques to inbound marketing techniques.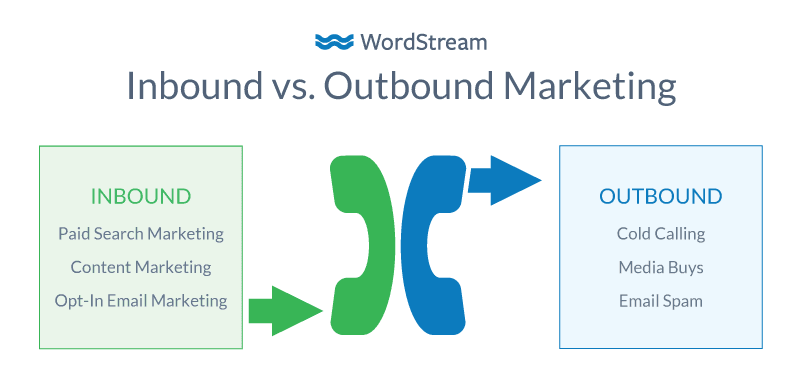 Email Marketing as Inbound Marketing
79% of marketing leads will never convert into sales, which can largely be attributed to companies failing to nurture their leads. An excellent content marketing strategy for paying continual attention to your leads is email marketing. Email marketing is all about providing information to subscribers, increasing customer loyalty and retention, and trying to keep up a constant stream of traffic to your website.
Outbound email marketing involves blindly spamming people with emails that will likely end up in their junk folder, and even if they do see it, they will most likely delete it immediately due to their lack of interest. Inbound email marketing involves emailing interested parties through an opt-in option on your website, or through past interactions, they have had with your company's online presence. It's more targeted, more personalized, and much more effective.
Email Marketing Tracking
Tracking emails allows sales reps to identify and continue to stay in contact with their most interested leads. LeadBoxer's Lead Scoring Feature makes it one of the best email tracking apps on the market.
Lead scoring allows you to identify how likely a lead is to convert into a consumer by analyzing their activity on your company's website, social media, and emails. Their lead score quantifies their interest, enabling you to target them for segmented campaigns.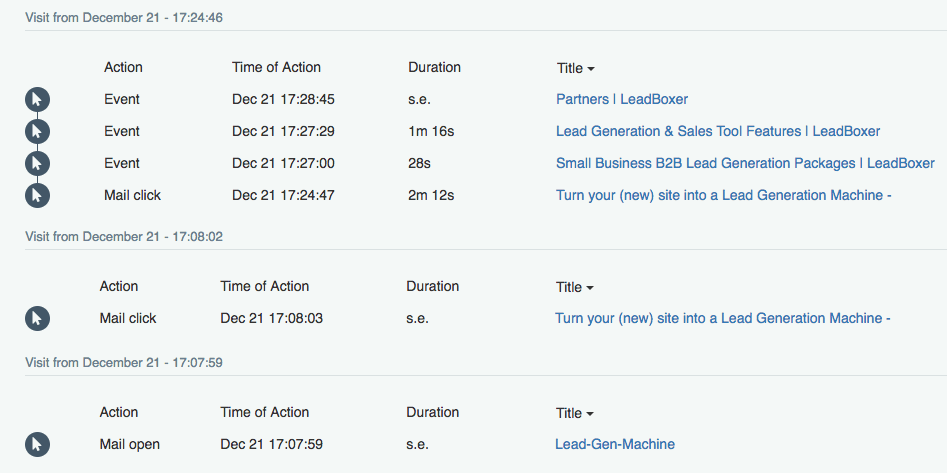 Customer Segmentation
Marketers who use segmented campaigns see their email revenue increase by 760%. It's no wonder: By using email segmentation, you increase the likelihood of audiences opening your email by nearly 15%.
You can easily use LeadBoxer's Filter Feature to create successful segmented email campaigns. This feature allows you to focus on targeted customers, filtering profile data such as business information like company name, industry, size, and behavior like page views, URLs, exit links or visits, and marketing data like UTM tags or referrer.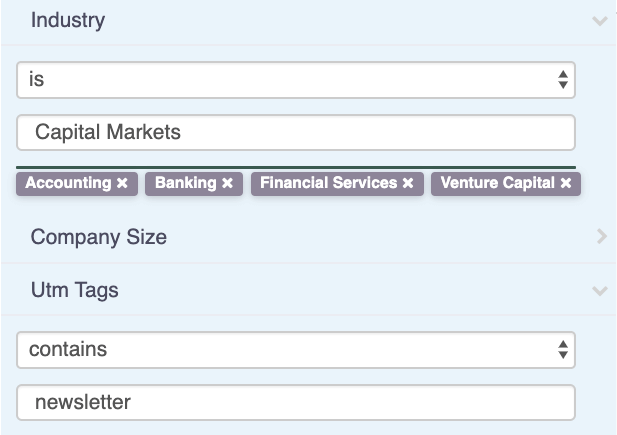 Email Contact List
The key to successful email marketing campaigns is personalization and finding leads to target. To do both of these things, you need to keep an organized contact list that is always current.
LeadBoxer's Contact Management Feature helps you manage, identify, and nurture leads while tracking leads' activities on your emails, website, and social media. It's the ultimate tool for email lead generation. It helps you find contacts, adding their information to your database when they visit your website, limiting the amount of time you need to spend finding and reaching out to leads.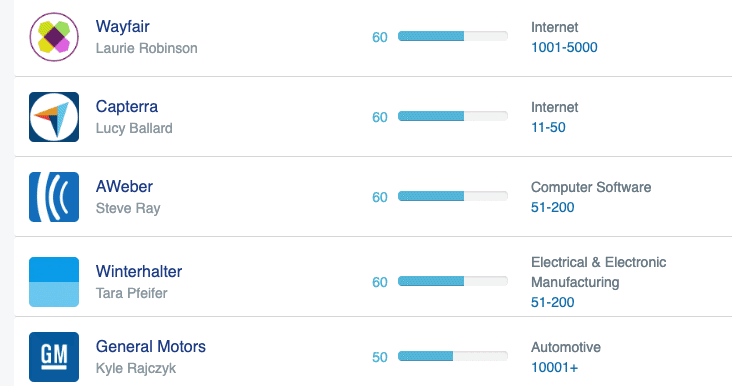 Inbound vs Outbound Marketing: Popular/Effective Types of Content Marketing
The first place people go nowadays when they have a question or are considering buying a product is their computer. More specifically, they turn to their search engine and can provide some buying signals.
SEO starts your relationship with consumers when they enter a search into their search engine. Using PPC campaigns, Google AdWords, and SEO keyword research, you can get your website, blog, and other online content to rank high in search engines so that it will draw consumers to your business.
It's important to rank high because the very top listing on Google's search engine results pages (SERP) gets 33% of the search traffic, while the second gets 17% of search traffic. In other words, if you don't snap up the lead search ranking for your product or service, a competitor will.
Blogs are one of the most effective ways to increase and improve your SEO, driving more organic search engine traffic to your site. Websites with blogs have 434% more indexed pages and 97% more inbound links than websites that don't. If you are looking to drive traffic to your business through search engines, you need a blog.
They are an affordable marketing strategy, easy to produce content for. And also build consumer trust through teaching them about their queries with informative, interesting articles.
Landing pages are the face of your business online. 80% of search traffic goes to the top 10% of landing pages, so you have to make sure that yours is focused to keep people reading and increase conversion levels.
A great way to optimize your landing page is by including a video. Landing pages with videos have up to an 80% increase in conversion rates.
This could be due in part to the fact that featuring videos increases the time spent on sites by 105%. Landing page videos not only increase conversion rates within your site, they also improve traffic to your site, increasing organic traffic by 157%.
Social media—not just for stupid videos and kids anymore. It's a powerful business tool. The best way to increase your business's visibility is by creating social media accounts.
Social media builds your brand, increases customer loyalty, and allows you to directly interact with customers. 71% of customers who had positive social media experiences with a company were likely to recommend that business.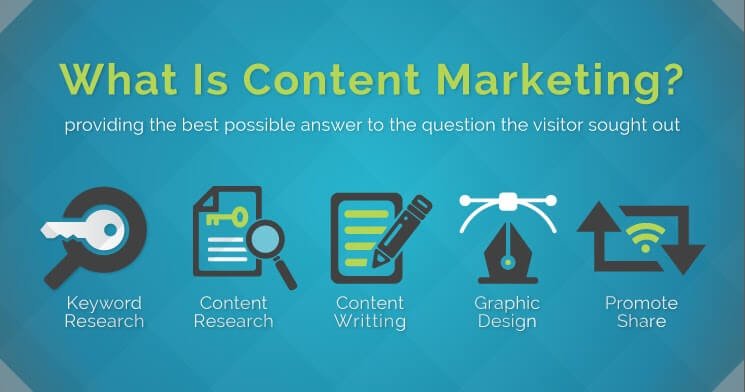 Upgrade Your Marketing Strategy With Content Marketing
These content marketing strategies are best used together. Promote your blog posts on your social media, link to your landing page in your blog posts, increase your social selling index, and optimize your landing page with SEO. And don't forget to think about the future of sales.
Through personalization and creating informative and interesting content, you can completely upgrade your business marketing.