Inbound marketing refers to marketing methods that attract visitors, rather than a marketer having to go out and earn the attention of a sales prospect. Instead of your company waving its arms in the air and saying "look at me!" you are instead producing compelling content that draws customers to your website.
Since inbound marketing is all about creating compelling content, sharing is absolutely vital for inbound marketing efforts to be successful. This means that when you deploy inbound marketing as a strategy, you need to make content that you think your dream customers would be both delighted by and eager to share. When your content delights readers, it makes it a lot easier to collect high quality leads.
HubSpot has perhaps (almost) perfected the art of inbound marketing to collect high quality leads. Because HubSpot is so good at using great content to collect customer information, looking at how they define inbound marketing is useful. They define it as: "Sharing is caring and inbound is about creating and sharing content with the world. By creating content specifically designed to appeal to your dream customers, inbound attracts qualified prospects to your business and keeps them coming back for more."
With a clear understanding of what inbound marketing is, the next logical step is for us to examine what the process of inbound marketing is.
The Process of Inbound Marketing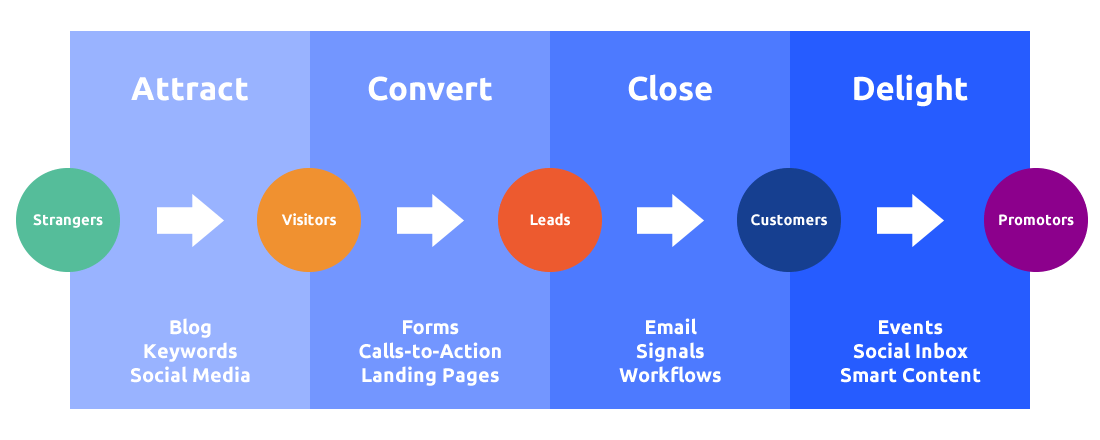 There are four key steps (pictured above) that make up inbound marketing. The steps are:
Attract
Convert
Close
Delight
It's somewhat self explanatory what each of these steps represents, but we're going to delve into what exactly each step means so that you have the most clear understanding possible.
Attract
During the attract step, it's your job to figure out how to get the right strangers to your website. At LeadBoxer, we use content marketing, social media, and eventually keyword and SEO to attract our target audience to our website.
Convert
Once your target audience has made it to your website, you'll need to figure out how to convert them from visitor to lead. You can incentivize people to convert and give you information such as their contact details by offering infographics, case studies, ebooks, and more in return for their contact information.
Close
Now that you've gathered qualified leads, you need to close the deal. You can use tools like lead scoring and other best sales practices to convince your leads to become new business.
Delight
Once a deal is closed and a lead has become a sale, people often forget to maintain a strong relationship. The delight step is important because when you delight customers, they are much more likely to refer friends or continue renewing your product. Delighting your users should be your secret marketing weapon that fuels your growth.
Final Thoughts on The Process of Inbound Marketing
The process of inbound marketing should feel very logical and straightforward. You ultimately need to just remember to create amazingly high quality content since low quality content does a disservice to your brand. Bad content is bad for your brand because your content is you speaking to the consumer. When you speak to the consumer in unprofessional ways, they won't trust or believe in you. When people believe in what your company is doing from your content, you've set things up perfectly to collect leads with inbound marketing.
How Can You Collect Leads with Inbound Marketing?
With inbound marketing, you're going to want to figure out creative ways to collect leads from the visitors that you've attracted to your website. While there are countless ways to collect leads, we are going to suggest 5 ways for you to gather information on your visitors:
Create an offer: If you offer something on your website that's compelling, you can ask users for their information to receive it. For example, you can offer an ebook on a topic that your target audience would find fascinating and then make it so that the only way to download the ebook is to give information such as name, company, phone number, and email address.
Use a lead pixel: Using a lead pixel such as LeadBoxer will help you gather leads without any offers, forms, etc. By simply placing a snippet of code on your site, you'll see who (people and companies) are frequently visiting your website so that you know how to best activate your sales team.
Add forms to your website: This is probably the most common lead collection tactic. Placing a form on your website or landing pages is a simple way to get your target audience to share their contact information with you. You just need to give them a compelling reason to share this information.
Use call-to-action buttons: Using call-to-action buttons is a great way to drive people into a signup flow from your content. It's always a good idea to test out what you write in a button to see if different text gets more clicks.
Create landing pages: When you make landing pages, you're making pages that have a very clear purpose and typically compliment a content or advertising campaign. You might make a landing page to grow your mailing list, trigger signups, or capture leads using the previous four lead collection methods we mentioned above.
With everything we've discussed so far in this post, it's probably becoming apparent what one of the biggest advantages of inbound marketing is. The advantage is that customers are reaching out to you. They're initiating the sales process.
The Inbound Marketing Advantage
When your inbound marketing strategy is attracting the right people to your website, your lead quality increases. Your high quality leads are reaching out to you, instead of you cold calling, which means that when you reach back out to a potential customer they're a lot more likely to engage with you.
When your potential customers are a lot more willing to speak to you about your product because they willingly supplied you with their information (rather than you buying a sales list) it's going to be a lot easier to close a sale. This means that with a properly executed inbound marketing strategy, your business will grow faster and more efficiently.
Now What?
Take some time to consider how inbound marketing could work for your business. When you're considering how to start your inbound marketing efforts, simply think about how to get found by the customers (and then make them love you!). It's also key that you start thinking about your inbound marketing strategy with the simple question: what are my business goals and objectives?
If you've been using an inbound marketing strategy successfully, we'd love to hear about it! Tell us about what you've done in the comments.