If you're having a hard time collecting qualified leads for you business, you'll gain a lot of valuable lessons from this article. We are going to explain exactly how to easily generate more leads, using high quality content.
Content marketing is one of the most cost efficient ways to generate leads. The leads that you collect with great content marketing will be high quality and likelier to convert than most other lead collection methods. These leads have a higher chance of converting to paid customer because when you collect a lead using content marketing, you are simultaneously nurturing that lead as you collect it. You are proving your expertise and trustworthiness, which gives a sales prospect a great first encounter with you.
With that being said, it's easy to see that why, for just about every industry, content is king. Content is the quickest way to get found and prove your value to prospective customers. This is why, naturally, companies are rapidly increasing their investment in content creation.
Content creation is perhaps the best way for B2C or B2B to generate new leads, if a business is trying to avoid traditional advertising routes such as display advertising. According to WebDAM, from their own research, they found that B2B marketers are able to generate, on average, 67% more leads when they blog consistently.
Blogging works. We know this, and we've just started to explain why it works. To help you get started on your content marketing efforts (or simply refine them), we're going to share how to generate leads with content marketing.
Step 1: Research Like Crazy
It's extremely valuable for you to do intense research to boost the quality of your content marketing efforts. You need to look at what your competitors are doing and decide what they do well or what they're doing inadequately. With a great understanding of your competitors, you will be able to form your own strategy that helps you create better content than the products or services most similar to you.
Doing phenomenal research is a part of content generation that is often overlooked. If you don't overlook it, you'll make smart choices and create content that drives amazing results.
One way that we do research for our content marketing at LeadBoxer is by using the Google Keywords Planner tool. We use this tool, which is offered in Google Adwords, to understand the search volumes of our potential posts. We find a target keyword for the post, and then look at how many times people search for that term on average each month.
Here's a screenshot from our internal "LeadBoxer Blog Post Ideas" Google Spreadsheet where we write future blog post ideas and then research their potential effectiveness for driving quality traffic to our website: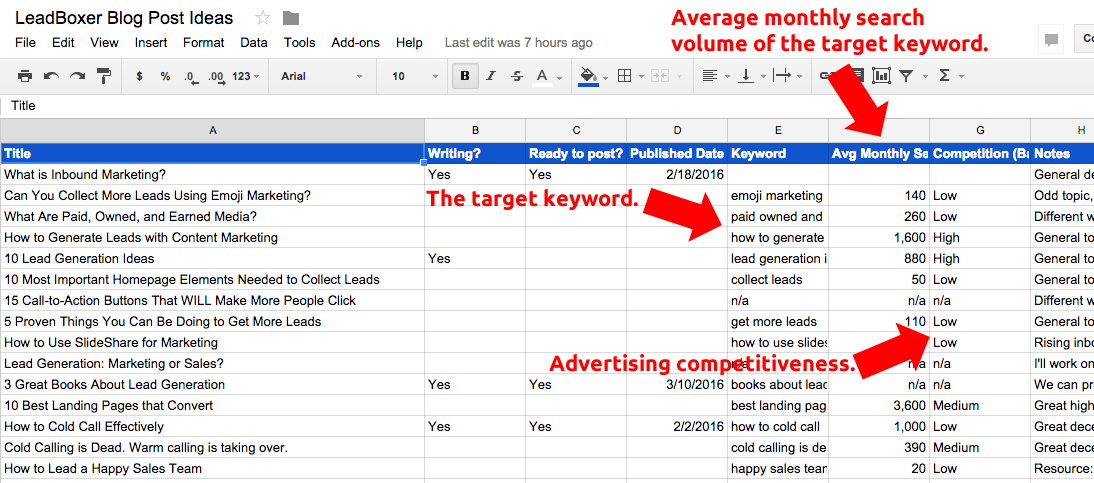 An additional way that we conduct research to get articles ideas is to simply use the Google suggest feature. We start writing an idea and see what searches Google suggests. Here's an example of what we see when we search "How to Collect Leads."

We now know that people are searching for these ideas (related to our target topic), which means writing posts about these topics could help us drive even more qualified traffic to our website.
When you combine the Google Keywords Planner tool and taking advantage of the search suggest feature, you'll discover great content ideas. You'll also be able to get a clear picture as to which post ideas are worth your time and have the biggest potential to increase your sales.
To receive the biggest sales increase from your content marketing efforts, you need to really understand what type of content the consumer wants.
The best way for you to figure out what your customers want is to find out where they currently go to get similar content. For example, if you are going to be writing about inbound marketing and sales, you might browse Inbound.org and look at which websites repeatedly come up. The websites which constantly have top performing articles on a site like Inbound.org are most likely the information sources that your target audience is already reading.
Once you have started writing content, you should spend time digging through your analytics to determine which content you're creating is the most effective. This means going beyond page views and examining time spent on your site. If your content is good, the average duration of a visit will be much higher than if your content is a dud. If your content is a dud, your targeted traffic will quickly hit the back button or close the browser. You also run the risk of leaving a negative memory of your brand with your target customers when your content is bad, which has long-term negative implications for your company. The gist of this is that you should do your research to know what your users want, and then make sure your content exceeds their expectations.
Step 2: Optimize Your Website Pages for Conversions
This step may feel somewhat obvious, but a lot of landing pages don't end up performing well. You need to obsess over your conversion rates and be on a constant quest to improve them.
Interestingly, in Econsultancy's seventh annual Conversion Rate Optimization Report, the group found that a staggering four out of five marketers are unsatisfied with their conversion rates. This means that 80% of marketers should probably be spending a lot more time obsessing over landing pages and trying to find improvements.
If you're a marketer, which we're assuming you are since you're reading this post, you need to test your landing pages like crazy.
When you're doing content marketing, your blog posts are your landing pages. It's your responsibility to make these pages send people down your conversion funnel.
To turn your blog posts into high converting landing pages, below are some of the landing page best practices that you should be following:
Have a really good headline that is both clear and concise.
Use perfect grammar.
Include items such as testimonials or logos of big clients to show that you're trustworthy.
Utilize a strong and easy to see call-to-action button.
Keep everything that is most important above the fold.
Make sure any images or videos that you use relate to the copy on the page.
Keep the page simple and focused on accomplishing your business objectives.
Step 3: Decide What Type of Content You Want to Focus On
Deciding what type of content you want to focus on is extremely important. If you're simply making content for the sake of making content, you won't create the best blog posts and you're not going to get the results that you want to see.
To help you ignite your brain so that you can better think of the type(s) of content you want to focus on, we've outlined some content types that typically perform best for collecting leads:
How to posts: You've probably noticed that a lot of content marketing headlines start with "How to." This is because these types of posts often do really well, especially on search engines. These types of posts do well on search engines because one of the most common types of searches that people make revolve around the question of how to do a certain thing. It's a great way to find potential customers who are trying to find a solution to their problem, and they're going to discover you in their time of need.
Case studies: Writing case studies is a brilliant way to persuade people to start using your product or service. Case studies are a simple tactic for showing potential customers how current customers are using your product, and also help those potential customers imagine how they can effectively use what you offer to solve his or her problem(s).
Whitepapers: Whitepapers are authoritative documents or in-depth reports on certain topics. This type of content is effective because it's a great way to educate your target audience on the issues that matter to them most, while giving you the opportunity to display your methodology and ideology.
Industry definitions: This type of content doesn't appear to be used too heavily (yet!), which we think is a mistake. Some of the top performing LeadBoxer blog posts (in terms of both traffic and conversions) are our blog posts that define industry terms. We think that these posts are so successful because the people that are looking up these terms are almost always your target audience and are extremely likely to want to try your product when you learn about it. The reader of a definition blog post is in the curious state of mind, and this is something that you can greatly take advantage of to drive your business forward.
Those are just four content types to help inspire you. There are clearly a lot more, but these four have been proven to drive results for various companies, time-and-time again.
Conclusion
Content marketing can be very effective. Attracting an audience to your blog isn't too hard if your content is; the hard part is making that audience you've attracted loyal. When your audience becomes loyal, they end up evangelizing your product or service by reading your blog repeatedly and sharing what they're reading on your blog with others.
Another important thing to keep in mind when you are crafting your content marketing strategy is the importance of consistency. If you aren't consistently producing content, it will be impossible for you to build an audience and generate leads with content marketing.
If you liked this piece, you should definitely check Siteoscope's comprehensive article on how to Generate Leads from Your Website, which includes further research and ideas on the topic.