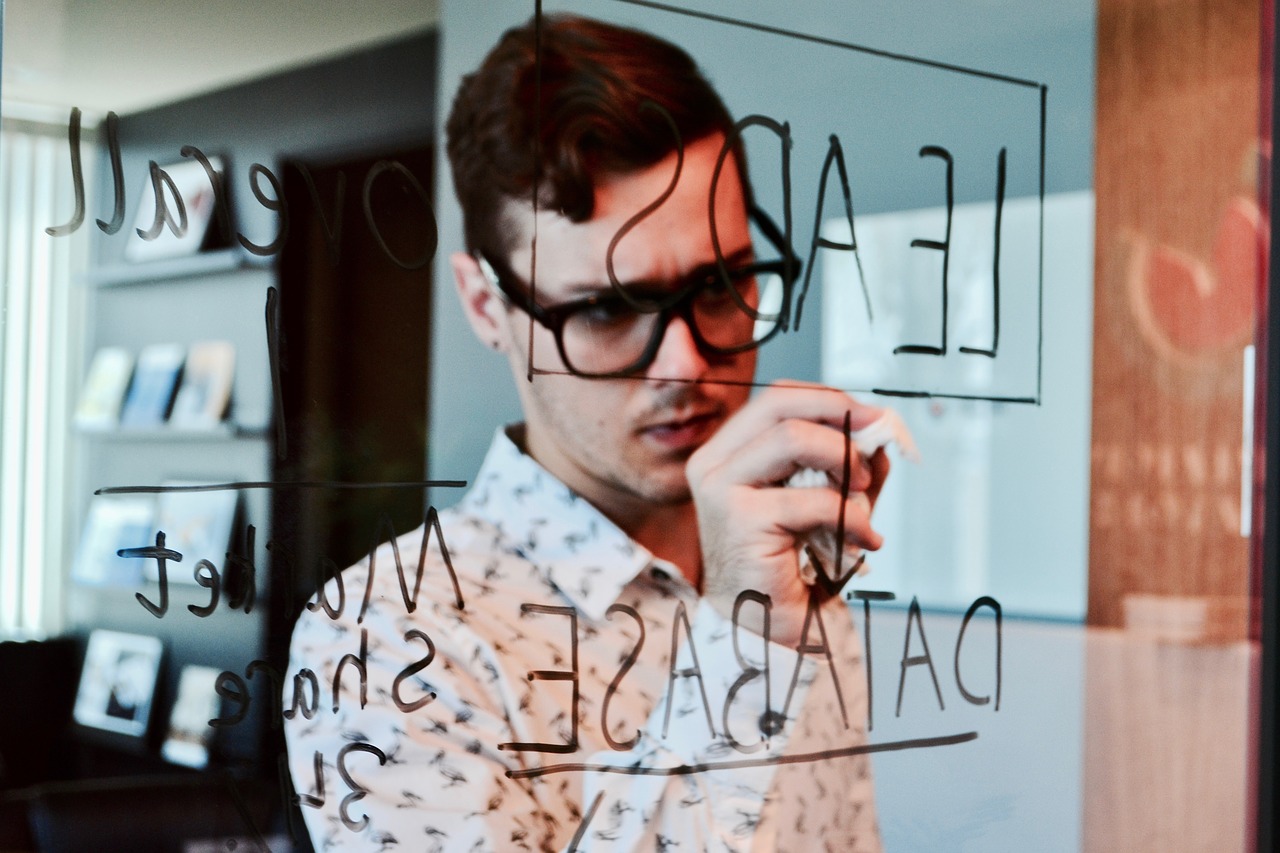 Advertising and marketing campaigns are key to finding new customers for your business, but how do you know if those campaigns are working effectively? If you're getting new customers but paying more than they're worth in ad spend, it could mean an unsustainable future for your business.
Luckily, there's an easy way to measure how cost-effective your campaigns are. Cost per lead (CPL) is a marketing metric that tells you whether or not your efforts and ad spend are paying off.
In this guide, we'll take a deep dive into CPL, from what it is to how to lower it. Once you start tracking CPL, you can create more effective marketing campaigns and attract more leads for less money. Keep reading, or jump ahead to these sections,
What is Cost per Lead?
The cost per lead (CPL) is the amount of money it takes to generate a new prospective customer for your sales team from a current marketing campaign. These prospective customers — or leads — have seen an ad, clicked on it, then given some of their contact details in exchange for a white paper or more information about your product, thus keeping your sales pipeline full.
CPL lets marketing teams know if they're spending an appropriate amount on different avenues of customer acquisition, such as Google Ads or Facebook Ads. The higher the CPL compared to other businesses in your industry, the less effective the marketing campaign is. Naturally, a lower CPL is considered ideal.
CPL is only one of many metrics that digital marketers often look at. Try not to confuse it with these other abbreviations:
Cost per Thousand (CPM) – The cost of 1000 users viewing the ad
The Cost per Click (CPC) – The cost of one person clicking on the ad
Cost per Action (CPA) – The cost of one person buying a product

CPM is a more useful metric for companies who are trying to build awareness around their brand, like McDonald's or Coca-Cola
Users who view the ad don't necessarily take any action, but they might remember the brand later on. CPA comes into play for eCommerce companies that sell low-ticket items at high volume. If you're a B2B company or a brand with a high-ticket item like a luxury car, it's not as likely that visitors are going to buy a product the first time they click on an ad.
CPC measures how much it costs when a person clicks on an ad in a pay per click (PPC) marketing campaign, which is important for determining how much you should spend. If your average CPC is $1, your conversion rate is 10%, and you want 100 new leads this month, you would need to spend $1000 on that campaign.
How to Calculate Cost per Lead
Calculating CPL is relatively straightforward. The formula is simply divide the amount of money you spent on a campaign during a set period by the number of leads acquired through that campaign in the same period.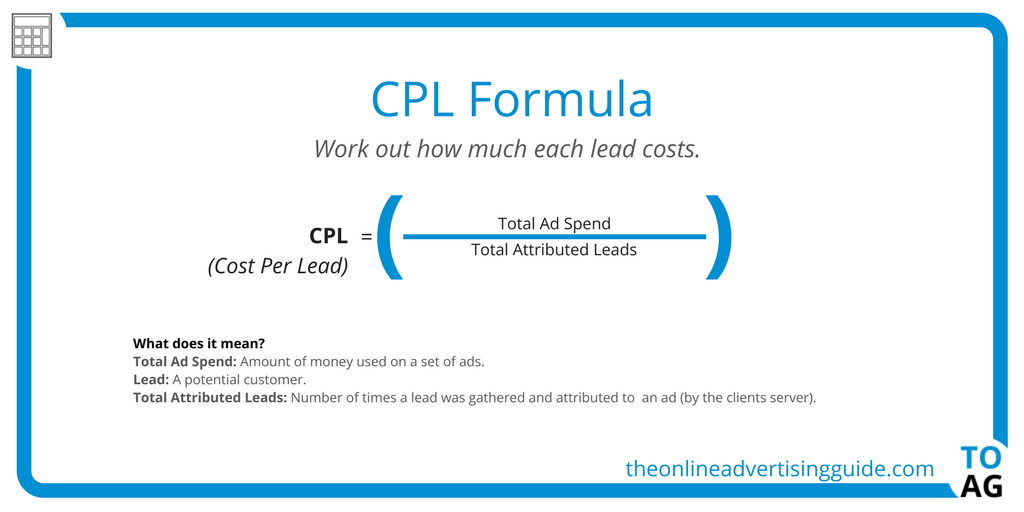 For example, if you acquired 100 leads through a Google Ads campaign that cost $1000, the CPL for that campaign would be $10.
There are plenty of cost per lead calculators in the market. However on its own, calculating the CPL for all of your marketing efforts across email, social media, and search engines would have limited usefulness. If the CPL was higher than the standard for your industry, you wouldn't know which platform's campaign needed adjustments.
This is why it's so vital to know where your leads are coming from. You wouldn't want to attribute John Smith to your Facebook Ad CPL calculation if he actually learned about your product through Google Ads.
How to track leads?
A common way to track where leads came from is through a UTM code. A UTM code attaches to the URL of a landing page so that Google Analytics can see which ad campaign referred visitors to the page. You can then count up the number of generated leads through unique campaigns.
Also you can use UTM code to track leads coming from other marketing channels not just ads. Hence this UTM code can also help you calculate cost per lead by channel.
Lead generation software like LeadBoxer automates this process. The Segments feature can add a tag to each lead acquired specifying their industry, location, and referrer, to name a few.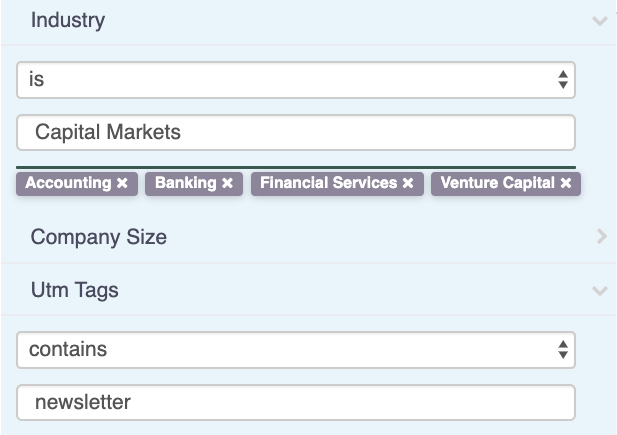 Finding your total attributed leads is then as easy as selecting the right filters to see who was acquired in a certain period from a certain campaign.
Cost per Lead Industry Benchmarks
Knowing your cost per lead is only the beginning. By comparing the CPL you calculated in the previous step to the industry average, you can know whether you're paying too much or just the right amount for your leads.
To help out, GoConvert aggregated data from over one hundred sites and reports to come up with cost per lead averages by industry.

Source
As can be expected, higher-ticket items like marketing agencies and financial services have higher CPL which means higher customer acquisition cost and their average cost per lead is at $100. Media and publishing, meanwhile, have the lowest average CPL at $11.
6 Ways to Reduce Cost per Lead
If your CPL is a little higher than it should be, don't worry. There are several ways you can tweak campaigns and acquire more qualified leads for less.
1. Personalize your campaigns
One possible reason why you're not getting more leads for your money is that your ads and landing page don't match. Message matching is when the expectation set by the ad is met by the experience on the landing page.
For an example of an ad that gets this right, take a look at what happens when you search for "best CRM" in Google. Zoho CRM claims the top spot with this ad: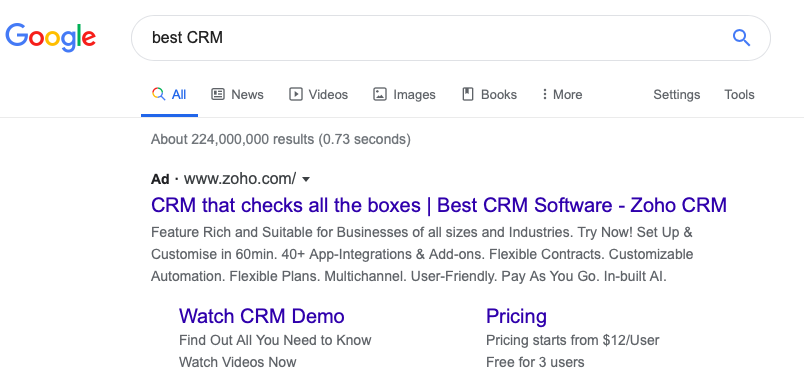 Notice how the phrase "best CRM" is repeated in the title of Zoho's ad. With a title like that, potential customers know exactly what kind of promise Zoho is throwing out there.
After clicking through, visitors land on this page: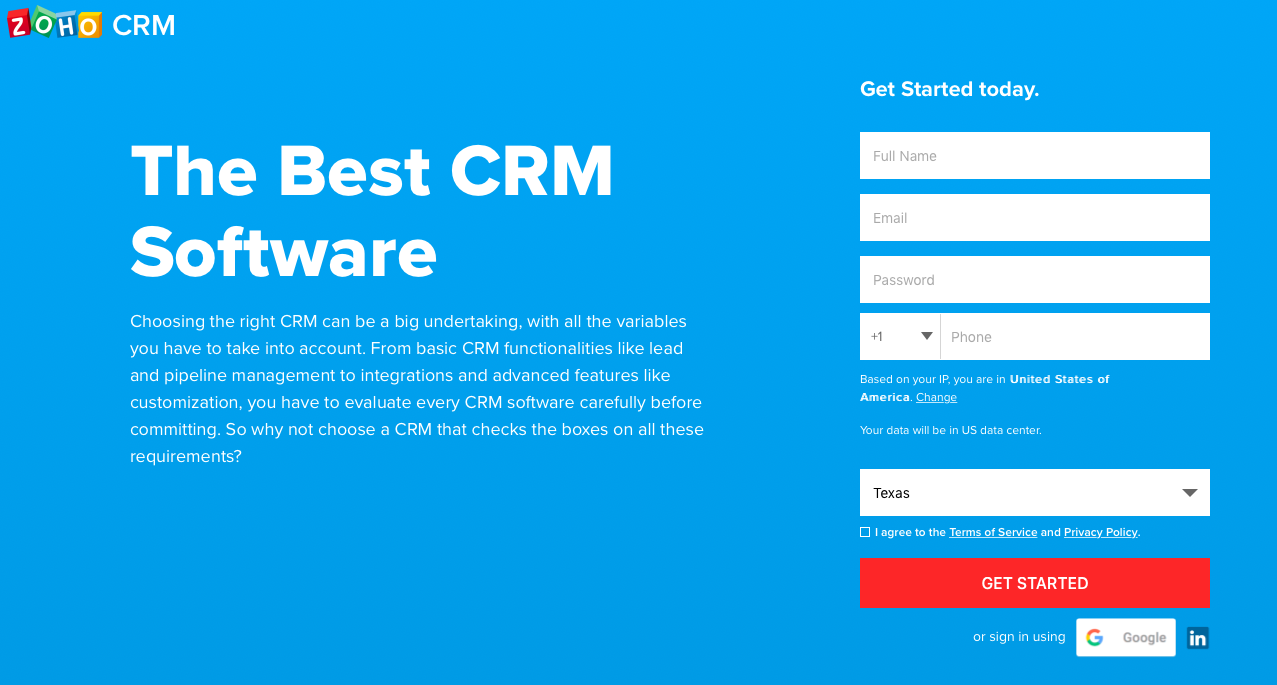 Notice anything familiar?
"Best CRM" is repeated in the page's header. Not only that, but a call to action and place to submit info is displayed clearly above the fold of the page. From start to finish, potential customers know exactly what to expect from Zoho.
This degree of campaign personalization might seem like overkill, but according to a survey by Evergage, 88% of today's customers expect to have personalized shopping experiences.
Resultiks, on the other hand, misses the mark. Search for "marketing automation software", and you might run across this ad:

There are some indications within the ad's title that Resulticks is the right match for marketing automation software, but clicking through to the landing page only confuses matters: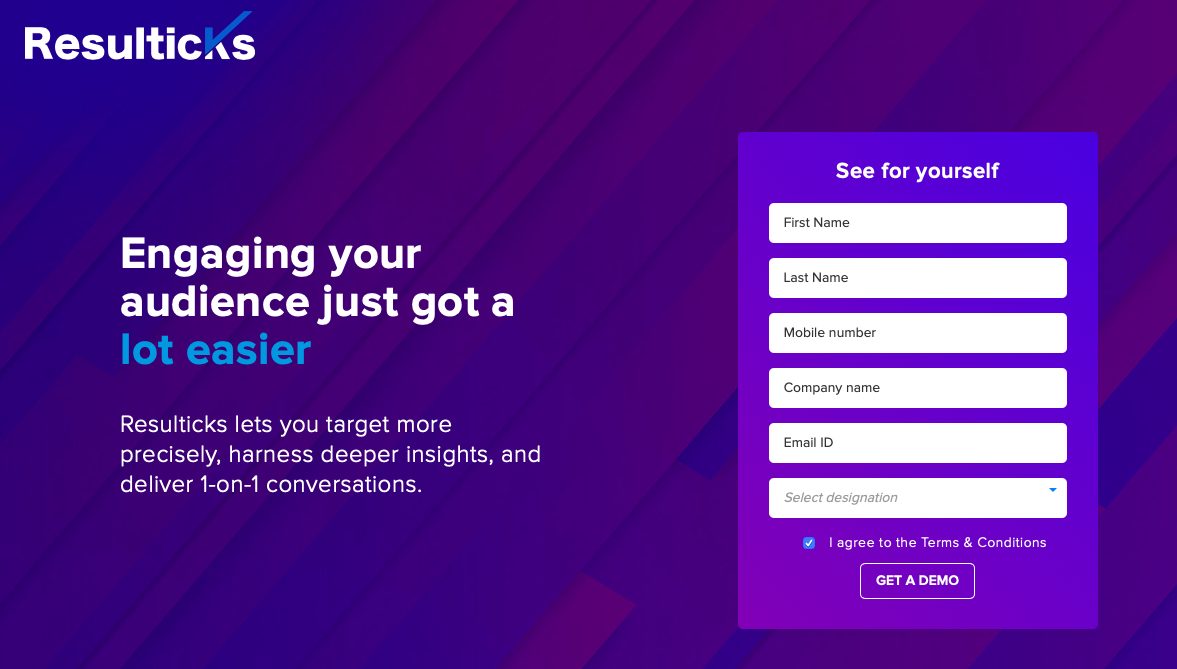 There's no sign above the fold that Resulticks helps with marketing automation. Customers might be left wondering if they landed on the wrong page and won't be as inclined to submit their info for a demo.
2. A/B test ads
Between your keywords, copy, and images, there are several variables influencing how well your ads are performing. It can be tempting to go with your creative instincts when crafting an ad, but instincts don't guarantee results. Only by running two versions of the same ad can you figure out which elements resonate most with your ideal customers.
Here's how that might play out in an example ad created by AdEspresso for their eBook: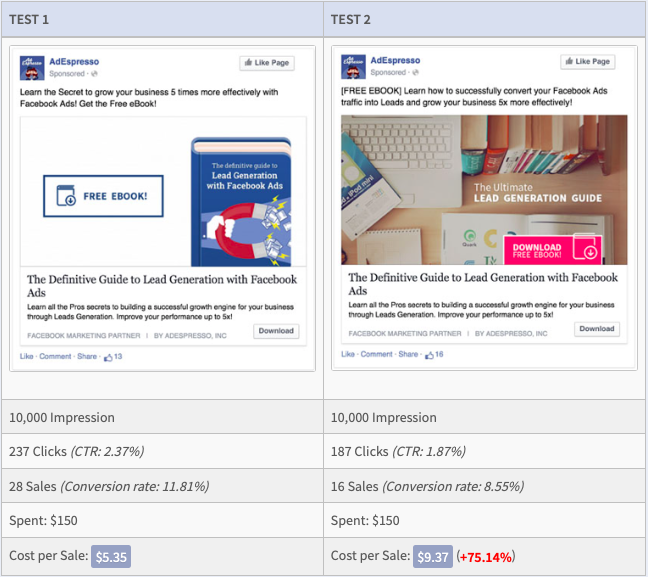 The first ad clearly outperforms the second ad with a higher click-through rate (CTR) and conversion rate. The lower cost per sale shows the marketing team that they're on the right track with the first ad.
Remember: When you're A/B testing, it's best only to change one variable with each test. Tweak the title of an ad during one test, then the image during another. By reducing the number of variables at play, you can be sure about what your audience likes.
3. Rethink your keywords
Every once in a while, go into your ads manager—whether it's for Google, Bing, or another platform—and analyze how well your chosen keywords are performing for your marketing budget. Clean out the ones that aren't driving quality leads and spend time optimizing the ones that are. Don't worry if the keywords you deleted are highly searched. If they aren't bringing quality leads to your business, they're a drain on your ad spend.
Another way to improve your keyword performance is to target more long-tail keywords. Long-tail keywords are more specific and less searched than broad keywords, but the audience also tends to be more motivated and willing to convert. In this case, the cost per acquisition can be more because long-tail keywords are specific hence it makes lead quality better and also competition will be bidding on them too.
4. Lower keyword bids
Those keywords that are converting but with a high CPL? Consider bringing the bid down. Lower bids might drop your search engine campaign's average position, but it would also give you longer exposure on results pages and more clicks.
It might also be that the manual bid you set months ago no longer reflects the average cost of landing on the first page, as was the case with this client at White Shark Media: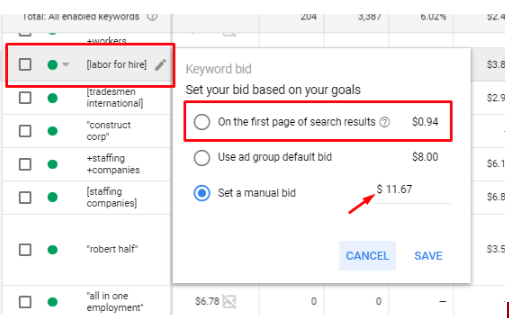 If you don't want to manually adjust your bids all the time, Google offers Automated Bidding so you can hit your goals without a ton of extra labor. There are several types of automated bidding strategies, including one to maximize conversions. With Maximize Conversions, Google's AI tries to get the most conversions for your campaign within your budget.
5. Retarget site visitors based on behavior
It's one thing to retarget people who have visited your site with another round of ads. It's another to retarget them based on the specific action they took on your site.
Start by analyzing the behavior of leads who have already converted. Keep your eye out for certain trends, like visiting a particular page or taking a specific action before finally making the sale. It may be that customers exhibit the same behavior before buying from you.
A lead generation tool like LeadBoxer tracks all leads from website and email activity for you, so all you have to do is go into a lead's profile and check out where they've been and what they've done. Hence we will track your leads across multiple marketing channels in your funnel.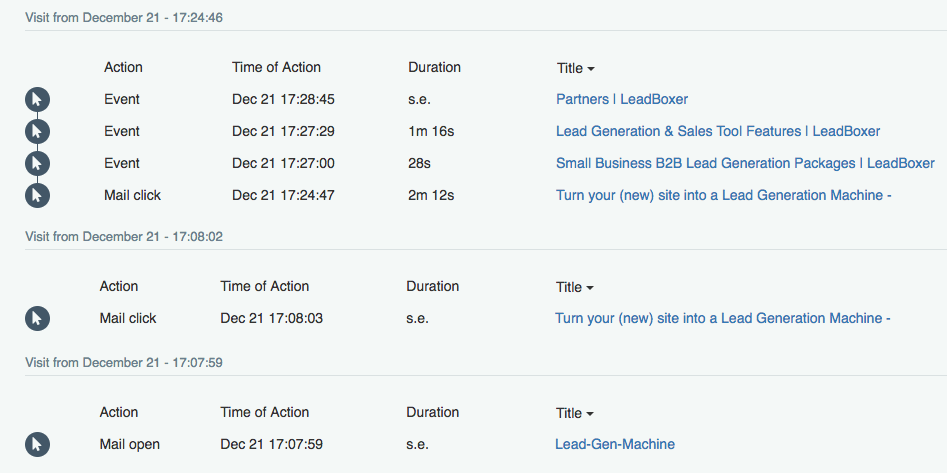 Once you've identified certain behaviors, you can create a retargeting campaign based around those behaviors. For instance, if a high percentage of prospects turned into customers after viewing the pricing page for more than a minute, you may want to retarget future prospects who take the same action.
This strategy can be applied to almost any behavior, whether they only visited your homepage for a few seconds or watched an entire demo video. Thus cost of acquiring a customer becomes lower.
6. Check performance by time, device, or location
There are several variables about your audience that may be influencing your CPLs. Take a look at your ads manager and compare how campaigns are performing by:
Time of day – When are most leads acquired?
Device – Are leads more likely to be on desktop or mobile?
Location – Where are the most leads located?
These aren't the only factors that might be driving up your CPLs. Analyze trends in digital marketing,  understand your audience, and try adjusting campaigns to focus on times, devices, and demographics that are performing well.
Use Cost per Lead to Make Your Marketing Campaigns More Effective
If there's one metric in total marketing to keep your eye on, it might by CPL. Knowing where your marketing efforts stand next to your competitors' lets you know if you're on the right track or if you need to tweak some campaigns.
LeadBoxer simplifies CPL monitoring so you can focus on optimizing your marketing campaigns. The Segments feature quickly filters leads based on which ad campaign first brought them to your site so you can quickly calculate the CPL without having manually use a cost per lead formula for each campaign. When it's time to optimize, use the website and email tracking feature to identify which lead behaviors warrant retargeting. Get started today and try out LeadBoxer for free.