Business-to-business (B2B) demand generation is important for any business. It is especially crucial for start-ups, companies launching new apps, and those offering business services. Awareness of your business products and services involves demand generation marketing strategies.
You can skip some parts of the post and jump ahead:
What is Demand Generation Marketing?
Awareness is at the heart of demand generation marketing. To sell your services, your customers need to know they are solutions available and you provide the best solution for their business challenges.
Demand gen marketing reaches out to customers who are unaware of your brand, products, or services. This type of marketing positions your offering as the best option to meet their needs.
Basically demand gen marketing is a lead generation strategy where you target qualified leads to create a demand for your product who didn't know your solution existed before.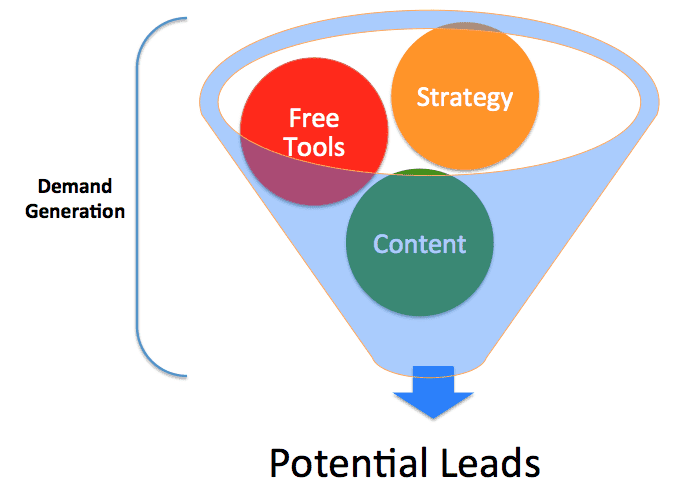 How to Develop and Implement a Demand Generation Marketing Strategies
There is an effective way of creating demand for your products (or) services and it needs a hefty investment of efforts in marketing and sales. Below are the steps to create a demand generation campaign to make sure your customers' needs are paired with the solutions your business offers:
1. Create a Robust Content Marketing Strategy
When people visit your website and blog, they need to know what your company does and what it offers them. Your content needs to be clear, concise, informative, timely, and relatable.
A content calendar is a great way to regularly get information out about your brand. When people and search engines see you consistently produce original, quality content, your company will become visible. It will also be seen as credible.
Quality content is for both readers and search engines. Search robots will notice the keywords and relevancy of your content. When you provide important, useful keyword-rich information, your content will appear higher in search results. This will increase your brand's visibility and expose more web users to your brand and its offerings.
2. Offer Free Content
You will be hard-pressed to find anyone who will refuse free stuff. When you're looking for new customers to introduce to your brand, products, and services, you need to appear trustworthy.  When you offer free content, you'll establish your brand as an authoritative source in your market.
A successful demand generation strategy involves offering lead magnets and free content. Some of the content you can offer for free include:
Blog Posts
White Papers
EBooks
Infographics
YouTube Videos
Social Media Posts
3. Engage Online, Particularly on Social Media
After you have content on your website and free offerings, make sure you share it on your organization's social media pages. 53% of consumers are more likely to make purchases from brands that are transparent on social media.  Your content must be authentic to your brand and share relevant, engaging content.
4. Partner With Influencers
Some of your marketing efforts needs to be directed towards collaborating with reputable, well-known individuals in your market is another way to improve your brand's online visibility and credibility. When your brand associates with a well-known influencer in your industry, your brand will get attention.
These associations through influencer research and outreach take many forms. Some of the common ways partnerships develop include podcast interviews, social media mentions, advertising on industry-related websites, and guest posting on their website.
5. Continually Measure and Tweak Your Demand Generation Program
Your work isn't done when your demand marketing campaign comes to an end. Compare the results to your original goals and key performance indicators (KPIs). Did your B2B demand generation marketing campaign meet, surpass or fall short of those benchmarks? Continue to analyze it after its completion through the use of tools like Google Analytics and Facebook Insights.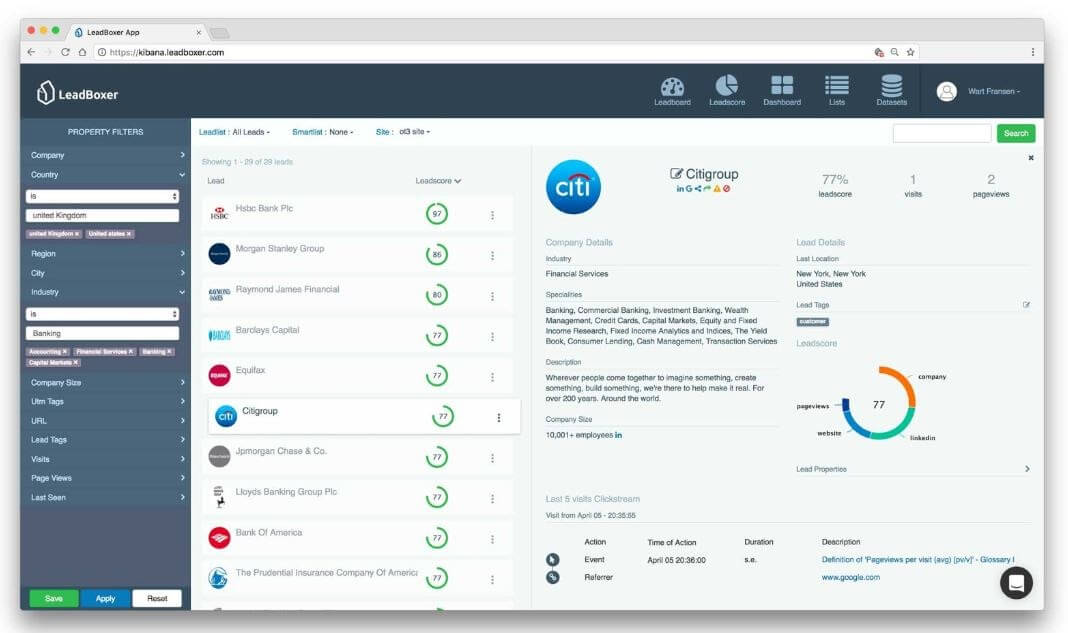 Why Demand Generation Marketing Strategies are Essential
Brand awareness is the most important goal for 89% of B2B marketers. What is the importance of a demand generation in b2b marketing and why is it a "must-do" for your organization? Here are some benefits to this type of marketing strategy
Help Make Small Businesses and Startups "Known"
B2B demand generation efforts are crucial for any business. It is more important for start-ups and new brands who have yet to form a substantial customer base.
Demand marketing fast-tracks these new businesses in establishing credibility and trust with their customers in the sales funnel. Once this happens, business and client relationships can form.
Increases the Conversion Rate = More Sales
59% of consumers are more likely to purchase a new product or service from a brand they trust. Bringing awareness to your brand through demand generation marketing is the first step in building this trust.
Builds Trust and Credibility
B2B demand generation marketing is most effective when customers have a strong relationship or connection with the company they do business with. Demand marketing exposes your brand and its products and services to business leaders through well-written, engaging, informative, and optimized content. Your digital marketing efforts needs to instill a sense of expertise in your niche while also relating to the reader.
6 Tips and Tricks for Demand Generation Marketing
Below are some tips for B2B demand generation marketing your marketing team can use to spark interest in your products or services. And don't forget about sales enablement for your team too.
1. Consider Your Marketing Sales Funnel
According to Salesforce, 79% of a company's leads never convert to a sale because 65% of companies don't have a funnel or lead qualifying system in place, and of those who do have a funnel, the majority don't have a way to measure its effectiveness.
When your company has a marketing funnel that is measured, you're able to meet customers where they are in the sales and marketing process. You'll be equipped to give customers the appropriate content and messaging that moves them closer to a sale.
The typical B2B funnel consists of six stages: awareness, interest, consideration, intent, evaluation, and purchase. Demand generation marketing addresses potential customers at the top of the funnel in the awareness stage.
For demand generation, you're interacting with a large, broad audience that is not familiar with your brand, service, or product. You want to avoid any sales content. Instead, offer them blog posts, downloads, free ebooks, infographics, and engaging social media content. Here some of the best customer data platform software can help.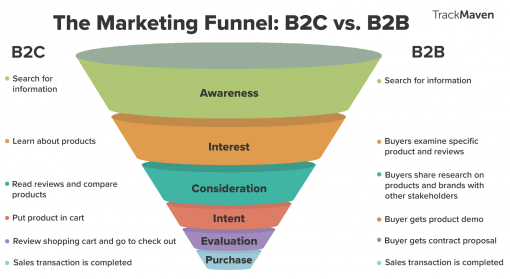 2. Don't Forget Form, Email, and Webpage Tracking
Remember to insert tracking on registration forms, emails, and webpages. The insertion of tracking on your business' online properties provides valuable information about those curious about your brand. Some popular tracking programs to try include:
3. Score Your Leads
While demand generation marketing targets and engages with customers at the top stage of the funnel, it doesn't mean you should neglect to implement a lead scoring system or have a strong lead strategy.
As with every business funnel, the number of customers who make it all the way through to create a sale is a small percentage of leads that entered the funnel at the awareness stage.
As leads progress through the funnel, the costs, and resources needed to keep them moving forward to make a sale increase. This is because they are qualified and are the most interested in doing business with you. A lead scoring system evaluates how likely a lead is to make a purchase.
4. Invest in Display Advertising
Most marketers today invest in online advertising. With the high competition for prime advertising real estate on websites, it can be difficult for new, small businesses with limited advertising budgets to compete. Especially when the future of sales post pandemic isn't so clear.
Google has a suite of marketing platforms geared toward different budgets and marketing goals. Google Display Network consists of partnerships with millions of websites on which business owners can advertise.
The purpose of this type of advertising is not getting people to purchase your product or service but to create brand awareness. According to Clutch and WebFx, 55% of companies use display advertising and receive an average click-through-rate of 35%.
5. Offer Your Best
Rather than bombard customers with information, put your brand's best foot forward by sharing your finest piece of content. Content should be informational, not promotional.
When you offer your best content, your brand will become recognized as the go-to information source. This is key in the long run as it forges positive relationships between your company and its customers.
Consumers who feel they can trust an organization will most likely become loyal to it. This benefits your business as loyal customers are easier and less expensive to retain than new ones.
6. Build Online Relationships and Credibility
Customer experience plays a bigger role in a company's bottom line than ever before. Nearly three-quarters of consumers say good customer service plays a role in their loyalty to a brand. Conversely, negative customer service experiences cost businesses billions of dollars each year. Check out more about cost per lead on our blog.
Some customer relationship-building ideas include:
Show-off your expertise through your social selling, blog and website content
Be responsive, authentic, and transparent in your social media comments and direct messaging (DM)
Invest in producing YouTube videos where consumers can see the people behind your brand which will give it a personal touch
Participate in industry podcasts and online industry conferences
Get connected with influencers to review and talk about your products or services
Encourage customer reviews
LeadBoxer can help your start-up or small business with its demand generation marketing through lead qualification. With LeadBoxer's tools and services, you can better connect with leads that are most interested in and in need of your services.