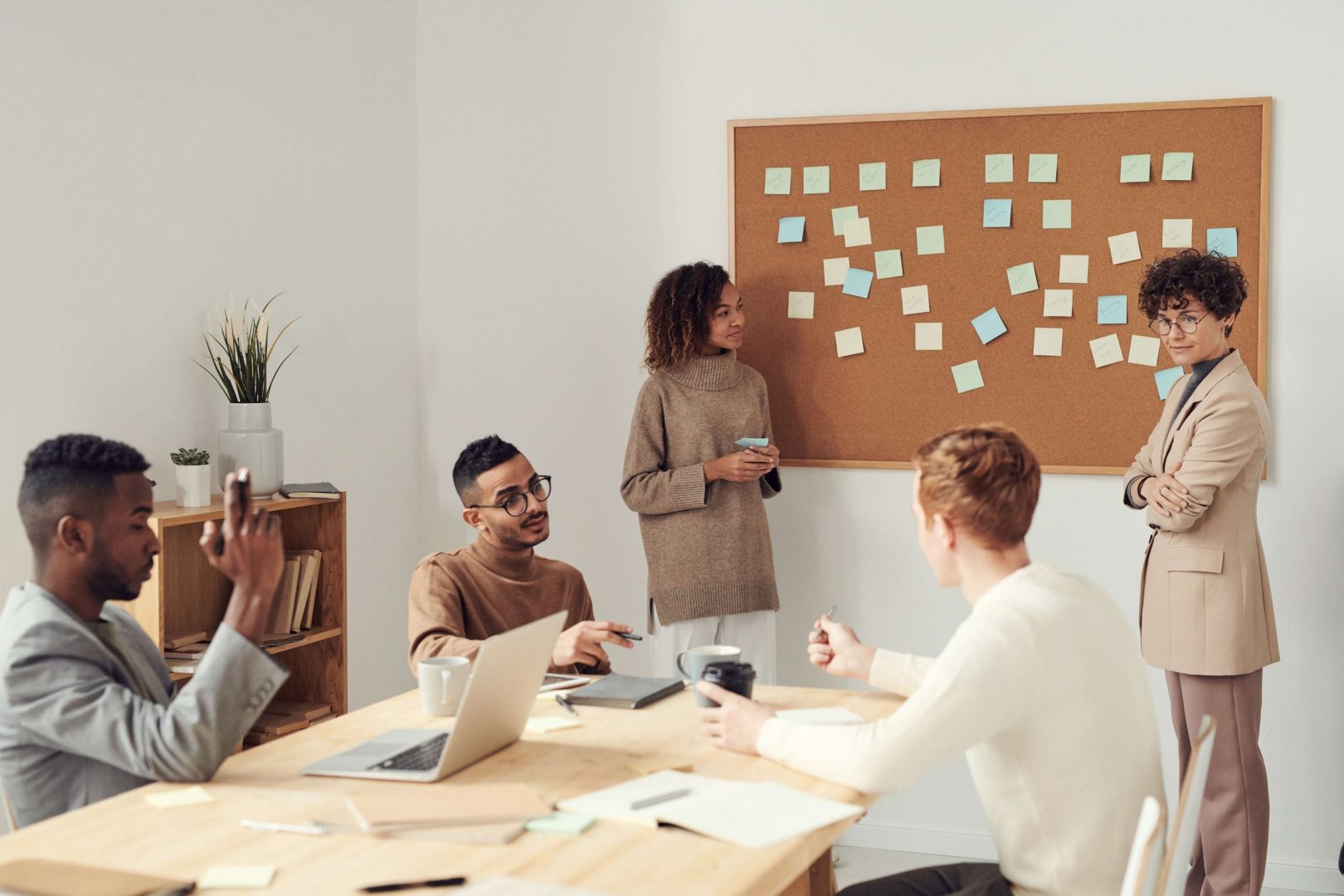 Although account based selling (ABS) has been around for quite some time, this strategy is gaining popularity in recent years. Organizations are starting to see the real impact of this tactic, leading to increased sales and more revenue.
While the typical sales strategy targets a single point of contact within an organization, account based selling works differently. Rather than focusing sales efforts on a single person, this methodology takes a broader approach.
Although this strategy is too extensive for business-to-consumer (B2C) products, it's more suitable for large-scale, enterprise-level b2b sales. Keep reading to learn more about account based selling, including how to effectively implement this strategy into your sales process. This ABS guide should help you decide if this sales approach is right for your organization.
Continue reading or use the following links to jump ahead to these topics:
What is Account Based Selling?
Account based selling (ABS) is a hyper-focused, ultra-personalized sales strategy. This approach targets entire accounts rather than concentrating on a specific person within a company. With this strategy, every account is treated as a market of one.
This involves a multi-touch, multi-channel process that targets a variety of touchpoints within an organization. While the typical sales strategy aims to close sales with individuals, account-based selling targets the organization as a whole.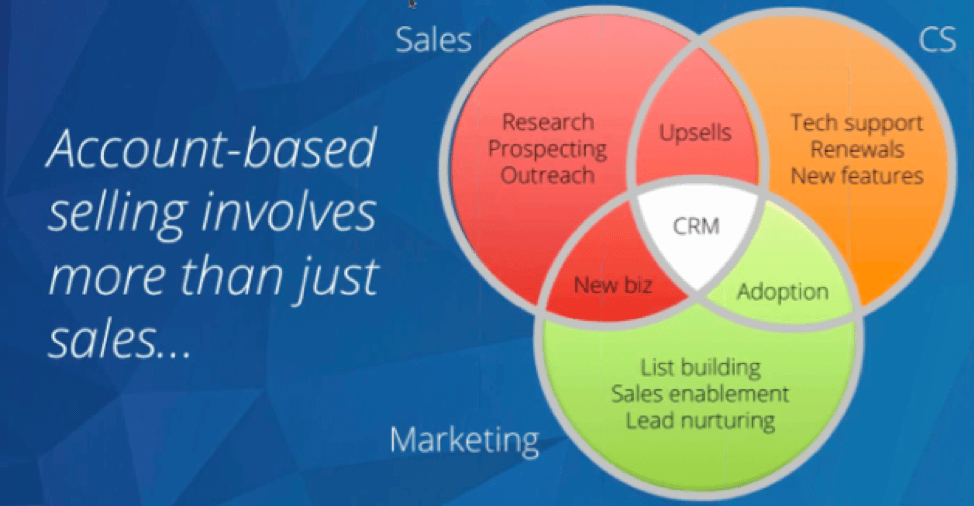 ABS vs. Account Based Marketing
Account based selling and account-based marketing (ABM) go hand-in-hand. The overall goal of the process is to identify target accounts and inch them closer to a sale. Rather than having sales and marketing departments that "hand-off" duties to one another, this strategy blends the two.
As this isn't the traditional approach, your sales and marketing teams must be more aligned than the average organization. In a company-wide effort, these teams must come together to target the right accounts and form a cohesive, detailed strategy. The process involves first identifying key decision-makers with a pain point, then targeting them with personalized sales outreach.
This strategy can work alongside marketing nurture campaigns to move key contacts closer to a sale.
Who Should Use Account Based Selling?
In a recent survey involving ten corporate leaders, seven of them said they are investing more in account based strategies. However, this approach isn't suitable for every organization.
As this methodology involves your entire business, you must have enough resources to implement account-based selling framework. Before eliminating your current business model and starting fresh with account-based model, determine if this approach is right for you.
Ask yourself the following five questions before you're planning to leverage benefits of account-based selling.
1. Who is your average customer?
Understanding your potential customers can help you decide if ABS is the ideal approach. If you usually sell to small businesses, you may want to consider a different strategy. Because ABS involves tons of manpower and resources on your end, dedicating that to these businesses typically isn't efficient.
Unfortunately, the picture is a little unclear for mid-market customers. Experts claim that any deal size less than $50,000 in lifetime value shouldn't utilize an account-based selling approach. If you're a business that offers enterprise solutions, you may already have high-value accounts that are well-suited for account based sales.
2. How long does your sales cycle last?
An effective account-based selling strategy doesn't happen overnight —the process to come up with a good selling model can take months. That said, this approach is better suited for longer sales cycles. If your average sales journey lasts for at least three months, ABS may be right for you.
3. How much do you know about your ideal customers?
Account based selling involves hyper-focus on your audience. This laser-precision approach requires an in-depth understanding of your ideal customers. If you're unsure where you fit in the market or don't have adequate data, you may be advised to consider a different strategy.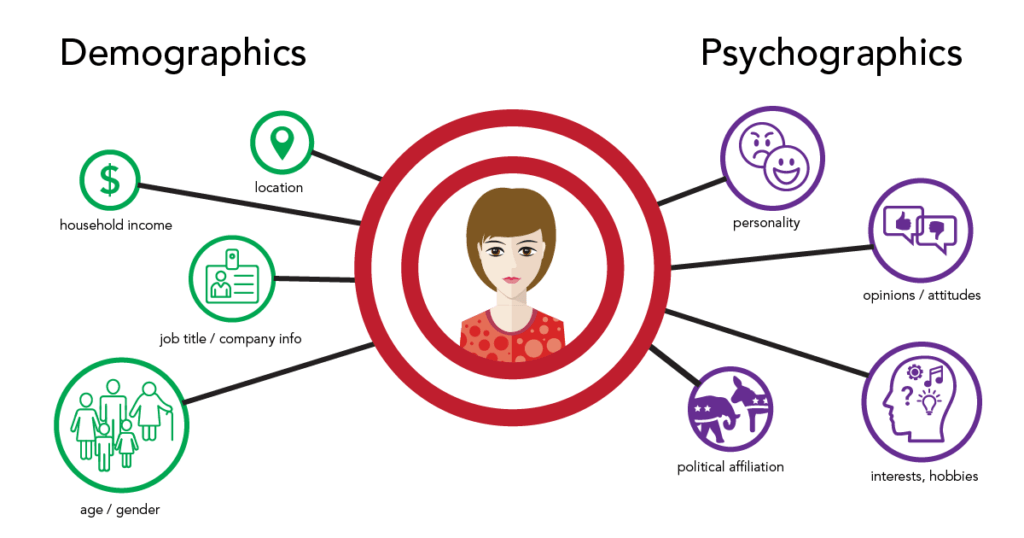 4. How many stakeholders are involved in the average deal?
While the average sales approach targets one or two stakeholders, this can cause problems. For instance, this tactic could backfire if that contact quits the job, goes on leave, gets sick, or takes a vacation.
By targeting multiple stakeholders, it's far less likely for the deal to fall through the cracks. The more eyes on your sales process, the higher the chance of closing the sale. Account-based selling model is a multi-threaded, multi-channel approach, which typically leads to more involvement from a wide variety of stakeholders.
5. What's the nature of your offerings?
Account-based sales strategy is a detailed, precisely integrated process across multiple facets of your organization. It's ideal for subscription-based products. As long as your messaging is consistent and clear, these customers probably won't end their relationship with your product or service.
ABS marketing through subscription-based products also provides the opportunity for upselling and cross-selling. If your business offers multiple services, add-ons, and packages for high-value accounts, account based selling could be the right tactic.
How Content is Used in ABS
Similar to inbound marketing techniques, you can use content in account-based selling gear up a specific audience. Additionally, both inbound marketing and ABM use different content at different stages in the sales cycle.
As previously mentioned, account-based selling requires a company-wide approach. So all teams should collaborate to develop audience-focused content for the various accounts and personas.
Below, you'll find a variety of content types and tactics that can be used in an ABS strategy. These are categorized by the level of effort needed for execution.
Low-effort
Blog posts, infographics, and short videos
Email
Mail
Voicemail
Reports/data research
Medium-effort
Workshop
Business case
Webinars
Custom report
High-effort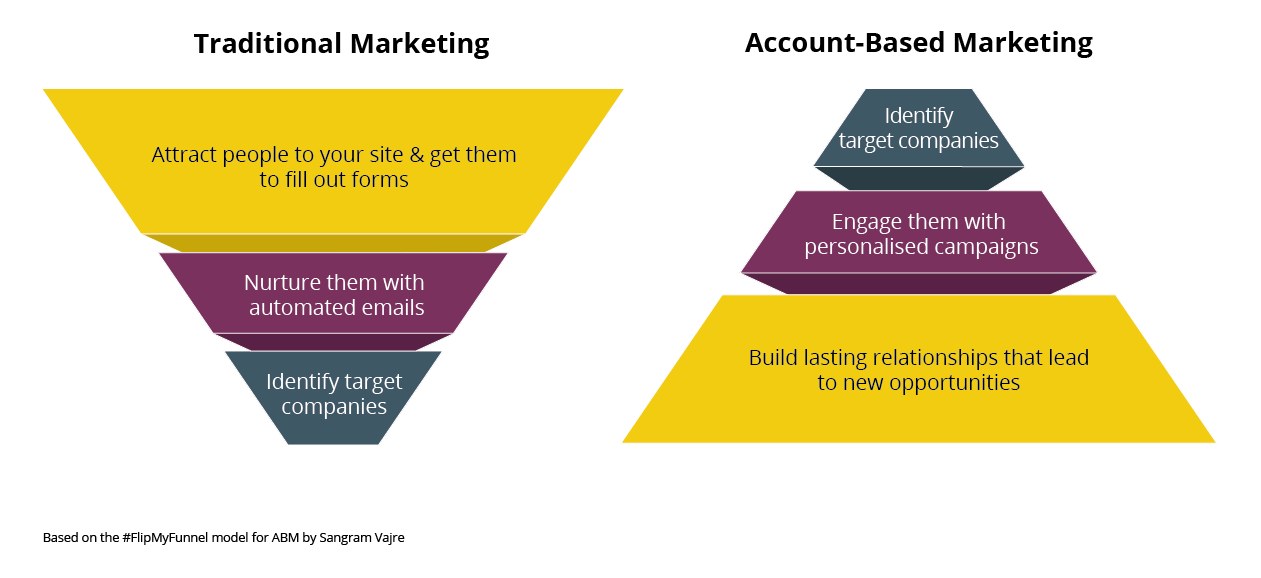 Content Following the Sale
Targeting your customers with engaging content doesn't stop when you close a sale—ABS-focused content continues long after the deal is made. After all, customer satisfaction is a core element of ABS marketing efforts.
If your customers aren't satisfied, chances are they won't renew, upgrade, or buy again in the future. After the sale is complete, you'll want to continue to provide valuable content to keep loyalty and engagement high.
This can be achieved with:-
Training sessions: These can help your customers understand more about your products.
Executive check-ins: This involves meetings, preferably quarterly, to discuss what's going on with the account. These discussions should involve both buyer and seller executives.
User events: To boost exposure and excitement for your product and brand, facilitate events to bring your customers together.
Developing Your Target Account List
After narrowing your target accounts, choosing contacts, and deciding the content you'll implement, it's time to build an account list. To simplify the process, ABS experts encourage organizations to categorize target lists into different tiers.
Your company should then allocate a certain amount of resources and attentiveness for each level. The smallest tier should receive the highest amount of care, while the largest tier should receive fewer resources.
While it varies from one company to the next, your first tier will typically consist of 20 to 50 accounts. These customers should receive thorough research and one-on-one, personalized communication.
The next tier typically includes about 200 accounts. The amount of personalization and care these groups receive is based on their specific industries and personas. Due to the many facets involved in the process, these campaigns can last for several weeks.
Sales rep and sales development teams must provide assistance in choosing target accounts. This is because these professionals play a key role in converting prospects through their selling approach. Therefore, excluding them from the sales model and decision-making process is an inefficient practice.
How to Implement an ABS Strategy
After reading this guide to account-based selling, you may still be confused about how to implement this selling model into your organization. If that's true, you're not alone.
Transitioning to ABS is one of the most common roadblocks for organizations across the country. Although people understand the value of changing processes, they still struggle with execution.
Because organizations have different processes and best practices, implementing ABS looks different for many companies. If you're currently using a high-volume, high-velocity approach, instantly changing to account based approach can be a slippery slope. Instead make the switch over time in stages to use account-based selling.
Once you've developed your ideal customer profile and chosen suitable accounts, allocate 30% of your organization into tiger teams. Members of these specialized teams are skilled professionals tasked with a specific goal within an account.
Before getting started, it's essential to decide which metrics to track. After starting the process and seeing a positive impact, you can then allocate 50% of your company. If you continue to gain traction, go to 75%, then eventually 100%.
As for how long this transition should take, most companies notice improvements within 12 to 24 months. Those who find early success typically have close-knit marketing and sales departments.
Although account based selling can be a complicated topic to understand, we hope this ABS guide provides some clarity. While the transition may not be an easy one, this change could propel your business to new heights.
If you're a company operating at the enterprise level, successful account-based selling can increase your revenue and improve customer satisfaction.