Freelance Writer Alex Levitov
In one of our previous articles we discussed why warm leads are better for your business but we realised we got ahead of ourselves. So, we decided to double back and try to understand what are warm leads.
Every company needs to follow up and nurture leads as part of its sales process. Warm leads are nothing more than individuals who have expressed an interest in your company in the past or people with whom you wish to establish a relationship. It could be something as simple as a person filling up an online form and asking for more information on a certain product, or making connections with the staff of a particular organisation. When these people get a visit or a call, it classifies as a warm lead.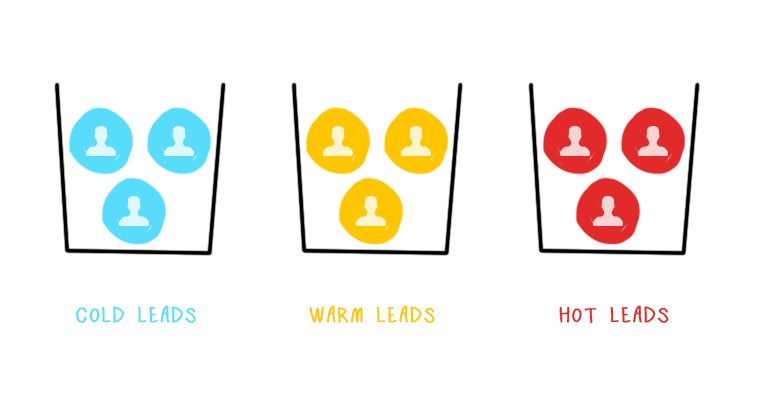 Whereas cold leads are taken by surprise and often turn negative, warm leads are formed out of a pre-existing relationship or expression of interest. This makes it a lot easier to approach a potential sale, and places warm leads on top of cold leads in the sales cycle. Warm leads result in more effective sales talk.
Why are They Beneficial?
Think of it this way: Would you like it if someone tried to sell you something within the first five minutes of knowing you? Of course not! The same applies to your customers as well. They hate it when your company tries to push a product/service on them, and are more likely to walk away. Even worse, they will probably remember your company in a negative light.
This is exactly why warm leads are preferred. Businesses, especially small ones, rely on warm leads to establish a certain level of trust with possible clients until they are ready to purchase from them. Establishing trust is an integral part of the sales process because the warmer the lead, the higher chance there is of converting it to a sale. Sizeable companies have systems in place for a formal sales process, and these involve introducing the brand to a potential customer, referred to as the lead.
The more the lead becomes exposed to the name and message of the brand, the more it begins to trust the brand over time. Warm leads are primed in such a way that closing sales becomes easy. In fact, companies boasting of solid, well-thought-out sales processes are adept at monitoring calls, messages, emails, and outreach so that each lead understands precisely where every person is in the process.
The Thing About 'Warm Leads'
The term "warm leads" is quite flexible. For example, any prospect that has been referred to a business website also qualifies as a warm lead, even though the organisation did not contact that prospect directly. Just the fact that the referrer recommended that particular company to the prospect means that an indirect connection has formed between the company and the lead. It is not necessary that the prospect know the business; simply knowing the person who referred them to the company is enough. In this case, the referrer serves as a sort of middleman, which means that generating warm leads is not a linear process.
There is a flexibility associated with warm leads that is missing in others. This makes them all the more lucrative. When a prospect reaches out to the business looking for information, they usually try to find out the contact number or fill out a form on the website requesting a call back. Such prospects are intrigued to go through all the effort to reach out to the business by themselves, without knowing anything about the company. This shows just how easy it is to work with warm leads rather than cold leads.
Warm Leads Mean More Conversion Probability
Though there is still some amount of rapport building to be done on your part, warm leads are simpler to convert into sales than cold calls. The fact that the business had previously established a connection or contact with the prospect is indicative of the fact that they already had some amount of trust between them. This is the reason why the prospect will actually read or listen to whatever you have to say. They will be willing to invest time, and will not be as quick to walk away from the product or service as a result.
Warm leads are actually quite pleasant from the standpoint of the salesperson. They find it easier to distinguish between warm leads and cold leads and interact with the former; all it requires is a little bit of common sense and practice on their part. In the end, what matters the most is the way the prospect views the interaction, instead of how the business classifies it. While interacting with a warm lead, the company should always make it a point to introduce itself and then immediately raise the topic of their pre-existing association with the prospect. The way they respond should be an indication whether the sales team should pursue this lead for conversion or not. The moment you get some sort of acknowledgement about your connection with the prospect, you need to move forward with confidence.
A business is better of investing all their efforts on warm leads rather than cold leads due to the higher probability of conversion. You might have ten cold leads in hand, but compared to them one warm lead is always a better use of your time. Firstly, it is difficult to try and monitor tend cold leads. A person who is familiar with your name or the name of your company and has taken an interest in your services or products will be easier to pin down, rather than the phone numbers of people who have never even heard of you.
How to Generate More Warm Leads?
Some companies resort to paying for long list of email addresses, phone numbers, and data packs. But this cold approach is a hit-and-miss, and less effective than building and nurturing existing relationships with customers. Your time and money is better spent elsewhere, namely creating new relationships and links with interested parties. Such a process can be time-consuming, but the payoff is always greater. Cold calling isn't something that their sales people enjoy, but they need to do it as part of their job. The trick is converting the cold leads into warm prospects, thereby increasing the chances of a successful sale by the sales team. Some of the most effective methods are given below.
Forming a Blog
If you have an expert sales team on your payroll, chances are you won't have to work too hard to reach out to customers who know nothing about your business; instead the leads will come to you. It becomes possible through the creation of a website that also hosts a blog offering good content. This, in turn, forms a lead nurturing process that sets your company up with warm leads. All you need to do is research, create a blog with the help of one of platforms for business and share good content on your blog. The blog creates a platform to help attract prospects to your business. This not only improves the SEO but automatically alters the feel of the conversation. The tables are now turned in your direction, and prospects understand that you have valuable insight to provide them before they even engage you directly.
Using Lead Capture Techniques
Get your prospects to visit your website by setting up a well-aimed blog. However, you should make it a point to know who those site visitors are before they leave. Otherwise, it would all be in vain. Use lead capturing to get the details you require about your visitors. Lead capturing involves creating helpful content that solves the problems of your personas. You need to link your blog readers to a specific landing page that requests them to fill up a quick form. As soon as the form is submitted, allow them to access the content for free. Now it is up to the reader whether they share the content you sent with co-workers or friends. What matters is that you have managed to catch their interest and are on your way towards building a relationship.
Using a CRM System
It is best if your company uses CRM software. This ensures that none of the information you gleaned from your leads go to waste. You will find lots of different tools on the Internet that not only monitor who visited your website, but what they looked at, when they visited, and what offers they downloaded as well. The purpose of this data is to provide you with a clearer picture of your lead and initiate a conversation. Once you are able to determine what attracted the lead to your website in the first place, it's easy to work out the issues they are trying to solve. Your sales team can help you with this.
Harnessing the Power of Social Media
It is important you know how to use social media for the benefit of your company. Simply opening accounts on social networking sites is not going to help; you must know how to get the most out of them. It helps if you begin by thinking long-term. You will be able to generate the initial interest via a clever post or a giveaway. New business is always appreciated, but you should also have a plan on how to plan on building on that foundation. Otherwise, you are going to lose any business as soon as you get it. Social media metrics are a great way to become familiar with your audience and their needs. However, you should first determine the market you wish to cater to. Also, it is important to link your company's posts, tweets, and updates with the landing page. This will give visitors the chance to know your company even better.
Cross Promotions and Referrals
Warm leads aren't always the tricky affair that people make them out to be. For instance, customer referrals are a great way to generate business-to-business leads. Customer referrals are built out of trust. Another great option is cross promotions with other businesses. This method provides a cost-effective, easy and quick way to reach new customers; customers who you otherwise would never have been able to gain access to. This is a highly exciting prospect. Planning cross promotions carefully is a great way to tap into an audience base that has high interest in your product.
Webinars and Face-to-Face
Despite the rise of social media techniques, the old-fashioned approach is long from dead. It works wonders, especially in the form of executive events and webinars, where it is possible to interact directly with the lead. Due to the overwhelming focus on technology in the current digital age, the old ways are easy to overlook. But, these methods were used for a very long time and with good reason – they were effective. So your company could try this out. Even telemarketing is capable of providing positive results if forearmed with the right sort of information.
Email
Generating a warm lead through email is possible if you email one of the higher-ups in the organisation and ask for a referral down to the correct individual, or email the decision maker directly. Irrespective of your approach, a lot rides on the subject line of your email. It needs to be interesting enough for the lead to actually read it and open the mail.
There is a particular way to develop effective cold email subject lines. Use the names of the leads in the subject line only if it makes sense. Keep the subject as specific as possible. Make the subject line as personal as you can so that it appeals to the lead, and turns it warm. Make sure that the email doesn't sound too much like a marketing email. Try to keep it casual yet professional. You could try experimenting with a question format for the subject line of the email. Always make sure that you deliver what was promised in the subject line in the actual email.
Customers are no longer the same, and sales and marketing are trying to keep up. The rise of search engines and social media, businesses and individuals do not have to wait for sales people to approach them. They themselves can go looking for the things they want and choose whichever company offers the same. Sales and marketing work together to bring in warm leads. This helps create more business than cold leads ever could.