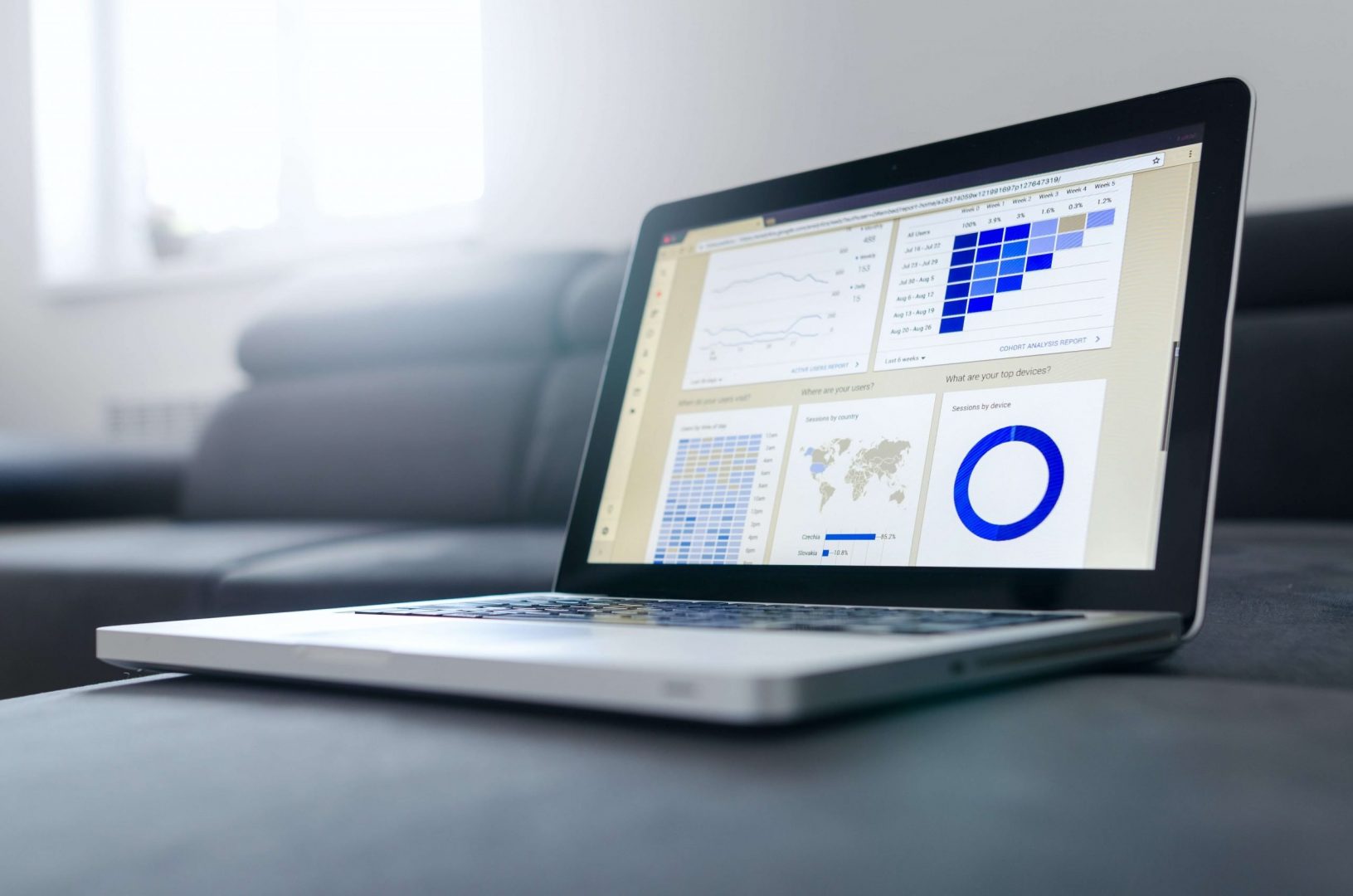 As a sales team manager, you want to see your reps improve their close rates. This means more growth for the company and a more enjoyable work experience for your employees. The secret to making it a reality? Equipping your department with tools driven by artificial intelligence (AI).
This guide takes a deep dive into what sales AI is, how it aids your team's success and 10 of the best software options for the job. Read on or jump ahead to these sections:
What is Sales AI?
Your sales team deals with an immense amount of data, from prospects' contact info, to what pages leads are visiting, to the number of emails they've received and opened. This is an essential part of sales enablement, or the process of supplying your team with info, tools, and training that help them close more deals.
This goldmine of data empowers your sales team by helping them identify, nurture, and convert more potential customers into clients. However, it's impossible to make sense of it all without a little help.
That's where artificial intelligence (AI) comes in. AI collects and processes mountains of data into actionable insights. This reduces the time reps spend on repetitive tasks or making unreliable judgments about prospects. It also increases close rates and the company's profits.

3 Ways AI Improves Sales Enablement
If more leads for less effort is a priority for your business, you can't afford to skip on AI-driven sales enablement. According to a study from Harvard Business Review, sales AI can increase leads by more than 50%, contribute to cost reductions of 40-60%, and reduce call times by 60-70%.
How exactly does it do this? There are three areas along your sales pipeline where AI can step in and optimize tasks.
It Identifies Ideal Leads
Gone are the days of having to search databases for possible leads, manually creating profiles in customer relations management (CRM) software, and deciding who to call or email first. AI turns what was once an imprecise, time-consuming task into an automated, data-driven process.
An AI-empowered sales tool can gather intelligence about the individuals and accounts actively engaging with your brand's site or social media. It syncs and enriches their contact info and other details to your CRM platform, then analyzes each lead to determine which ones are most worth pursuing. This indication is often called a lead score, which is based on how closely an account matches your ideal customer profile and whether their behavior suggests an interest in your product.
It Automatically Nurtures Leads With Tailored Content
Your sales reps don't have to guess which email or white paper leads are most interested in receiving. There are AI-backed software options that listen for signals from your prospects, such as clicking on a link, then emails them content relevant to that behavior.
It Tells You What Action Will Most Likely Convert a Lead
AI can do almost everything except hop on a call or step into a meeting with prospects. AI can, however, coach your sales team on how to close more deals. Some tools review the lead and offer insights on their communication styles and preferences. Other software options analyze the behaviors of sales reps, then provide feedback on what they can do to improve their close rate.

10 Top Tools for Sales AI
Here are the best software options to help you find the most qualified prospects, nurture them, and close the deal.
Need to pinpoint exactly who your team should focus on? These sales intelligence tools stand out from the pack.
1. LeadBoxer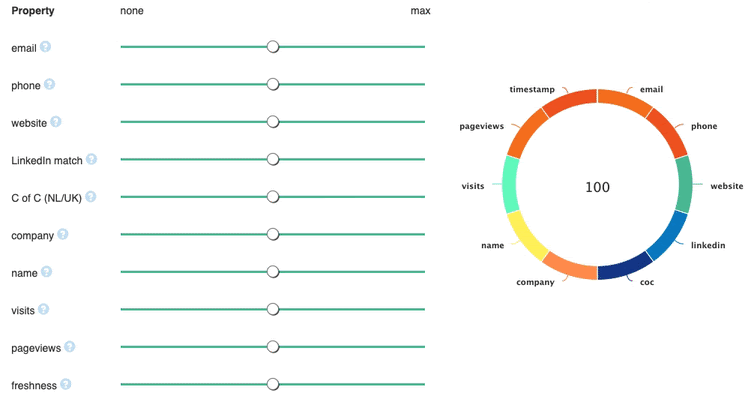 The first step to increasing your sales is knowing exactly to who you should devote your time and energy. LeadBoxer finds that info on autopilot. The platform aggregates tons of identifying and behavioral data about prospects and then calculates a lead score illustrating how likely they are to buy. With this insight, reps don't waste any time trying to woo the wrong people.
LeadBoxer's clear, intuitive interface makes it easy to get started right out of the box. Within minutes, you can see exactly which companies are visiting your website, how long they stick around, and what pages they're checking out.
2. HubSpot Sales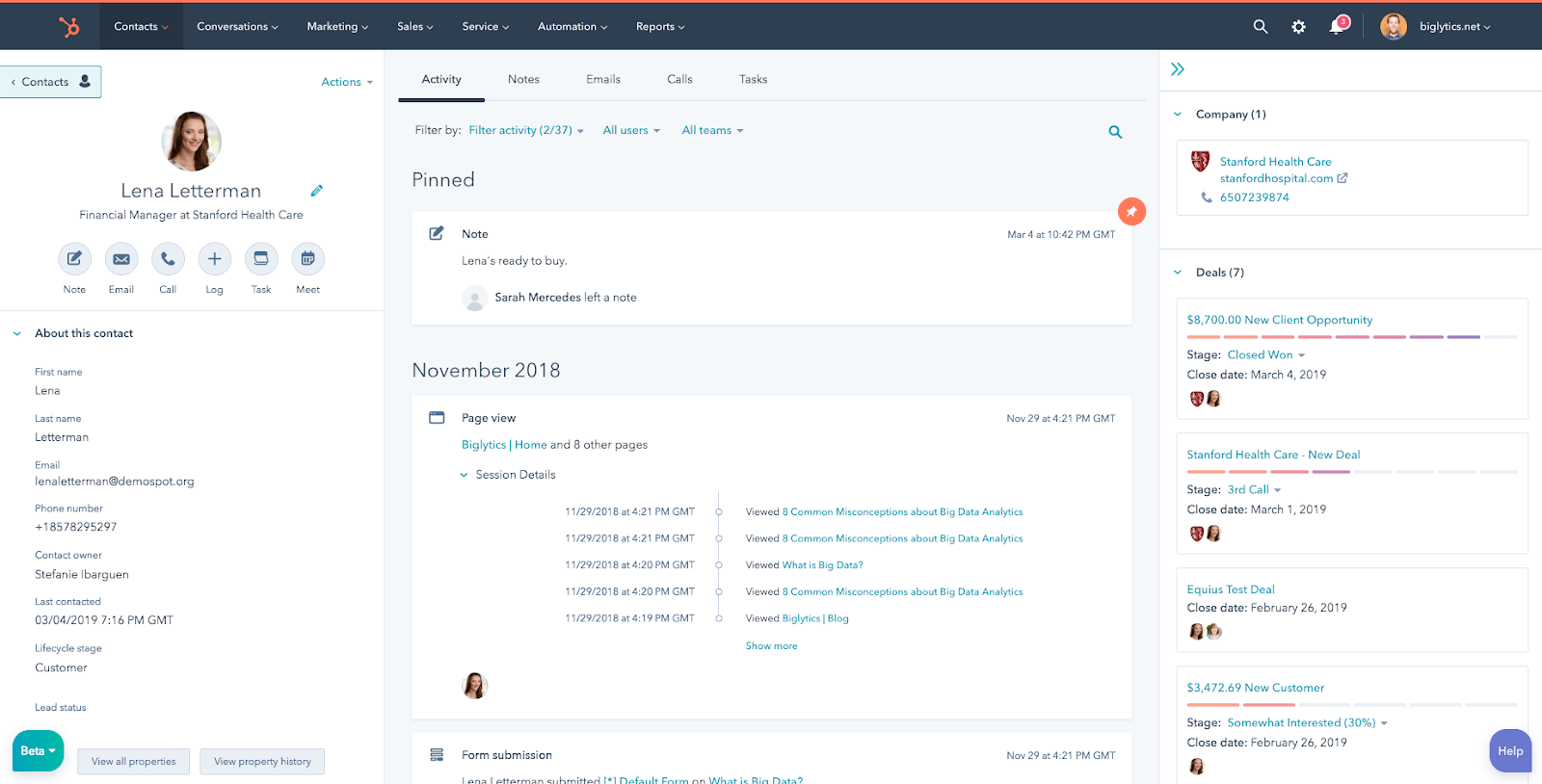 Source
If you're looking for a tried-and-true CRM with lead scoring capabilities, check out HubSpot Sales. This lightweight tool tracks visitors to your website and creates a comprehensive profile on each one. You'll be able to see who's interested in your product with little to no effort.
HubSpot Sales has several flexible and affordable pricing options. Small business owners will love starting for free, getting used to the product, and growing their company before ever whipping out a credit card.
3. Everstring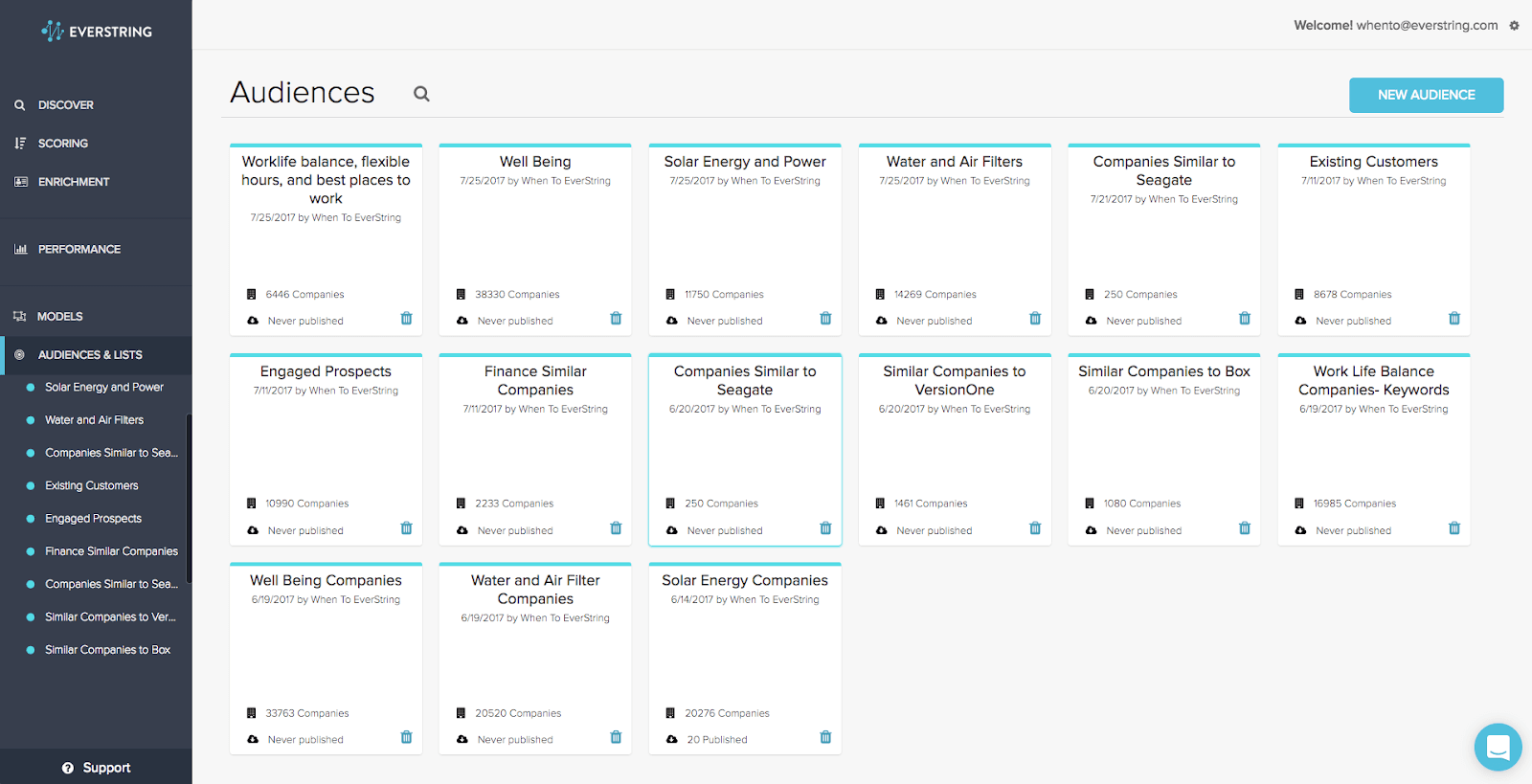 Source
Everstring hangs its hat on intent data or an indicator that someone is interested in the solution provided by your company. For example, if an individual is actively researching project management tools, Everstring will let you know. The platform is great for finding and reaching out to leads that might not have heard about your product yet.
A common complaint is Everstring can be a little tough to learn. Fortunately, the company provides training to get you up to speed.
4. ZoomInfo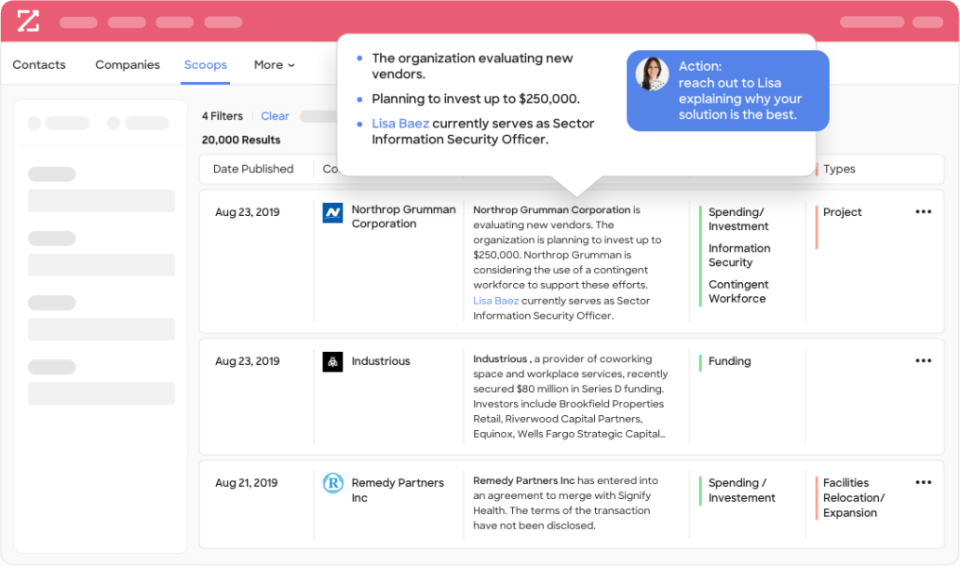 Like Everstring, ZoomInfo supplies you with intent data about prospects, so you can know exactly who's in the market for your products. ZoomInfo also automatically enriches contact info within your CRM, negating all the time reps would otherwise spend on confirming up-to-date email addresses or phone numbers.
Nurturing Leads
Lead nurturing software keeps your prospects engaged with content that's perfect for them, freeing up more time for sales reps.
5. SharpSpring

SharpSpring is a tool that benefits your marketing and sales departments. It combines CRM with marketing automation, like sending personalized emails after a lead completes a particular action. The visual builder, like the one pictured above, allows your marketing department to create, see, and optimize journeys that turn more prospects into buyers with less lift from your sales team.
At $550 per month for a small business, SharpSpring is a bit on the pricier side. Fortunately, there are month-to-month plans and no long-term contracts are required.
6. Keap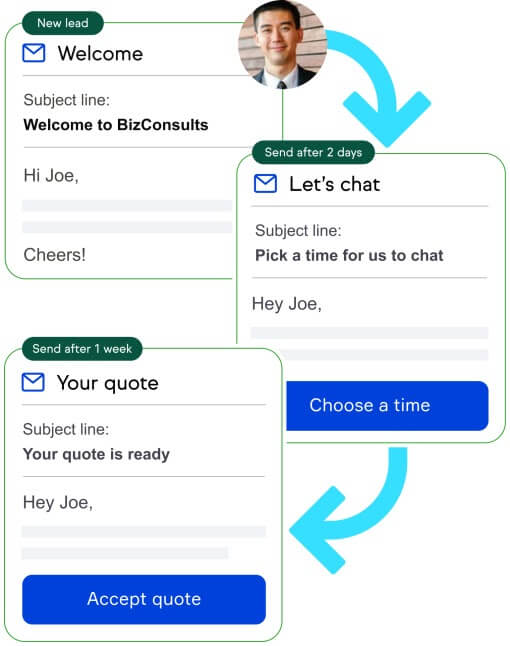 Source
Did your prospect book an appointment or download an ebook? Keap automatically follows-up with a personalized email sequence. In addition to lead nurturing features, the platform comes equipped with a CRM, lead capturing tools, invoicing, and payment processing. Plus, with plans starting at only $79 per month, it's an affordable all-in-one option for many small businesses.
7. Marketo Engage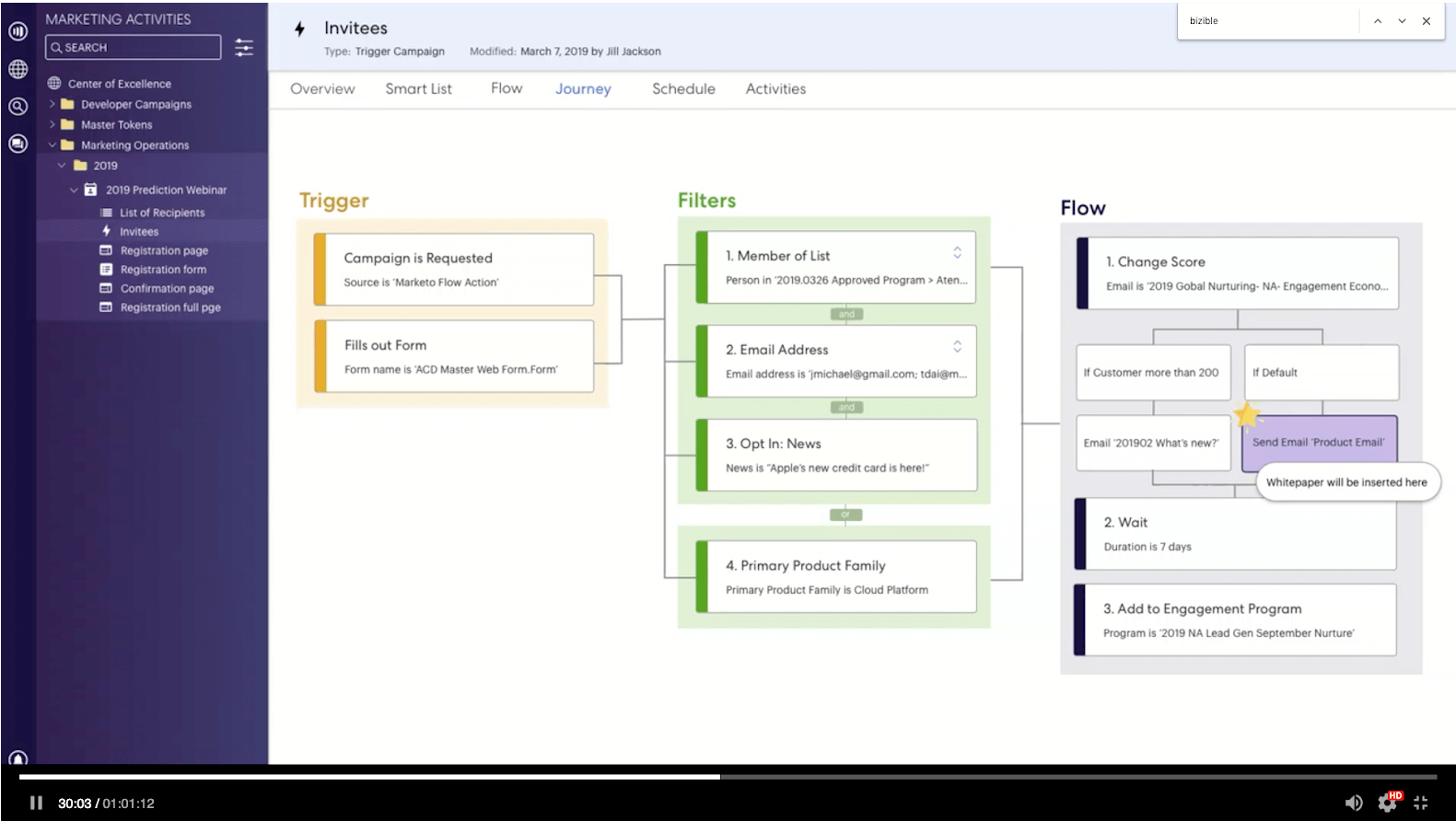 Marketo has long been an industry heavyweight and for good reason. The platform can provide personalized experiences for leads both on and offline. Whether someone is checking in for a live event or visiting your site, Marketo Engage follows up with email campaigns tailored to their behavior. It also targets them with custom ads and even pop-up messages sent to their phone.
The downside? At a starting price of $1,000 per month, Marketo is almost exclusively a large enterprise solution.
Closing deals
When it comes to making the sale, nothing beats a personal touch from a rep. Even for the sales in the future. These platforms increase the odds that they say the right thing at the right time.
8. Gong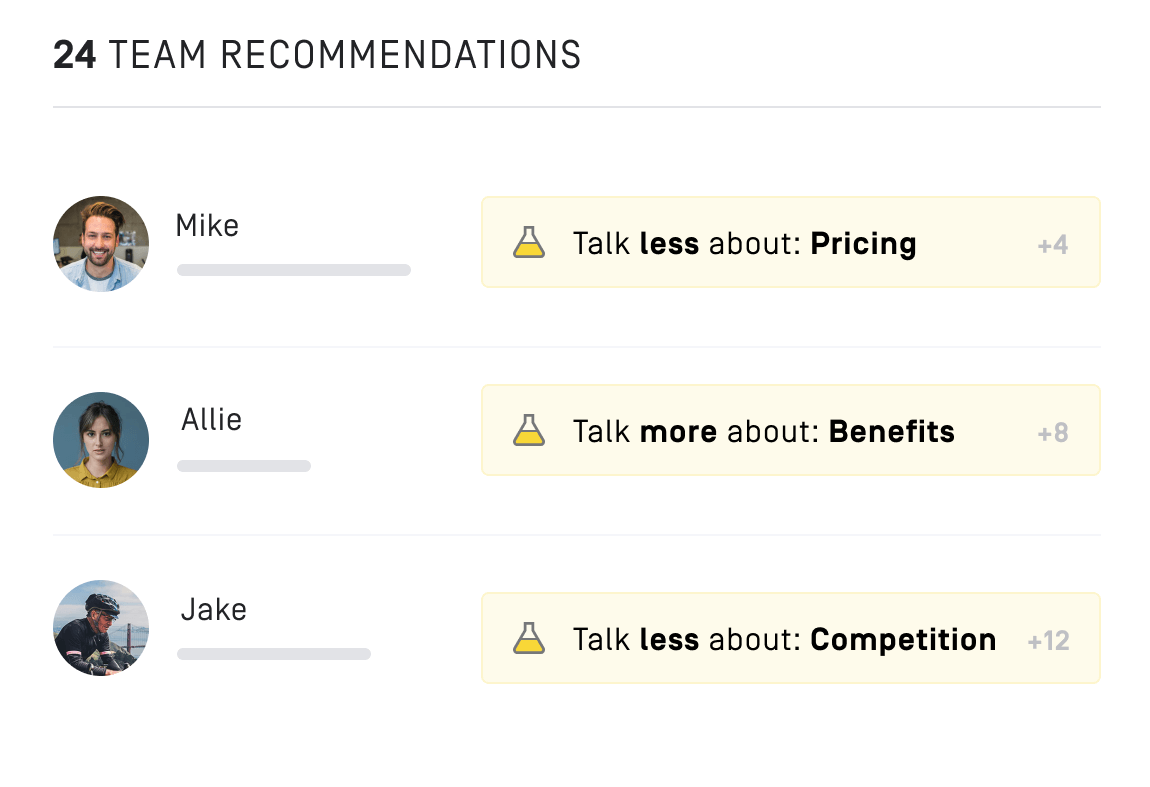 Gong gives you data-driven insight into what's happening with the market, your leads, and your sales team. Most alluring are the people intelligence features, which analyze reps' calls and offer suggestions about how they can close more deals based on the behavior of the department's highest-performing members.
If you think AI can't replace an in-person sales coach, think again. With Gong, some customers report increasing close rates by 30% and deal sizes by 33%.
9. Crystal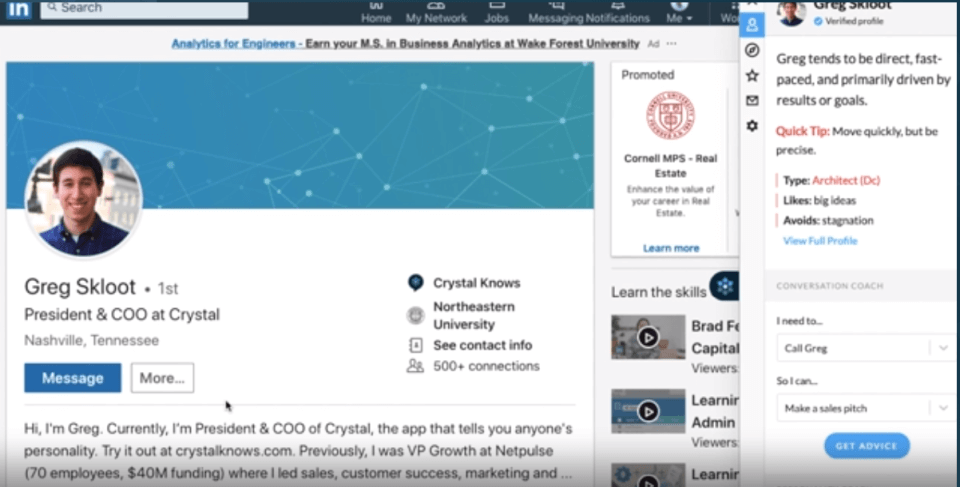 Crystal gives you a peek inside what makes your prospects tick. Do they prefer a little chit chat before diving into business? Are they more of a straight shooter? With Crystal, there's no need to guess. Reps can adapt their calls and emails to perfectly fit every lead's personality, ensuring the best conversation possible.
10. Sugar Sell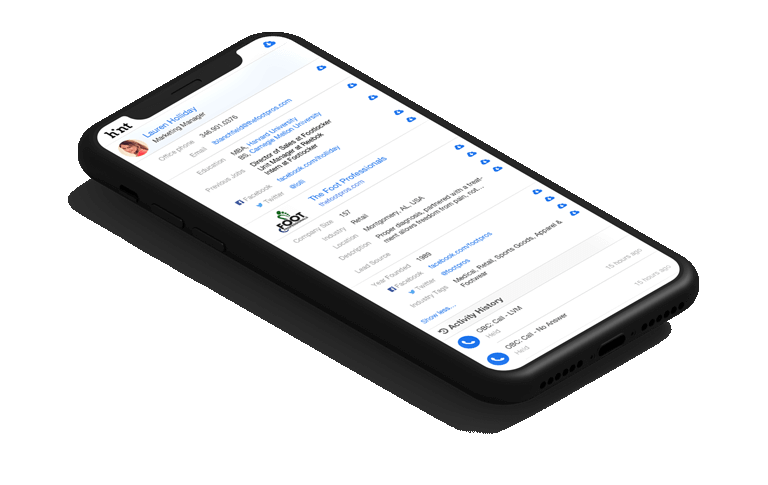 Sugar Sell, a product of SugarCRM, comes equipped with a sneaky, powerful feature called Sugar Hint. Simply input a name and email into the software and then sit back as it gathers data from social media, news, and business sources.
Sugar analyzes this info before offering insights like when to contact the lead and what message to give them. The platform claims to increase your team's productivity by over 30%.

Turbocharge Your Sales Team's Success With AI
Knowing exactly what your prospects are thinking can massively accelerate your pipeline. Thanks to sales AI, you don't need a psychic or crystal ball to do it.
Looking to implement your first AI-empowered sales tool? Consider one that finds leads and ranks them according to their likelihood to buy. A steady supply of top-notch prospects is the first step to increasing profits.
LeadBoxer can help. The platform analyzes who's visiting your site, then assigns them a lead score. Get started today with a free trial.