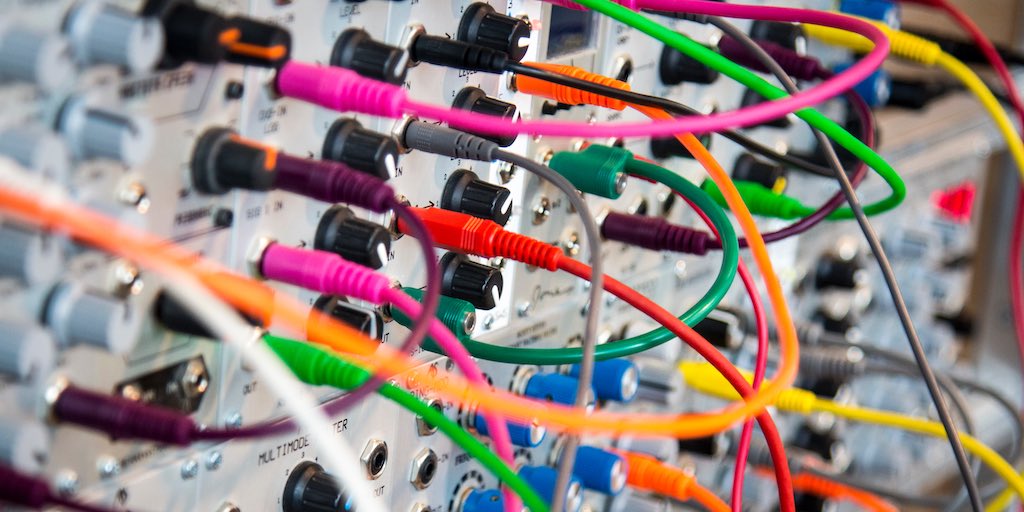 Pipedrive is built to help you close more deals and keep your sales team on track. But one of the perks of Pipedrive is the number of tools you can integrate to save your team time and enable you to ramp up your marketing and sales efforts. In this list, we've found 12 of the best Pipedrive integrations and broke them down into four categories:
Let's dive into how you can save your sales team from data entry and lead gathering using integrations in Pipedrive and top lead strategy. This will provide them more time to do what they want to be doing—closing deals.
Best Pipedrive Integrations for Lead Generation
LeadBoxer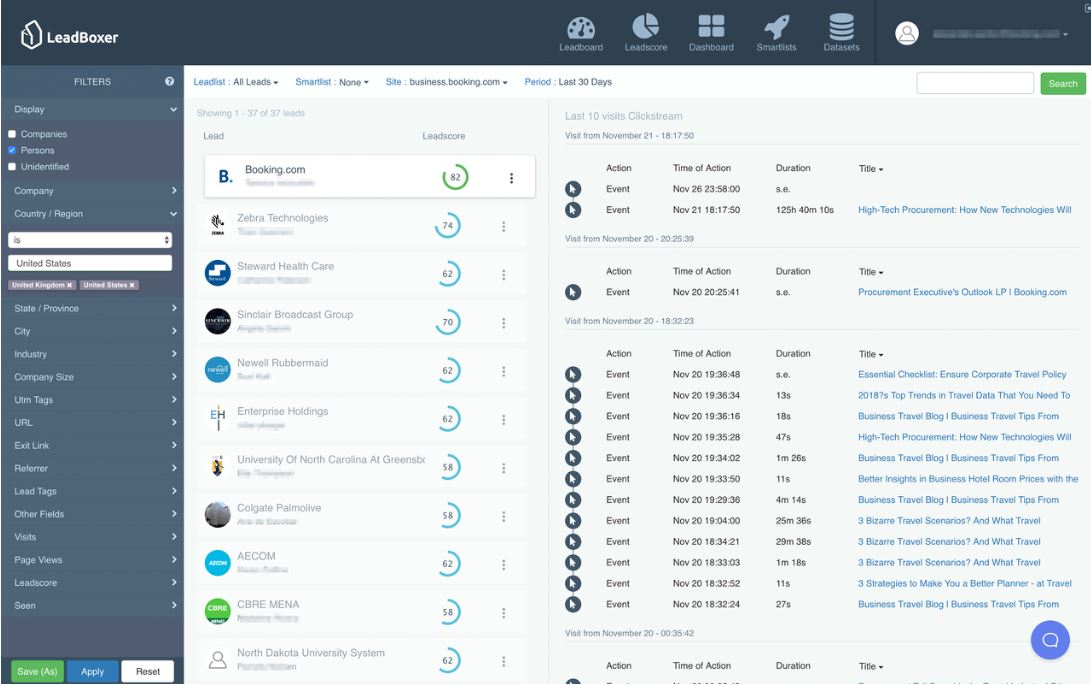 LeadBoxer is a sales tool that grabs information from your leads when they start their buying journey. The tool identifies and collects information like a visitor's company name, when they visited your website. And even what actions they took when they were there.
In other words, LeadBoxer collects your website and email newsletter data and identifies, segments, and scores your leads automatically based on their behavior and profile data.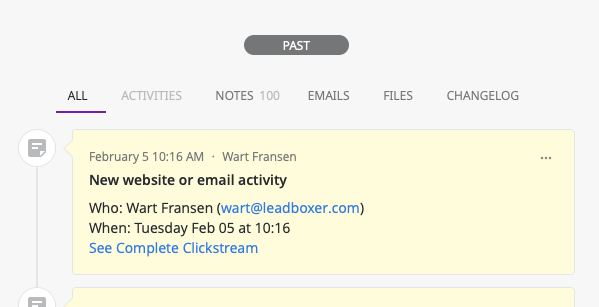 Once all this valuable data is collected, it is fed directly back into your Pipedrive database. Which will automatically update deals, persons, and companies.
Looking for more qualified leads?
We offer Lead Identification and Lead intelligence through website & email tracking
Adlots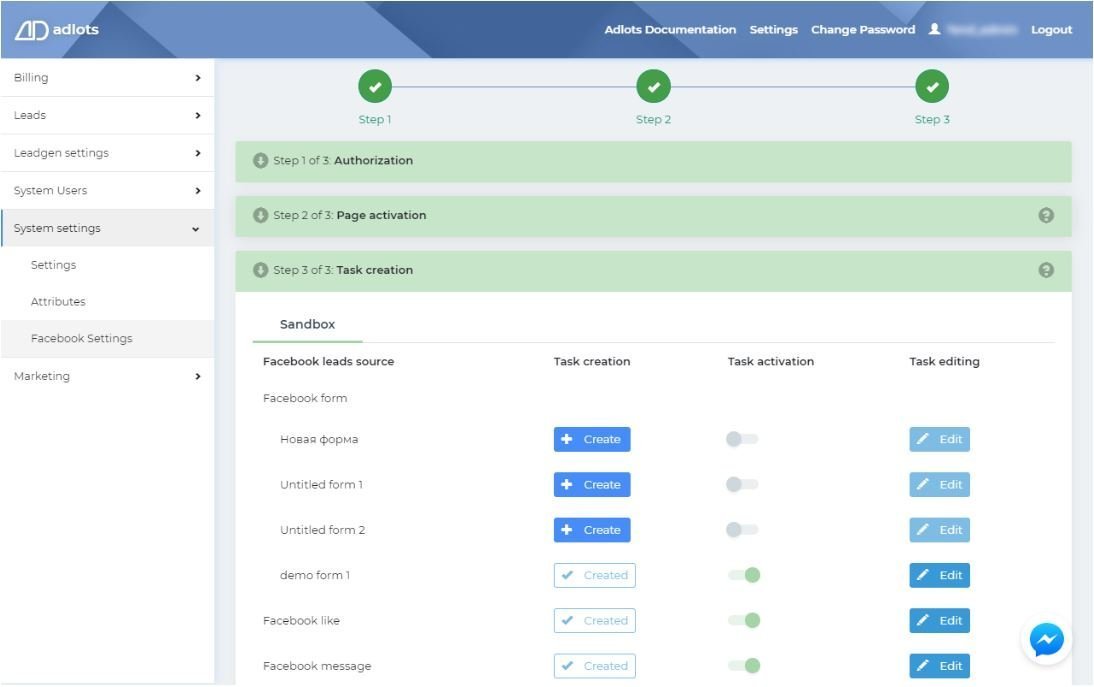 This integration from Adlots gathers leads using an algorithm. Every time a lead interacts with your website, Facebook page, or submits a form, Adlots will scrape their details for you.
Adlots will store the information from every website visit and also track the lead media source. Leads and deal cards are then automatically created for you based on the data scraped by Adlots.
The tool also gives your lead a quality score. If they've visited your site a bunch of times or handed over their contact information, their score will be higher on the tool's dashboard.
Once your leads have been found, you can then distribute them amongst your sales team. And even put them into different pipelines. Adlots allows you to assign values of specific fields in leads, deals, and organization cards so you can match them with the perfect rep on your team to close a deal.
SnapADDY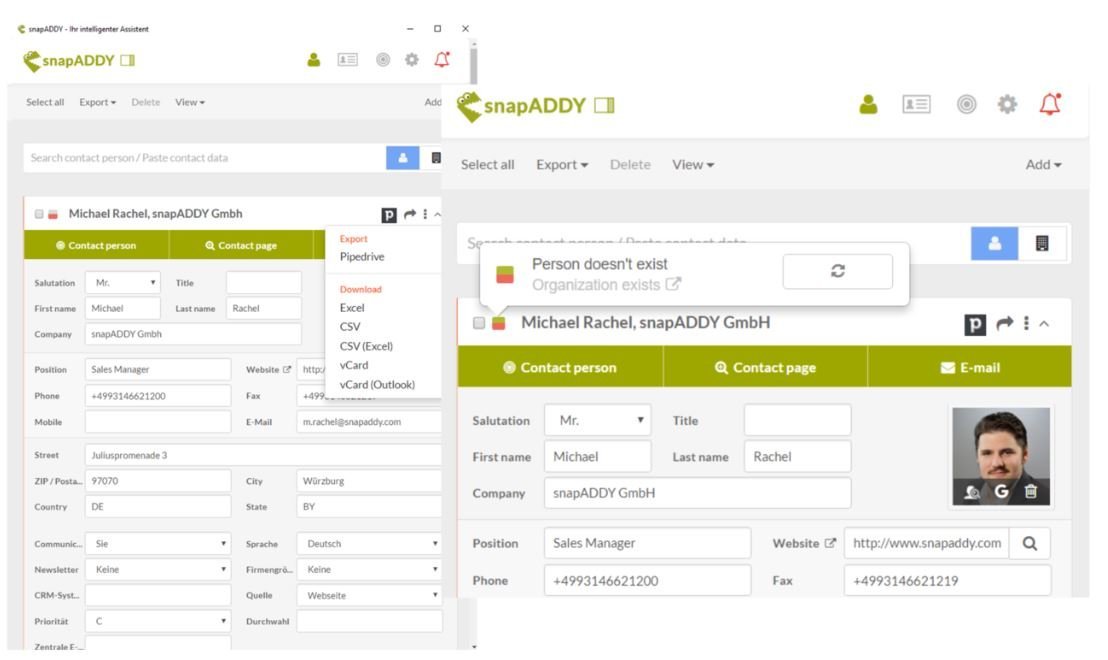 With snapADDY, your sales team can automatically transfer newly found contacts and addresses directly into their Pipedrive dashboard.
The big win with snapADDY is that it's built to shorten the pre-qualification process for your sales team. All your sales reps need to do is highlight the address data in an email or a web page, and snapADDY will transfer it into your CRM. You can also use it to transfer data from Linkedin and automatically send company data straight to Pipedrive.
No matter what the format of the email address, snapADDY recognizes the data reliably.
The tool can stop sales reps from doubling up on lead information, too. It has a duplicate recognition tool, so your rep will know if a contact already has a spot in your Pipedrive account. If a contact already has an email address in your Pipedrive account but you've found another address, snapADDY will add to their contact information.
Best Integrations for Boosting Productivity
Zapier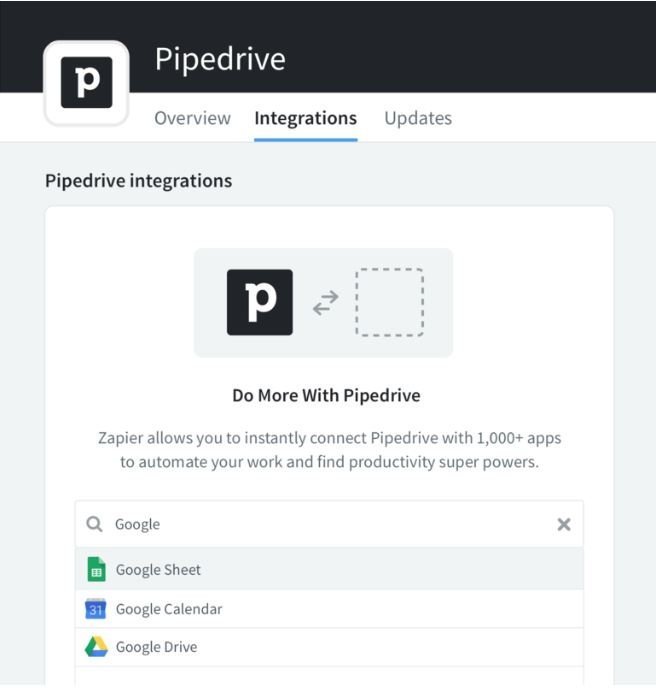 If you don't already use Zapier, chances are you are missing out on a massive opportunity to implement your current tools using the king of integrations!
Zapier is an app that allows you to automates tasks between other apps by following a recipe you create. Simply put, you tell Zapier what you want to happen when A meets B. For example: "When I get a new lead in Leadboxer, add that contact to a Trello card"
By integrating Zapier into Pipedrive, you're able to connect Pipedrive with more than 500 business apps and create a workflow with unlimited steps. Some sales teams use Zapier to connect marketing platforms to Pipedrive, while others find it useful for taking care of the boring stuff like inputting business cards.
However you use Zapier, one thing is for sure—you're going to save time.  
Dealbot for Slack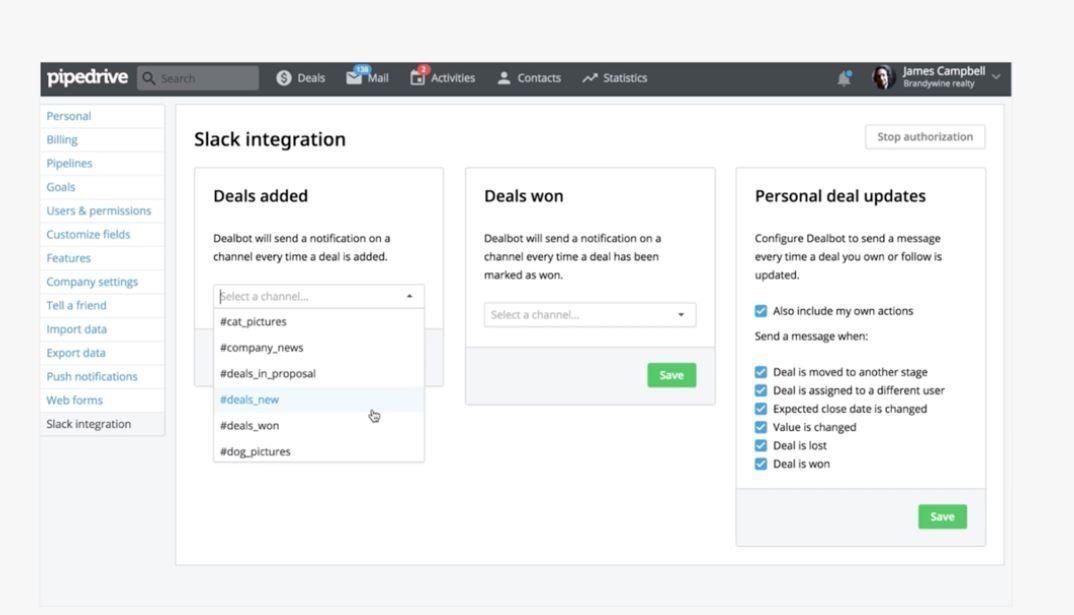 Team collaboration tool Slack has built a special integration specifically to work with Pipedrive—Dealbot for Slack.
Using this Pipedrive integration, your team can send and receive instant deal updates. This is ideal for coordinating multiple people to help close deals across your sales teams. Or if you just want to keep everybody in the loop about what's going on with a deal.
You don't need to do anything. No more meetings or lengthy emails with your sales team. The Dealbot will automatically handle it directly within Slack from the information being passed around in your Pipedrive dashboard.
Fireflies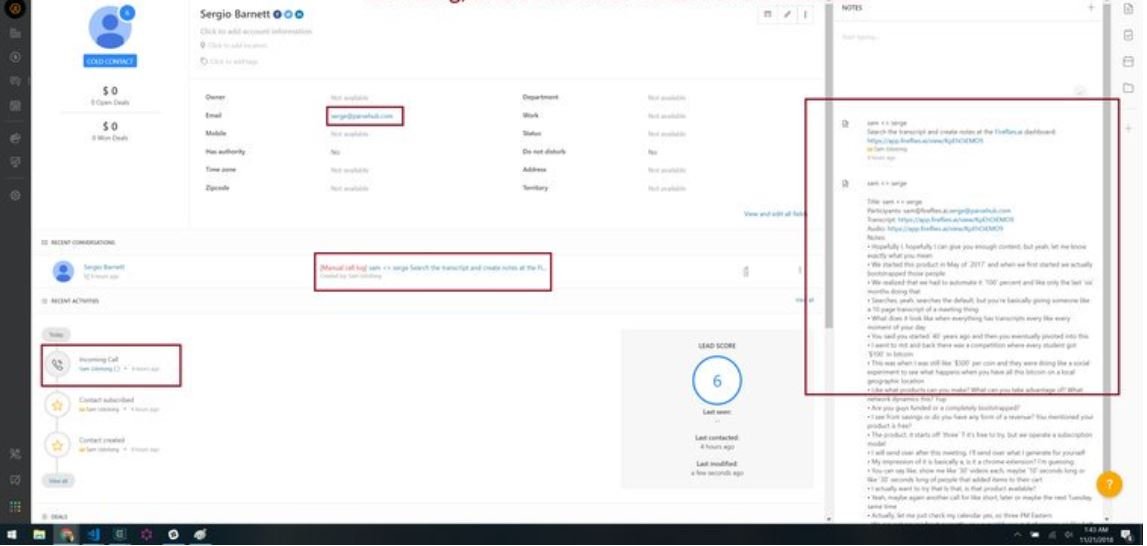 Fireflies is an AI integration that joins in on your sales meetings and takes notes for you. It works by recording the audio from your meeting and translating it into call notes and a complete transcription in your Pipedrive dashboard.
Not only will this save your team a load of time completing manual data entry. Fireflies will also make sure records of every single meeting are kept automatically on file.
It also works for interactions with prospects, too. Once you turn it on during a phone call, the integration will make a full transcription of your conversation with your prospect. This will help you build a more powerful relationship with them, and you won't ever have to take notes of your phone calls again.
SigParser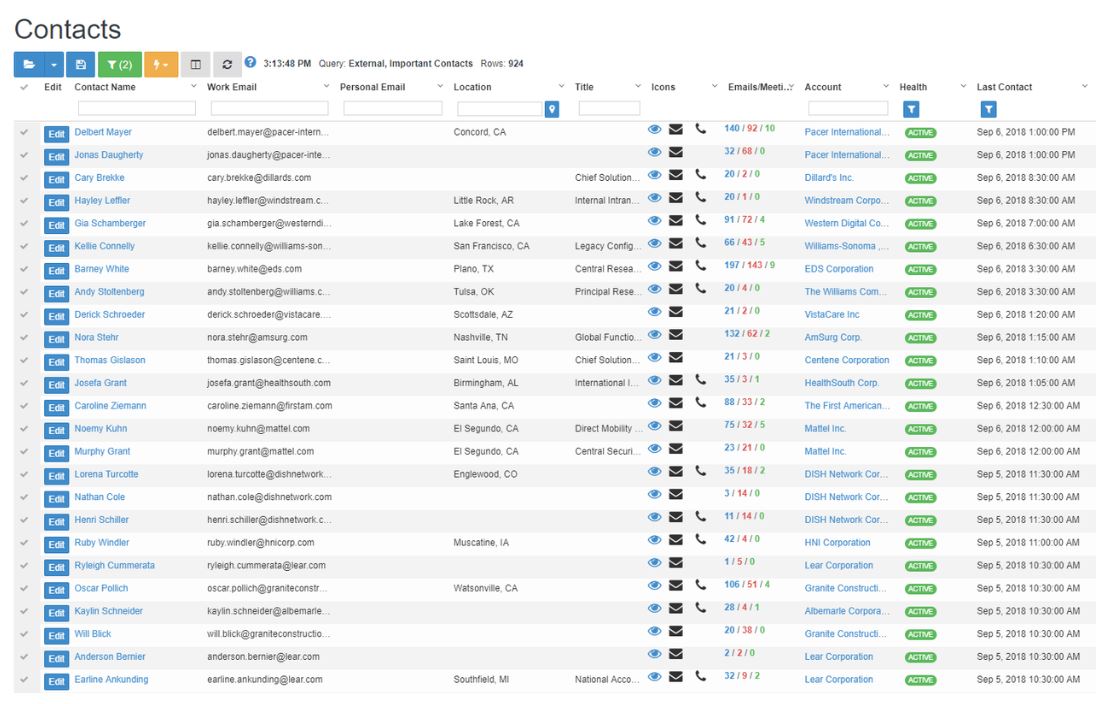 SigParser crawls your emails and looks for new email signatures.
This integration is super handy because a lot of email signatures also have juicy contact details like phone numbers, addresses, and titles in them too. Whenever SigParser finds a new signature, it scrapes all of the details, feeds them into your Pipedrive account, and creates a new contact for you.
If your sales team sends a lot of outbound emails hunting new leads, this can save them a ton of time. Plus, the data will be valuable as it comes straight from the prospect's own email signature.
Best Pipedrive Integrations for Lead Engagement and Email Marketing
Klenty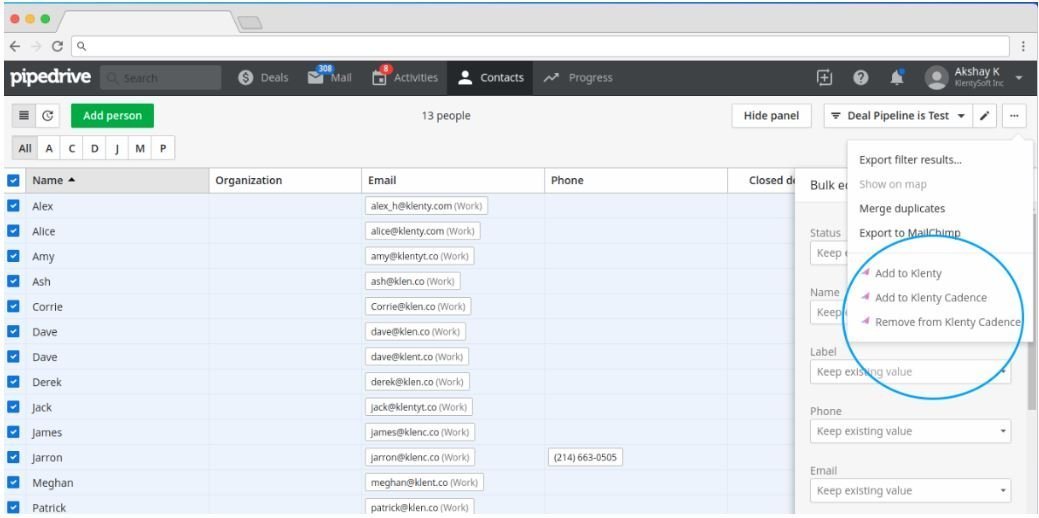 This integration from Cliently allows sales teams to manage lead engagement within Pipedrive.
Using Cliently, your sales team can stay on top of their contacts and engage them by sending personalized emails. Not only that, but the integration also gives you the power to send quirky engagement messages through video, physical postcards, handwritten notes, and gifts directly from within Pipedrive.
Sometimes, prospects want something more than just a bulk standard cold email. Cliently can help you bridge that gap with your prospects.
Autopilot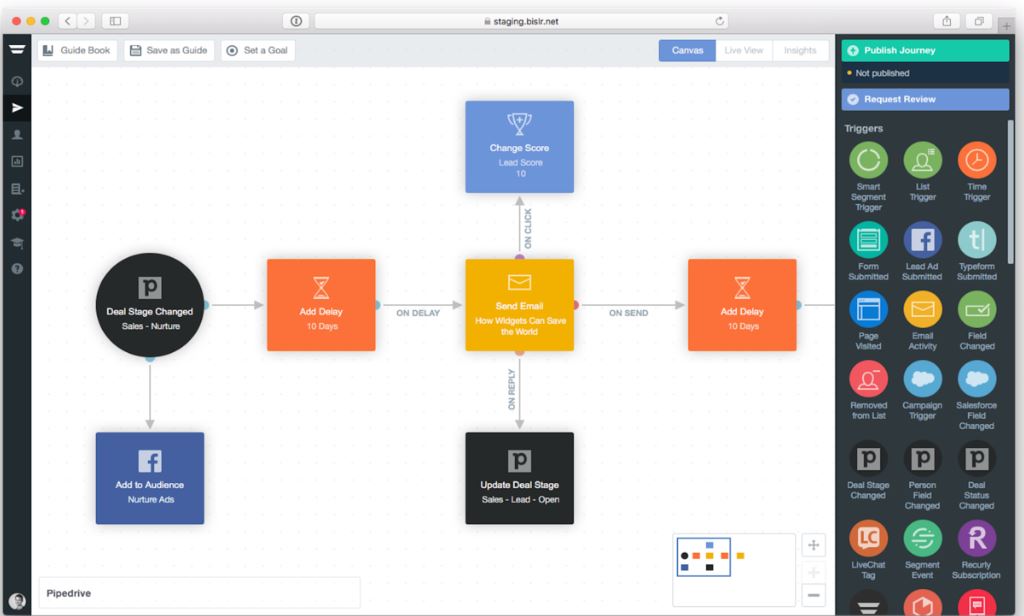 Autopilot is a smart integration for your email marketing campaigns because it gives you a birds-eye view of exactly what your campaign will look like. From start to finish.
By using Autopilot's visual marketing automation, you can build campaigns using a drag-and-drop builder. This allows you to automate repetitive tasks, improve your sales workflow, and win more business by nurturing leads that aren't ready to buy.
Autopilot's big advantage is nurturing your leads automatically based on where they're at in your pipeline. The tool can also schedule tasks based on activities like someone filling in a lead form.
It will also score your leads based on their buying behavior and feed the information straight to your Pipedrive dashboard.
Best Pipedrive Integrations for Accounting and Invoicing
Paycove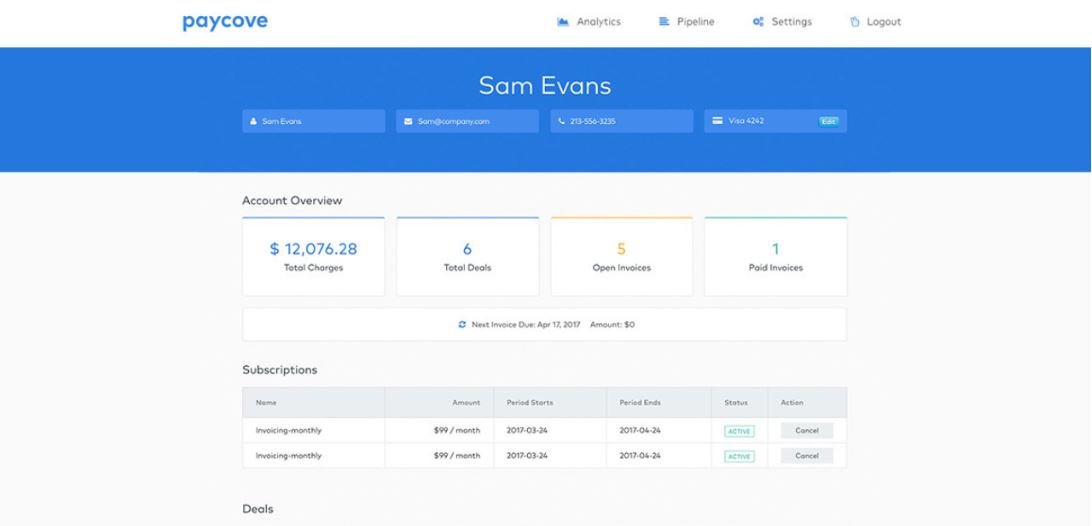 Invoicing tool Paycove can automatically create custom quotes and invoices that sync with your data in Pipedrive.
This Pipedrive integration allows sales teams to move a deal to a selected "trigger" stage in their sales pipeline, and Paycove will automatically generate and email an invoice. Worried that the invoice or quote won't be 100% accurate? Don't be. The quotes and invoices in Paycove are always synced with deal, contact, product, and custom fields data in Pipedrive.
Once an invoice is sent, the app will update all your deals automatically, and alert you once a client has paid, too. It's a perfect way to cut out an element of time-wasting data input from your sales team. So they can spend more time selling.
Socket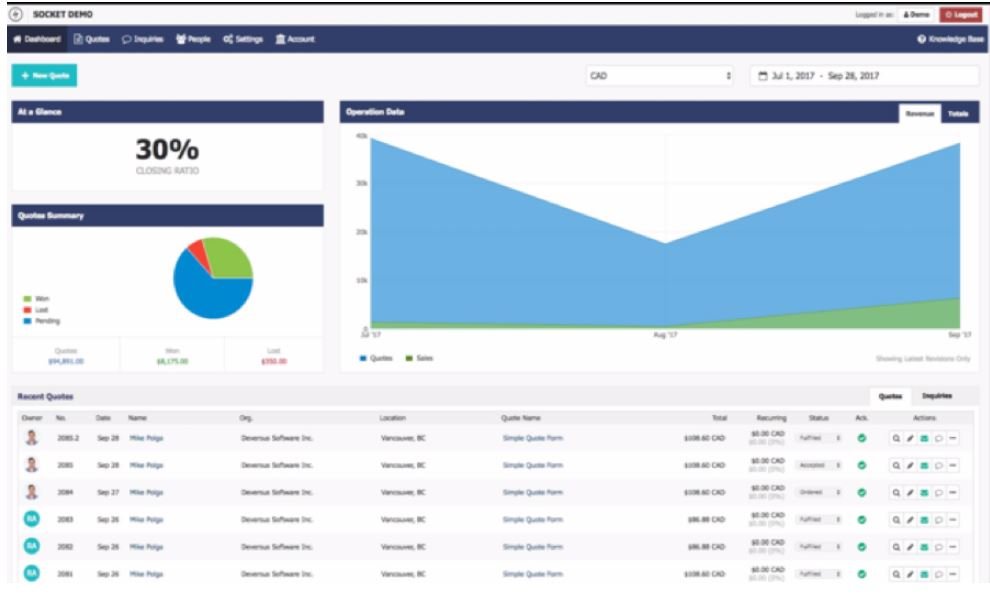 Socket was built with one goal in mind—making sure you get paid faster.
The cloud-based Pipedrive integration can eliminate mistakes in your quoting process through a simple template system. The tool automates the process of configuring, pricing, and quoting so your reps can send off quotes in seconds without second-guessing the end figure.
When a quote is created in Socket, the client's information will be automatically added to your Pipedrive account. And a deal will also be built in the CRM dashboard. The quote will be attached to the deal, so you can follow up with a lead about an opportunity without having to rummage through emails.
Use the Right CRM Integrations to Help You Save Time & Increase Results
If you're using Pipedrive, there's a good chance you're using the tool to keep your sales team on track. But if you aren't taking advantage of Pipeline's massive list of integrations, you aren't using the CRM to its full potential.
Pipedrive has teamed up with some of the biggest names in productivity, lead generation, and engagement to automate tasks that will save your team a huge amount of time, and ensure they stay on track.
Don't be afraid to automate daily tasks—your sales figures along with your bottom line will thank you in the long run for this Pipedrive integrations.
Looking for more qualified leads?
We offer Lead Identification and Lead intelligence through website & email tracking