There is a ton of information available out there about search engine optimization (SEO). Because there is so much information available, it is easy to stumble on misinformation that will steer you in the wrong direction.
That is why, in this post, we will help you understand how to create your first SEO campaign.
When you follow our tested and refined SEO campaign tactics, your organic traffic will increase and you'll be able to more efficiently grow your business.
All of the tips that we are about to share are actionable, easy to implement, and very effective. Best of all, they work for businesses of all sizes (from small businesses or startups to publicly traded companies).
If you're ready to grow your business by launching a well-executed SEO campaign, then you should continue reading this article.
Enjoy these actionable tactics for increasing your search engine ranking:
1. Link reclamation
The tactic of link reclamation is a simple, yet potentially very effective one.
Link reclamation means that you look for places where your brand has been mentioned and see if the mention includes a link to your website.
If the mention of your brand doesn't include a link to your website, you then reach out to the people or person who wrote about you and politely ask them to add a link to your website.
The conversion rate of emailing people to get a link place on a website is surprisingly high; which means you get more of those valuable backlinks back to your website.
Backlinks are important for increasing your search engine rank because they signal to search engines that you are a trustworthy website. You became a trustworthy website when a lot of people link to you because a link back to your website, from another website, is a subtle endorsement of your content, product, or service. The more backlinks you have to your website, the higher you will rank on search results.
To help you with reaching out to people who have written about you, but not linked back, we've created a simple email template that you're free to use:
Hi <first name>,
I noticed that you mention <your brand> in your recent article <name/link to article>. We really appreciate it!
However, we saw that you didn't link to our website in your article. Would you be able to update your post with a link to our website when you mention our name? To save you time, here's the URL we would appreciate you linking to: <url of your website>.
Thank you in advance, and we really appreciate your mention of us. It really means alot to us.
Also, if you need any additional information on <your brand> I would be happy to provide you with anything else you may want.
2. Find the questions that your buyers are asking
When you find the questions that your target buyers are asking, and then write a solution, you have taken a great step forward towards finding new customers via search engines.
Once you figure out the questions that your target buyers are asking, you can align your content and keyword strategy around these questions. This means that you can create content that is relevant to your target buyer and also subtly promotes what you're offering.
When your target buyer discovers you on a search engine while they're looking for an answer to his or her question, they are meeting you at a time when they are looking for a solution. This is an opportunity for you to present yourself as a solution at a very impactful time in their buying journey.
An example of creating content around questions:
If you are a lead generation product, like LeadBoxer, you might use the term "lead generation" to craft a content strategy around. Using this keyword, we might start answering questions along the lines of:
What is lead generation?
What are the best lead generation tools?
Does lead generation help grow businesses?
How can I improve my lead generation?
What are the best lead generation tactics?
The above examples show you how you can use search engines to find people who are looking for information relevant to your product or service. It's the perfect way to find new customers that are in the information-seeking/buying state of mind.
If you're having a hard time thinking of questions to answer on your blog or website, we recommend using Quora as a tool. Quora is a question-and-answer website, where people ask questions in hopes of getting responses from industry experts.
Here's an example of what we see when we type in the term "lead generation" into Quora. You can see that search results are great blog post ideas: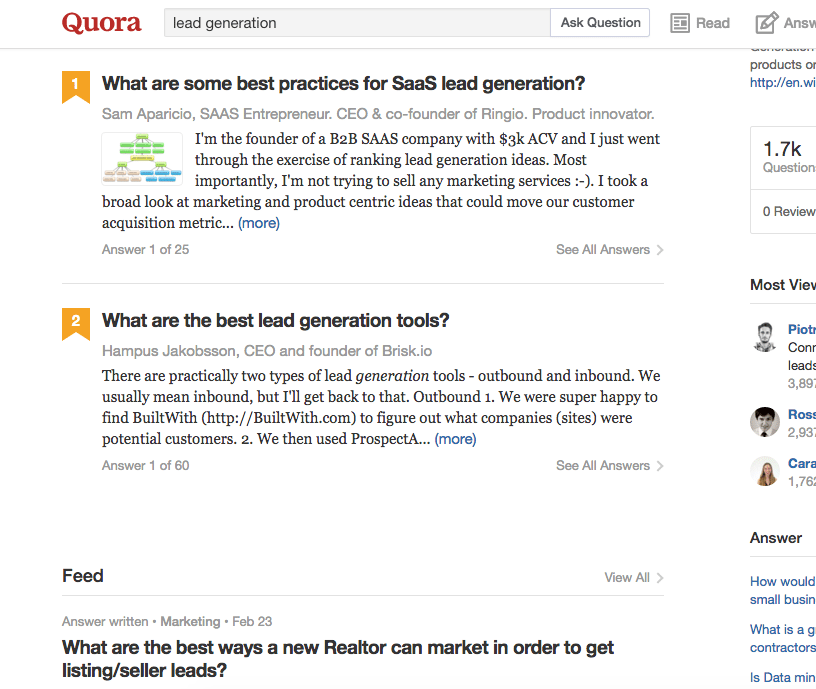 It's idea overload! An added bonus of Quora is that we know that these questions are actually relevant to our buyers, which means us providing answers to these questions on our websites could turn out to be pretty lucrative over time.
3. Link to influencers
Linking to influencers is a great tactic for your SEO campaign. Linking to influencers within your content is valuable because it helps your content get shared by industry leaders.
Industry leaders are often willing to share posts that they are mentioned in because it helps reaffirm their industry expertise (and probably also because of the ego boost they get from being mentioned!).
Once you have content that mentions an influencer, it's key that you actually reach out to him or her to ask if they'll share what you've written.
To start your influencer outreach, we recommend taking the following steps:
Create a list of influencers that are relevant to the content you're creating.
Find information and resources from the influencers you've identified.
Look for the emails and social media accounts of the influencers.
Publish your content that mentions the influencers (with links back to them).
Reach out to the influencers by email to tell them that you've mentioned them in your content.
Send your influencers messages on Twitter, reminding them that you've featured him or her in your content.
How does this help your search engine ranking?
This strategy will help you build to improve your search engine ranking because when an influencer shares your content, it's a lot more likely to be shared and linked to elsewhere.
When your content is shared and linked to elsewhere, it helps you get more of those valuable backlinks that we talked about early. As a reminder, backlinks help establish you as being reputable. When you become more reputable by having a lot of backlinks to your site, you rise in search results.
4. Use Help a Reporter Out
Using the website Help a Report Out (HARO) is a great way to get some very high-quality backlinks to your website. HARO provides journalists with a database of sources for their stories, with story opportunities being sent to sources throughout the day. This resource is a fantastic way for you to secure media coverage.
If you find the right reporter and story on HARO, you could very well end up being linked to in a big publication like The New York Times or Bloomberg Businessweek.
Having a big publication link to you is immensely valuable for your company and SEO campaign because that backlink is a giant signal of your trustworthiness; it establishes you as a reputable authority.
It's pretty easy to see how having The New York Times link to you demonstrates your trustworthiness and authority, but even getting media coverage from smaller publications will have an impact on your organic search traffic.
5. Create a roundup from experts
Creating a roundup of information from experts is somewhat similar to our earlier SEO campaign tactic of linking to influencers.
An expert roundup is simply an article where a question is asked, and a list of experts offer their thoughts and responses to the question.
Our list for how to get started with an expert roundup is going to look very similar to our linking to influencers strategy:
Create a list of influencers that you want to form a relationship.
Reach out to the influencer and ask them a simple question. Their answer will be featured in your roundup.
Once the post is live, let them know that it's online. In this message, you should politely ask them to share the post and also ask if you can keep in touch for future projects.
This simple tactic for reaching out to influencers will greatly impact your organic traffic from search engines since it increases the likeliness that you'll receive valuable backlinks.
This SEO campaign tactic also has the added benefit of helping you build relationships with the people that matter most in your industry (which is somewhat unrelated to SEO).
6. Remember on-page SEO best practices
Utilizing any of the SEO campaign strategies we've mentioned so far is pointless if you aren't remembering on-page SEO best practices. That's why we're going to quickly remind you of what the best on-page SEO best practices are.
Here are some of the on-page SEO best practices you need to be the following:
Title tags: Title tags make up the <head> portion of your HTML markup. A good title tag will help you get better search engine click-through-rates, while also helping search engines organize your content correctly. When writing your titles, make sure that you include a keyword that matters for your content so that you have a shot at ranking for what matters most to you.
Meta descriptions: Meta descriptions apparently won't impact your search ranking, but they matter. They matter because this is where you write a description of what is on your page. You should write a description that draws attention to you in the results so that your click-through-rate increases.
H1 tag: The H1 tag is simply the title of your content. It helps search engines better understand what your page is about.
If your site is built using WordPress, we recommend that you install the Yoast SEO plugin. This plugin will help you make sure you don't forget about any key on-page SEO basics, while also helping you understand if your page is as optimized as possible for SEO.
Now what?
We've covered a handful (of many!) SEO campaign ideas. However, to really benefit fully from ranking better, you need to implement ways to collect leads. When you collect leads, you're maximizing your increased organic traffic and discovering more potential business growth opportunities.
If you want to collect leads, with no forms or buttons, we recommend trying LeadBoxer. It's free to try and it helps you turn your anonymous web traffic into big sales.
Click here to try LeadBoxer, for free.