Lead generation is an art. Gathering up high-quality sales leads takes skill and intense planning. When you implement the best lead generation ideas with smart planning you will drive big business results.
When trying to think of lead generation ideas for a business, even the most experienced marketers and sales managers can stall when coming up with ideas.
To help inspire you to try some new lead generation ideas, we're going to review 13 amazing lead generation ideas that work.
Try these lead generation ideas to grow your revenue:
1. Create a blog
Creating a blog is one of our favorite lead generation ideas. This is because a blog is critical for any inbound marketing efforts. Because content a critical component of the online lead generation world, you should be making content that you know your target audience will find value in. When you consistently blog and allow your target audience to discover value in your brand (through your content), they'll start engaging with you for a longer amount of time. The longer amount of time that a person engages with you before taking the plunge into a free trial or email newsletter signup, the more likely it is that they'll eventually pay for your product because they trust you.
Repeat users are sales gold. When people come back, you have more opportunities to close more deals.
2. Create a promotional video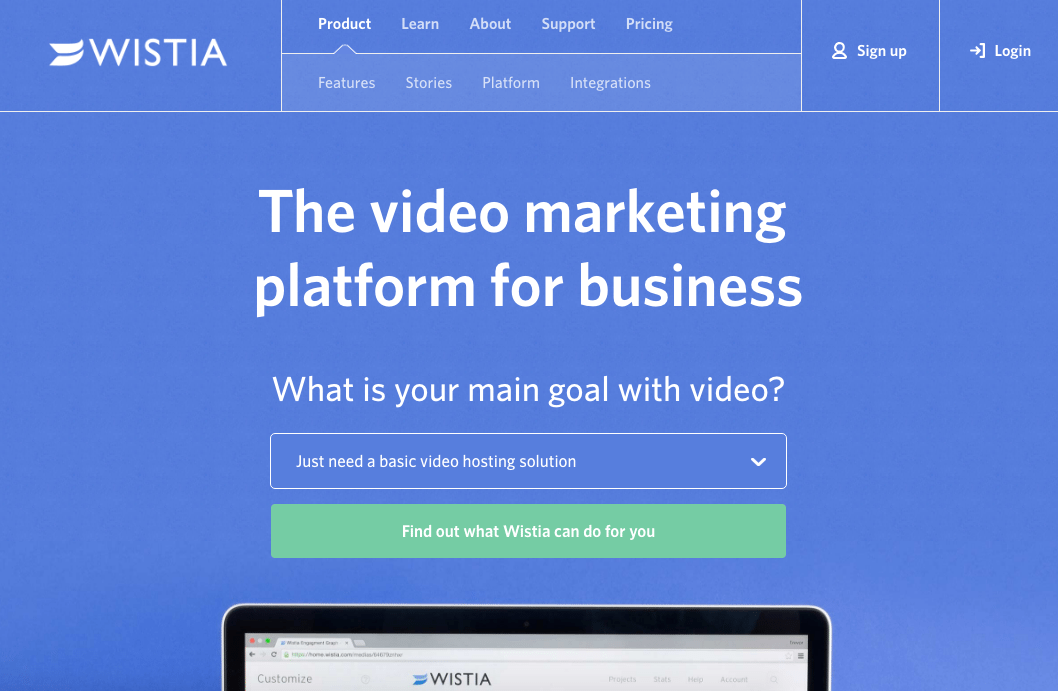 Creating a promotional video can go a long way when it comes to landing more high-quality leads. When you combine a high-quality video with a tool like Wistia, which gives you the ability to add call-to-actions into a video, you can really increase your lead generation efforts.
While videos can be very powerful, there are a few important things to keep in mind:
Keep your video short.

Consider posting your video on not just landing pages, but also Facebook, Twitter, YouTube, and more.

Don't release a low-quality video. A low-quality video will give people a terrible first impression of your product and will negatively impact your brand.
3. Use content upgrades
If you are already making content, content upgrades are a fantastic and simple thing to implement to begin collecting more leads.
A content upgrade means that you provide high-quality content to your website visitors, but then require them to opt-in to finish receiving the quality that you're offering.
For example, we could easily add a content upgrade to this article that you're reading, 13 amazing lead generation ideas that work. We would give you 13 great lead generation ideas, but right after idea #13, we might have an opt-in box that says something like "Join our newsletter to get 5 more great lead generation ideas!"
4. Write guest blog posts on other websites
Writing guest blog posts on other websites is a widely used tactic that a lot of people have found to be greatly valuable. To get started on guest posting, find websites where you know your target audience hangs out and reach out to the owners. Ask them if you can write a post. If they say yes, start writing your post for them! When you write your post, it's vital to remember that you need to write a post that offers value to the readers of that website. Don't be salesy and try to send people to your website. Your goal is a high-quality backlink to boost your search engine ranking.
5. Invite guest bloggers to post on your site
For the fourth idea, we recommended that you guest post on other sites. This is a two-way street and you should consider letting others guest post on your blog too. The reason why you would write a guest post is that if the person writing your post has a large audience, they'll share their post with their audience and send quality traffic to your website.
As an added bonus, the person who is writing your post will be a lot likelier to become a customer of yours when they have the problem that your business solves.
6. Make your landing pages simpler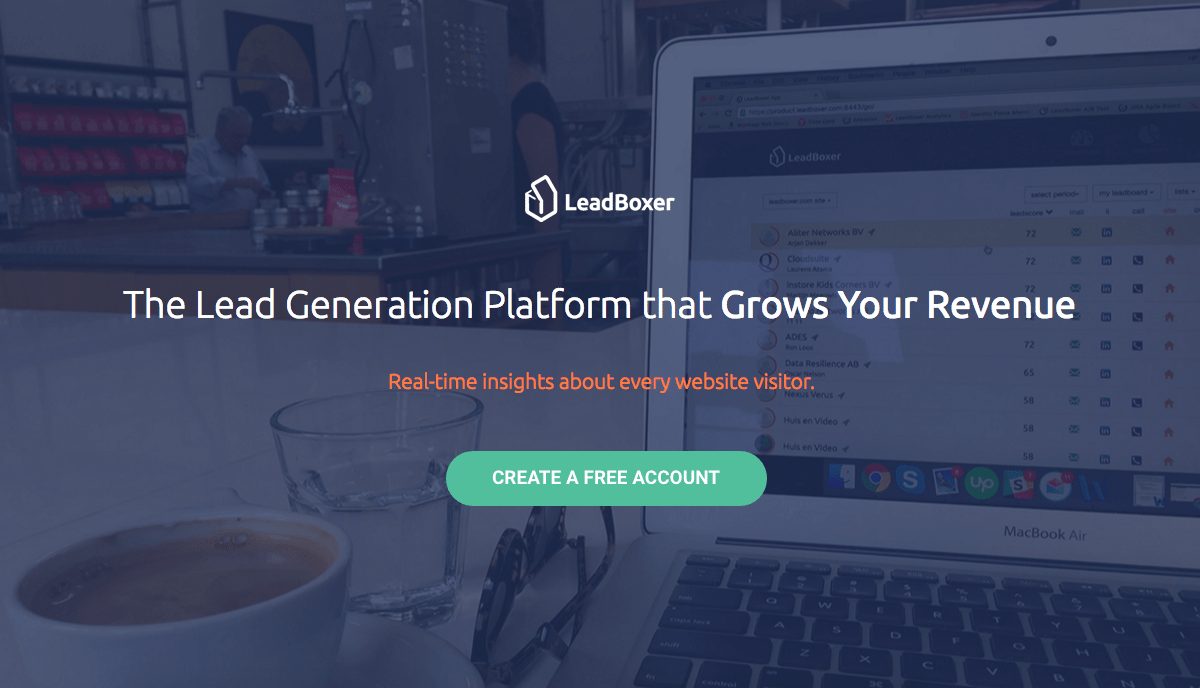 People often accidentally make landing pages that are far too complex. Simplifying your landing pages to more clearly display your call-to-action items could have a significantly positive benefit on your revenue.
Making your landing page simpler means making it more focused and straight to the point. Tell your landing page visitors exactly why they need your product and make it clear where they need to press to get started.
7. Add testimonials to your landing pages
Adding testimonials to a landing page is a simple and VERY effective way to increase the amount of sales leads that you generate. Testimonials allow visitors to know that you're effective, trusted and that people already enjoy using your product.
To find testimonials, you can look around Twitter, customer support emails, and more. When you find great testimonials you should reach out and get permission to publish them.
8. Find leads using Twitter search
Many people forget that Twitter has a great Search Tool. You can use the Twitter search to find people talking about topics related to your product and then reach out to them in a meaningful way. You can share blog posts that you've written with them, link them to your website, and similar. If you can engage with a person on Twitter in a meaningful way, they'll likely engage back with you and your brand.
9. Create mobile-specific landing pages
Mobile landing pages are really important to remember. This is because mobile traffic continues to grow at a staggering rate, and a lot of your leads are going to be on your landing pages while on their phones.
With this in mind, you need to make sure that your call-to-action buttons are optimized and easy to view on mobile devices. Additionally, you should make sure your forms are short so that mobile users don't need to do a lot of typing to hand over their information to you.
10. Remove menus from landing pages
We've talked about simplifying your landing pages to improve the amount of sales leads that you get. This tip falls into the simplify bucket. When you remove navigation items from your landing pages, you remove distractions. People no longer have the option to browse away from your key page, so it becomes a lot more likely that they'll press the call-to-action that points them towards your business goal.
11. Create SlideShare presentations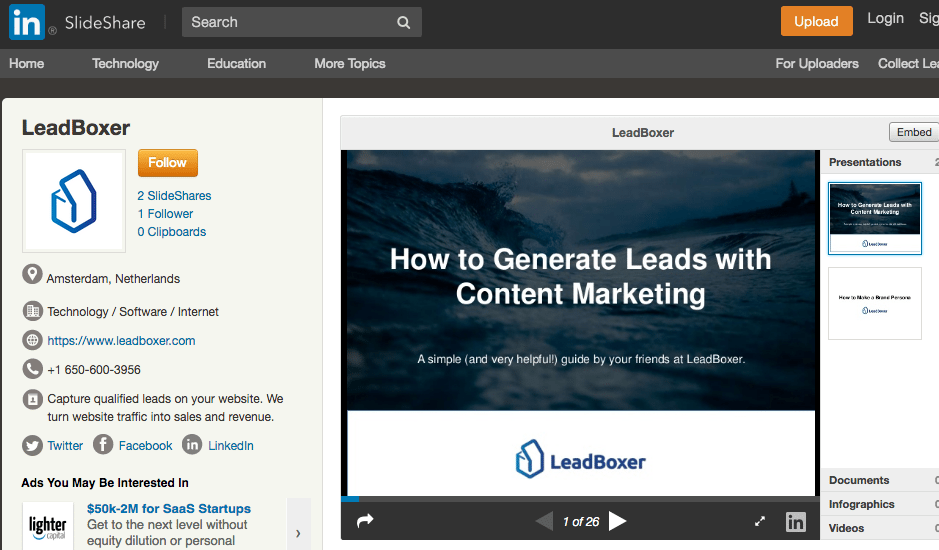 Creating a SlideShare presentation is a great way to send high-quality traffic to your website and people into your sales funnel. This is because SlideShare is an online community owned by LinkedIn where people can upload and share slide presentations.
Making presentations is valuable because slide decks are often very shareable content. SlideShare for marketing is a good option. It's a simple way to get great brand exposure. Additionally, the worst-case scenario, if it doesn't drive tons of traffic, is that you've spent time working and learning more about topics that matter to your business.
12. Create Twitter lead cards
Twitter Lead Cards is an insanely powerful lead generation tool that lets you collect leads directly on Twitter. You can send out a Tweet with your lead card and then when a person presses your CTA button on the Tweet, you automatically get their email address. A person can enter your sales funnel without ever leaving the Twitter website or app.
13. Add security seals to your landing pages
Many people feel like adding security badges feels outdated, but they work towards driving results. Adding simple security seals such as the SSL certificate logo or a Better Business Bureau logo will help people trust your brand more. When people trust your brand more, they are A LOT more likely to enter your sales funnel as a lead.
Now what?
Now that you know how to collect more leads, you need to figure out how to get more value from each lead. More value from each lead means knowing as much as possible about your leads before you contact them. This is where a tool like LeadBoxer comes in. LeadBoxer makes it so that when a person fills out your forms, you automatically gain great information about your leads. You'll learn about the pages the person has visited, what type of company they run, how many people work for their company, and much more.