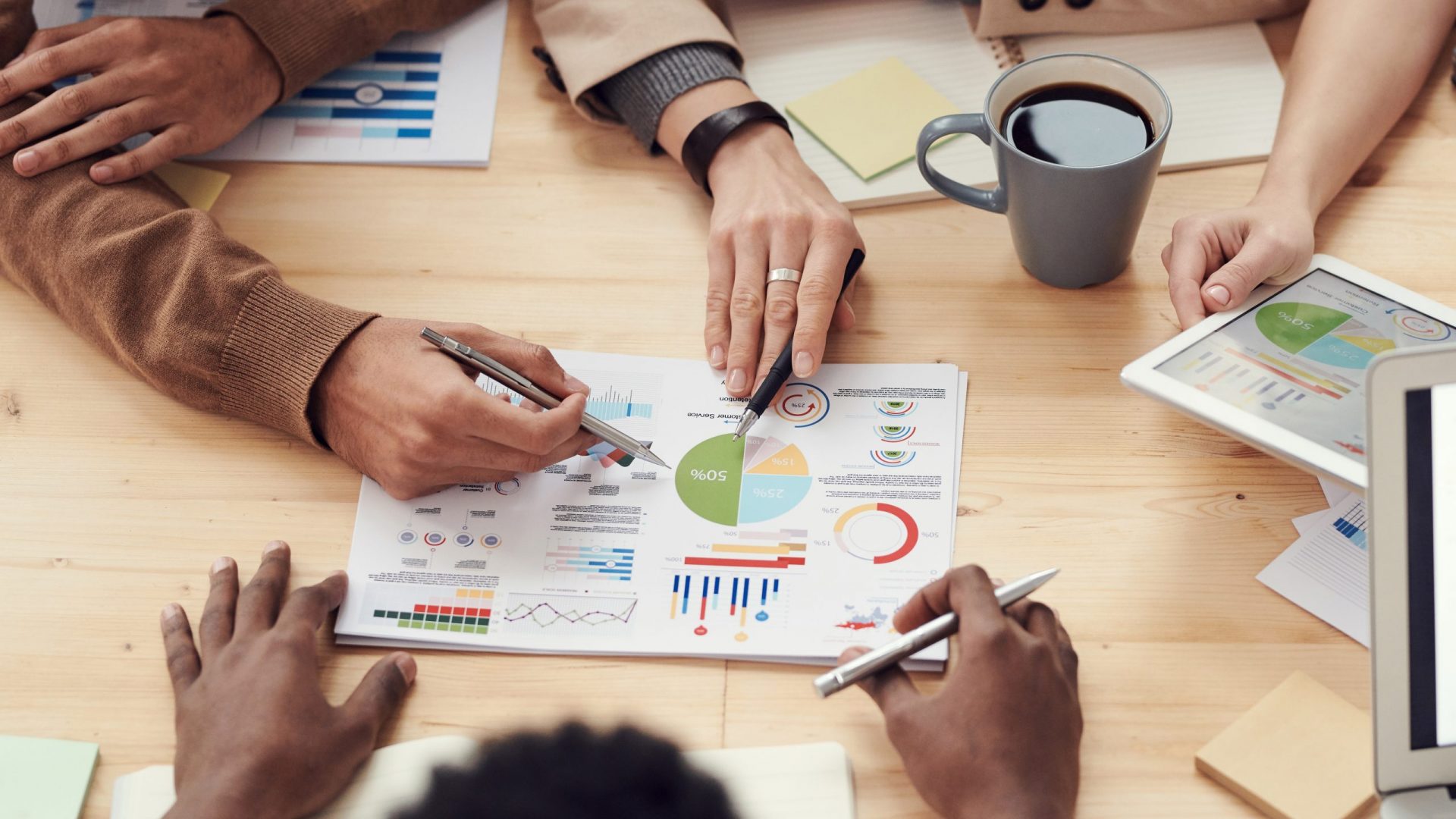 Engaging with a sales rep may be the core of a B2B or high-ticket item buyer's journey, but lead nurturing is what moves the process along. Without a personalized marketing experience filled with carefully timed emails and retargeted ads to keep you top of mind, many of your leads could stall out or fall through the cracks.
Lead nurturing software automates much of this process, letting your sales reps stay focused on high-touch connections. With lead nurturing software, you can deliver tailor-made emails, texts, and other content in response to any number of lead behaviors, all at scale.
Whether you're a small business with a limited budget or enterprise-level operation, there's a lead nurturing solution and demand generation marketing strategy that's the right fit for you. We've compared the pros, cons, and costs of the 12 best lead nurturing software options to help get you started:
What is Lead Nurturing Software?
Lead nurturing software cultivates a relationship with your lead even when your sales reps are off the clock. It usually works closely with customer relationship management (CRM) tool to deliver personalized content to prospects after they exhibit certain behaviors, like downloading an ebook or clicking on a link in an email.
Features you'll likely find in lead nurturing software include:
Email Automation – Automatically send emails to leads depending on where they are in the sales process, then move them in the pipeline based on how they respond to the email.
Lead Scoring – Assign leads a number value describing how engaged they are with the process so sales reps know who to focus their attention on.
Campaign Management – Create campaigns across different platforms to engage with leads wherever they are.
Personalization – Switch up the messaging, tone, or details of content based on a lead's characteristics and preferences.
Lead Segmentation – Group leads according to their characteristics or behavior in order to deliver them the right content.
The 12 Best Lead Nurturing Software Options
Whether you want just one feature or all of them, chances are there's a lead nurturing solution to suit your needs.
1. LeadBoxer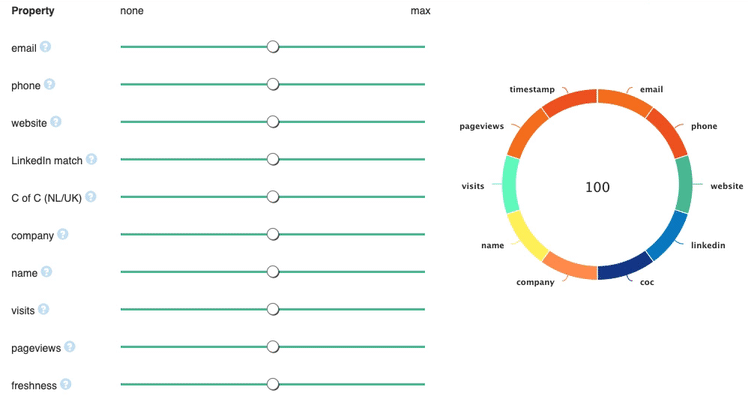 LeadBoxer primarily nurtures leads through its lead scoring technology. The software assigns each prospect a number expressing how likely they are to buy based upon their previous behavior and interaction with your brand. With this level of intel, sales reps know exactly who to direct their attention to so they can better engage with top prospects.
Pros:
Includes lead segmentation for easy grouping and filtering
Website and email tracking gives you insight into who to retarget and what content to serve them with
Can identify and track anonymous leads
Cons:
Doesn't include email automation or drip campaigns
Doesn't include campaign management
Cost: LeadBoxer starts at $195 per month and includes everything you need to track and score leads.
2. Nutshell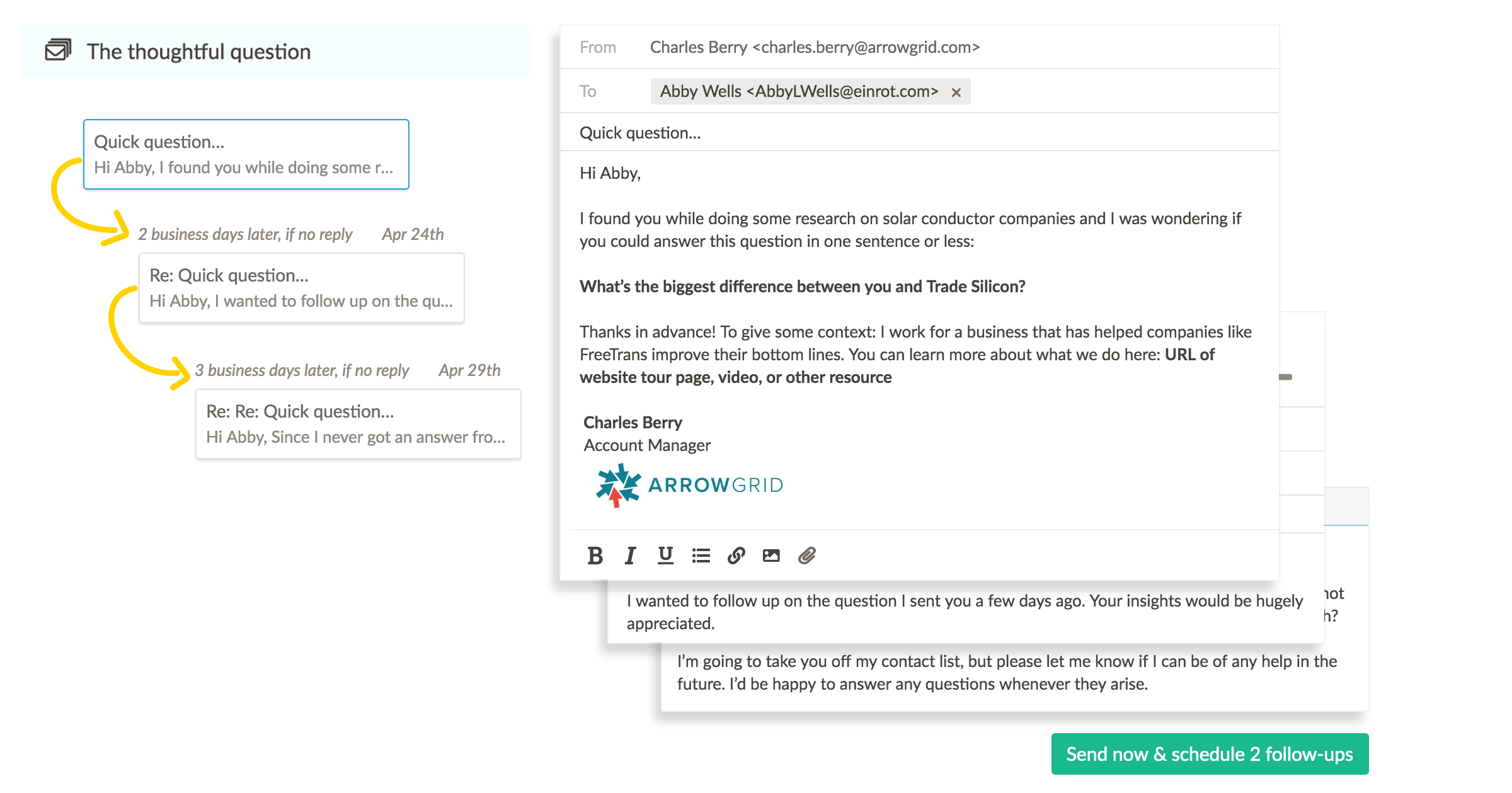 Nutshell is first and foremost a CRM that manages your sales pipeline. However, it comes packed with tons of lead nurturing features like personalized email campaigns and automated messages for each stage of the sales process, making Nutshell a good fit for small businesses that need an all-in-one tool.
Pros:
Combines pipeline management with basic lead nurturing
Lean and intuitive interface
Includes reporting function that analyzes how well your lead nurturing activities are working
Cons:
Not as many automated marketing features as HubSpot or SharpSpring
Starter plans don't include all email automation features
Cost: Nutshell's plans start at $19 per user per month.
3. HubSpot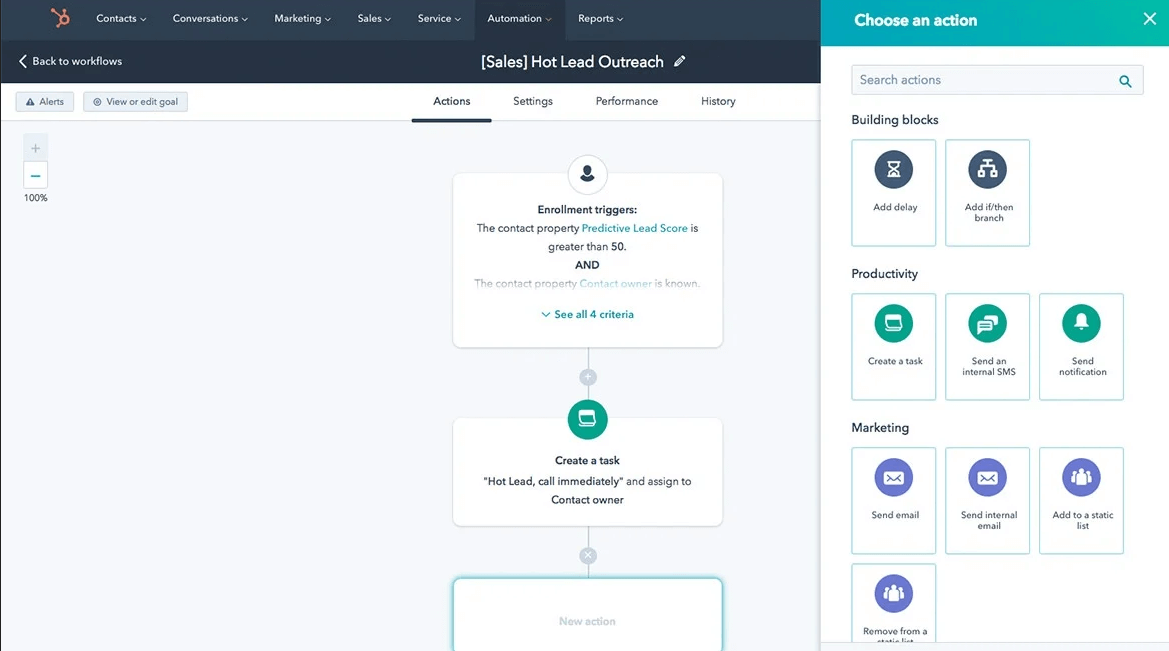 When working together, HubSpot's Marketing and Sales Hubs are a lead nurturing powerhouse. The marketing automation features allow you to create emails, content, offers, and outreach that are personalized for specific lead behavior. On the sales side of things, reps can schedule a series of tailor-made emails that land in a prospect's inbox at exactly the right time.
Pros:
Includes tools to help create blog content, landing pages, and emails so every step of a lead's journey is optimized
Know exactly how much you're spending on each lead with ad ROI tracking
Tracks lead email activity to show you who is engaged and who isn't
Cons:
If you want the full range of features, prepare to splurge on a bundle
Doesn't identify anonymous website visitors with the same depth as LeadBoxer
Cost: HubSpot Marketing Hub and Sales Hub start at $50 per month, while a bundle starts at $112.50 per month.
4. SharpSpring

If you're looking for a tool that can do it all and then some, SharpSpring might be right up your alley. In addition to its many features, SharpSpring nurtures leads by sending carefully timed emails at every step of the sales process to keep your brand on a lead's radar. However, it's features like the visual marketing automation builder and VisitorID that really set SharpSpring apart.
Pros:
A CRM combined with marketing automation
Personalized emails that send in response to lead behavior
Create marketing automation workflows with a visual builder
Cons:
Might be too bulky for smaller businesses
The introductory cost is nearly five times more expensive than HubSpot's comparable product
Cost: The smallest plan for small businesses starts at $550 per month.
5. Keap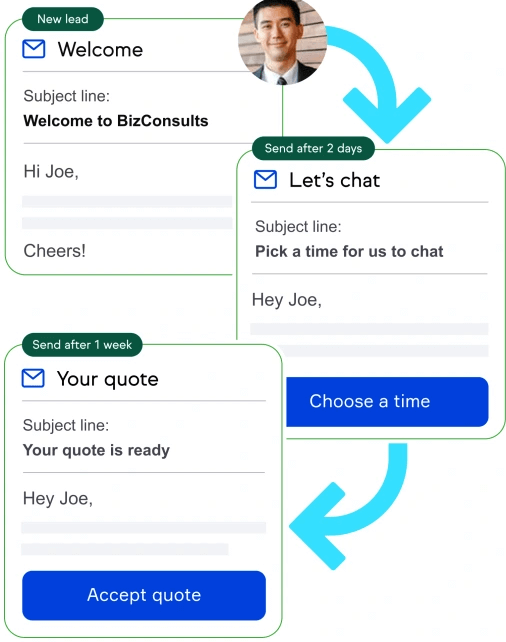 Source
Keap starts working for you from the moment a lead fills out an info form. The program instantly segments leads into different groups and sends them carefully timed messages based on triggers like downloading an ebook or viewing a demo. All these features fit snuggly inside Keap's CRM, so you can keep all your sales and marketing processes in one place.
Pros:
Combines lead capturing, nurturing, pipeline management, invoicing, and payment all in one platform
Plenty of features while still easy to use
Stellar support team
Cons:
Some Keap customers complain of emails going to spam
Has a tendency not to save work if the program freezes or logs out unexpectedly
Cost:     Keap starts at $79 per month.
6. Autopilot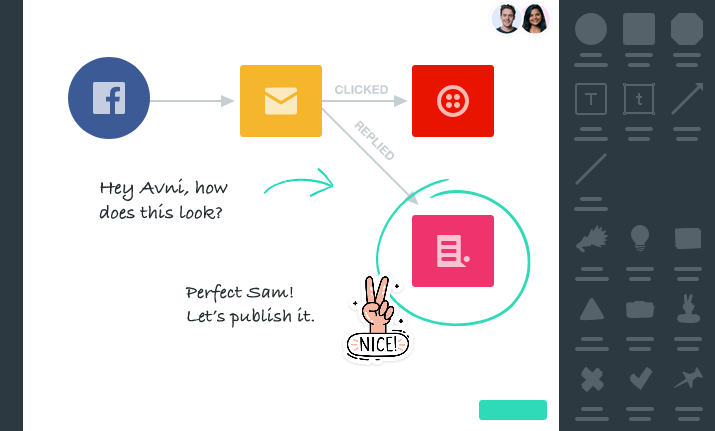 If you struggle to visualize exactly how a customer journey should unfold, Autopilot is the answer. Users rave about how easy it is to build multiple drip campaigns with a series of triggers for different lead segments. The program doesn't come equipped with its own CRM, but offers several integrations so you can connect it with the tool of your choice.
Pros:
The visual builder makes creating personalized email journeys a breeze
Comes packed with templates to make your messaging shine
Easy to use and great customer service
Cons:
Integration with Salesforce and other CRMs can be clunky and not work as expected
Can be slow to load in your browser
Cost: Autopilot's basic plan starts at $49 per month.
7. Act-On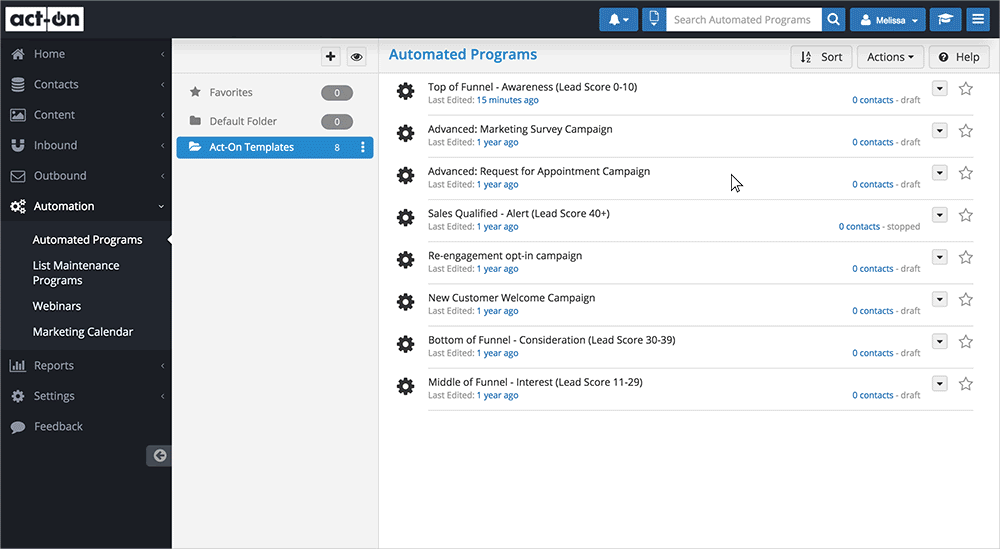 Act-On is a lead nurturing solution that caters to larger enterprises. It integrates with almost any CRM on the market to help companies automate their email marketing, track website visitors and their activity, then score and prioritize leads so sales reps know who to prioritize. Best of all, it offers an easier to use interface than Marketo but with just as many features.
Pros:
Comes equipped with automated campaign templates that are easily customizable to suit your buyer journeys
Includes lead scoring and list segmentation options to help you target leads at various levels of engagement
Can create different lead scoring rules for different audience segments
Cons:
Lacks lead attribution functionality, so you can't be sure how people arrived at your business
Act-On is so feature-rich that the learning curve may be too steep unless your team has someone committed to using the program full-time
Cost is likely prohibitive for many small and medium-sized businesses
Cost: Act-On starts at $900 per month.
8. Karta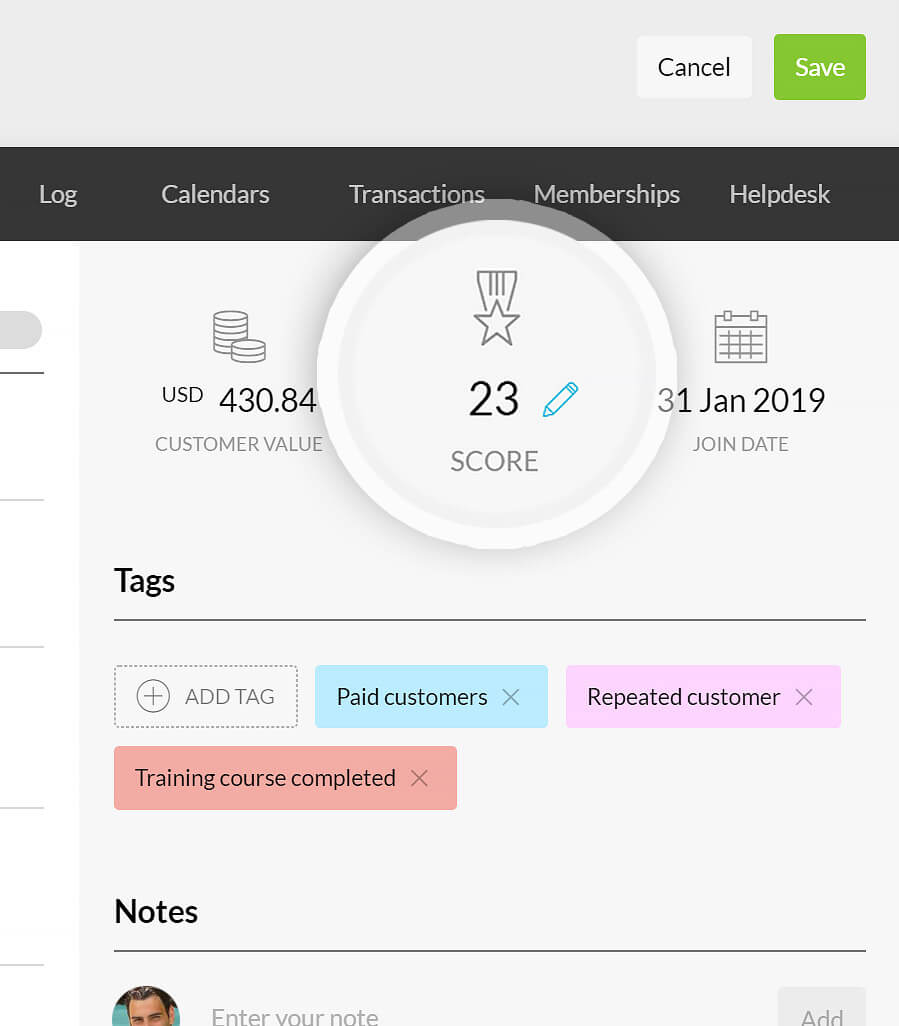 Karta is perhaps the closest you can get to an all-in-one marketing and sales solution. From building landing pages to lead tagging and scoring, the software includes so many features that it practically negates the need to integrate it with any other tools. With Karta you can also create automated emails based on certain lead behaviors, so lead nurturing happens even while you sleep.
Pros:
Create behavior-based automated emails for your leads
No more fumbling with integrations and potential points of failure to get all your business tasks completed
If you want to start a business from scratch, Karta has all the features and tools you need
Cons:
It takes a long time to learn how to use the program effectively
Documentation and video tutorials are still in their infancy
Cost: Karta starts at $99 per month.
9. Marketo Engage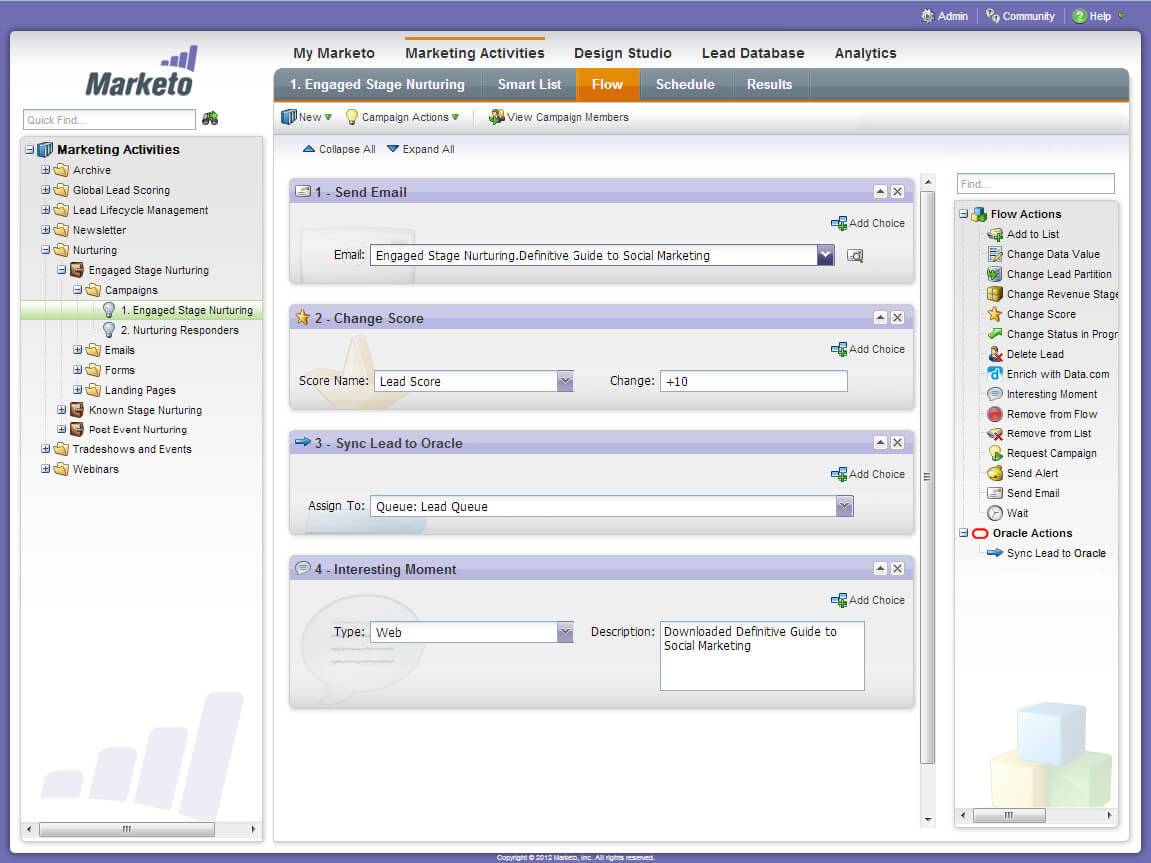 If you want to reach leads wherever they are – literally wherever – Marketo has you covered. Marketo manages ad experiences as well as email campaigns so that leads are targeted with the right content at the right time across any possible platform. Marketo can even deliver experiences through mobile push messages or after lead behavior on social media platforms.
Pros:
Create and schedule email campaigns based on lead behavior like web visits, social shares, or checking in for an in-person event
Assigns a lead score based on unlimited dimensions and characteristics so sales reps know who to contact and when
Engage leads through personalized ads and even mobile push messages
Cons:
Cost of entry can be prohibitively expensive for some
The interface feels dated and lacks the email design functions of many competitors
Cost: Marketo starts at around $1000 per month.
10. Pipedrive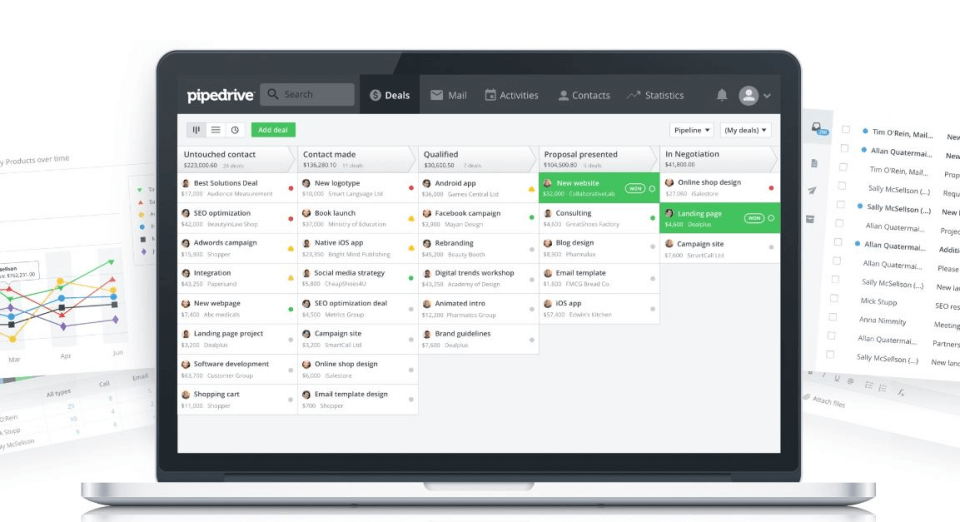 Pipedrive is the highest-rated lead nurturing software on Capterra, but it's also one that is lightest on features. Its main function is a standard-issue CRM with some automated email capabilities built in, but this is par for the course with many CRMs in its class. If you want some basic lead nurturing nested directly into a familiar CRM, Pipedrive might be the right fit for you.
Pros:
Good if you want a CRM with lightweight lead nurturing features, like automated emails at each stage of the sales process
Gives a probability for how likely a lead will be won so reps know which accounts to prioritize
Cons:
Lack of LinkedIn integration can be a serious downside for B2B companies
No way to design unique campaigns based on lead behavior
Cost: With email automation features, Pipedrive starts at $25 per user per month.
11. EngageBay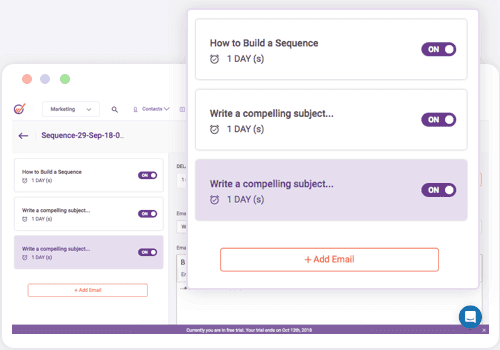 EngageBay's all-in-one suite offers the best in marketing automation, pipeline management, and customer support. The holistic customer profiles let sales reps know what the appropriate follow-up activities are and whether or not now is the right time to sell or to offer more service.
Pros:
Create automated messages to nurture leads across SMS, social media, email, and the web
Equipped with lead scoring and prediction
Customer segmentation allows you to deliver personalized journeys
Cons:
Email templates aren't as easy to use or dynamic as competitors
Design limitations when creating sign-up forms to attract leads
Cost: Start using EngageBay for free or get a basic contract for $9 per user per month.
12. SalesExec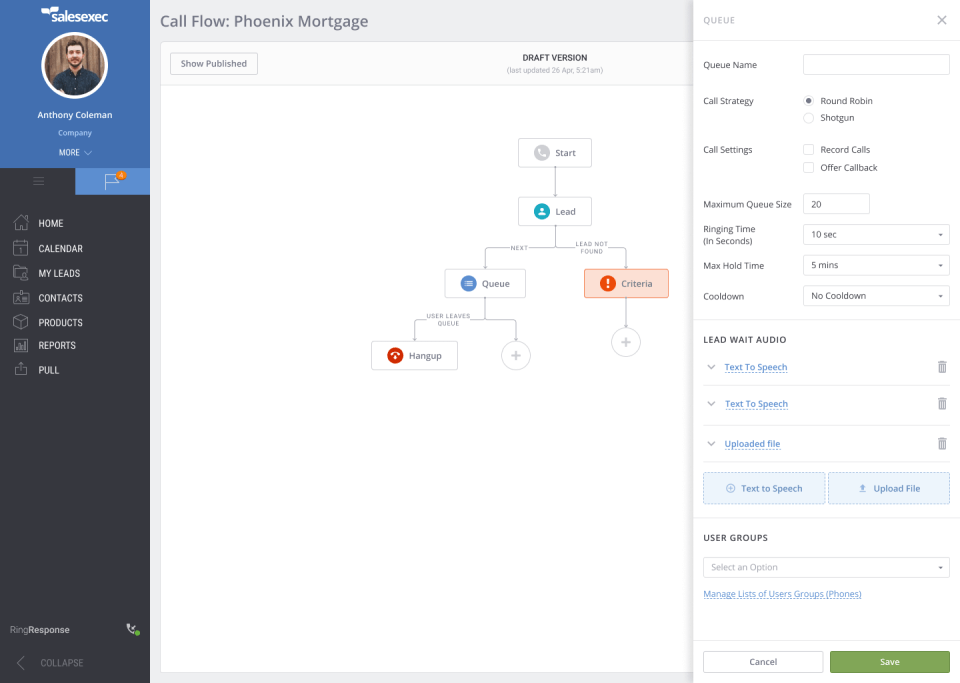 SalesExec is Clickpoint Software's solution to lead nurturing for companies that rely on a high volume of calls to reach their ideal customers. It also comes equipped with the email automation features that are standard in most lead nurturing solutions.
Pros:
Offers SMS nurturing and call routing to make sure a lead always reaches the right rep
The interface is easy enough for a first-time CRM user to use
Customer support is prompt and highly attentive
Cons:
Limited integrations
Limited reporting functionality
Cost: SalesExec starts at $46 per user per month.

Nurture Your Leads On Autopilot
These days, it's hard not to find a marketing tool or CRM that comes equipped with at least some lead nurturing features. Whether you want to deliver personalized email campaigns that delight, track your social selling index, or segment leads for easier prioritization, it's never been easier to find a software solution that delivers it all within your budget.
If you want to keep your sales reps focused on the most promising prospects, take a look at LeadBoxer. LeadBoxer helps you nurture the most engaged leads with its automated lead scoring technology. Set dozens of dimensions to grade leads, from company size to website activity, so sales reps know exactly which prospects are ready to be turned into customers. Try it for free today.