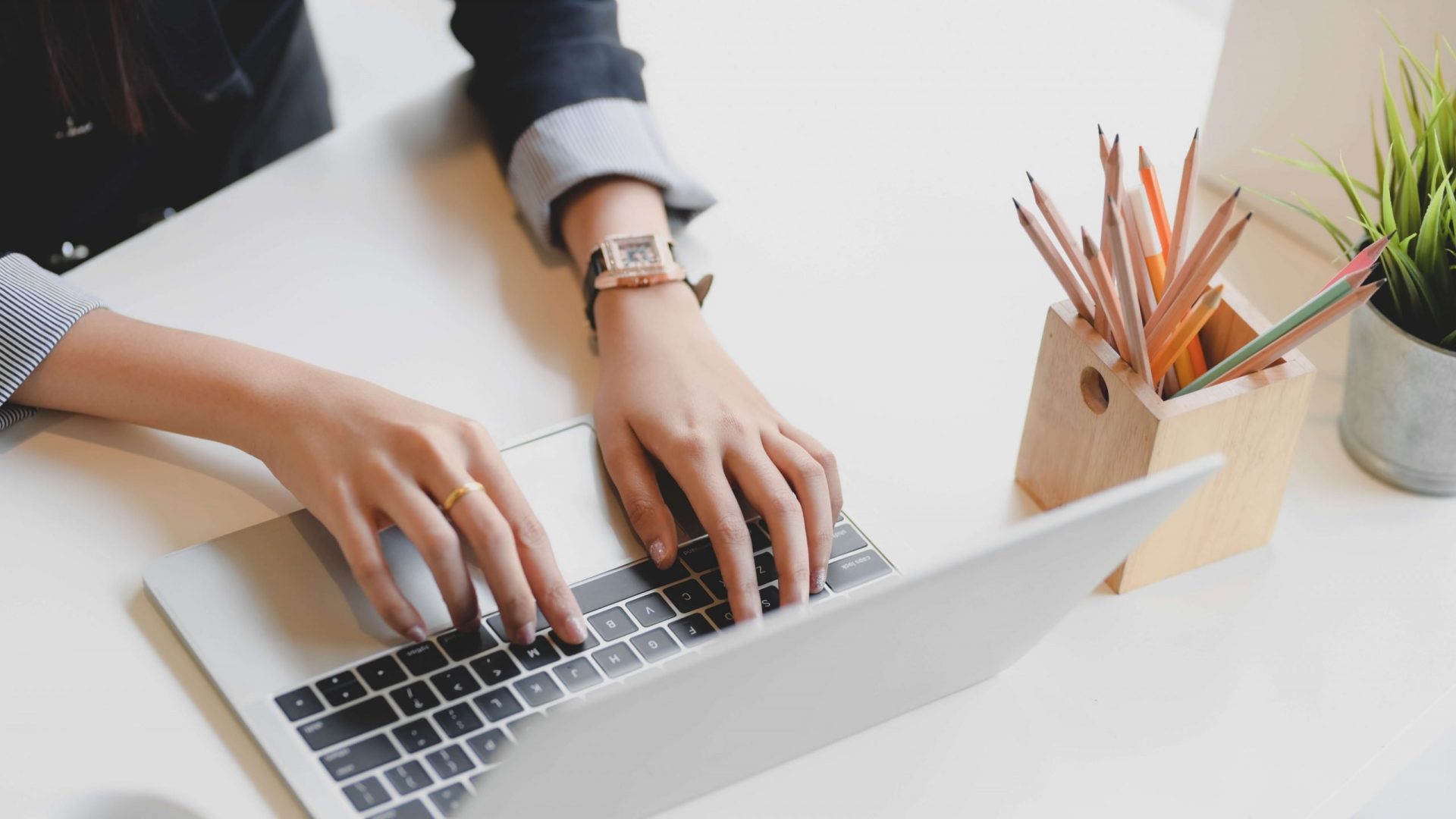 If you spend more of your time scouring the internet for leads than actually closing deals, consider adding lead capture pages to your marketing strategy. With lead capture pages, you can automatically populate your CRM with fresh, highly qualified prospects, letting you spend more time connecting with people and less time combing through lead databases.
Best of all, lead capture pages can be implemented quickly. With the right software and strategies, you can get a lead capture page up, running, and working for your business in no time. Before you know it, you'll find new leads for your business without lifting a finger.
What is a Lead Capture Page?
A lead capture page is an essential component of an inbound marketing strategy. Visitors usually land on the page after searching for business solutions or learning about your company through social media, blog posts, or search engines.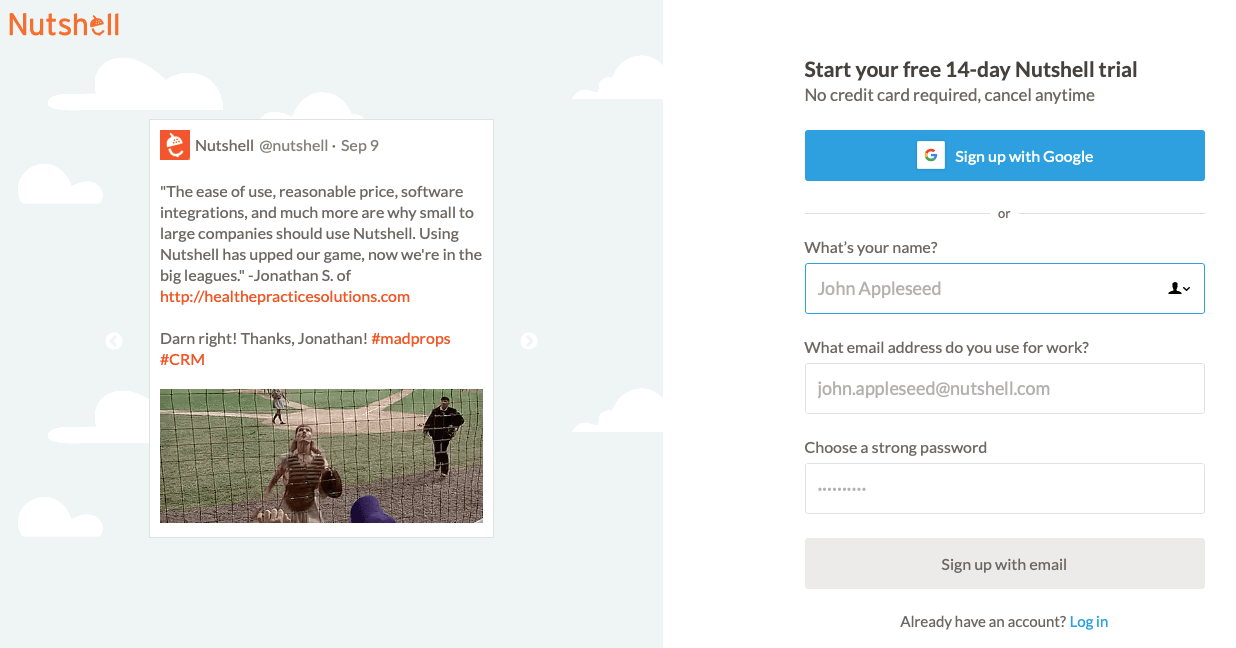 A lead capture page attracts potential customers by offering a free resource, such as a white paper, report, or trial of a product. In exchange, the prospect fills out a short form with their contact information. This supplies your sales team with a continual source of leads.
The info collected from a lead capture page is then uploaded to your CRM, becoming the foundation of any contact record in your sales pipeline. Once you've identified a lead, lead intelligence software can uncover additional details about a prospect, analyze how engaged they are, and offer insights into how to best communicate with that person.

How Lead Capture Pages Help Sales Teams
Between calling clients and closing deals, your salespeople are busy enough. Lead capture pages give them the freedom to focus on these high-touch tasks and understand their prospects better.
Find qualified leads on autopilot
An efficient lead capture page reduces the time your salespeople would otherwise spend trawling LinkedIn or contact databases for leads. It also automatically begins the qualification process, as leads who express interest in your offerings are likely to be more receptive than cold leads to communications from your sales team.
Gain insight into prospects
Manual lead generation can't compare to the level of contact enrichment that lead capture pages help provide. Many programs that build and run lead capture pages can take the data submitted and use it as a launchpad to uncover tons of other details about leads. This gives your sales reps a greater understanding of who they're selling to.
Score and prioritize leads
If members of your sales team often wonder which leads they should prioritize over others, a lead capture page can help. When used in tandem with lead scoring software, you can analyze the online behavior of leads captured from a web form and more accurately predict which ones are likely to buy. That way, sales reps know exactly who to focus their energy on and who they can pass on.

15 Lead Capture Page Software Options
Many tools and sales artificial intelligence tools too with lead capture page functions come packed with additional features that help you get more from your leads. These software options usually fall under one of three categories:
Lead capture page software with lead intelligence and nurturing
CRMs with lead capture page builders
Landing page builders
Lead Capture Page Software with Lead Intelligence and Nurturing
1. LeadBoxer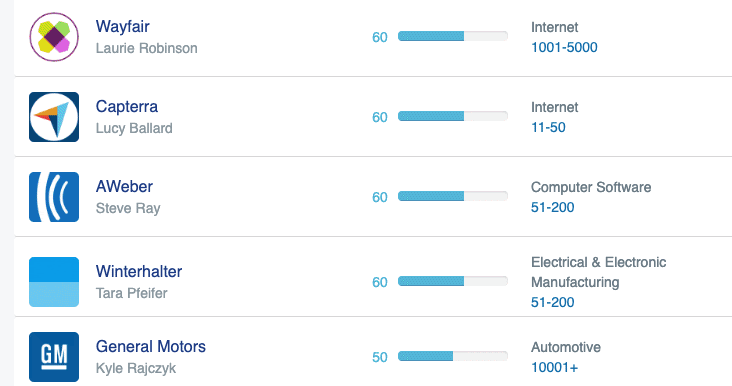 Out of the box, LeadBoxer can start identifying leads from forms, as well as IP addresses, email, and other touchpoints.
Pros:
Tracks leads' online activity, including what web pages they visit on your website, how long they spend there, and what emails they click through
Creates a lead score to help your sales team prioritize prospects
Can identify website visitors who don't complete a form
Cons:
Cost: LeadBoxer starts at $195 per month.
2. Leady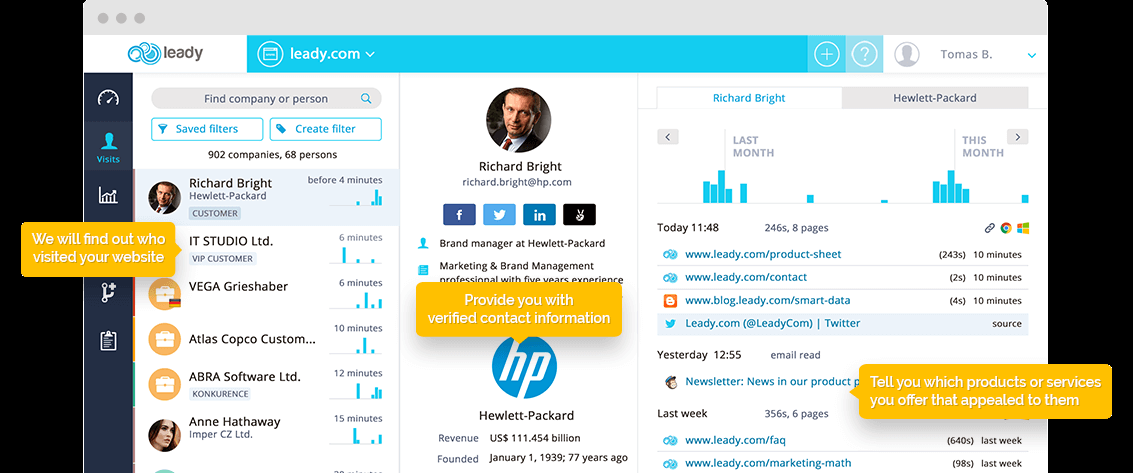 Leady identifies and scores new leads based on their level of engagement. It includes features that help flesh out contact records, giving sales reps greater insight into who they're selling to.
Pros:
Creates detailed profiles about people visiting your site so you can better segment leads for your sales team
Reveals where leads came from so you can zero in on the marketing strategies that work best
Tracks a lead's activity with your website and email marketing, as well as all communications with your sales team
Cons:
Only downloads data once per day, so you can't start nurturing new leads immediately
Basic plan only identifies 300 unique site visitors per month
Cost: Leady starts at $39 per month.
3. Autopilot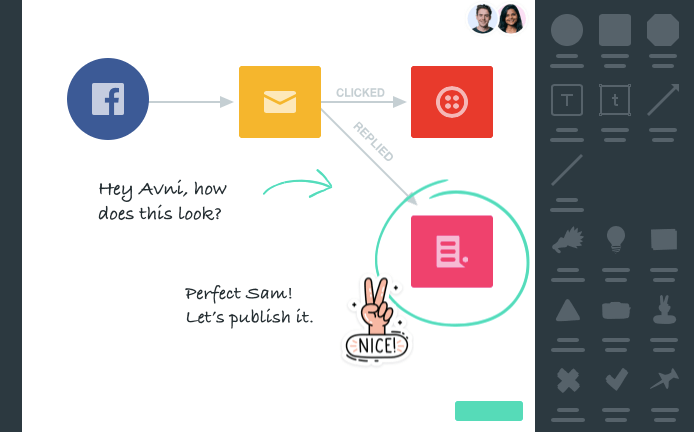 Autopilot is marketing automation software that can help you build lead capture pages, then nurture new leads on, well, autopilot.
Pros:
The interface allows you to visualize exactly how the customer journey will unfold
Can automate repetitive tasks like educating new subscribers, assigning leads to members of your sales team, and following up on new leads
Easy to build multiple drip campaigns tailored to lead segments
Cons:
Doesn't come equipped with a CRM, so you'll need to integrate it with a separate program
Integrates with a limited number of tools
Cost: Autopilot starts at $49 per month.
4. Act-On
Act-On integrates with your CRM to help you attract, convert, nurture, and score leads with ease. Its web form builder tracks conversion rates and the source of form visits so you know which of your marketing efforts are working best.
Pros:
Automatically starts sending drip campaigns to leads
Comes with features that help score leads based on their website activity, so sales reps know their level of engagement
Easier to use than direct competitors like Marketo
Cons:
Incredibly feature-rich and on the pricier side, so it's not feasible for many small and medium-sized businesses
Cost: Act-On starts at $900 per month.
5. Karta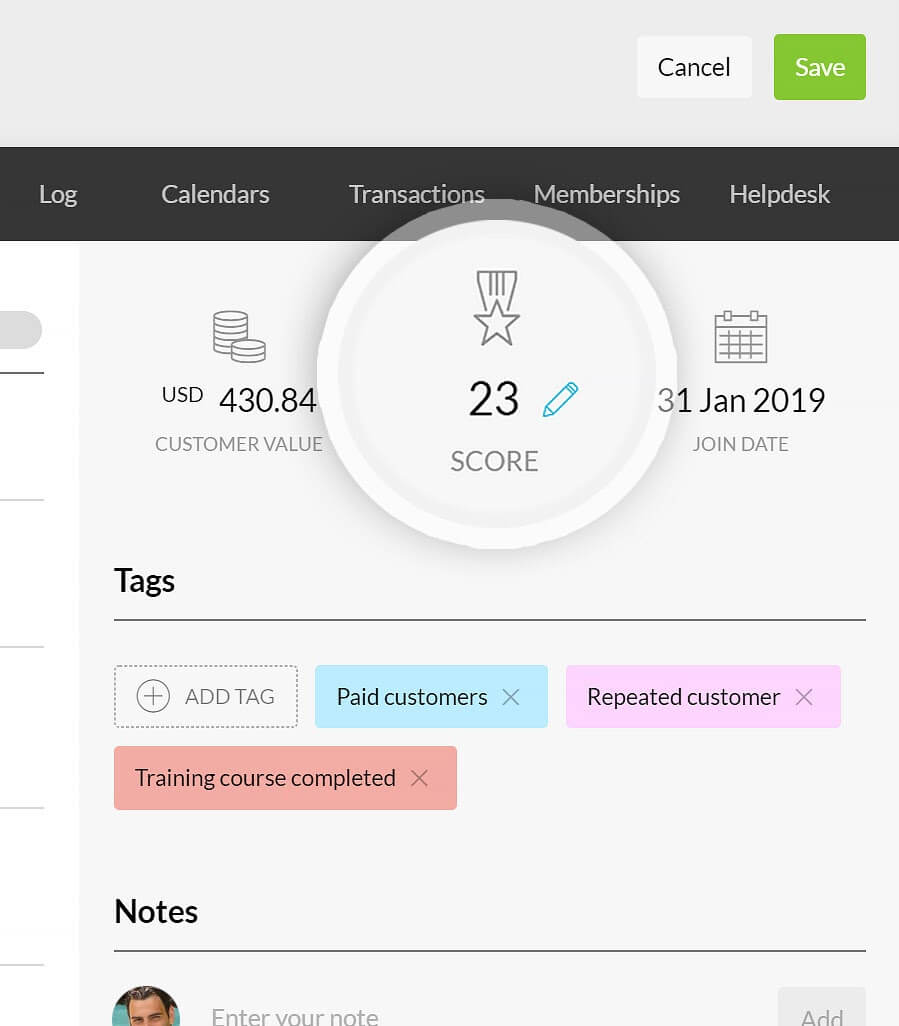 Karta was designed as the most complete marketing and sales solution on the market. It touches almost every aspect of the customer journey, from letting you build lead capture pages to scoring and prioritizing leads for your sales team.
Pros:
Includes lead tagging and scoring features
Doesn't require integrations to manage all aspects of your business
Can create segmented campaigns that respond to specific behaviors, so you can start nurturing new leads automatically
Cons:
With so many features, Karta can sometimes feel clunky or unwieldy
Karta is newer to the market, so some kinks are still being ironed out
Cost: Karta starts at $99 per month.
CRMs with Lead Capture Page Builders
6. HubSpot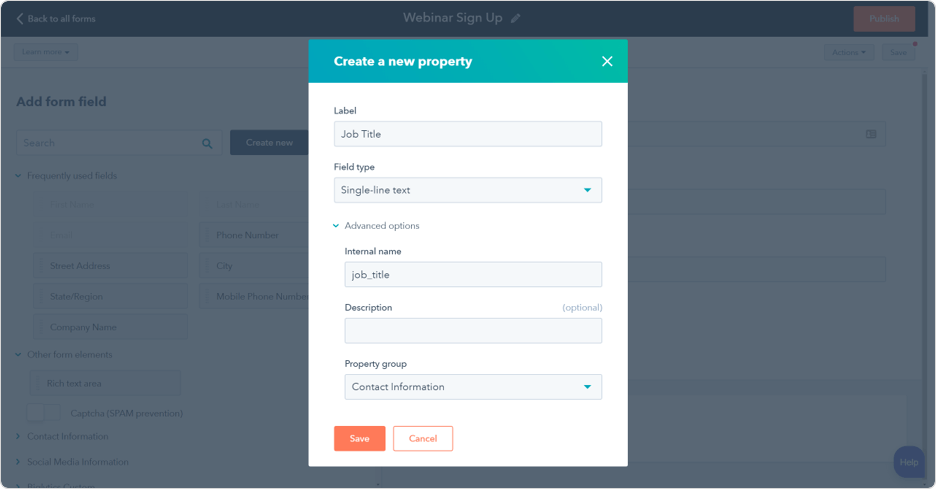 HubSpot offers an all-in-one CRM and marketing platform that can build lead capture pages, organize leads, and prioritize them based on engagement.
Pros:
Comes with tools to build lead capture pages or embeddable forms with 1,000 form fields and a dozen different form types
Automatically uploads leads into the CRM and begins nurturing them with email campaigns
Gauges lead engagement, then prioritizes them in the CRM so salespeople know who to focus on
Cons:
While HubSpot CRM is free, you'll likely need to invest in the sales and marketing bundle to get all the lead capture features you want
Cost: HubSpot Marketing Hub and Sales Hub start at $50 per month, while a bundle starts at $112.50 per month.
7. Pipedrive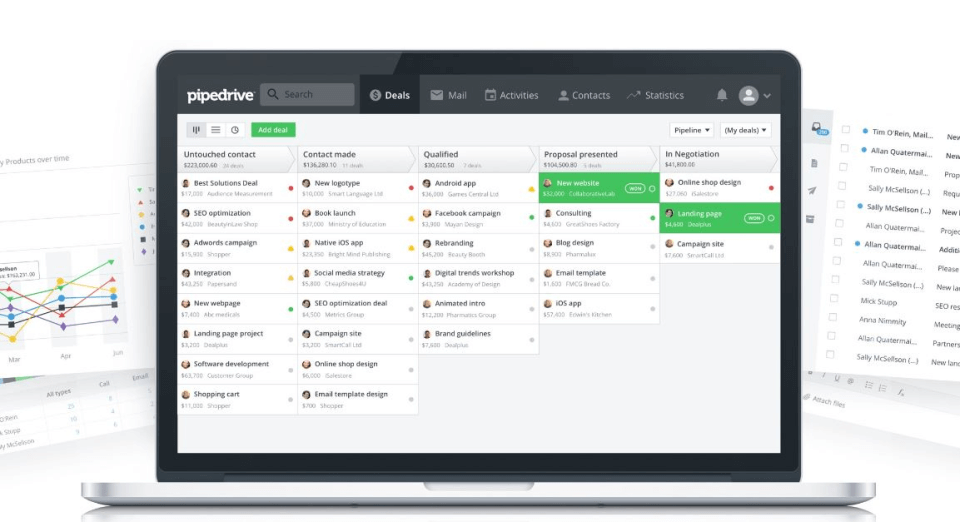 Pipedrive is a popular CRM known for working well right out of the box. With its web form builder, you can start capturing leads within minutes.
Pros:
New contacts in your CRM are automatically created from form submissions
Tracks all calls, emails, and contact activity for each lead
Pipedrive is so easy to use, you can train new users on it in just one day
Cons:
Doesn't come equipped with predictive lead scoring, so you'll need to integrate an additional tool if you want this feature
Limited marketing automation features compared to a CRM like HubSpot
Cost: Pipedrive starts at $12.50 per user per month.
8. Zoho CRM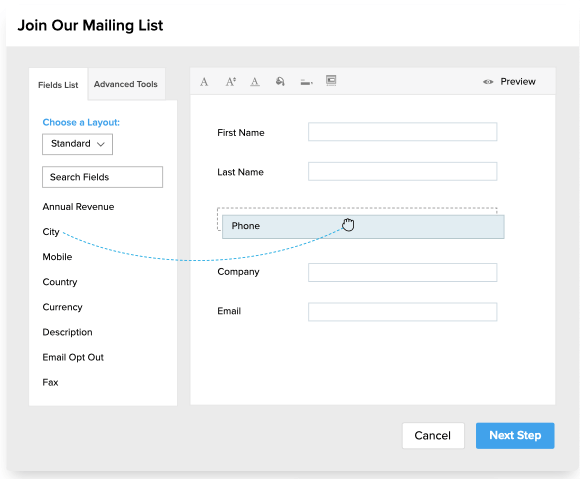 Zoho CRM, one of the top-rated CRMs available, comes packed with features like web forms for lead generation. The tool can meet your customers at every stage of their lifecycle, from marketing to customer support.
Pros:
Drag and drop web form builder makes it easy to launch lead capture pages in minutes
Multiple levels of billing is great for businesses that plan to scale up
The interface is so user-friendly, many customers claim not to need training before getting started
Cons:
Customers report that importing and exporting leads sometimes leads to corrupted files
Emails generated by Zoho CRM can sometimes get sent to leads' spam or blocked entirely
Cost: Zoho CRM starts at $12 per user per month.
9. Agile CRM
Like Zoho CRM, Agile CRM lets you manage marketing, sales, and customer service all in one platform, but with a slightly cheaper price tag.
Pros:
Lead capture forms automatically sync data with the CRM, which can then segment leads based on behavior and characteristics
Can help you find unknown email addresses for leads using only a lead's name and their company's website address
Allows you to purchase additional features without upgrading to the next subscription level
Cons:
Users find some of the marketing automation features buggy
Customer support can be inconsistent
Cost: Agile CRM starts at $8.99 per user per month.
10. Keap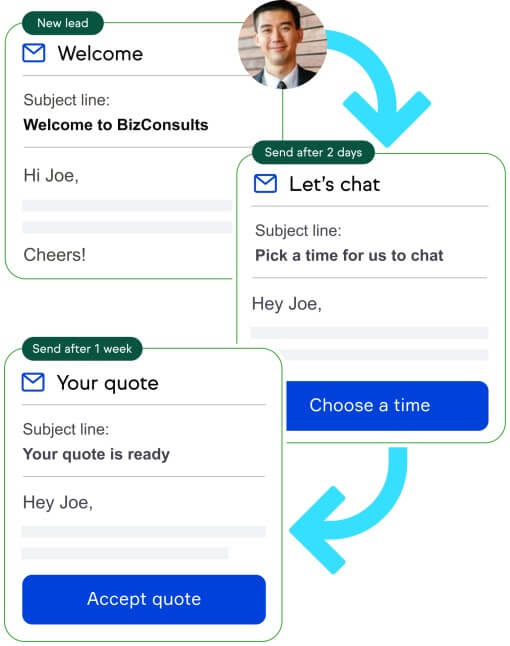 Source
Keap is the solution for teams who want all of the marketing and sales processes within the same platform. From the moment you capture leads to the time they make a payment, Keap does it all.
Pros:
Automatically segments leads based on form answers, then nurtures them with emails and content based on certain behaviors and triggers
A great e-commerce business solution
Full range of marketing automation capabilities is notably strong
Cons:
Doesn't work well at blocking spam form submissions
New users need significant training before they can expect to use the program efficiently
Cost: Keap starts at $79 per month.
Landing Page Builders
11. Instapage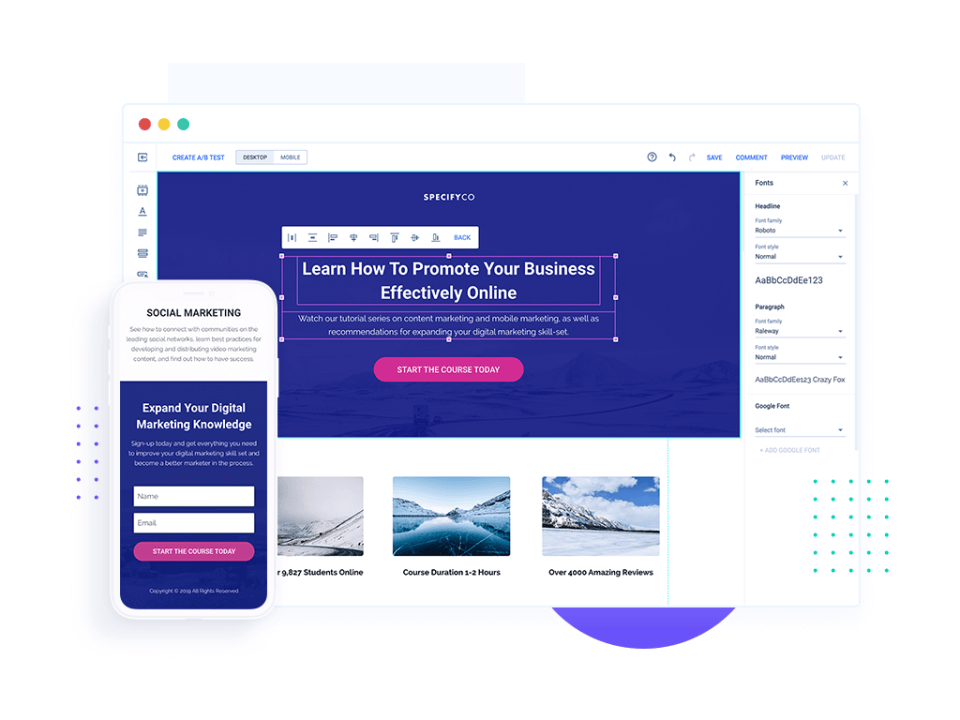 Instapage started as a dynamic landing page builder but has since transformed into an advertising conversion cloud. With Instapage, you have all the tools you need to optimize your advertising funnel and turn more leads into customers.
Pros:
Create an entire advertising funnel to attract visitors to your web forms, then convert them into leads
Automates the process of creating multiple landing pages that match the messaging of your social media or search engine ads
Drag and drop landing page builder creates stunning lead capture pages with no coding required
Cons:
Doesn't integrate with email marketing platforms like ConvertKit, so you'll need to find a workaround if you want to start automatically nurturing new leads from form submissions
Cost: Instapage starts at $149 per month.
12. Unbounce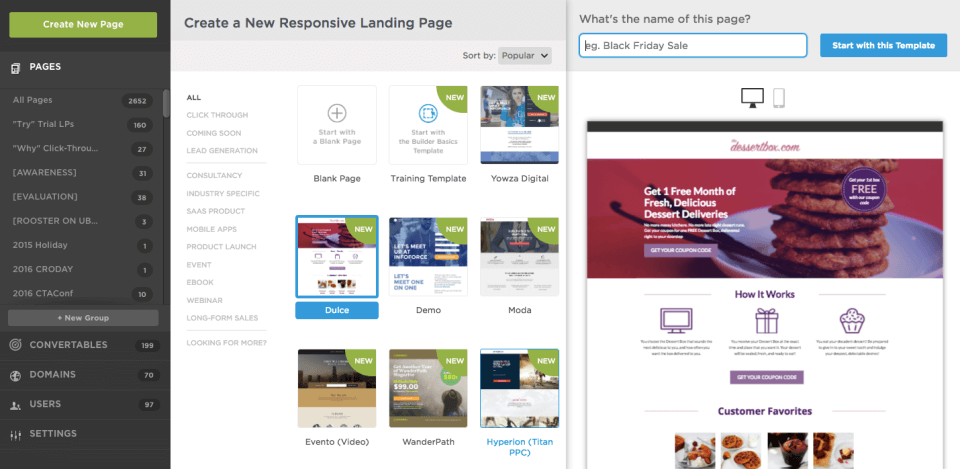 Unbounce offers many of the same features as Instapage but at almost half the price. Small businesses that want to build unique lead capture pages to match all their ads will love Unbounce's functionality and affordability.
Pros:
Drag and drop builder lets you collaborate with team members and make edits in real-time
Lets you create pop-ups and sticky bars for even more lead capturing opportunities
Uses A/B testing to automatically optimize pages for the best conversions
Cons:
The builder isn't as intuitive as some of its competitors, so new users should expect a slight learning curve
Certain landing page features require additional coding
Cost: Unbounce starts at $79 per month.
13. Leadpages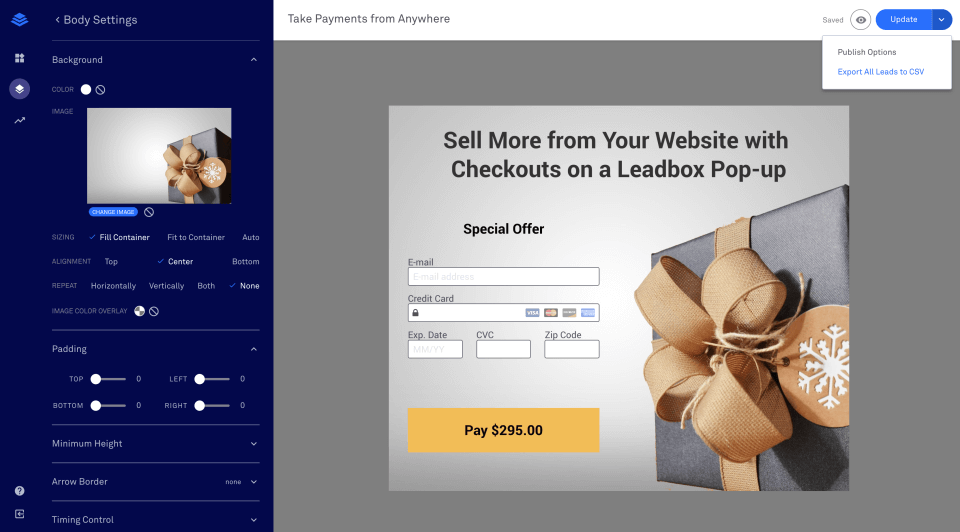 Leadpages is a landing page builder and lead generation tool geared toward small business. It's extremely easy to use and has almost no learning curve.
Pros:
Comes packed with templates so you can start capturing leads even faster
Has a feature that tells you exactly what you need to tweak on your landing page in order to increase your conversions
If you only want to build a few basic lead capture pages, Leadpages is the most affordable option
Cons:
Doesn't integrate smoothly with software like Stripe, so if you want to add fields like coupon codes to your pages, you'll have to find a workaround
The price of the fully functional version can be prohibitive for small businesses
Cost: Leadpages starts at $25 per month.
14. Landingi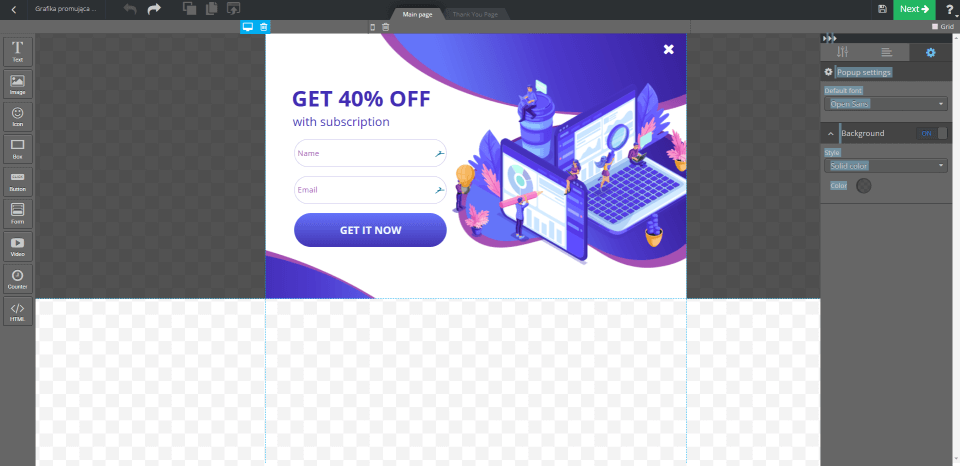 Landingi is an affordable alternative to some of the bigger landing page builders in the industry but is just as easy to use.
Pros:
Customer service is receptive to user feedback and often implements suggestions into future upgrades
Includes a feature that tells you where site visitors came from, so you know which marketing efforts are leading to the most conversions.
Cons:
Not good for making several similar landing pages with tweaks only to certain blocks or modules
Less feature-rich than some of its competitors
Cost: Landingi starts at $29 per month.
15. Mailchimp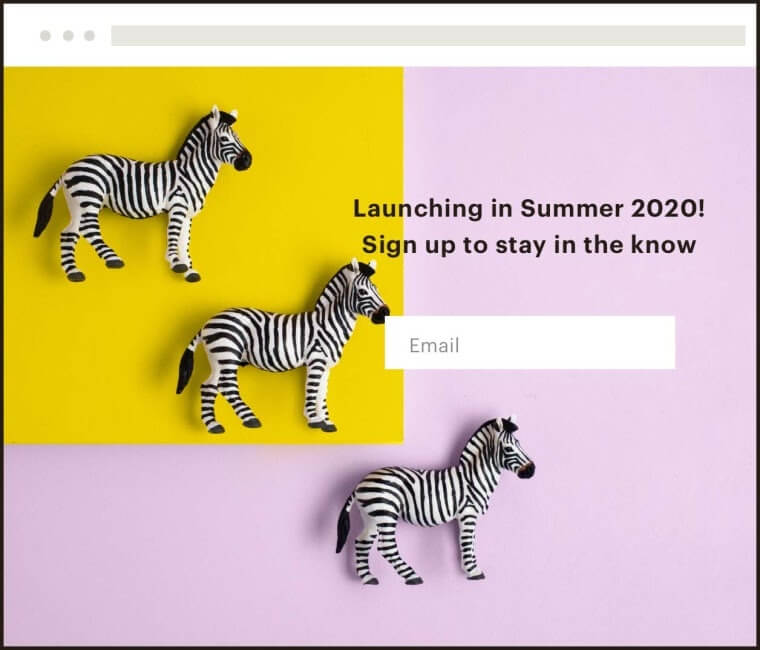 Mailchimp has long since upgraded from an email marketing tool to an all-in-one marketing platform, offering features like a landing page builder, conversion rate tracking, and even free domains.
Pros:
Easy to integrate with almost any tool
Start building and hosting landing pages for freet
Its paid version is the most affordable of its competitors, making it ideal for small or new businesses
Cons:
A landing page builder isn't nearly as dynamic as others on this list
Limited segmentation ability
No plugin with Spotify
Cost: Mailchimp's paid plans start at $9.99 per month.

Tips for Creating an Optimized Lead Capture Page
Not all lead capture pages are created equal. To maximize your conversions, there are certain best practices you should keep in mind when designing a form.
Limit the fields in the lead form
Having too many fields, especially ones that feel irrelevant or invasive, can lead many visitors to navigate away before they finish completing the form. The quicker a visitor can enter their info, the more likely they are to convert.
For example, visitors who want to sign up for a free trial of LeadBoxer only have to enter their email address to get started.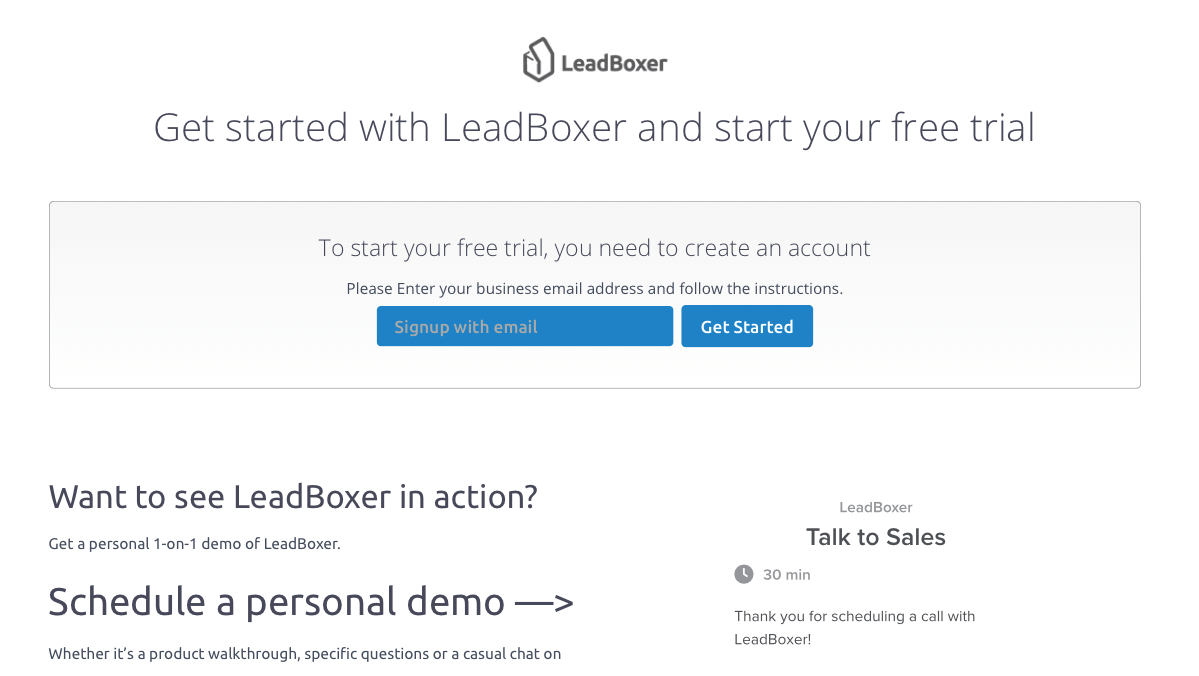 Even if they need to enter additional info before they can start using the program if feels less forced than a form that demands several lines of data upfront.
Compare that to this form, which requires visitors to fill out seven fields before they can access a report.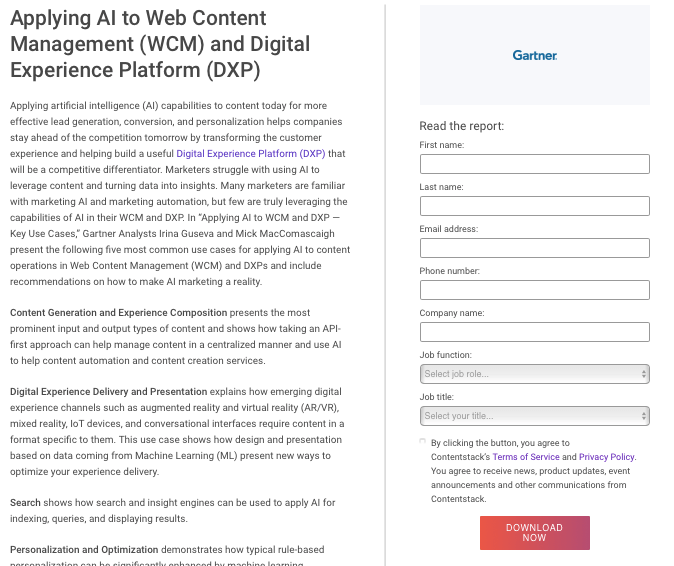 Chances are, this company is losing out on valuable conversions because visitors aren't ready to divulge that level of information.
Match the fields in the lead form to the offer
It doesn't matter if it's helpful for you to know a lead's company or job title. If that info doesn't relate to the gated resource you're offering, it might reduce your conversion rate.
Check out this registration for a free webinar from Kinsta, a managed WordPress hosting provider, which only requires that attendees submit their name and email.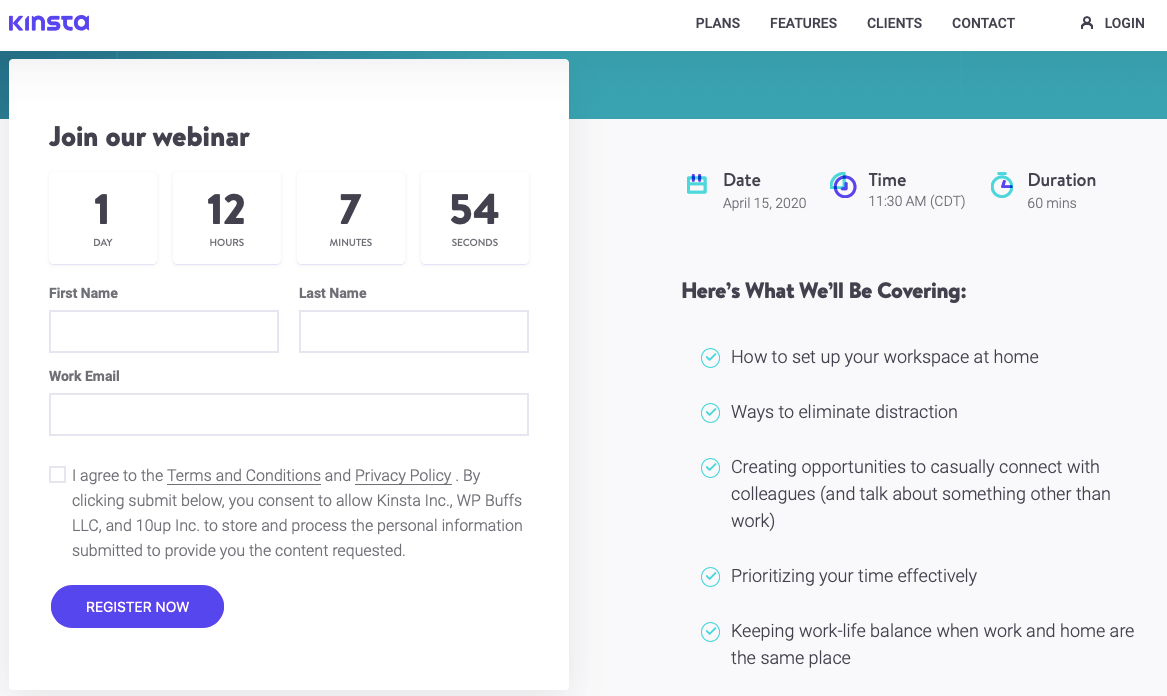 This is presumably so attendees can receive the link and a calendar reminder for the webinar. If Kinsta were to ask for less relevant information, such as company name or job title, visitors might be put off and leave the page before completing their registration.
Choose the right positioning for the lead form
There are three places you can position the lead capture form: above the fold, at the bottom of a page, or in a pop-up. Each has different benefits.
If the form is above the fold, that means you can see the form at the top of the page without having to scroll. This type of form is quick to grab a visitor's attention and works best when used as a post-click landing page for a search engine or social media ad.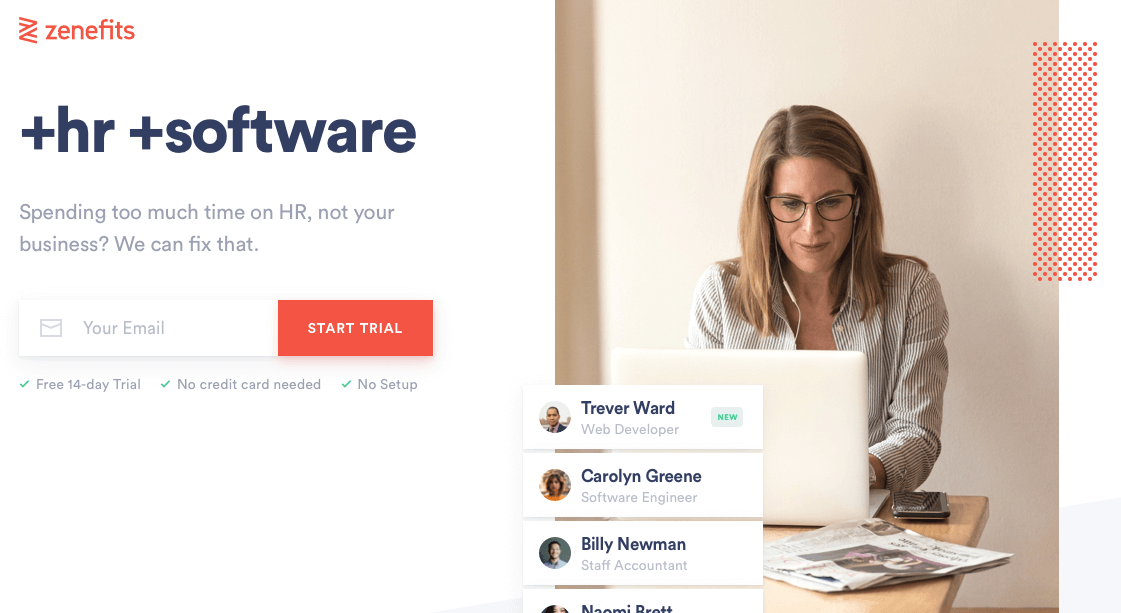 Sometimes the form is positioned next to an image of the product. This serves as a visual reminder of what the visitor will receive in exchange for their info.
Another option is to position the form at the bottom of the page.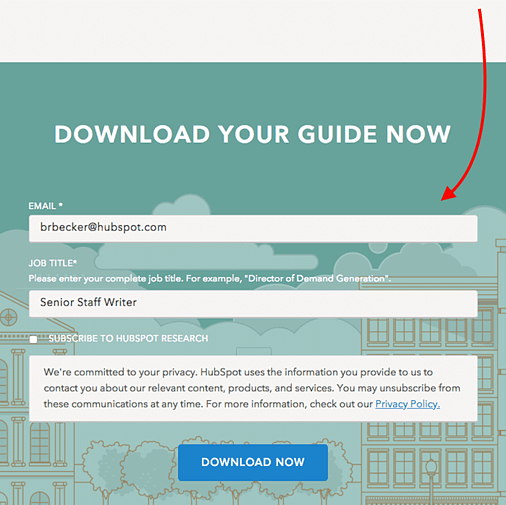 Visitors who read through all the info about your product or resource before submitting their info demonstrate a high level of engagement, which helps your sales team prioritize them.
Finally, you can put your lead capture form in a pop-up, as Instapage does for visitors who want to download a free guide.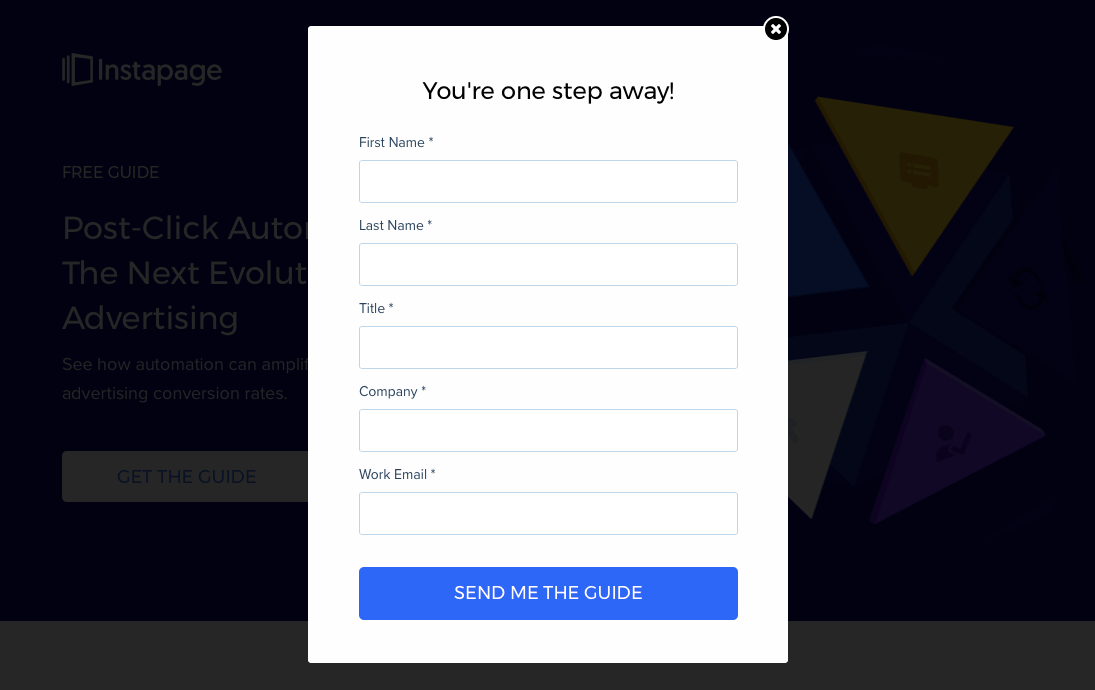 This method keeps visitors focused on the form, so they're less likely to be distracted by other links or elements on the page before submitting their info.
Include your privacy policy
The info collected through lead capture pages is sensitive enough to qualify as personal data under the General Data Protection Regulation (GDPR). The GDPR, which regulates the personal data of all European Union residents, requires that you disclose how and why the data is collected, as well as how you handle the data and dispose of it.
In addition to including this disclosure in your existing privacy policy, you should also link to your privacy policy on the lead capture page. HubSpot, like many B2B companies, positions this link at the bottom of the form so that visitors are sure to see it before they submit their info.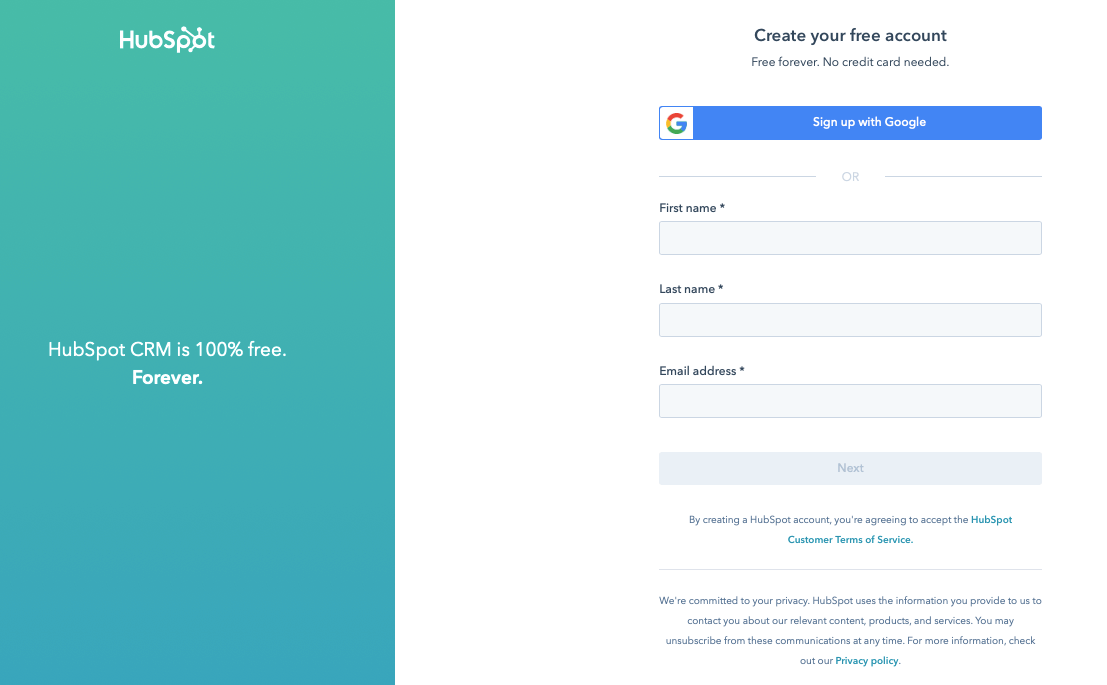 Aside from being a legal necessity, having your privacy policy on display shows your brand's professionalism and commitment to the customer's best interests.
Generate Leads on Autopilot for Your Sales Team
Your B2B marketing strategy is incomplete without a lead capture page. A lead capture page is the simplest way to find and qualify prospects for your sales team, who can then redirect their energy on nurturing leads and closing deals. In the long run, this relatively inexpensive strategy can end up generating significant revenue for your company.
However, even if you follow all the tips and best practices for creating an optimized lead capture page, the page only works as well as the software you pair it with. With the right software, you'll never have another high-quality lead slip through the cracks because of pipeline mismanagement. Your best bet is to use a lead intelligence tool that can take the info you collect from lead capture pages and turn into actionable data that helps you prioritize leads and convert them into customers with ease.