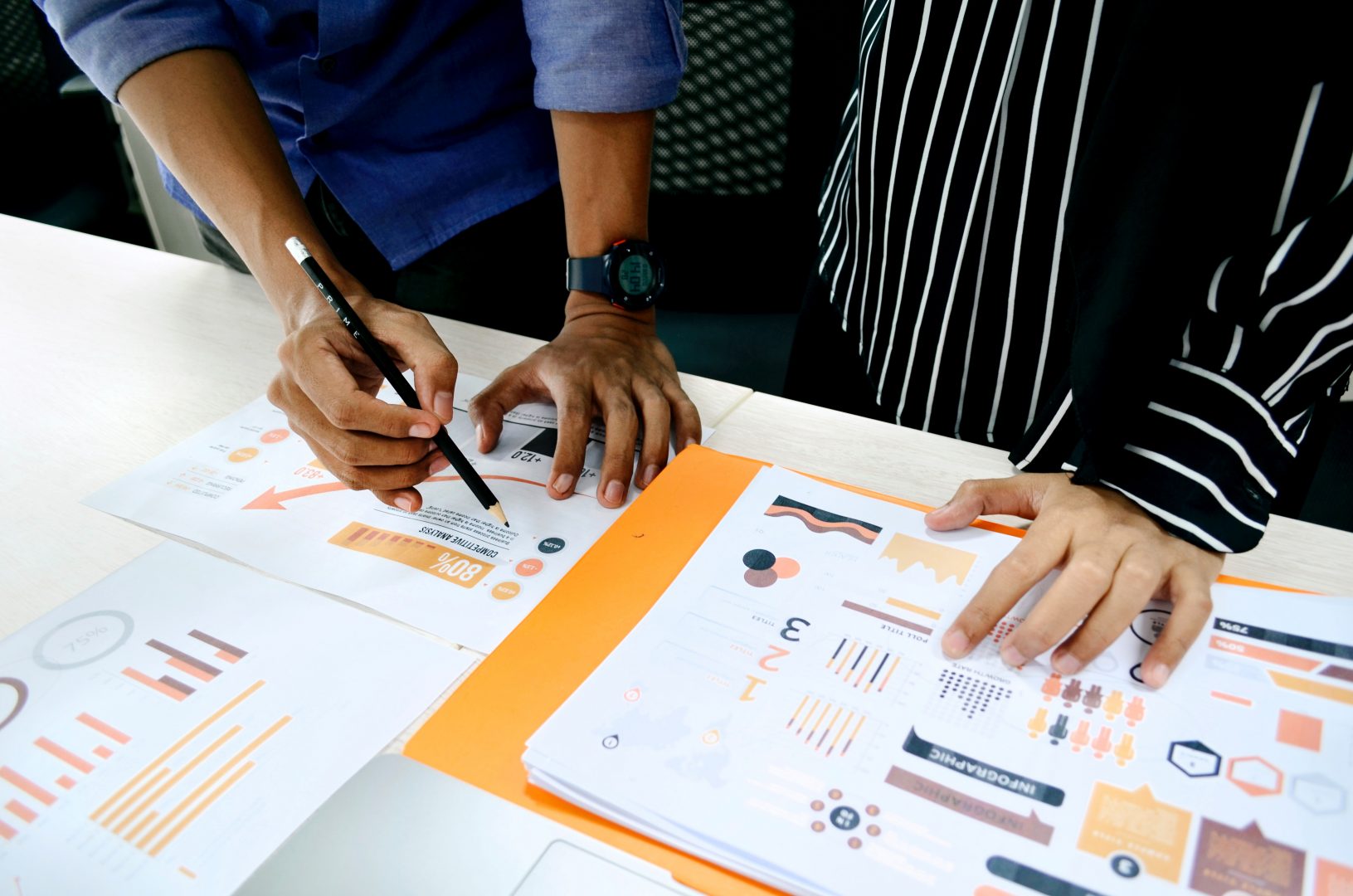 Having a deep understanding of customer behavior can increase sales conversions. As technology continues to advance, businesses have the advantage of utilizing data to target their audience and successfully pitch their products.
Collecting this data helps marketing departments better understand their ideal customers. Sales teams are able to improve outreach and streamline their communication with potential clients.
Use the following links to jump ahead, or keep reading to learn ways to successfully increase sales through internal data.
What is Intent Data?
As industries continue to face constant evolution within technology, the way sales are made have changed. Most customers begin their journey for new products or services through a web search. Online behavior can provide crucial insights for sales teams.
Intent data is information that is collected regarding a user's online behavior, specifically through content interaction. By tracking these actions, businesses are able to see patterns and gain knowledge about their prospect's interests.
Most importantly, this data can provide clues that help sales professionals understand the likelihood of a purchase from customers. This helps tailor sales tactics, drive marketing campaigns, and increase the chances of conversions within the pipeline.
Behavioral data is collected through the ways users are interacting with your content. This allows your team to see what areas of your site are most attractive to potential customers. This information can also help sales professionals gain an understanding of where a client is at in the buying process.
Gaining Insight Through Behavioral Data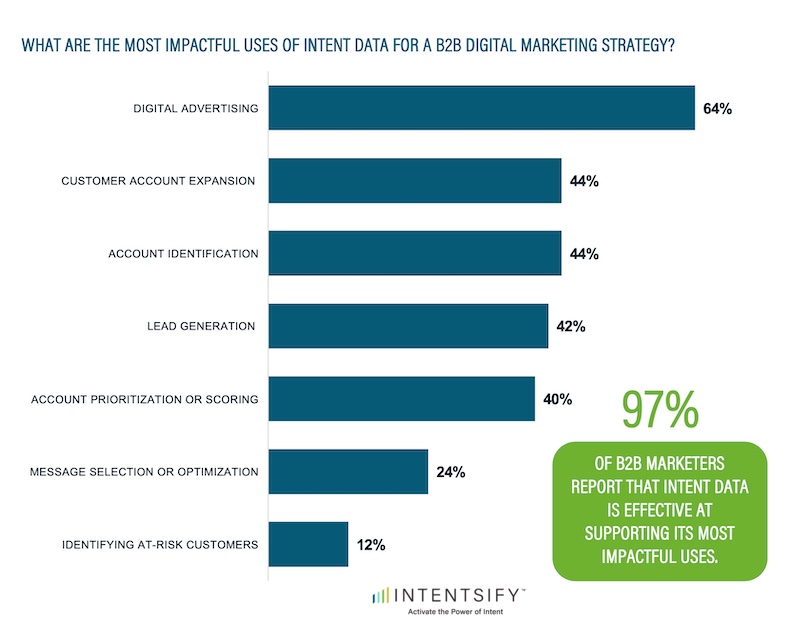 Having access to this information helps take the guesswork out of the sales process. Intent data can help pinpoint the market for your product, how to segment clients for marketing outreach, and what their purchase intent looks like.
Analyzing behavior is a huge asset for marketing. This allows teams to personalize content to target the proper audience for your products and services. By reaching these prospects, your sales team will have more leads funneling into their pipeline.
Behavioral data can help with brand exposure. Having an accurate idea of the topics and areas on your site that get the most traction provides marketing with important insights. The team is able to customize messaging to drive similar customers to your web pages.
This type of brand awareness helps your business reach more individuals who are still in the research stage. By having content that reaches customers in need of your solutions, information on how your business is the best fit for prospective buyers is provided.
Another major benefit of behavioral data is aligning your marketing and sales to see a higher return on investment (ROI) on your outreach. Research shows that companies become 67% better at closing deals when marketing and sales collaborate for account-based marketing (ABM).
This data allows your teams to sync up by higher quality leads and better understanding of client behavior. Marketers are able to discover unique interests among target customers, and this information allows sales to strengthen relationships with their accounts.
Behavioral data provides your business with the necessary tools to accurately predict buying patterns. By having insight into their actions, it is possible to track where customers are at in their purchase process. This allows marketing and sales to accurately plan outreach to nurture leads and walk clients to the end of the sales process.
First Party Intent Data Vs. Third Party Intent Data
While intent data can help increase sales, it is important to understand the different types and how they can play a role in your business. First party data is collected through your website and content pages. This tracks how visitors are engaging with your marketing.
First party data is something most businesses already track in some form. Analytics, automated tools, and the backend of your website keep up with this engagement. Internal data provides deep insight into customers, but often, it comes across as anonymous engagement.
Leadboxer helps your business discover the leads behind internal data. The platform captures the cycle of behavior from online engagement, starting with the first visit to your site. By uncovering this data, Leadboxer is able to identify who your visitors are.
This allows your team to have access to qualified leads, which helps plan client outreach. The identification of these customers happens through IP addresses, email engagement, and other touchpoints.
Third party data comes from providers who are able to collect the ways prospects are engaging on other sites. This allows for a complete view of buyer activity to see how customers are interacting with competitors. Behavior data can provide a sense of consumer purchasing patterns online.
This side of things provides valuable insight into any backtracking or missteps that are made throughout the buying cycle. By seeing where customers are spending their time, it is easy to pinpoint their pain areas and see where their greatest needs lie.
Most third party intent data will surface during the research stage. This information can provide crucial guidance for future outreach and marketing tactics. Third party data shows what keywords customers are using, which brands they interact with first, and what solutions they are searching for.
Privacy Concerns and Third Party Intent Data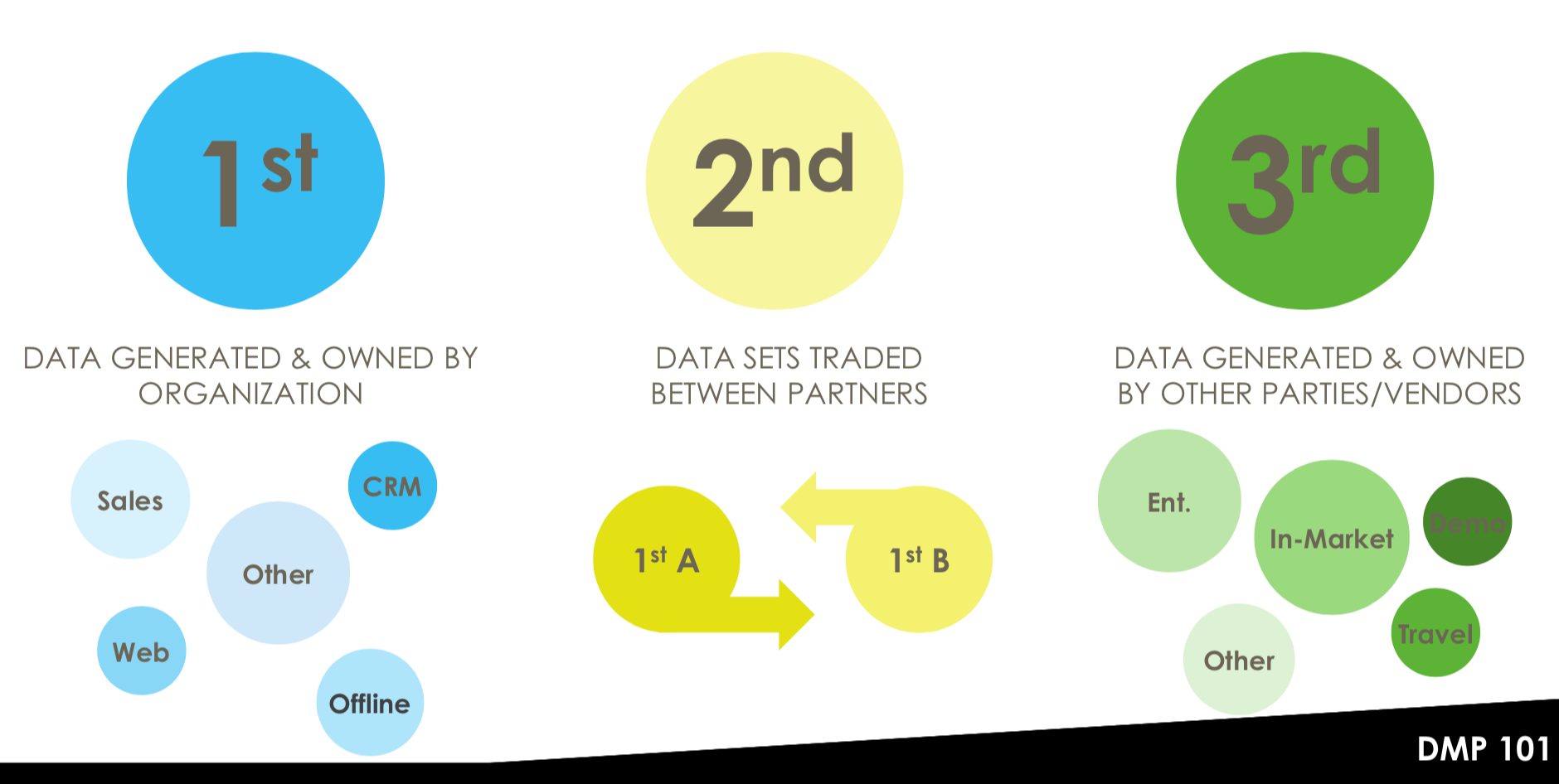 While first party data comes directly from users interacting with your content, third party information can be trickier. As privacy concerns push for tighter restrictions, companies that rely on third party data are beginning to focus on ways to utilize what they are able to collect.
The biggest concern regarding third party data is that it can be unknowingly collected. This information comes from tracked behavior across websites, and it can contain personal identifiable information (PII). As concerns have grown, actions have been taken to promote transparency within the data.
Sites that use third-party cookies, which track engagement across sites, are putting banners on their content to ask for consent from visitors. These regulations have caused restrictions on the data that third parties are able to provide. This shift promotes the need for businesses to rely on first-party data.
Internal Data and Its Importance to Closing Deals
Once your business understands the importance of intent data, it is time to optimize its use. Most importantly, internal data is a tool that can help increase sales conversions by encouraging warmer leads and stronger client relationships.
Businesses must qualify prospects as part of their sales planning. In order to see higher sales conversions, the team must know where to spend their time and resources. Not every lead that comes through a website will be a buyer.
Through behavioral data, engagement can provide insight into how serious a customer is about making a purchase. From the first website visit, Leadboxer tracks the content, forms, and emails that see prospect interaction. This helps put together a timeline for sales professionals, as they are able to gauge where a client is in their customer journey.
Creating Customer Profiles Based on Internal Data
A customer profile helps your business keep personalized records of your clients. This information helps marketing segment their messaging and allows sales to keep up with their pipelines.
Each profile is a detailed record of a customer's needs, demographics, and behavior patterns. By using intent data to fill out these descriptions, your team can keep track of customer relationships and note their behaviors to increase conversions.
By understanding what problems individual customers are facing, sales will be able to drive solutions to their doorstep. Online behavior can provide insights through touchpoints to help illustrate a customer's current needs.
When a qualified lead begins interacting with your product page, downloading your content, or filling out interest forms, sales will be able to reach out at the right time. This data helps sales nurture leads through the process.
Providing Insight to Identify, Segment, and Score Leads
Each visitor is tracked when they reach your site, but it is important they make it to the right place in the sales funnel. Throughout their time on your site, Leadboxer collects information and tracks their actions to accurately discover the lead's identity. 
From there, leads can be integrated with a business' tech stack to move them through the cycle. After identification, prospects can be segmented into groups to receive appropriate marketing. These segments allow your team to filter leads by company name, size, location, or behavior.
Most importantly, Leadboxer handles automatic scoring to keep the most relevant leads at the top of your pipeline. This distinction is based on customer behavior, interests, and properties. Sales will be able to begin their outreach to provide the proper solutions according to specific customer needs.
With internal data, lead scoring is accurately ranked to help pinpoint prospects who are most likely to make a purchase. Their behavior helps determine where they are in the process, and what they need to get to the finish line.

Get started with your internal data analysis today by signing up for a free Leadboxer trial!