If your sales team isn't leveraging intent data when researching prospects, then you can assume there's a huge leak in your pipeline. When it comes to identifying accounts with the highest likelihood of doing business with your company, intent data is the most important tool at your disposal. It also gives you a head start on your competitors.
This guide covers what intent data is, why it's more valuable than other types of business-to-business (B2B) data, and step-by-step instructions for how to use it in your business. In no time, you can shore up your sales pipeline and maximize your output while minimizing your effort.
Read on or jump ahead to these topics:
What is Intent Data?
Intent data tells you whether or not an individual or account is actively seeking the kind of solution your company provides. It's derived from things like:
Recently searched topics or keywords
Ads clicked on
How prospects are using social media
News about the company such as job changes, new investors, or new owners
Vendors gather intent data by tracking cookies and IP addresses. With intent data at your fingertips, you can figure out who might benefit from your product before they come across your brand. This can give you a head start over competitors when identifying accounts worth reaching out to.
We previously published a detailed guide on the different types of intent data and the best software for finding it. Check it out here.

Why Intent Data is More Valuable Than Other Types of Data
In addition to intent data, sales teams often rely on a few other types of B2B data during the sales process:
Firmographic Data: Firmographics are for companies as demographics are for people. This data describes a business's name, how many employees it has, its location, revenue, etc.
Contact Data: These are the details that help you reach a particular individual within a company, like their name, phone number, email address, social media profiles, and job title.
Technographic Data: This tells you what software a business is already using, but it can't necessarily tell you how often employees use it or how long the company has had a particular tool.
Engagement Data: Engagement describes things like how often an account is visiting your website, what links they're clicking in your email marketing, and how long they stay on a particular page.
Prioritization Data: This is when you analyze all the data described above—usually with the help of artificial intelligence—and rank prospects according to how likely they are to buy. A lead score is a common example of prioritization data.
All of this data is useful. But without intent data, you're not getting an accurate picture of which accounts are most worth your time. It's like finishing a puzzle but missing the most important piece.
For example, your lead intelligence software might highlight an account that fits your ideal customer profile and has high engagement with your brand. What it's not seeing is that the individual visiting your site is researching market trends or thinking about making a career change in your industry.
What Intent Data Shows
Intent data shows whether that account is actually interested in buying your product or if they're just passing through. This prevents sales reps from wasting their time on uninterested contacts.
Intent data is also more valuable because it brings your brand to someone's attention earlier in their buyer journey.
Your sales team might not start collecting other types of data—especially engagement data—until after someone visits your website for the first time. However, that prospect may have been researching your competitors long before ever coming across your brand. Intent data finds your ideal customers even if they don't know who you are yet so your reps can contact them first.

How to Leverage Intent Data to Drive Sales
Use a Third-Party Intent Data Vendor
A third-party intent data vendor lets you see what topics and keywords accounts are searching for across thousands of sites. This gives your sales reps insight into who is potentially looking for a product or service you provide before they ever land on your page.
Popular third-party intent data vendors include Bombora and Aberdeen. With Aberdeen, you can integrate the software with Salesforce so companies expressing intent appear on the dashboard.
According to research from Insights For Professionals, 99 percent of businesses are using some form of intent data, so it's crucial that your sales reps have every advantage when reaching out to accounts. Aberdeen's alerts give them that edge.
There are some downsides to using third-party intent data. Vendors are limited by the number of sites and topics they monitor. They also can't give context for someone's searches.
If you aren't using an automated pop-up as the one Aberdeen provides, there's the chance that the data you find will be too old to act on.
Track Anonymous First-Party Behavior
Anonymous visitors to your site are also prospects who are early in their buyer journey. They haven't yet filled out a lead generation form or signed up for your email list, but they are viewing pages and consuming your brand's content.
You can identify some of these accounts for free by digging into your Google Analytics. Simply access the Network Report within the dashboard, assuming you already have Google Analytics connected to your site.
To access the report, begin by logging into your Google Analytics account. Click 'Technology' under the 'Audience' header, then click 'Network'.
Adjust the data range as needed. This will show you some of the major ISPs visiting your site.
However, software like LeadBoxer takes this a step further and identifies individuals and their contact info, not just their ISP—all without requiring them to fill out a lead generation form.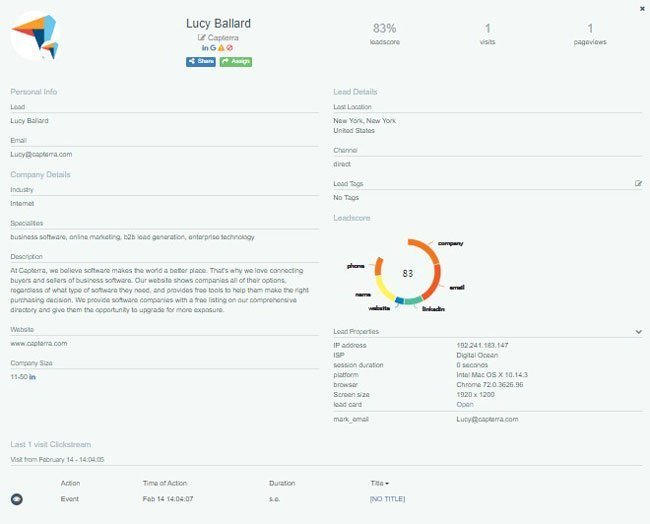 With this info, a rep can ring up a prospect and start chatting with them about some of the topics they might be interested in.
It's important for reps to know whether a company is undergoing job changes, gaining investors, or being bought by another business. All this news provides crucial context that can add or take away weight from your intent data.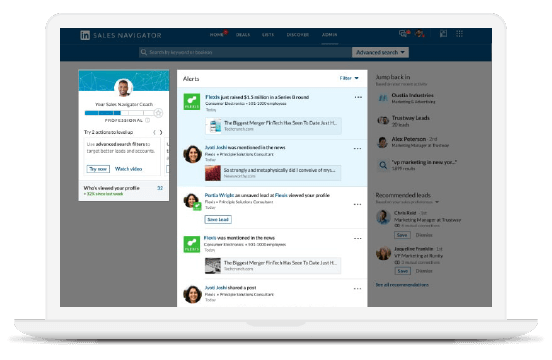 LinkedIn Sales Navigator is a great source for some of this context. It sends you alerts about what's going on at a company, like job changes. At a starting price of $65 per month, it's accessible for most professionals.
EverString is another tool that gives you a 360-view of a prospect's current situation. Not only does it track news about companies, but it also monitors 20,000 different intent signals. With a starting price of $820 per month, this solution is better for enterprise-level businesses.
Intent data on its own can't tell you who is most worth your reps' time. You need to analyze the data along with the company's firmographics and other details. The software can make sense of all this data and create a ranking system or visual that makes it easy for sales pros to select their next contact.
LeadBoxer's solution is its lead scoring tool. You decide which factors are most important when determining a lead score, then LeadBoxer crunches the numbers to calculate it.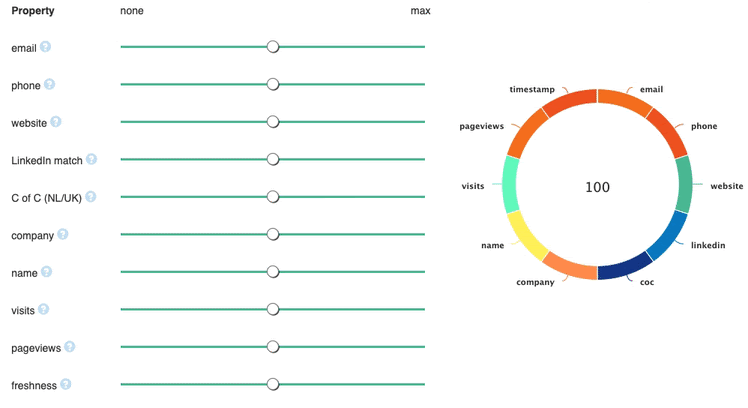 A result is a number up to 100 that illustrates how likely a prospect is to buy. The higher the number, the more likely you can close a deal with them.
Reps know at a glance exactly who they need to get in contact with. This saves them time so they can devote more individualized attention to qualified prospects.
Personalize Your Messaging
If you've used the right tools and done your job well, you know what products or solutions prospects are looking for and if they're the right fit for your business. Using all the data at your disposal, sales pros should reach out to contacts with content tailored to their needs and interests.
Nothing beats the human touch. When you use intent data to zero in on the most qualified accounts, sales reps have more time and energy to speak with contacts directly instead of sending them a templated email. Your prospects are sure to notice the difference.

Exceed Your Sales Goals With Intent Data
Leveraging intent data isn't just about increasing the speed and efficiency of your sales team. It's also essential for providing the highest quality experience to your potential customers. With intent data, you can anticipate their questions and provide customized content, which helps build confidence in your business.
With 99% of survey respondents claiming they already use intent data, you can't afford to sleep on this sales strategy. If your competitors aren't already using it in some way, they will be soon. Fortunately, several solutions work seamlessly with your existing software.
Looking for an all-in-one tool that gathers intent data as well as other types of B2B data, then analyzes it to generate a lead score? That's where LeadBoxer can help.
LeadBoxer works out of the box and is intuitive enough that your team can test it out without much training. Get started today with a free trial.