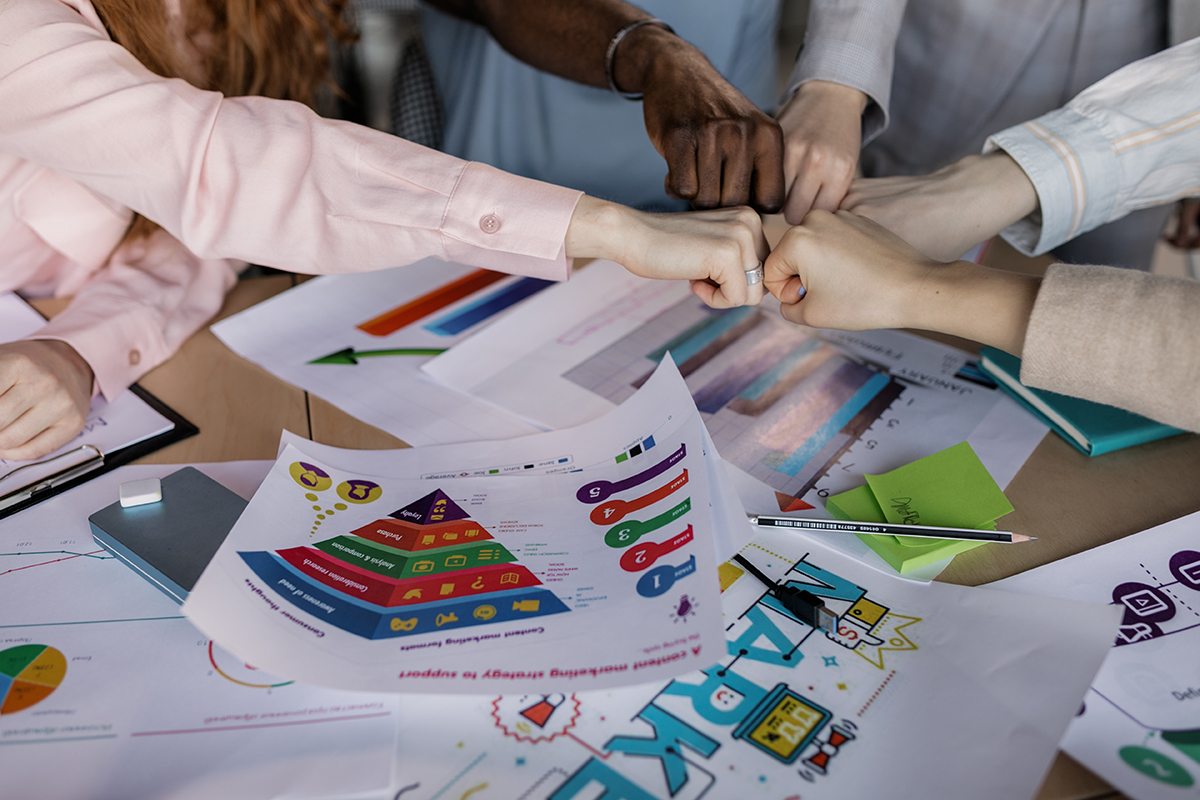 Regardless of your industry, you need customers to buy your product or service. However, satisfied customers who make repeat purchases, upgrade and become brand ambassadors for your company are even better. A positive customer experience generates loyal customers. You can accomplish this with B2B marketing funnels.
To read this article in its entirety, continue, or you can "jump ahead" to the following topics:
The Importance of Positive Customer Experience
Think about it. Would you do business with a company you don't have a relationship with? Probably not. This is why a positive customer experience through the B2B customer journey is so important.
When customers have a pleasant interaction with your business, they are apt to spend more and recommend your company to others. Conversely, B2B customers who have a bad experience will ditch your company for another and broadcast their disappointment in word of mouth and online reviews. In fact, customer experience will be the main differentiator between brands.
Customer experience is catching the attention of marketers. One study found that almost half of the companies responding seek to invest more in ensuring a positive customer experience.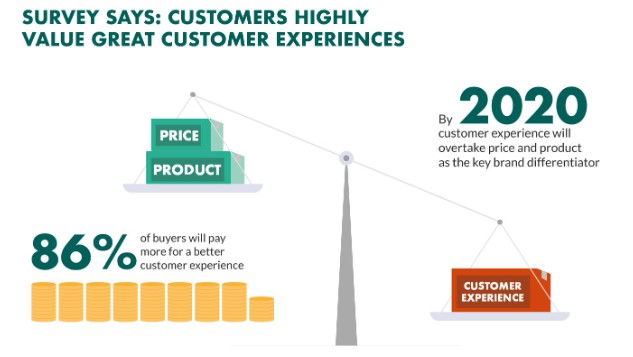 In a competitive B2B market where customers can access everything at their virtual fingertips, a positive customer experience is everything. The most successful companies deliver superior customer experience throughout the B2B marketing funnel stages.
A positive customer interaction begins with successful navigation through your B2B marketing funnel. This powerful relationship-builder starts with the first interaction with your brand and extends beyond conversion or purchase. Your B2B marketing funnel is designed to not only result in initial sales, but to create a loyal, repeat customer base.
A positive customer experience begins with a map of your customer's journey through all the touchpoints with your business. This map will help you identify trouble areas and barriers that keep people from making a purchase.
Mapping the B2B Customer Journey
To deliver a positive customer experience, you need to get into the customer's shoes. This involves being familiar with all the touchpoints a prospect will encounter in becoming a paying customer.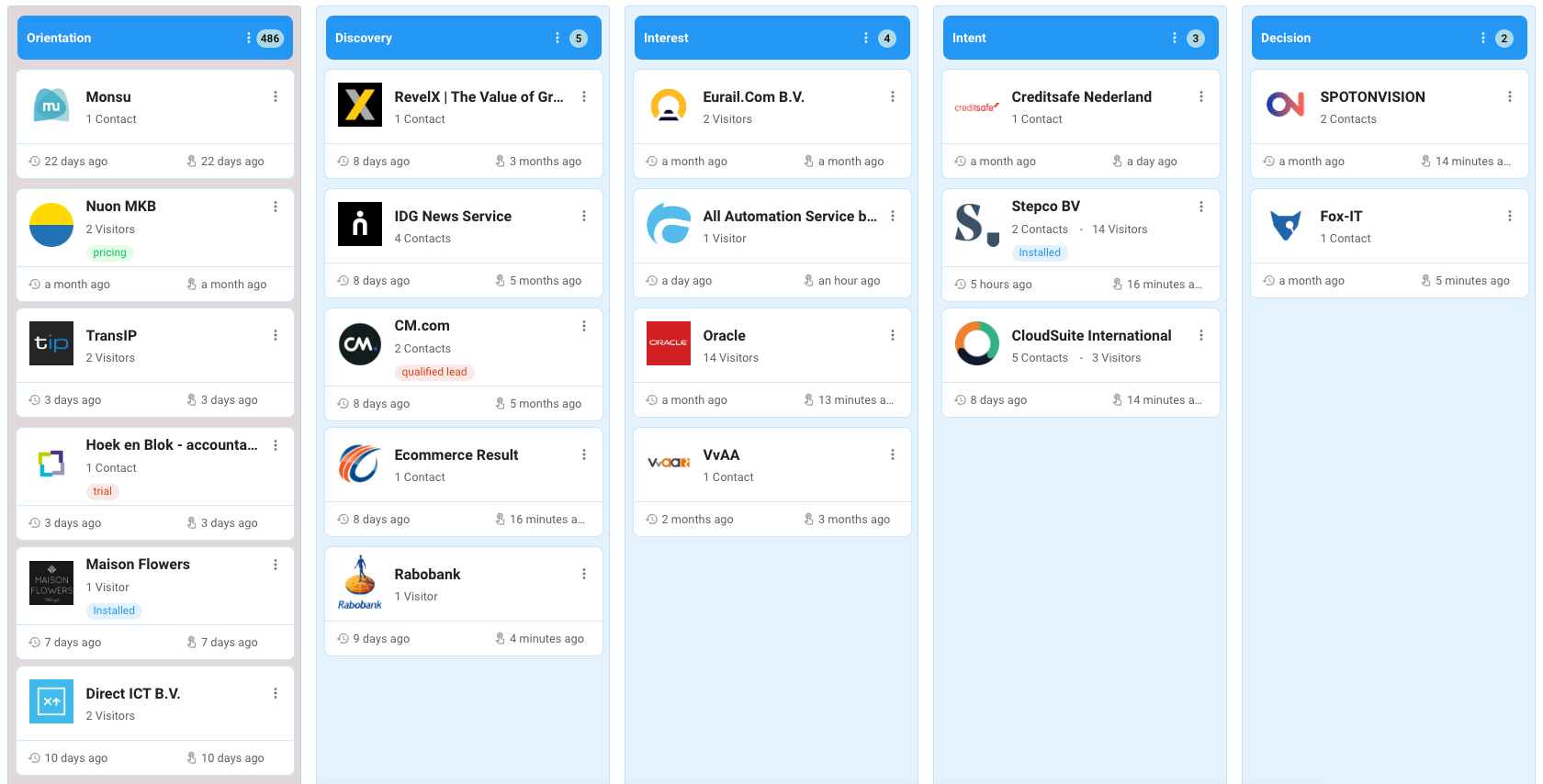 The customer journey begins with making them aware of your brand and ends when their relationship with your company ceases. Touchpoints commonly include advertising, PR, marketing, content production, sales support and interactions with sales representatives.
A B2B customer journey map moves a company to be more customer-centric. Your company will be more mindful of your customer's experience with your brand throughout the purchasing process. This tool helps you improve your funnel to ensure a pleasant customer service interaction so people will return.
Each company will have a different customer journey. For B2B customers, this journey is complex and time-consuming because of the following:
It takes more time to get buy-in from senior management
It requires getting cooperation from various staff involved in the different stages of the customer journey
There is the unknown availability of resources needed for a company to implement a new product or service
Possible uncertainty about how to get started using your product or service, especially for multi-site locations
Technical or service requirements a product or service needs to pass before being implemented
The added complexities of B2B customer journey mapping can either make maps overly complex or simplified. As a result, there is the risk of being process-driven instead of experience-driven. This can make your brand seem out of touch with customers.
The B2B Marketing Funnel
Marketing funnels are the processes of taking website prospects and converting them into customers and advocates for your brand. Each stage of the B2B marketing funnel has relevant content that boosts your company's trustworthiness. The more authority your company has, the stronger your relationship with customers, resulting in a better customer experience.
In B2B marketing funnels, prospects are broken into customer journey stages where they are delivered tailored messaging. Each of your customers will travel through these stages on the way to becoming loyal, repeat customers. Your prospects must be moving onto the next stage through the funnel.
B2B Marketing Funnel Stages
As previously mentioned, the B2B marketing funnel is divided into stages. These stages are top of funnel (ToF), middle of funnel (MoF) and bottom of the funnel (BoF). The top of funnel stage will have the largest audience while the bottom of the funnel will have the smallest.
Top of Funnel
At the top of the B2B marketing funnel, you have prospects who aren't aware of your brand, product or service. This stage is all about spreading awareness of your product or service and how it can solve a prospect's problem. This is usually done by educating prospects and answering their high-level questions in blogs, articles and videos.
At the top of the funnel, you want to attract prospects to your website in order to spread awareness. As people don't know much about your brand, product or service, this is not the stage in which to try a hard sell. Once your prospects show interest or desire, they are ready to move forward toward the middle of the funnel.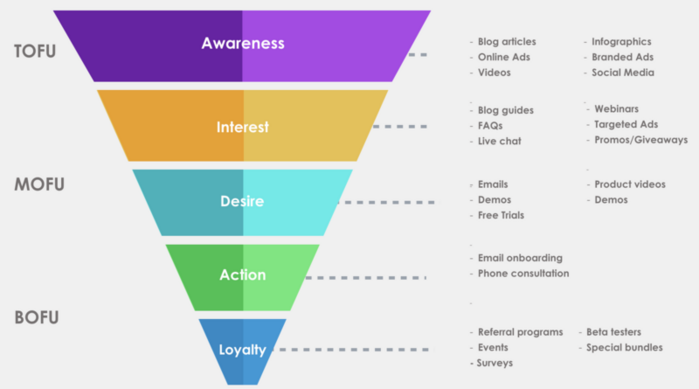 Middle of Funnel
While the bottom of the funnel focuses on awareness, the middle of the funnel is about sharing product details. Prospects that make it to this stage are interested in learning more about what exactly you have to offer. The extra sharing of information about your offerings helps you gauge your user's experience.
Some of the content you might use at this B2B marketing funnel stage include:
eBooks
Whitepapers
Case studies
Webinars
Tutorials
Landing pages
Surveys
Email sequences
Customers who respond well to the middle of the funnel stage, then move on to the bottom of the funnel stage. This is where you push for the final sale.
Bottom of the Funnel
At the bottom of the funnel, your goal is to sell your product or service. A secondary goal at this stage is to build customer loyalty. Purchases are good, but generating loyal, repeat customers is even better.
At this stage, customers are familiar with your brand and offerings. They also have had many relationship-building interactions with your company. Your chief aim is to build customer loyalty by informing them of the value of your product or service.
Email marketing, especially onboarding email sequencing is effective at this final stage of the funnel. In these emails, teach customers to fully utilize your product or service and let them know all the ways your offering can benefit them.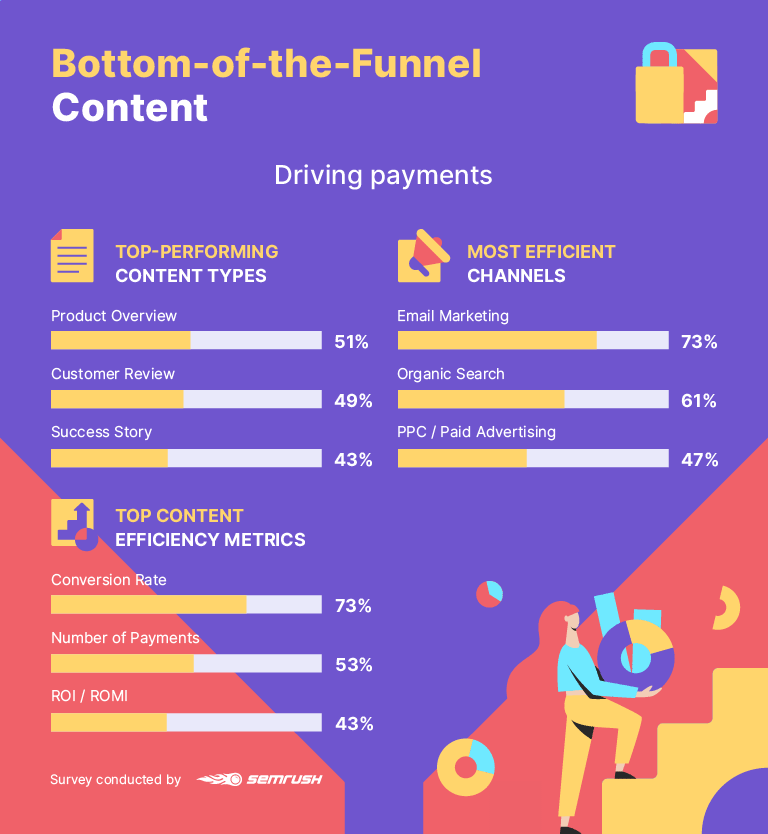 You can also send surveys to new customers asking about their experience and inviting them to join a loyalty program. You not only want customers to make a purchase, you also want to persuade them to become brand ambassadors for your company.
The Role of SEO Content in the B2B Customer Journey
Strong content is a game-changer in digital marketing. The more informative, relevant and personal your brand's content, the better your lead generation and sales will be. This is because well-written content delivered to the right people builds your brand's authority and trustworthiness.
People who see that a company is knowledgeable and transparent will be more willing to do business with that company. As in generic digital marketing, great content is crucial in your customer journey mapping and funnel effectiveness. In fact, 87% of marketers create content for each stage of the customer journey.
The B2B marketing funnel and all the B2B customer journey steps can't build customer/business relationships without content. Each touchpoint along the customer journey needs to have well-written, strategic content. What you communicate with the customer should meet them where they are and encourage them to move forward.

With content marketing for B2B marketing funnel stages, produce quality content that answers your audience's questions. Cover topics of interests in your niche or industry to make your company the authoritative source of information.
Content marketing also includes search engine optimization (SEO). This type of B2B marketing funnel content will utilize researched keywords and link building techniques.
In today's digital age, you can't create effective content without using keywords. Content without keywords will not be picked up by search engines. When this happens, your great content will never be seen by your ideal audience.
After you identify your keywords, use them throughout all your digital assets. This includes website content, product descriptions, blogs, whitepapers and video transcripts.
Another tactic used in SEO content is link building. This involves strategically inserting links throughout your content. These links can be either internal, linking to a page on your website, or external, linking to outside sites.
It is best to use a combination of internal and external links. The external links need to go to reputable sites to further your brand's credibility. When link building, don't use too many links, as your content will be penalized.
All the B2B marketing funnel stages and each touchpoint along the B2B customer journey need SEO content. This type of content will target a specific audience, catching their attention and compelling them toward the next stage. Your content will inform prospects and turn them into loyal, repeat customers.
To generate B2B leads and sales, you build relationships with your prospects and customers. Excellent customer service and experiences with your company are the foundations for this relationship building.
Great customer experience comes through meeting your customers where they are in the buying process. It also comes through understanding the journey your customers go through from brand awareness to making purchases.
LeadBoxer's unique lead generation platform with its full complement of integrations, make it easy for you to target and communicate with your ideal customer base consistently and effectively, ensuring a great customer experience.