Here are the update notes for the latest changes
Updated LeadBoxer Outlook email tracking:
Today we are releasing a new official version of our Outlook email tracking add-in.
Due to a restriction placed by Microsoft, we have removed the automatic enablement of Leadboxer tracking for each email. This is required in order to continue developing the add-in inside the store for future improvements.
As an alternative solution to have automatic email tracking enabled, we are releasing a customized add-in. This can be achieved with a download / install outside of the Microsoft app source.
NOTE: the add-ins are otherwise identical and we recommend you only have one version installed.
If you have an active subscription through the MS app-source platform, there are no other steps that you need to take. The add-in is auto-configured based on your email address.
Please contact us for assistance, or questions.
Marketo Integration
We have further improved our Native integration with Adobe Marketo.
For full details, see the Marketo Integrations page and our Marketo documentation
New and improved email notifications
We have redesigned and rebuild our daily or weekly email notifications to include more details such as industry, company size, lead tags, etc.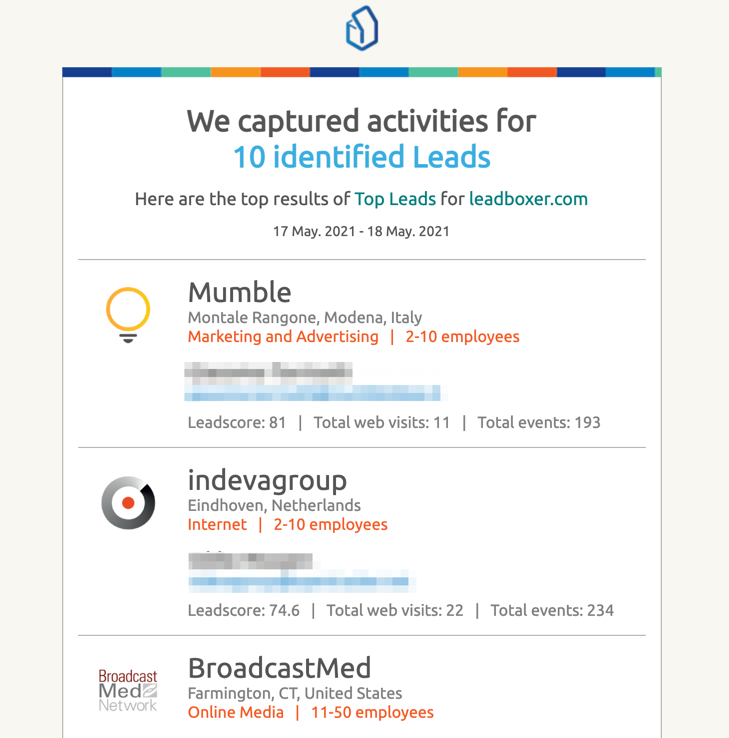 Further updates
CSV download column order can now be set in the column selector.
Fixed numerous bugs