New option: Mask IP-addresses for GDPR compliancy
IP Address Masking allows you to anonymize computer IP addresses by setting IPv4 IPs and IPv6 IPs to zeros. Depending on your requirements, you can now enable this feature per dataset. Note that anonymization is processed at storage level, meaning we will still use the IP address to identify the company, organisation, location and other (generic) profile data – but that the IP address is never written to disk.
This is useful if you do not want to mention LeadBoxer in your privacy statement. If that is the case, for EU GDPR compliance you need to anonymize IPs (unless capturing and storing IPs is absolutely necessary for purposes such as legal investigation, transaction fraud prevention, etc.).
---
Updated Account view
After the exciting debut of Account view 2 weeks ago, we have fixed some minor bugs and added additional data to the views.
Here are the main changes:
Added download functionality to Account view
We order the individual leads within an account a) first by identified leads, b) then by score
We now use company logo for accounts, not avatars
We now show the role Property in account view – lead list (see other update below)
Added options to add/change Email, Name, and Role in the lead details modal view
We fixed a bug that caused switching URL/title in the lead modal to stop working
Improved layout of company details to improve screen real-estate
Added organisation phone numbers
Added hot-link to website address
Minor UI improvements
---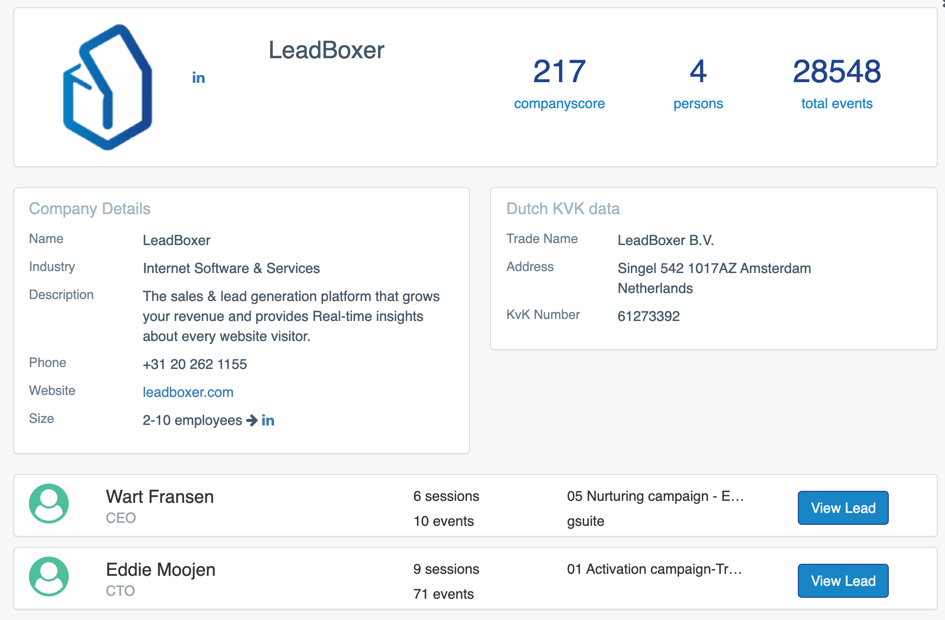 [et_pb_divider _builder_version="4.0.4″ custom_margin="68px||-4px|||"][/et_pb_divider]
Automatic  prevention of duplication 
We now automatically find and merge all duplicate persons in your data, using the email address as unique identifier.
Duplicate or instances where multiple persons with the same email were created occur when people use multiple browsers, devices, private or incognito windows, etc.
We now check daily for these, and automatically merge the user/session/events.
We will also update respective cookies when they return so that all devices will have the same cookie ID
[et_pb_divider _builder_version="4.0.4″ custom_margin="68px||-4px|||"][/et_pb_divider]
New custom fields
You can now manually (or automatically) add values to 2 more properties to individual leads: Name and Role
These new fields can be found on individual lead cards/details but also in the accounts view lead list, see above screenshot.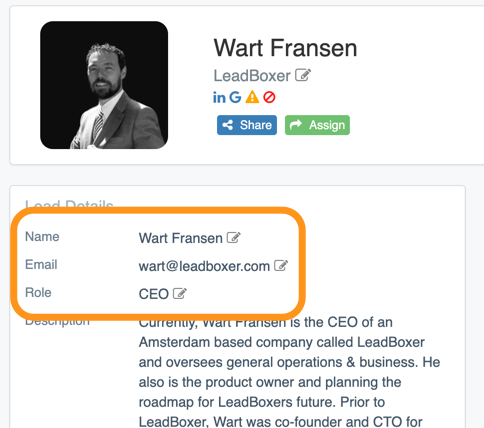 [et_pb_divider _builder_version="4.0.4″ custom_margin="68px||-6px|||"][/et_pb_divider]
Account view data now available in the API
We have made the API call that powers the account view available- which can now be accessed through our API documentation.
See the LeadBoxer API documentation