User onboarding matters. A lot.
Having a good product is pointless if you don't give people the right tools to understand your product. If people don't understand your product, they are never going to use it and become purchasers.
You have bad user onboarding if you experience the following:
Users quickly vanish after signing up.
Low conversion rate to paid accounts.
High churn rate (people aren't renewing their paid accounts).
All of the effort that you're putting towards building a company are effectively going down the drain if you have awful onboarding. Your product doesn't matter if nobody is willing to use it and everything that you're doing is a waste of time if you can't get people to pay for your product and retain the people who are paying for your products.
Do you know your customers?
A person who signs up for your product did so because he or she believed in the promise that you explained in your marketing materials. Your marketing materials explained something that sounded great to the user, but are people finding that your product actually meets the promise once they join?
User onboarding is when you make your marketing promise come to life. To make your promise come to life, you need to creatively introduce people to your features while remaining intensely focused on your customer.
To become intensely focused on your customer, you should be creating a brilliant strategy that embraces of notions of a buyer personas and the jobs-to-be-done theory.
The idea behind buyer personas and the jobs-to-be-done theory are:
A buyer persona makes it easier to understand who is signing up for your product or service.
The jobs-to-be-done theory makes it easier to understand why people are signing up for your product or service.
If you have a strong understanding of who and why people are using your product or service, you will be able to achieve far greater success.
The two ways different ways to onboard new users.
In this post, we are going to focus on two ways to best onboard new users. The tactics that we are going to discuss are using persona's to onboard users and also using the jobs-to-be-done theory. Ideally, you won't just pick one of these theories. But rather, you'll be able to strategically combine both theories to create a powerful user onboarding machine.
Onboarding customers using a persona.
Because onboarding is a key part of marketing, it's important to bring the idea of a buyer persona into the onboarding mix.
This is important to do because it makes it so that your customer is the center of the onboarding experience.
For example, Canva relies heavily on persona onboarding to make a memorable initial user experience. They rely heavily on personas by showing three options for new users to pick from. The three options ask if the new user is using Canva for education purposes, for work, or for personal use. Whichever option the new user picks dictates the onboarding flow that he or she will go down.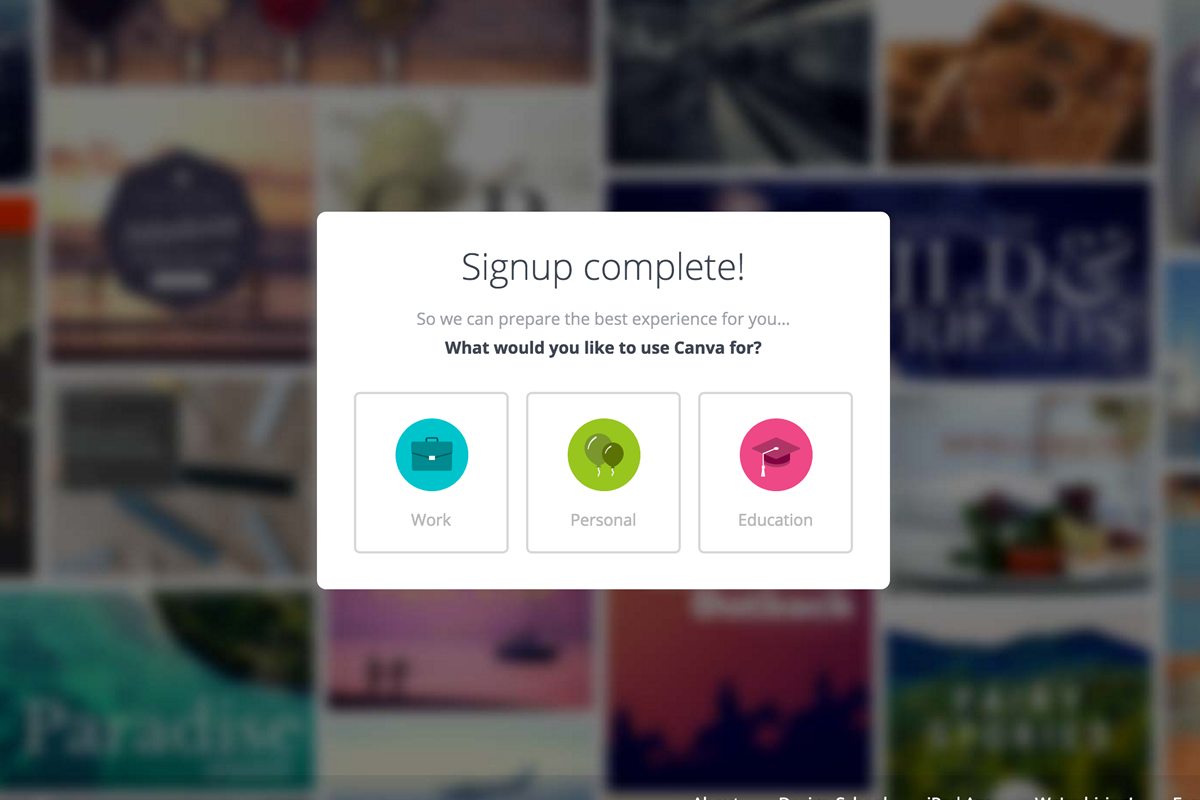 If a user selects that they are using Canva for personal projects, he or she will sample projects for items like birthday cards. If a personal says they are using Canva for business, they will see more professionally-inspired projects to start from.
Onboarding customers using the jobs-to-be-done theory.
The jobs-to-be-done theory was created by Harvard Business School professor Clayton Christensen. Christensen's theory is something that you should be putting to practice, especially during the user onboarding phase.
Before we talk about why the jobs-to-be-done theory is so important for user onboarding, we should talk about what the theory is.
Christensen describes the theory as:
"The jobs-to-be-done framework is a tool for evaluating the circumstances that arise in customers' lives. Customers rarely make buying decisions around what the "average" customer in their category may do—but they often buy things because they find themselves with a problem they would like to solve. With an understanding of the "job" for which customers find themselves "hiring" a product or service, companies can more accurately develop and market products well-tailored to what customers are already trying to do."
From the definition above, it makes it easy to see how the jobs-to-be-done framework makes it easier to look at what actually motivates customers to make purchase and usage decisions. The mentality from the framework will allow you to focus on what the customer actually wants, not what the company wants to sell.
When you figure out what the customer actually wants, it becomes easier to have that "aha!" moment that drives monumental business growth.
Using language that is customer-centric makes people instantly feel a closer connection to your product or service.
The easiest way to determine which language is best to use while onboarding customers, you should collect and study user feedback.
Once you have studied your user feedback, you will understand exactly what your customers want to do with your product. This means that you can very strategically map out a personable user onboarding journey.
Your user onboarding will be personable, and embrace the jobs-to-be-done theory, if it focuses on how your solution will create success for the customer.
For example, if your product is focused on increasing the efficiency of management team planning meetings by 50%, you should smartly show how your product saves valuable time. If the companies you're helping spend an average of 45 minutes on planning meetings, twice a week, and that time is valued at $2,000 per hour for the entire team, show how you can save the company money using your software. The example company that we just outlined is theoretically spending $156,000 per year on meetings, so saving them 50% of their time spent in management planning meetings saves $78,000 per year. To add a personable aspect to this, you can also mention how most people dislike meetings and how your product is solving this pain point too.
Which of these two ways to think about user onboarding resonates with you most?