It's no secret that to make sales, you need to know your individual prospects inside and out, from the size of their company to their most recent source of funding. However, gathering this data is time-consuming. Most sales reps are extremely busy communicating with their leads and working to close deals.
Meanwhile, sales intelligence tools automatically find and interpret this data so your reps don't have to. With the right sales intelligence tools, your reps can focus more on delivering a better sales experience to prospective customers and less on data entry.
This guide offers an introduction to sales intelligence and a comparison of some of the most popular tools available. That is to say, with the right suite of tools, your team will be able to close more deals faster and with less data entry.
Keep reading or skip ahead to these sections:
What are Sales Intelligence Tools?
Sales intelligence involves gathering and analyzing information about prospective customers. As a result, sales reps can keep their pipelines filled with high-quality leads that are likely to close.
While a sales rep could do this manually by collecting data from social media, news outlets, lead capture pages, and company websites, in reality, the process is too time-consuming for this approach to be feasible.
That's where sales intelligence tools come in. These tools automate the collection and interpretation of data, helping reps to:
Find potential new customers
Populate prospect records with details such as contact info, company size, and revenue
Track online behavior, including email clicks, website interactions, and search habits around the web
Qualify and rank leads according to their likelihood to buy
Update lead records so their data is always accurate
Gather relevant info from public sources like social media or news outlets
The Importance of Sales Intelligence
The main selling point for sales intelligence is its ability to streamline your workflow, therefore saving your team time and energy.
Moreover, without sales intelligence, reps can end up wasting time:
Searching for leads and accurate contact info
Pursuing leads with no real interest in buying
Passing up on prospects that actually want to hear from them
In short, with sales intelligence and sales AI, not only do reps know who they should contact, in addition, they're already familiar with that company's unique financial situation, any recent staffing changes, and other details that influence their pain points. As a result, reps can then refine their pitch to be sure they're addressing each prospect's most pressing needs.

The 10 Best Sales Intelligence Tools
1. LeadBoxer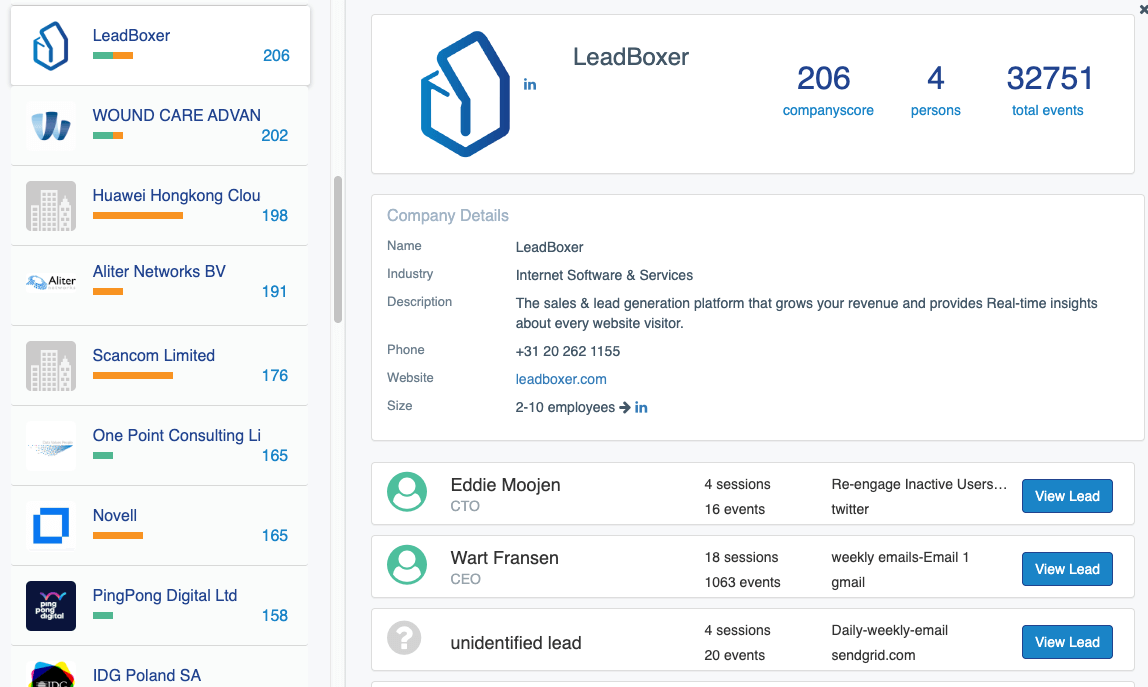 LeadBoxer helps you identify, track, and prioritize leads with ease.
Pros:
Identifies anonymous website visitors
Finds and fleshes out prospect profiles with contact info, company size, and other important details
Tracks website and email marketing behavior
Assigns contacts a lead score and helps prioritize prospects
Cons:
Doesn't include intent data
Doesn't gather insights from news outlets regarding recent company changes
Price: LeadBoxer's basic plan starts at $195 per month.
2. ZoomInfo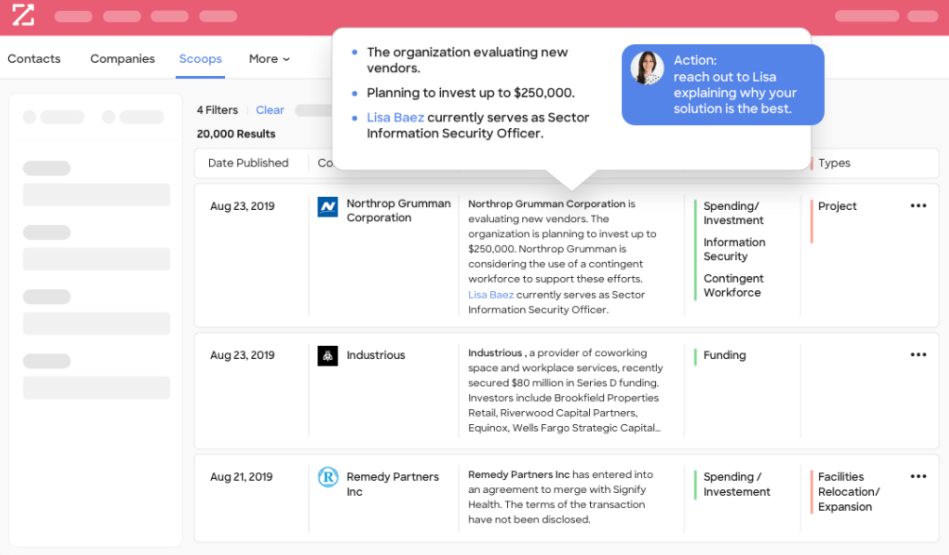 ZoomInfo keeps your lead database up-to-date with the most relevant and actionable details.
Pros:
Includes intent signals, so you know exactly which accounts are actively researching problems for which you provide solutions
Enriches contacts within your CRM, as a result, information like company size, funding, and technology use is always accurate
Cons:
Doesn't score or help prioritize leads
Pricing: Contact ZoomInfo to find the right plan at the right price for your needs.
3. LinkedIn Sales Navigator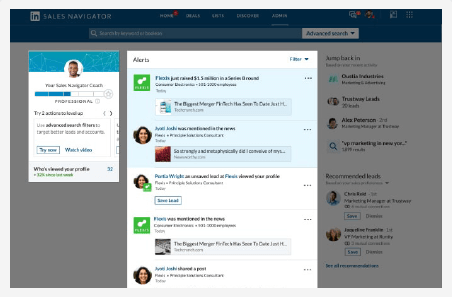 LinkedIn Sales Navigator helps you find new leads and offers a ton of insight, for example, who they are and what makes them tick.
Pros:
Advanced search and lead recommendation options make it easier than ever to find prospects that fit your ideal customer profile
Integrates with your CRM so the leads you find are automatically saved as new contacts
Sends you alerts about job changes and other big shifts happening at target accounts
Cons:
Offers no insight into a lead's behavior on your company's website or around the web
Doesn't help score or prioritize prospects
Pricing: LinkedIn Sales Navigator starts at $65 per month for a basic plan.
4. EverString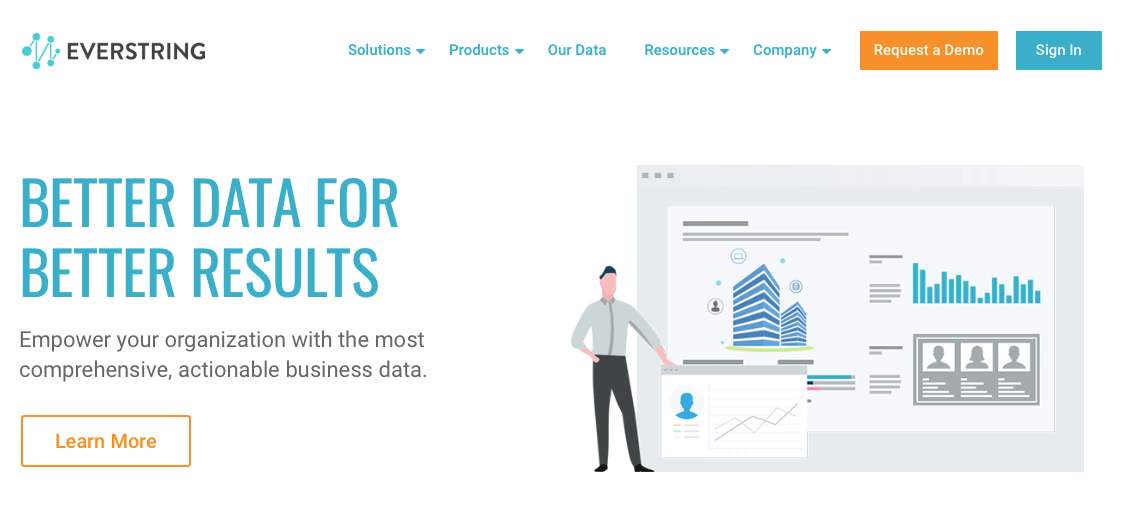 EverString uses a combination of artificial intelligence (AI) and human intelligence to monitor companies and give you the most comprehensive view of their current situation.
Pros:
Firmographics, news, intent data, and more certainly give you a 360-degree view of prospects
Tracks 20,000 intent signals per company, therefore giving you insight into who needs your product most
Automatically verifies contacts so you're reaching out to the right person every time
Cons:
Requires significant training before you can use it efficiently
The cost can be prohibitive for smaller businesses
Pricing: EverString starts at $820 per month, so it is on the pricier side.
5. HubSpot Sales
HubSpot Sales is a CRM and lightweight sales intelligence tool all in one. As a result, making this a comprehensive solution for businesses on a tight budget.
Pros:
Tracks who visits your website in real-time so you can find new, qualified leads without actively searching
Prioritizes leads and scores them, showing reps who to reach out to first
Cons:
Doesn't search for news or other insights that may impact your lead's willingness to buy
Doesn't automatically update or verify contact information
Pricing: HubSpot has a free version of its popular CRM, but Sales Hub starts at $50 per month.
6. Clearbit
Much like ZoomInfo, Clearbit for sales is a contact database that updates your records with a range of insights.
Pros:
Includes a database of 200 million contacts at 20 million companies. So finding leads within your parameters is a breeze
Automatically enriches records with up-to-date contact and company information
Scores and routes leads to reps, who can strike while the iron is hot
Cons:
Doesn't track website or search behavior
Some customers complain that Clearbit's databases don't update often enough
Pricing: Clearbit starts at $99 per month.
7. Adapt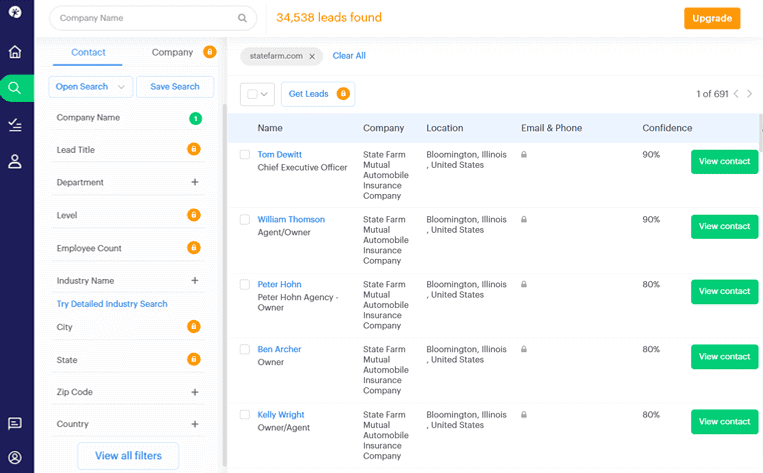 Adapt is one of the more lightweight and inexpensive tools on this list. However, it also offers limited features.
Pros:
The lead builder tool lets you build a list of new prospects in seconds using Adapt's contact database
Chrome extension finds emails for leads on LinkedIn
Cons:
Doesn't offer insights based on news or intent signals
Doesn't score or prioritize leads
Pricing: There's a free version, or you can choose a basic plan that allows more views and downloads. The basic plan is $39 per month.
8. InsideView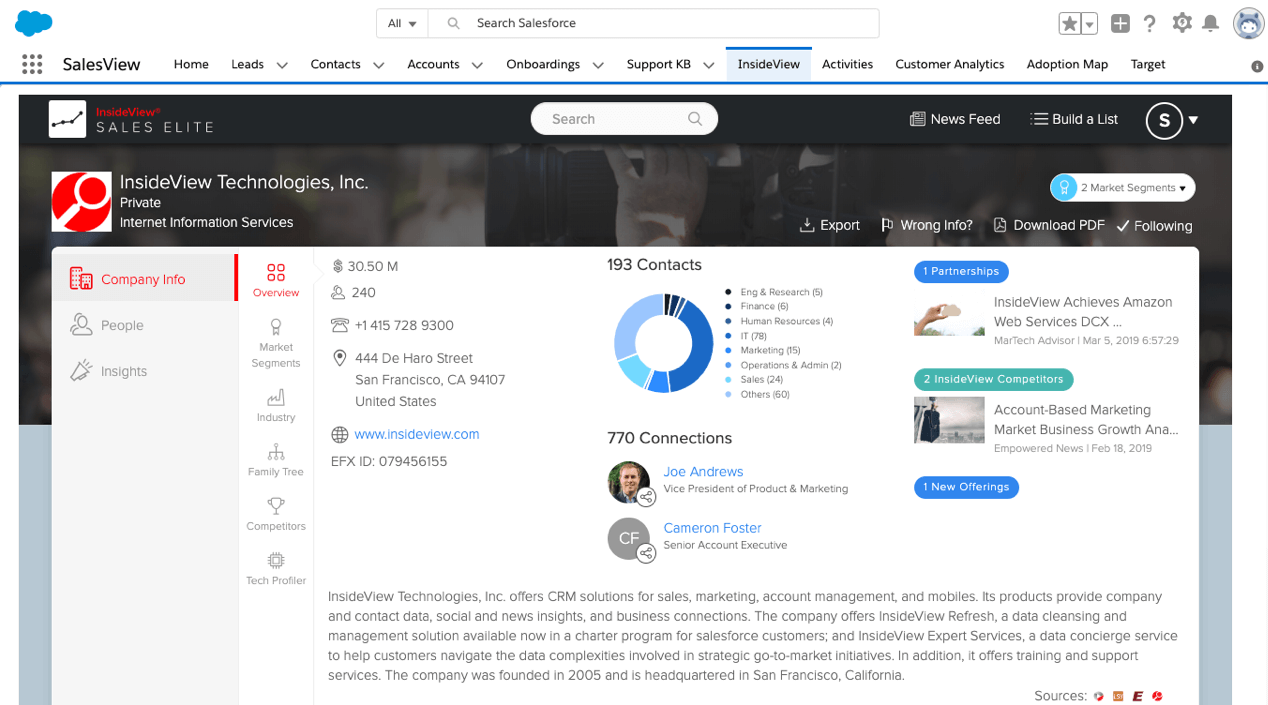 Source
InsideView integrates with your CRM to provide accurate information about target accounts and employees.
Pros:
Includes data like finances, recent news, and competitors, therefore giving you the clearest picture of who your lead is and what their pain points are
The "corporate family tree" feature shows you all the key players involved in a decision-making process. As a result, allowing you to build all the necessary connections to make a sale
Cons:
Doesn't score or prioritize leads
CRM integrations can sometimes be buggy or clunky
Pricing: InsideView's Sales Acceleration tool starts at $99 per user per month.
9. Lusha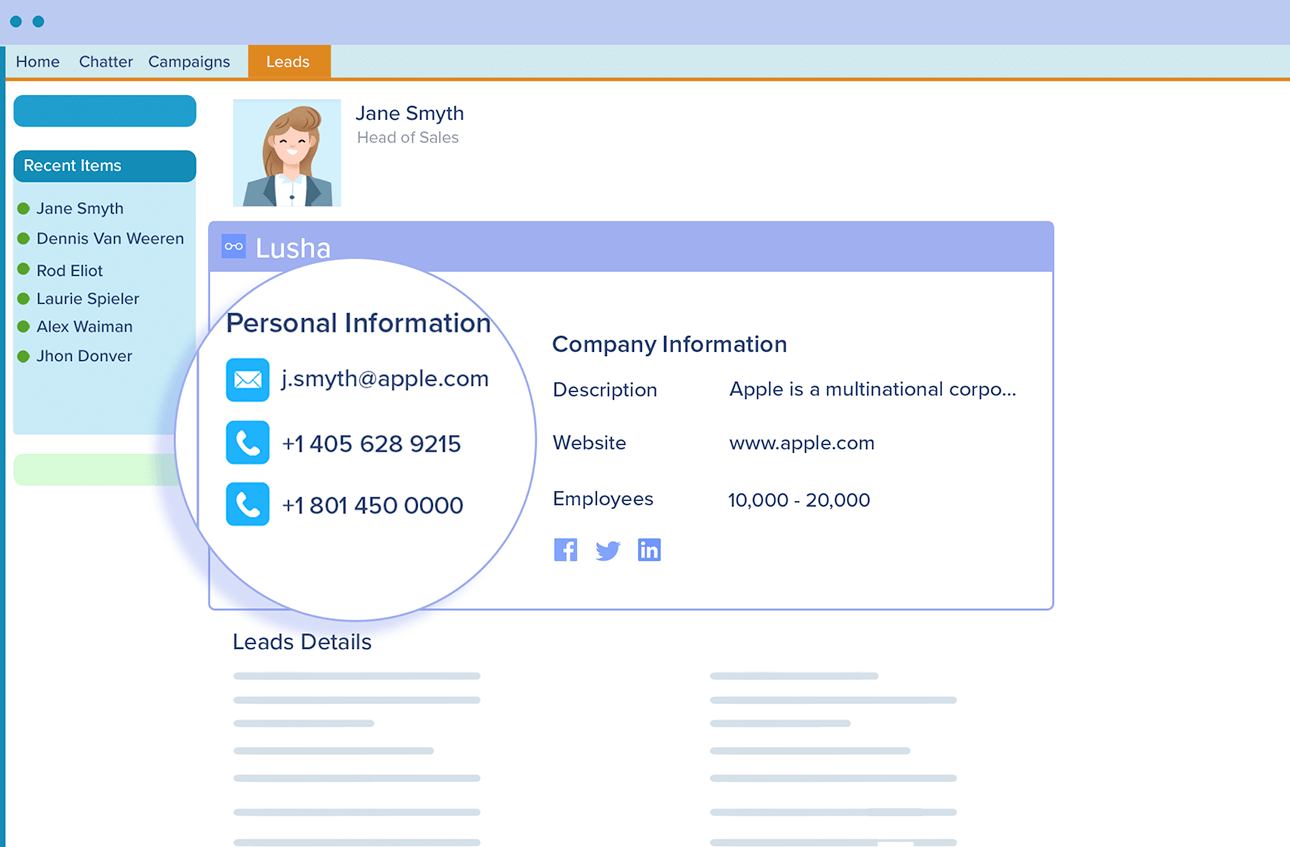 Source
Lusha makes it easy to enrich and verify contact profiles. In other words, you can make faster and better connections with leads.
Pros:
Can be used as a Chrome extension to verify leads during your browse in LinkedIn
Automatically updates leads in Salesforce
Comes with a feature that scores and routes leads. As a result, reps always connect with the right prospects
Cons:
Customers complain that the phone numbers for leads are often incorrect.
Pricing: Lusha offers a free version of the tool. A basic plan starts at $23 per user per month.
10. UpLead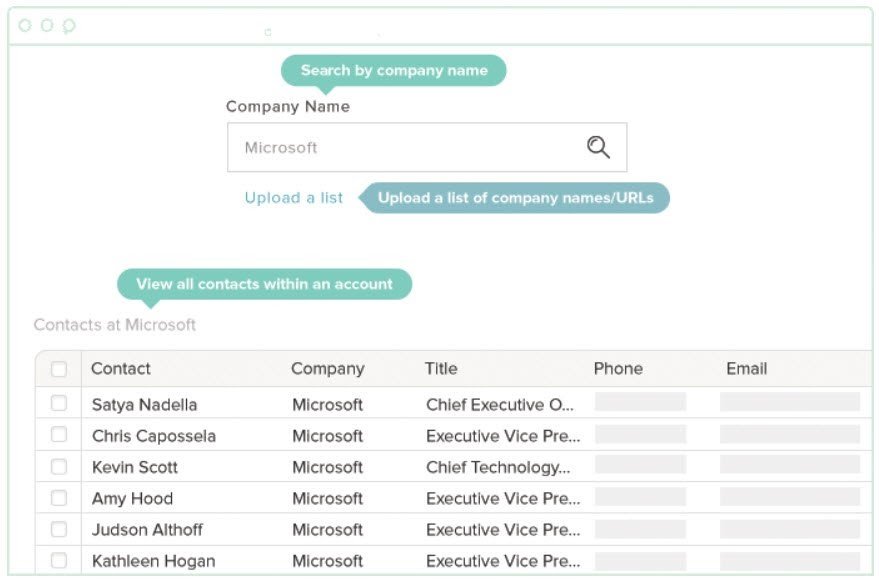 Source
UpLead is similar to Adapt or ZoomInfo. For instance, you can find verified contact info for leads, therefore enriching the records in your CRM.
Pros:
Their database of 46 million contacts in 200+ countries makes it easy to get in touch with key players at target accounts
You can search for contacts and companies using over 50 different criteria. For example, location, management level, and revenue
Verifies email addresses in real-time, so you're always getting the most accurate information right when you need it
Cons:
Revenue levels are broad. However, you can filter for revenue in a range of $1m-$10m, but not $1m-$5m
Smaller database size than its competitors
Pricing: UpLead offers a free version or a basic plan that starts at $99 per month.

Accelerate Your Sales Process With Sales Intelligence Tools
To build a strong relationship with your prospects, most importantly you need the most up-to-date information about their company and its needs. Sales intelligence tools and customer data software automate the collection and interpretation of this data, letting sales reps focus on moments of actual connection.
However, not all sales intelligence tools are created equal. Some excel at finding accurate contact information, while others stand out in their ability to gather intent data and relevant news from media outlets.
None of this data is helpful if you don't know which leads are most worth focusing your efforts on. In the end, sales intelligence tools with lead scoring or prioritization features and demand generation marketing strategies are perhaps best able to accelerate your pipeline and close more deals.
LeadBoxer does exactly that. With website visitor identification, record enrichment, online behavior tracking, and lead scoring, LeadBoxer can find and prioritize prospects on autopilot, putting sales reps closer than ever to the actual sale. Get started with a free trial today.