Creating and planning lead generation strategies takes up a lot of time when you're trying to come up with clever ways to generate new leads for you business.
This is because having a constant feed of high quality leads is a key part of maintaining and growing a new or old business. Unfortunately, sometimes it can be really hard to get the attention of quality leads that are likely to convert.
Since it can be hard to come up with effective tactics to gather new leads, and we're obsessed with helping you generate leads, we found 9 proven lead generation ideas that are immediately actionable.
1. Give your website visitors less options.
When your web pages are full of options and choices for your website viewers, things start to get confusing. When things get confusing, visitors bounce and leave your website.
A good rule of thumb for this notion is to take some time exploring your own website and pages in the mindset of somebody who has never been to your website before. Is it easy to figure out where to go next? Do you naturally go to the pages that help you accomplish your business goals?
We even have one more idea, as an alternative to you browsing your own website. Sit down with your Mom (or a friends Mom) and make her use your website. Write down questions she has or anything else you notice with how she navigates the website. Our theory behind this is that if a Mom can easily use your website, then anybody can!
2. Make your "About Me" page insanely awesome.
Your "About Me" (or whatever your company calls it) page is often neglected. This page is surprisingly important for your business since it's the best place for people to learn about who is running the company and what your company mission is.
On your "About Me" page, you should have high quality pictures of the people building your product, your mission and value proposition should be clearly displayed, and have a highly visible call-to-action.
Make your websites visitors love you so much on your "About Me" page that they'll instantly what to give you their information or become a paying customer.
3. Get good at blogging consistently (and at a high quality!).
You've probably heard repeatedly that you should be blogging frequently. This is because it works; it's one of the best methods of collecting leads online. If you're not blogging consistently, you definitely should be because it's a great way to "pre-nurture" your leads to trust you as you capture their information.
To generate leads using your blog, you should be placing clearly visible call-to-actions on the post pages so that people find ways to continue enjoying your brand after they've finished a post.
If you start blogging, don't feel uninspired if you don't see immediate results. Power forward and find ways to get people to your content. If you blog consistently your organic traffic will grow, and it often can grow significantly.
4. Answer relevant questions on Quora.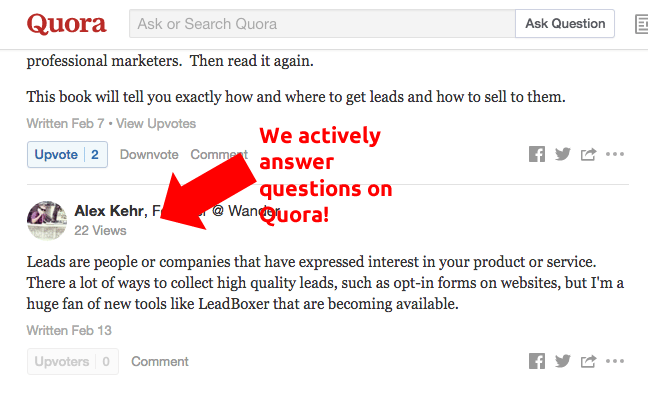 Answering relevant questions on Quora is a tactic we at LeadBoxer been trying out a lot recently. We really like answering questions on Quora as a lead generation tactic because, since it's a Q&A site, you get the opportunity to answer the question of a person in a public way. It both makes you look like the expert that you are and also increase organic exposure of your brand
5. Look for great conversations on Twitter that you can join.
If you search for a relevant keyword on Twitter, you're instantly going to find conversations happening that you can get involved in. Jump in and say something, in a non-intrusive way, and you've just introduced your brand to new people in a memorable way.
People are already mentioning the topic/industry that your company operates in, so there's no reason not to take full advantage of this organic opportunity.
6. Find an event to speak at.
Finding an event to speak at is surprisingly easy since events organizers often need speakers to attract attendees. The reason why finding an event to speak at can be so valuable is because when you're a speaker, you become an authoritative figure. As an authoritative figure you can tell people to try your product, and they are much more likely to look into your offering after your talk. If they like your product, they're much more likely to convert since they've met you, the person who made or represents the brand.
7. Uncover smart strategic partnerships.
By creating smart strategic partnerships, you can create an ecosystem of companies that help promote you. This can be extremely valuable, because it enables other companies to promote your product to their customers (which can help your company expand rapidly!).
To really take advantage of strategic partnerships, you should find larger brands who need what you offer, can build your product into theirs using an API, and trade advertising with you.
If you find the perfect partner, you can quickly grow a strong and profitable brand.
8. Use AdRoll.
AdRoll is a retargeting service that can be very impactful. Retargeting means that when somebody goes to your website, you can re-serve ads to him or her all around the Internet (on Facebook, on Twitter, or banners on other websites).
When you "follow" people around the Internet, after they've recently interacted with your brand, it becomes much more likely that they'll visit you again and purchase what you offer.
Return on investment (ROI) for retargeting is often very high, which is why you've probably noticed a lot of your favorite brands utilizing this lead generation and sales method after you visited their websites.
9. Add a lead pixel to your website.
A lead pixel is a tool that makes it so that you can reveal who is visiting your website, what products person is interested in, how to contact that person, and also scores the lead so that you know how valuable they potentially are. This means that you're collecting leads with no forms or no buttons. If you want to try a lead pixel for free, click here.
Which of these lead generation ideas do you like most?