When you launch a new website, you typically try to dream up ways for how to get more website traffic. This is because you probably built your website to share an idea or grow your business. The more people that end up on your website, the more people will learn about what you'd want to share.
For a business, what you're sharing is effectively a marketing asset. You're driving leads and sales to grow your revenue with your website. The more traffic you get to your business website, the more money you will make.
It can be very challenging for a business to figure out how to get more website traffic. That is why, in this post, we are going to explain what you need to do to get more people visiting your website.
We're setting our sights high in this post and are going to help you create a plan to build your web traffic up to over 100,000 visitors per month, without spending any money on advertising.
How to Get More Website Traffic (and Get to 100,000 Monthly Visits)
Our plan for building your website traffic up to over 100,000 monthly visits is all about two things: search engine optimization (SEO) and a content strategy. Additionally, the goal of this article is to help you hit this remarkable amount of traffic in less than one year by using our tips.
How to Drive Your Traffic Growth
To create sustainable growth, you need to have a smart plan. A plan is important because, as the old adage says, "a goal without a plan is just a wish."

To create your traffic growth plan, you need to do the following tasks:
Math

: You should take a mathematical look at calculating and gauging opportunities. When you do this, you can smartly determine if an opportunity will ultimately pay you returns in gaining targeted traffic.

Analysis

: Constantly gauge your efforts. You need to analyze your efforts to make sure you're making progress towards your 100,000 visitor per month goal. If you aren't taking the time to understand the impact of your efforts, you have no shot at being successful.
Your First Month Online
For your first month online, you need to spend time discovering the traffic sources that drive the most growth. If a site like Reddit helps you build an audience, then you should work on creating a long-term Reddit strategy. Ultimately though, you will want to get a lot of referral traffic from publications and blogs.
You will want to get referral traffic from publications and blogs because this increases the amount of links going to your website. When there are a lot of links going to your website, Google views you as being more trustworthy and rewards you with a higher Google ranking. When you have a higher Google ranking, you will get more organic search traffic.
Decide What Keywords You Want to Try to Win
If you blindly create your website pages and content, it will be hard to win and achieve 100,000 monthly visitors. Take time to research keywords that will benefit your business. Once you know which keywords will be great for your business, do everything you can to try to win them.
To figure out what keywords you want to win, you should create a keyword database. A keyword database is a giant list of keywords that you've found to be potentially advantageous to your website. To create a keyword list, we recommend using the Google Keyword Planner (click here to go the Keyword Planner). When you find a keyword that has a high monthly search volume, add it to your list. Additionally, if Google Keyword Planner shows you that the keyword isn't that competitive, take a note of that. Low competitiveness means easier to win (and if you eventually do paid advertising, these are cheaper paid keywords).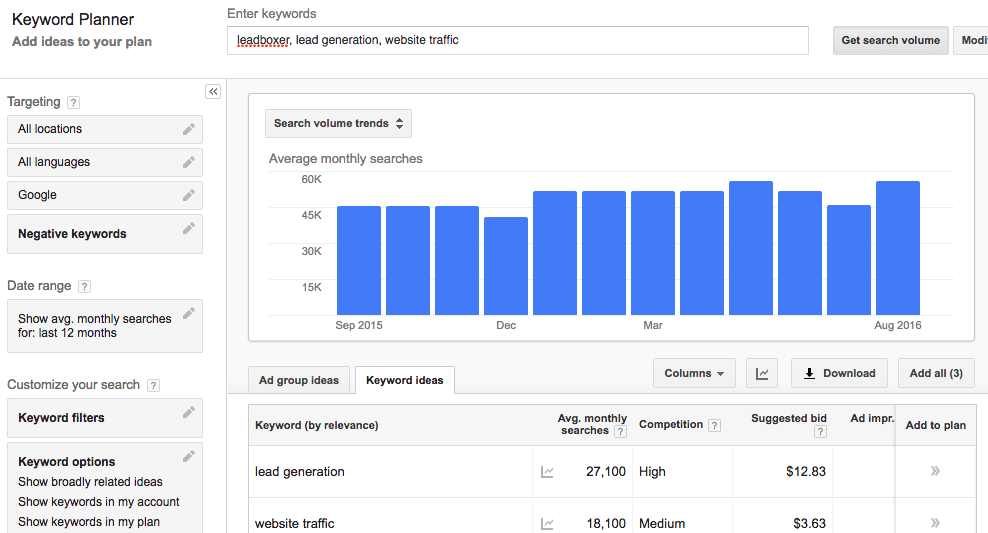 To put your keyword list to work, take the top 20 keywords that you have discovered and evaluate them. Evaluate how targeted of an audience each keyword will bring you and also imagine the type of content you would create for them. If you can win even just a single high volume search term, you'll receive a great traffic boost.
The terms that you win that are high volume and low competition are considered "low-hanging fruit." Low-hanging fruit are terms that can easily be won, with minimal effort. If you think that you can win a term that has a decent search volume in less than three months, consider that keyword low-hanging fruit.
Create Your Content Strategy
When you have identified the keywords that you want to target, you can begin to create your content strategy. When creating your content strategy, you need to make a plan that you'll be willing to stick with for a while. You need to be ready to become truly obsessed with your content strategy, and be ready to embrace it for a while.
The root of every great content strategy is great content. You need to write insanely high quality content if you want to succeed at building your web traffic to 100,000 visitors per month.
One thing that is often forgotten with chasing new website visitors and building an audience is testing, in addition to quality content. You should A/B test your headlines, page titles, and site design. If you can find big gains, that's fantastic. However, making a lot of small gains could be simpler. And, small gains, or marginal gains, end up adding up to big progress over time.
When you're searching for marginal gains by testing your content, you want to figure out how to increase user engagement. Find ways to increase time on site, pages per visit, and more.
Once your audience starts to grow, you will want to analyze it.
Analyzing your audience means seeing if you're attracting the right people. A simple way to see if you're getting the right people on your website is to add LeadBoxer to your site. LeadBoxer will show you exactly who and which companies are on your site. When you can see who is on your site, you'll know if your target audience is engaging with your site.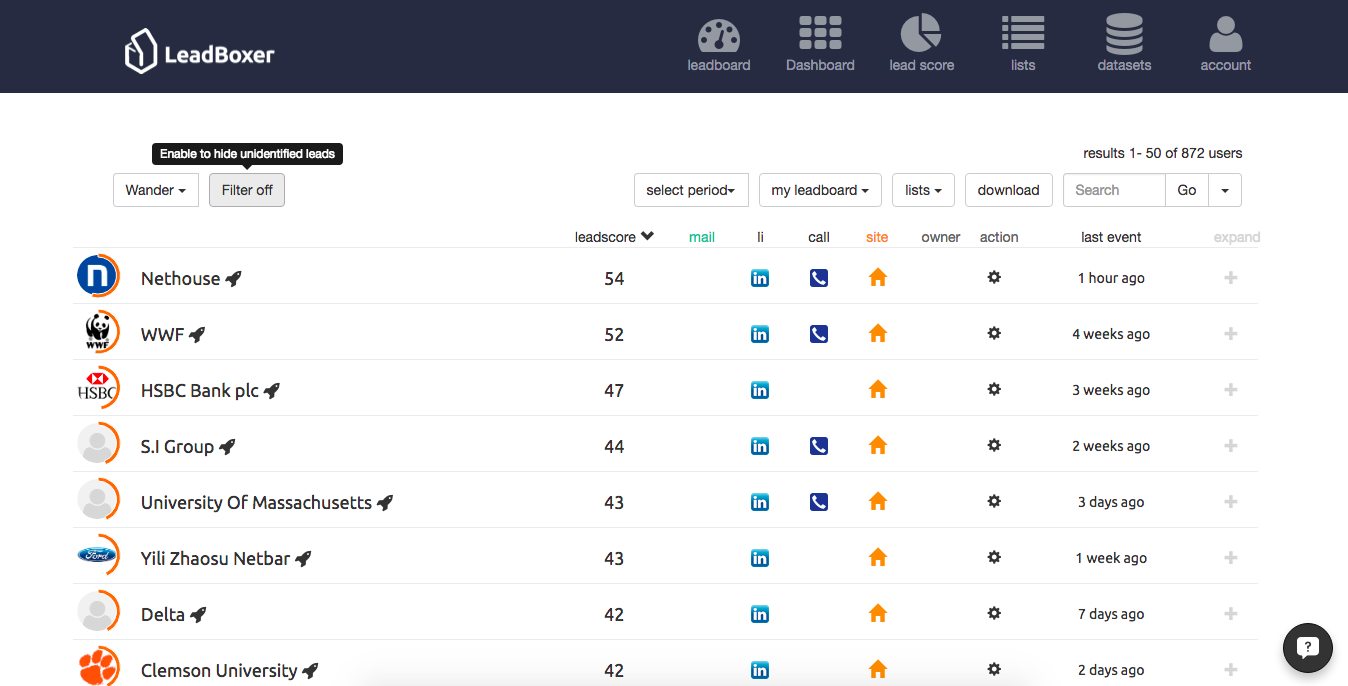 Can You Really Get 100,000 Visitors per Month?
Yes, you can really get 100,000 visitors to your website each month. To get to this impressive traffic number, you will need to be immensely focused on the outcome that you would like to achieve. Remember your goal, create a smart keyword plan, and then craft a content strategy that utilizes your keyword plan.
To make sure that you're getting the right people to your website, you should use LeadBoxer. It will show you exactly who is on your website so that almost no traffic is anonymous.