Since lead generation is a process in the making, we get a lot of questions about timing. The longer you wait, the more details we could know about your lead. While you could take your time to gather more information on leads, you could be losing your client to a competitor at the same time. Because of that, one of the most important steps is to follow up on leads.
Here are some reasons why now is the perfect time to pick up the phone:
1) Your lead has been looking at your pricing page for some time
This is a no brainer, if a lead is looking at your pricing, then they are either considering buying from you or your competitor.
2) There are several mentions of the same company in your Leadboard.
Multiple mentions of the same company mean that their were several employees looking at your website. This is great news, because this means colleagues have been sharing your product or service, or they even had a meeting to discuss buying from you.
3) High amount of pageviews and/or long times spent on the page(s)
If you notice a high amount of pageviews you should contact the lead as soon as possible.
How to Find a Phone Number?
There are different ways of finding a telephone number if this isn't already done automatically.
Simply google it by clicking on the rocket next to the company name. If this does not provide you with a phone number, add the word 'address' or 'phone number' behind the company name and search again.
Who to Ask For?
You identified a 'warm lead' using the above tips, found the right phone number, but you still don't know who to talk to. What now?
Use LinkedIn! Either with the link in the Leadboard which can be seen below or manually by going to the LinkedIn website. In most cases you will know the role of whoever you should be talking to. To narrow down your options, search for this role using LinkedIn's advanced search.
If during your call you find out the person you are speaking to is not the right person than ask who you should contact. In most cases this information will be shared with you. As soon as you have a name and role written down ask the person to transfer you. Getting transferred internally sometimes works better than calling the reception, as this person might be instructed to block sales related calls.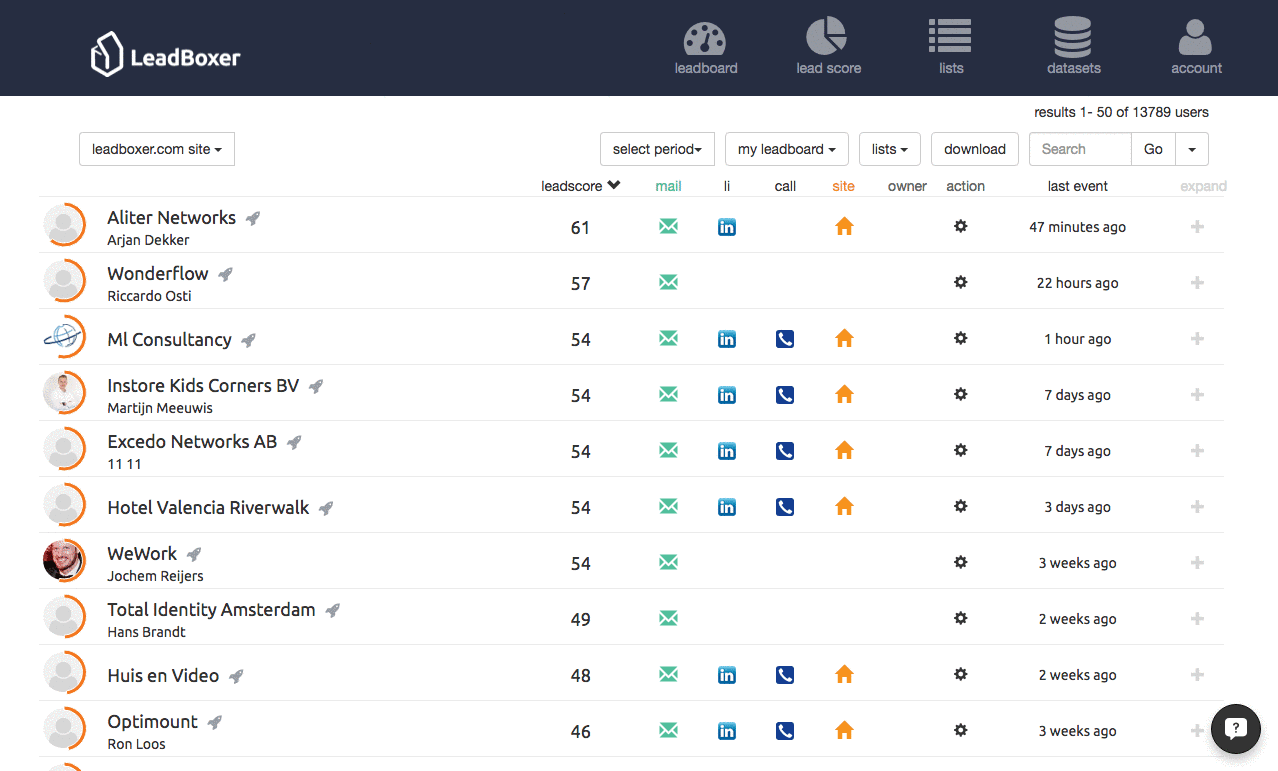 Set a Goal Before You Call!
Before you pick up the phone, ask yourself what you want to achieve. In most cases, the goal of the first call is not to sell your product or service. Although, this will differ depending on the industry you are in.
Some examples:
Find out why they are interested, or in other words what they need.
Identifying & categorizing lead in potential worth
Set a potential closing date
Find out who the decision maker is
Understand which obstacles need to be overcome before you can close the deal
Call Strategy and Questions
To make sure you get the result you want out of your call you need to have a strategy. There are many sales call strategies to be found. We like to use the SPIN strategy to stay in control. Whenever the conversation goes in a different direction, simply ask your next question and you will be back on track.
Situation Questions
You start with asking open-ended questions about their current situation, such as:
What kind of sales tools do you use right now?
How often do you get incoming leads/calls?
Are there any areas of opportunity for improvement within your current sales cycle?
How many outbound sales activities (calls/emails) does the sales team performed on a daily basis?
Problem Questions
In this stage you identify your prospects problems/pains. Some examples could be:
How much time does the sales team 'lose' with prospecting?
Am I correct in thinking that cold calling is very time consuming?
How long does it take on average for a prospect/lead to convert into a paying customer?
Implication Questions
By asking questions about the implications, you help the prospect realise the impact is of not solving their problem/pain.
How has the lack of qualified & actionable leads affected your staff?
How has having people spend time on prospecting & cold calling affected your teams conversion rates?
Has running out of actionable leads before the end of the day ever caused your sales team to underperform?
Need-Payoff Questions
In this stage you make prospects aware of the value your product/service brings to you them.
How much time could you save if you used qualified, actionable leads instead of only cold calling?
Would it be useful to have your sales team focus on warm leads, instead of cold calling all day?
If you could decrease the number of unqualified calls from sales staff, how many additional sales do you think you could make in a year?
Could the API connection with your CRM system we suggest also reduce the time spend on data entry?
Would you receive positive recognition from your management by reducing time wasted on data entry and prospecting and cold calling and therefore improving your conversion rates?
Notes:
As you will probably be talking to many leads, it is very important to make notes during your call.
You can even stop the person on the other end for a moment in order to make your notes by saying:
'Just a moment, this is important to me, I would like to make a note of this. Thanks, please continue.'
The prospect you are talking to will feel like his/her answer is important to you and this will help you to create a better relationship in the long term.
Most of us are not blessed with a photographic memory. So please store your notes in a good place. In most cases this would be in your CRM system. Even if you do have a photographic memory, your notes can be very helpful for your colleagues on your day(s) off.