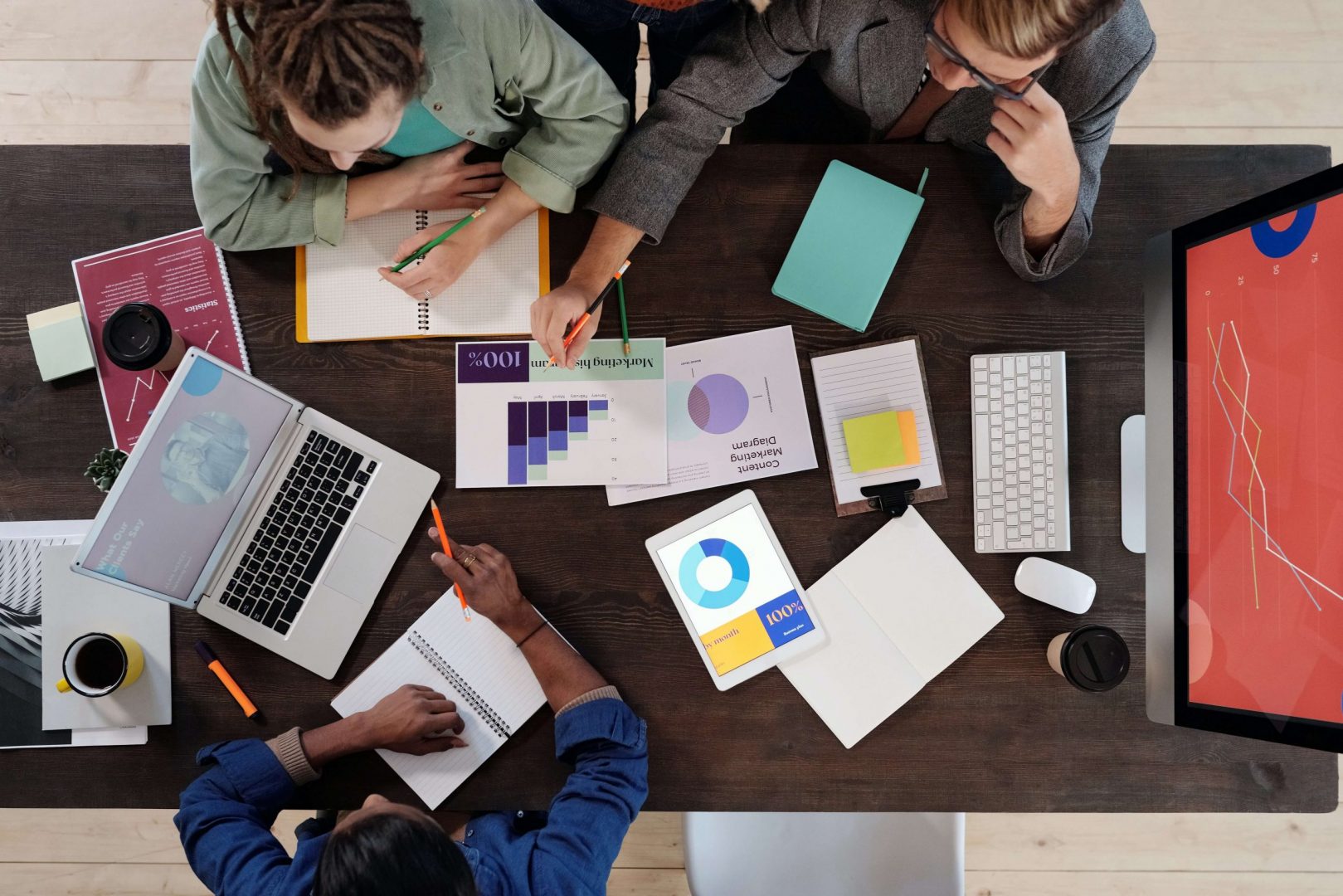 What ultimately determines whether a customer buys from you or a competitor? Is it the price of your product or service, its features, or your return policy? While all those things factor into a person's decision, studies show that your brand's thought leadership is just as important.
In this guide, we'll discuss what thought leadership is and why it drives sales. We'll also dig into actionable, data-backed strategies for how you can cultivate thought leadership. As a result, you'll be able to attract and qualify a constant stream of leads for your sales team.
Read on or jump ahead to these topics:
What is Thought Leadership?
A person or brand is said to possess thought leadership when they are seen as an expert in their field. However, a thought leader isn't just knowledgeable about their industry—they are also the figures who blaze new trails. Research that determines more effective industry techniques and solutions often comes from such experts.
Consider these thought leadership examples:
If you are looking for the latest search engine optimization tactics, your first impulse might be to check the blog of Neil Patel, an online marketing guru.
Top-tier copywriters looking to brush up their skills would likely read the Copyhackers blog or buy a course from them.
Hikers and campers looking to purchase a new mattress pad might consult a comparison guide on REI's blog before hitting the "add to cart" button.
By disseminating high-quality advice free of charge, these thought leaders engender a feeling of trust in their audience. That confidence increases the likelihood that a potential customer will purchase a product or service from them instead of a competitor.
There's plenty of data to back this up. The 2019 Edelman-LinkedIn B2B Thought Leadership Impact Study found that 55% of decision-makers use thought leadership as a way to vet potential vendors before agreeing to work with them.
The same study found that interest in thought leadership is growing. Between 2018 and 2019, the percent of decision-makers who spend an hour or more a week reading thought leadership content grew by eight points.
It is clear that thought leadership is a crucial element of any marketing and sales strategy. Fortunately, cultivating it is relatively low-tech and relies on knowledge and skills you likely already have.

6 Ways to Increase Sales with Thought Leadership
For best results, employ all of these strategies to become a thought leader and leverage your status.
Create Educational Content for Ideal Customers
Thought leadership is often synonymous with content creation. For example, the three experts highlighted in the previous section—Neil Patel, Copyhackers, and REI—all have a robust blog where much of their advice lives.
However, these leaders don't just publish what they think is most important to talk about in their field. They anticipate potential customers' questions and answer them. This shows that you are in tune with prospects' needs and are capable of supplying the solution on demand.
Creating content not only fosters thought leadership but also doubles as a way to qualify leads for your sales team. Once you have a repository of content, you can then track the behavior of people visiting your site. This data will help you zero in on the most promising prospects.
LeadBoxer is a tool that identifies visitors to your site and analyzes the actions they take while there. You can see what content they're engaging with, the duration of their engagement, and the frequency of actions.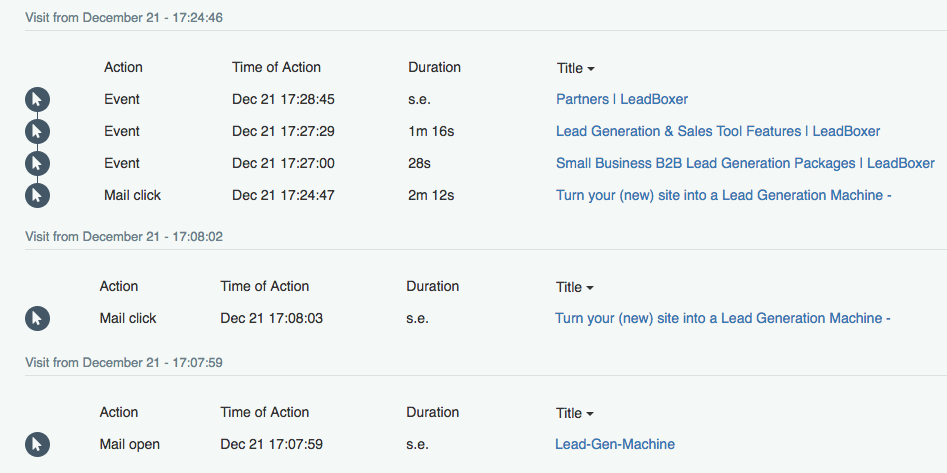 In addition to showing your sales team who they should get in touch with, this information reveals what problems a potential customer needs to solve. This allows sales reps to prepare answers to possible questions that might arise during outreach.
Creating thought leadership content that anticipates and answers questions for ideal customers both drives sales and makes your sales reps' jobs easier. Prospects will be more informed about your industry and product or service, while reps will know who to reach out to and what talking points to use.
Conduct Research or Publish Case Studies
When it comes to creating content, thought leaders don't just rehash what others have already said. They put out studies and research that create new viewpoints for their industry.
You don't need to have a huge budget or poll thousands of people to accomplish this. In fact, case studies about your existing clients are a solid way to build thought leadership.
Consider Copyhackers, a brand that provides education about copywriting. The company's blog features case studies that use data to back up claims about the effectiveness of certain techniques. For instance, take a look at the opening of this article: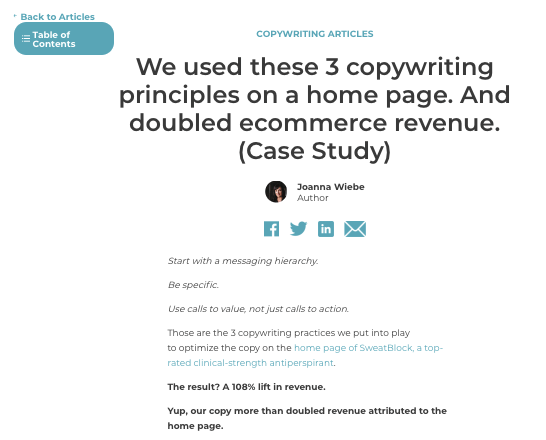 By claiming a 108% lift in revenue, Copyhackers-founder Joanna Wiebe instills confidence in the three featured copywriting principles. Results like that sell your brand without you having to make a more obvious pitch.
Contribute Content to Media Outlets
In addition to putting out your own blog posts, try to create content for other sites. This helps build awareness for your brand and shows potential customers that other industry leaders value your insight.
There are two different types of media outlets you can write for. The first is a mainstream outlet, such as Forbes, Business Insider, or Fast Company. Prospects will immediately know and trust these high-profile sites and magazines.
The second type you can contribute to is a niche outlet. Research which brands are the leading publishers of content in your field. For example, companies looking to increase their clout in the field of digital marketing might try to write for the HubSpot Marketing Blog or the Moz Blog.
Give Talks About Your Field
Like writing for media outlets, being involved in digital or in-person events can raise your brand's profile. This could be something as simple as leading a free webinar or participating in a conference.
Turn Your Sales Reps Into Experts
Thought leadership content is often written or delivered by your company's C-level executives. This helps potential customers connect to the human side of your brand. However, it's vital that all of your employees are just as knowledgeable about your product and industry as your C-level executives. After all, customers will spend most if not all of their time working with your sales and customer service teams.
Picture these two different scenarios:
A prospective customer asks a sales rep a question about your product, and the rep refers them to a piece of content in your knowledge base.
A prospect asks a question, and the rep is able to easily answer it in real-time (though perhaps sending them content for future reference).
Which would you rather experience as a potential customer? Chances are, you would be more likely to buy from a company where the reps can answer your questions right off the bat. This knowledgeability demonstrates a company-wide passion for quality.
Be Strategic in Your Self-Plugs
While thought leadership content is a sales tool, it should be able to stand on its own as a free service. Cluttering articles with plugs for your brand is a quick way to turn off potential customers. People instinctively know when they are being sold to, and might tune out anything that comes after.
However, that doesn't mean you should never pitch your product or service. The key is to be intentional about how you do it.
For example, readers of a long-form piece of content likely won't mind one or two natural segues into a description of how you can help. Those who are actively searching for a product to solve a problem will be even more appreciative of the information.
Case studies are great because they organically tout your brand without you ever having to make a pitch. Readers should reach the end of the piece impressed with your results, so much so that reaching out to you with their problems is a no-brainer.

Get More Sales with Thought Leadership
Thought leadership is simply the process of putting your expertise on display. This is critical for building trust with your prospective customers and ensuring they choose you over your competitors. The majority of decision-makers consult thought leadership content when determining who to give their business to.
Publishing guides or case studies and participating in public conversations are all ways of demonstrating your knowledge. Combining this content with a tool like LeadBoxer lets you qualify leads on autopilot.
Perhaps most important to remember is that the best thought leaders are passionate about education. They find joy and value in creating informative content that, on its own, can make peoples' lives better. Potential customers can sense that dedication and will feel endeared by it.
Already have plenty of thought leadership content and looking for a way to make it work harder for you? Take LeadBoxer for a spin and see how it can transform your blog into a lead generation tool. Get a free two-week trial and try out LeadBoxer today.