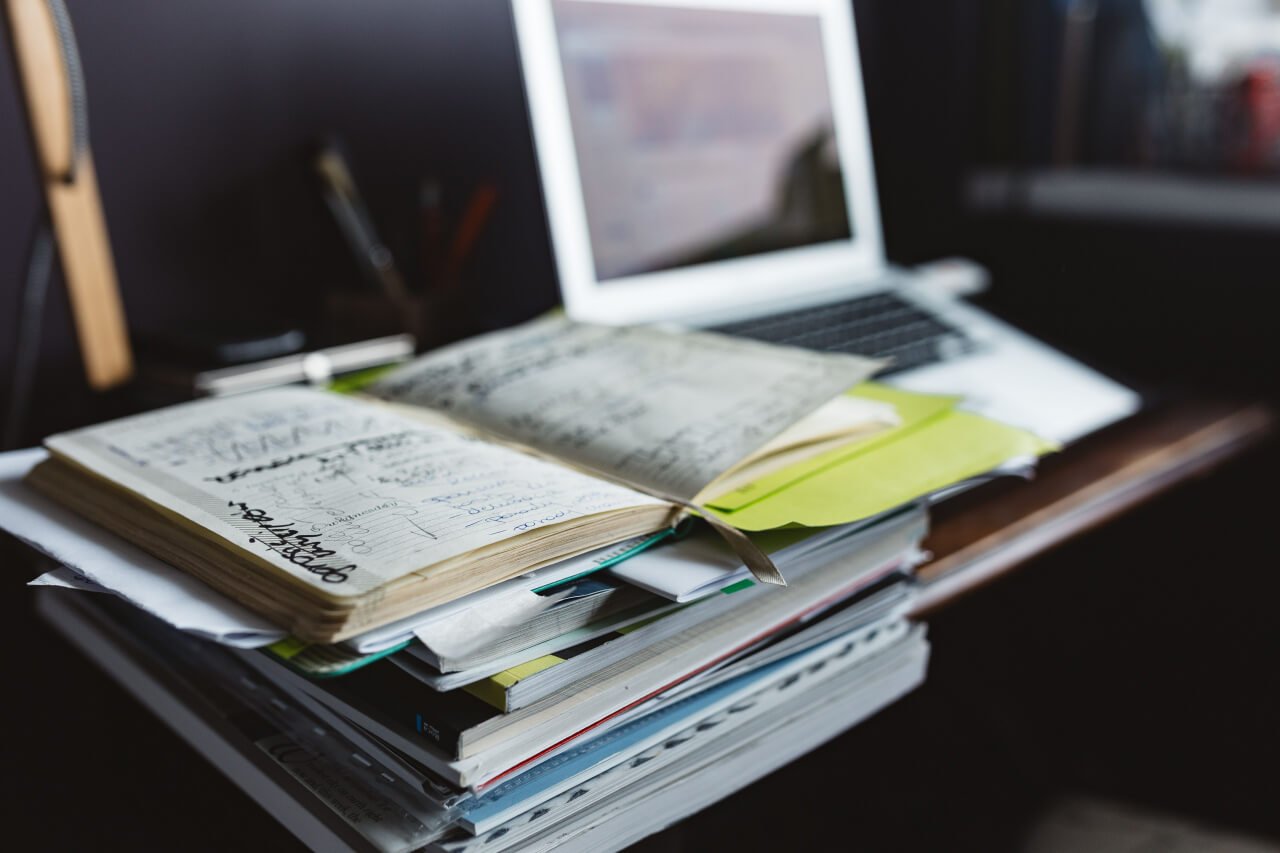 You may believe that closing a sale is the most essential part of the sales journey. However, how that journey begins is equally important. It begins with identifying potential customers—the people who are most likely to convert into a sale. Leads are another very important element in the sales process. Although leads and prospects have some similarities, there are many differences to consider. Understanding these variances can help you achieve more success in your sales efforts – lead generation versus prospecting is what we're going to cover.
Keep reading or use the following links to navigate to different sections:
Sales Prospecting Definition
Sales prospecting is the process of finding, initiating, and developing new business. It involves a wide variety of tactics for targeting potential customers. At a critical stage of the sales funnel, the goal of sales prospecting is to convert prospects into revenue-generating clients.
One of the fundamental elements of prospecting involves finding potential customers who are best suited for your offerings. This process involves understanding the challenges this audience is facing, then finding solutions to those needs.

Essential Sales Prospecting Elements
Sales prospecting techniques and tactics can vary from one organization to the next, but there are some key components to consider.
Ideal Client Profile with Elasticity
Developing an ideal client profile is essential in your sales prospecting efforts. This step involves conducting research into defining your ideal customer. Then, you develop a profile that lists out each of those characteristics.
While it's vital to build a profile of your ideal client, it's best to build one with some elasticity. In the podcast Sales Reinvented, The Key to Successful Lead Generation and Prospecting, Bill McCormick asserts, "You'll want to build an ideal client profile with some elasticity. Don't be so rigid in your profile that you don't look outside of it."
Of course, you want to target prospects who fit your ideal profile, but giving it some flexibility is the smartest tactic. This can lead to developing more prospects, which could eventually result in more sales.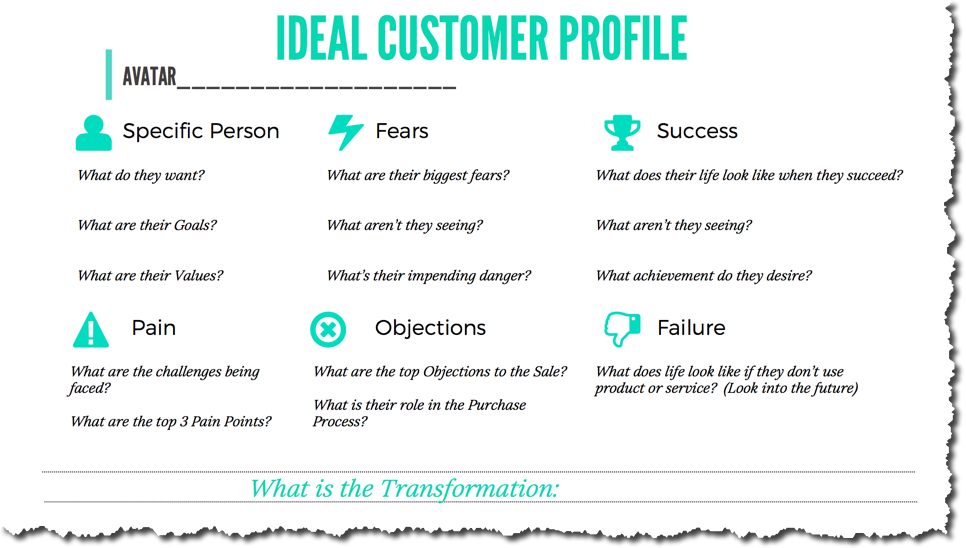 The visual above is an example of an ideal client profile. As you can see, the customer is described using the following characteristics:
Values, goals, wants
Fears
Success
Pain
Objections
Failure
By asking these questions regarding this specific person, organizations and sales professionals can gain insights into whom to target. Knowing this information can lead to making better, more informed decisions in the sales process.

Social Selling
Social selling has become an important component of sales prospecting. It involves leveraging your social network to find highly qualified prospects. This is achieved by building relationships and making social connections.
To have a better understanding of social selling, there are four key pillars to consider:
Build a professional brand
Focus on the right prospects
Use insights for engagement
Develop trusted relationships
A professional brand shows trust. As buyers are selective with the brands they choose, you must position your organization in a professional light.
When it comes to engaging with prospects, you want to be seen as an expert in the industry. Be sure to share relevant industry content with your followers, comment on news alerts, and stay engaged with users.
As 62% of B2B buyers respond to salespeople that connect with relevant insights and opportunities, relevancy and engagement are essential.
LinkedIn is one of the leading channels for your social selling efforts. As it's essentially known as "the social media for business professionals," it's a great place for sales prospecting.
Currently, there are nearly 700 million active users on LinkedIn. This platform is used by business professionals and organizations across the globe that provide many potential prospects.
LinkedIn is a leading destination for social selling for the following reasons:
User-friendly platform
Very popular
Many useful features
Paid media available
Simple messaging
Social selling is also an effective tool for authentically nurturing a prospect. It is a way to show value to the potential customer and position you as a reputable force in your industry.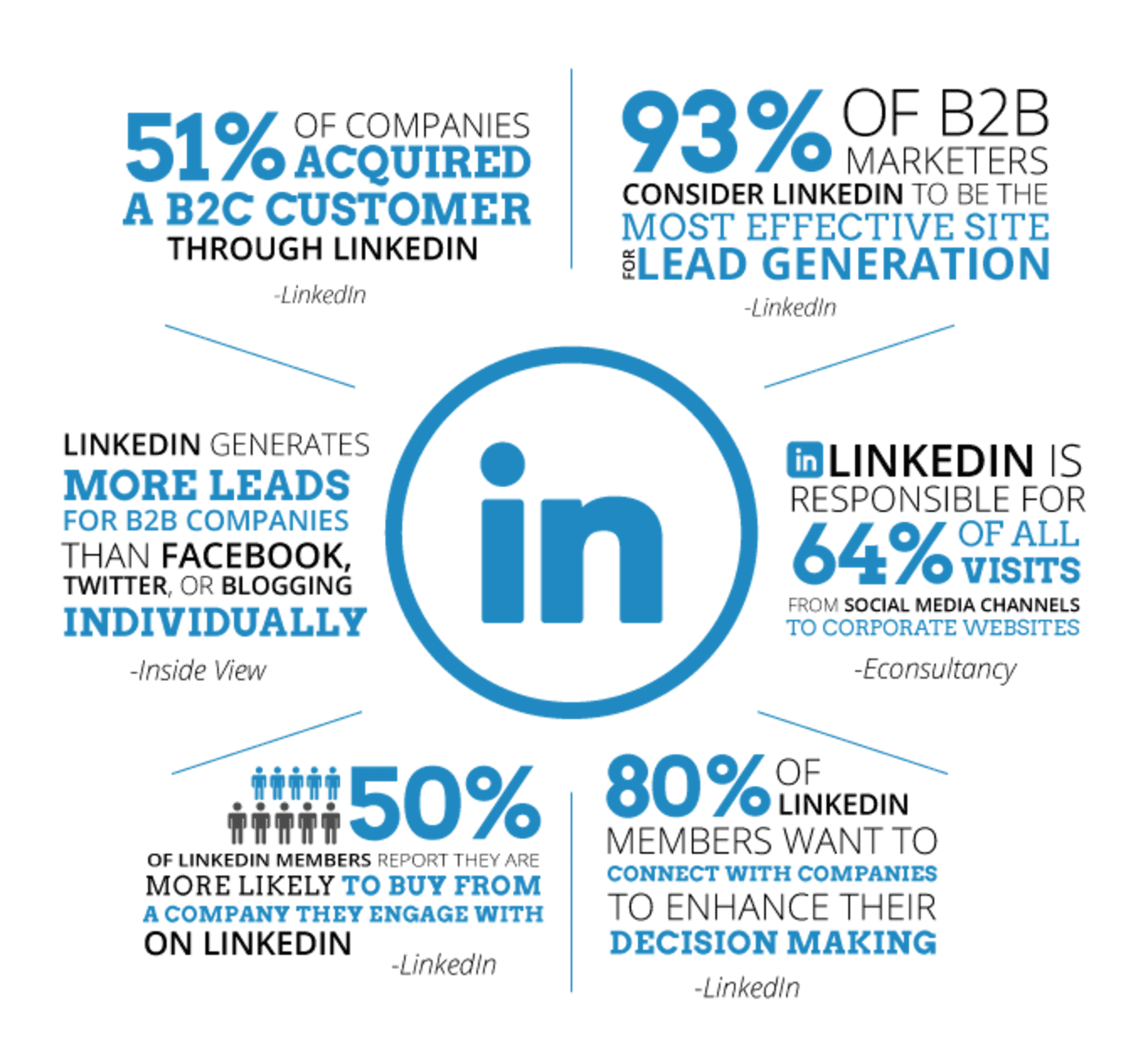 According to the information on the graphic above, LinkedIn has a huge impact on sales prospecting and buyer decisions. If you're looking to boost your social selling efforts, LinkedIn is a great place to start.

"Ditch the Pitch"
A sales pitch has always been a key aspect of any sales process. However, Ben McCormick from the Sales Reinvented podcast urges sales professionals to "ditch the pitch."
"We have to develop ways we are providing value and insight at every turn so we can nurture someone along," Ben adds.
Instead of leading with the pitch, you want to focus on nurturing and adding value through every phase of the cycle.
Authenticity is a big factor when trying to close a deal. After all, customers want to trust you and believe your product or service is what they need. That said, you want to focus on how to authentically nurture relationships with prospects.
As you want to move prospects along in the sales funnel, show them you genuinely care. Give them valuable information and insights wherever they are in the sales journey. Remember to never be pushy, don't pitch right away, and focus more on the conversation.
"Don't think in terms of closing a sale. You don't want commission breath. Think in terms of having a conversation," Bill McCormick adds.

Lead Generation Definition
Lead generation is the process of attracting potential customers to obtain their contact information. The goal is to find effective ways to make someone interested in your products or services. If they do become interested and provide contact information, that's when they become a lead.
While sales prospecting and lead generation do have some similarities, Ben McCormick from the Sales Reinvented podcast points out some clear differences.
"I see a lead like they're at the top of the funnel. They aren't yet qualified, and they may even not be a part of the sales process. But a prospect is someone who is already qualified," Ben notes.
"All prospects are leads, but not all leads are prospects," he adds.
As 60% of marketing professionals say lead generation is a key pain point for their business, understanding its key elements is essential.

Key Components of Lead Generation
Finding highly qualified leads is a vital part of the sales process. Using various techniques and tactics, organizations have developed very specific steps for their lead generation efforts. While this process can vary from one organization to another, there are some key components to understand about generating leads.
It Happens Early in the Process
Bill McCormick points out that lead generation happens in the beginning stages of the sales journey. However, rather than prospecting, lead generation is all about lead qualification.
The process involves quickly assessing an ideal client profile to decide if that person will move to the prospecting stage. Once a prospect, further research is needed to nurture these potential customers through the sales funnel.
Profile of High-Value Lead
Similar to sales prospecting, successful lead generation efforts begin with developing an ideal client profile. However, as you want to convert leads with the most value, it's best to build a profile of a high-value, ideal customer.
Once you design this client profile, it can help you determine which leads to moving forward and which leads to discarding. Once these leads are generated, the next essential component involves deciding if these leads can become prospects.

Lead Qualification
Lead qualification is an important element of lead generation. Although many organizations have different tactics, lead qualification involves the characteristics that qualify someone to become a lead.
This process is completed by capturing client information using the following resources:
Site views
Website behavior
Email subscriptions
Email tracking
Social media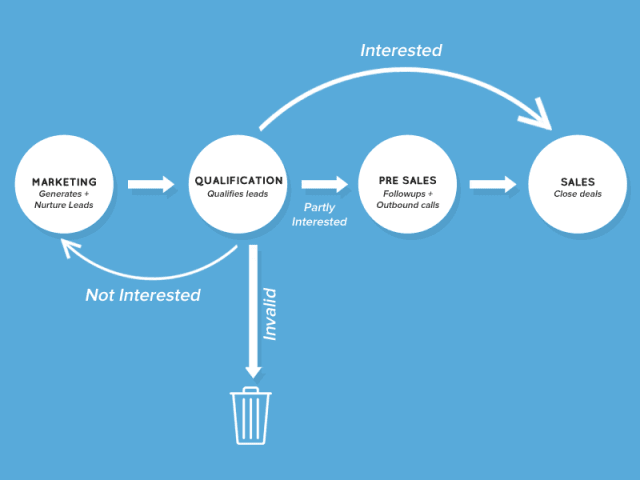 As seen in the graphic above, the lead qualification phase is a vital part of the sales funnel. This step is when a business decides to move on with a lead, or discard them altogether. If a lead isn't interested at the time, they can swing back to the marketing phase where further nurturing occurs.

Targeting and Nurturing Leads Authentically
Just like in sales prospecting, authenticity goes a long way in lead generation. After all, no one likes a pushy, insincere salesperson.
As persuasion is a fundamental element of a sales job, there is a way to persuade in an authentic manner. This is done by providing value and useful insights through natural conversation with the customer.
Ben McCormick from the podcast also mentions how sales prospecting and lead generation should never be rushed. "Timing is everything," he notes.
"If we focus on valuable and insightful conversations, the sales will come when the time is right," Ben adds.
While sales prospecting and lead generation involve many elements, data and analytics are what powers these efforts. LeadBoxer is a platform that assists in collecting and mining data to properly identify high-quality sales leads.