A New Milestone for LeadBoxer
We've spent the last half year developing a completely new feature for LeadBoxer. It is now live for the world to see, so let's dig in and explain why we think it will help a lot of you out there.
Pain: Lead Management
We are constantly talking to our customers in order to keep up with your Needs, Pains, and Wishes. Last year we conducted more than 200 conversations with marketing teams and professionals whereby we learned that many of them either 1) do not have a good overview of their leads, 2) do not have a solid process in place to actually manage all their marketing leads or 3) both.
Here is a breakdown of the relevant pain points we regularly hear which can be categorised into 2 groups: a) Marketing Workflow and b) Lead Management Tooling
Marketing workflow pains: commonly encountered problems
We don't have a good overview of our marketing leads
We are not qualifying our leads, they all go straight to the Sales team
We get our leads from different sources; they are not stored in a central location

I am not sure if the the Sales team really uses the leads we give them

We don't know which Leads convert into customers
I cannot tell which marketing campaigns bring in the best leads
Lead management Tooling pains: commonly voiced challenges
We still use spreadsheets to keep track of our leads
We actually do not have a CRM (yet)
Our CRM is outdated / offline / on premise / no access / not really used
We only put client & customers in our CRM, not leads
I do not want to pollute my CRM with unqualified leads
If you have one or more of the above pain points, we highly recommend you keep reading 😉
Painkiller
When talking and brainstorming about these pains, we often circled back to the original idea we had when we started LeadBoxer some years ago: An application designed to make things super-easy to manage leads in a Kanban-style overview.
Here is the Mockup we made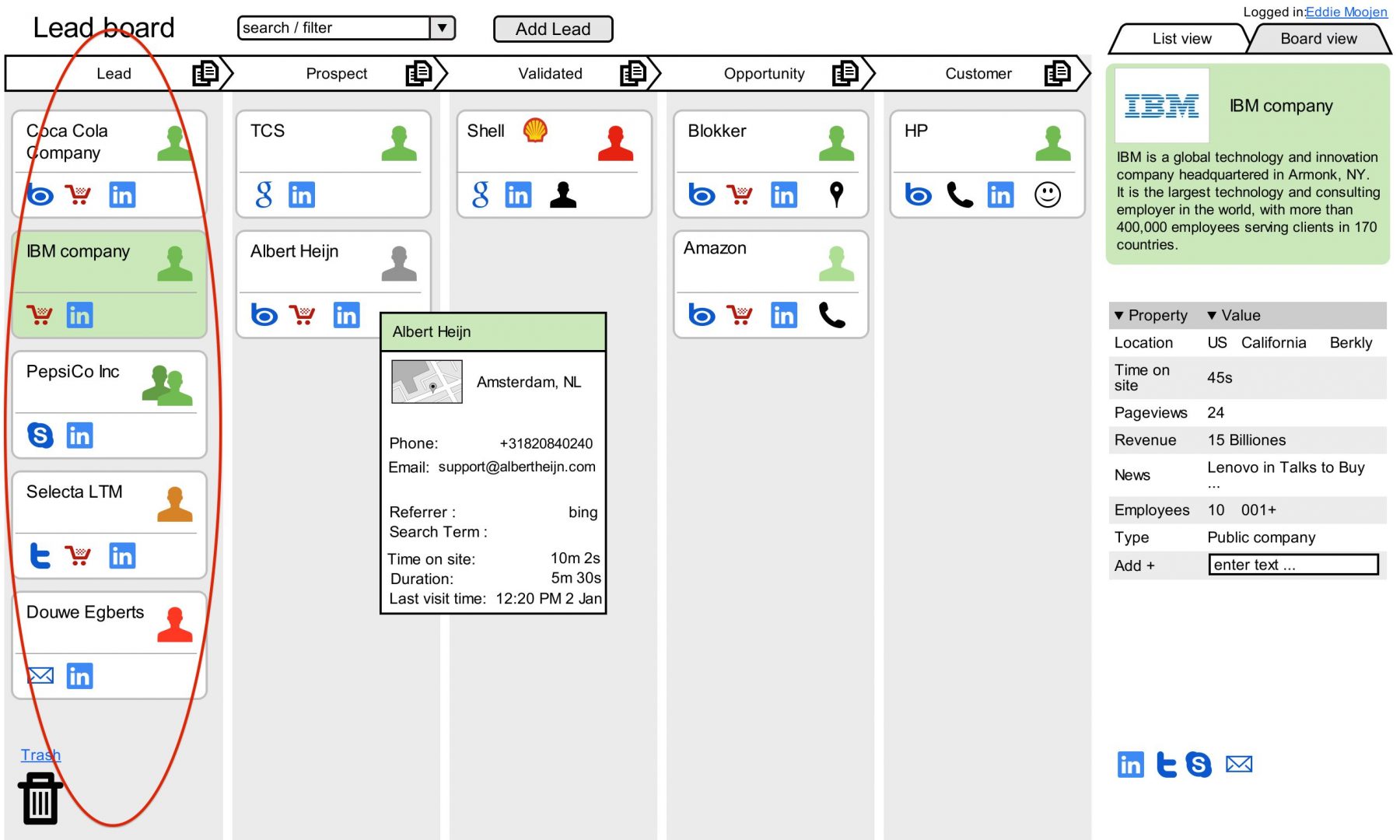 This initial idea was never realised because during our research we ran into a tool called Pipedrive CRM and were blown away with their deal-pipeline-feature. This was really close to what we had in mind, but they had already worked it out and were quite affordable at the time. Therefore we pivoted and started focusing on lead generation and website visitor identification. We also started advising our customers to manage their leads in a standalone CRM (like Pipedrive).
Fast Forward to 2022 and things look very different. LeadBoxer has evolved into a robust and professional Lead identification and Lead Qualification platform with many integrations and connectors to bring all your leads together.
So when we were talking to our customers and we discovered these recurring pain points, and we realised that we might be able to solve many of these pains by going back to our original idea, and making it part of a bigger picture.
Introducing the LeadBoard
The LeadBoard is a new kanban-style overview of your leads, where you can qualify, annotate, investigate, manage your leads, and keep track of their journey towards Sales opportunities and new customers.
But wait, doesn't that sound a lot like a sales CRM?
Yes it does, but it is not. It is closer to a Marketing CRM: a place where leads live before they go to the sales CRM (if you have one).
The big(ger) picture
What we have in mind: our grand scheme is to help Marketing teams of small-to-medium sized B2B businesses to the next level.
Tasks & Responsibilities
Marketing teams are usually responsible for some, if not all of the following tasks: Demand generation, Lead generation, Lead qualification and keeping track for reporting on all of the above.
In a Nutshell:
Demand generation entails using all channels available to drive your audience to your site, serve them emails, host webinars, serve downloads etc. Lead Generation is trying to convince your audience to engage with your content and identify who is actually interested. Lead Qualification is making sure that that the leads that go to sales fit the profile and are 'ready-to-buy' or 'ready-to-contact'.
How that fits in with our big picture:
LeadBoxer has 3 main features/ solutions:
Lead Identification
Lead Qualification
Lead Management
Identify. Qualify. Manage. Using these 3 solutions we can Identify the leads from your Demand-Generation efforts, qualify the leads by bringing all the data together from all sources, and help manage your leads so they don't get lost or simply disappear. Bonus: we can also provide reports for insights and management on all these things.
So that's it: Our plan and roadmap all-in-one.
If this sounds interesting, and you would like to learn more about our solutions, we would love to hear from you! or you can also directly book a call with one of us, we are here to help!
We recommend you read the LeadBoard documentation before you create your first board.
Summary: What can LeadBoxer do for me?
To re-cap: these 5 bullet points demonstrate what your marketing team can accomplish using LeadBoxer:
Measure the actual outcome of all Demand Gen activities
Capture, generate and identify all leads that interact with your content or organization
Qualify your leads by tracking, grouping, enriching and analyzing their profile or behaviour
Manage your leads using the new LeadBoard and see a real-time overview
Report on the complete Marketing funnel, from initial campaign to closed deals