Creating a marketing strategy that appeals to a diverse range of ages can be a difficult undertaking. Mass appeal to multiple generations requires a deep understanding of how each group tends to interact with marketing materials. Planning ahead and using appropriate resources are essential elements of any successful generational marketing campaign.
Reaching a broad range of target audience members during a marketing campaign is important for maximizing your return-on-investment (ROI). The goal of your generational marketing strategy should be to reach potential customers without alienating any key audience bases. 
For tips on creating a successful generational marketing strategy, keep reading, or use the links below to skip ahead:
What Is Generational Marketing and Why Does It Matter?
As you are probably well aware, marketing is not a one-size-fits-all approach when building the right customer base for your business. Even if your team is only selling one product, the pitch needs to be adjusted based on a variety of factors, including age. It's important to understand ways you can incorporate content that appeals to mass audiences throughout your generational marketing strategy to avoid alienating key target groups.
Generational marketing is a strategy that uses segmentation to split audiences by age to better reach each target demographic. Currently, there are four generations of consumers your marketing team should be targeting: Baby Boomers, Gen X, Millennials, and Gen Z. 
It is important to understand that every generation interacts with marketing differently. By understanding which age demographics are in your target audience, your team will be able to produce appropriate content. 
For most businesses, it is beneficial to appeal to multiple generations. By analyzing the preferences of each generation you seek to engage and eventually convert, you can gain valuable insights, making it possible for your team to develop and apply a successful generational marketing strategy.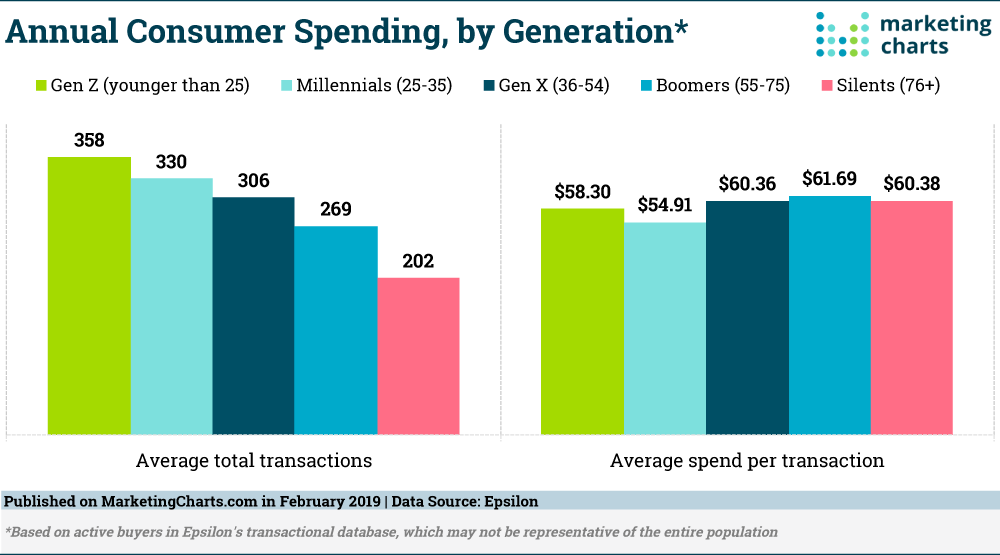 Baby Boomers
In 2024, the Baby Boomer generation makes up 20.58% of the U.S. population. This generation refers to those born between 1946-1964. Basically, they can be considered as the first generation audience and their substantial makeup of the population means they play a significant role in the economy.
Most importantly, Baby Boomers are a generation that has had to embrace major advancements in technology as it has developed at an accelerated rate in recent decades. In comparison, younger generations have had high levels of technology use incorporated into almost every aspect of their lives from a young age. Because of this disparity in experience in terms of technology, many Baby Boomers are used to traditional marketing tactics and tend to prefer in-person interactions. 
This isn't to imply Baby Boomers are out of touch when it comes to technology. According to Pew Research, 71% of adults aged 50-64 use at least one social media site.
Baby Boomers are more likely to be converted through in-store marketing,  event marketing, banner ads, and other offline marketing channels. They are a great example for how a target market can be influenced by traditional marketing methods for maximum outreach.
Generation X
Sometimes referred to as the "Middle Child" generation, Gen X encompasses those born between 1965-1980. This group was the first to grow up with access to personal computers, and tend to be more tech-savvy than their predecessors.
This group makes up less of the population than Boomers and Millennials, coming in at 19.61% of the U.S. population in 2024. They might be the smallest generation in this list of different age groups but most Gen Xers make the purchase decision for themselves, hence they are a silent generation will better spending power than Millennials and Gen Z.
Gen Xers tend to be swayed by customer testimonials, and it's helpful to provide a mix of effective marketing which includes mix of traditional marketing, SMS marketing, and other digital marketing strategies.
Millennials
Also known as Generation Y, Millennials surpassed the Baby Boomers in size in 2024. Currently, Millennials make up 21.67% of the U.S. population.  The largest generation by the percentage.
They born between 1981-1996 are classified as Millennials, which means they grew up during the rise of technology. Marketing to millennials can be tricky because they tend to have a large online presence and a good grasp of digital marketing tactics. 
There are more than 80 million millennials, most of whom are very active on social media and tend to consume information on their cell phones. This target customers can be attracted and engaged with common online marketing channels like content marketing, email marketing, and social media marketing.
Generation Z
A young generation on the rise, this group makes up those born between 1997-2012. They account for 20.88% of the U.S. population, but only a fraction of this group is old enough to enter the workforce. Most probably some of them don't have a purchasing power.
Gen Zers grew up online, and have embraced social media on mobile devices from a young age. They tend to have a shorter attention span and the ability to consume different forms of media simultaneously. A  survey by the National Retail Foundation (NRF) shows 74% of Gen Zers consider 'spending time online' to be a hobby. 
As a unique group, Gen Z may not be fully entered into the workplace yet, but that hasn't stopped them from having a substantial impact on the economy. The NRF found that consumer spending on Gen Z equated to $829.6 billion. 
Generation Z prefers quick messaging, influencer marketing, and dislikes marketing ads on social media platforms that disrupt their online experience. Basically they are unresponsive to traditional marketing they tend to lean toward tech-savvy sales tactics, but they place a larger emphasis on quality when it comes to products.
Establishing Your Target Audience
With such diversity spread across the generations, it is important for your marketing team to know which groups they need to target. Not all products will appeal to a mass audience, and that's okay. By knowing your customer base, your company can allocate its resources towards marketing efforts aimed at reaching the right people. Hence generational segmentation in important.
Start by creating your ideal customer profile. The idea is to target clients who will most likely benefit from using your product. Odds are, your customer base will span across several generations, but it is possible it may not appeal to all of them.
Creating an ideal client profile takes time and resources. But the information gleaned is worth doing the necessary research so you understand who is most likely to benefit from and purchase your service or product. This information will prove vital in assisting your marketing team as it begins creating successful campaigns aimed at nurturing potential customer relationships. 
Once established, take a look at the generational demographics of your target audience. If your list contains members of Generation X or younger (and it most likely will), your team should start thinking about the best marketing approach is to incorporate social media into its campaigns.
Millennials and Generation Zers are known for their online presence, but they are also in tune with marketing tactics. When it comes to marketing these groups don't want to be bombarded with ads during their content scrolls, but they do want quality information delivered in an easy-to-digest format. 
According to a consumer survey, 81% of consumers prefer receiving personalized communications from brands. This means your company needs to establish which customers are buying your products and then find ways to personalize effective marketing campaigns.
What is Attitudinal Segmentation?
Similar to generational marketing, attitudinal segmentation involves splitting your audience into groups. Rather than focusing on age, attitudinal segmentation groups customers together based on shared beliefs. This strategy dives deeper into the way customers think and feel.
This type of audience segmentation can help your marketing team personalize their outreach based on the feelings of specific customer groups. It is also most successful when combined with other tactics, such as generational marketing.
Using these strategies together can help maximize outreach and avoid alienating key audiences. When beginning the implementation of attitudinal segmentation, starting off with a few simple questions can kick start the process.
Try establishing motivations with questions like "Why do you…", or focus on opinions with "What do you think of…". These answers are a way to reach and segment your audience members into groups based on their purchasing behaviors. By understanding the way consumers feel, your marketing team will be able to develop content that speaks to the needs of your customers. 
The Importance of Brand Loyalty Across Generations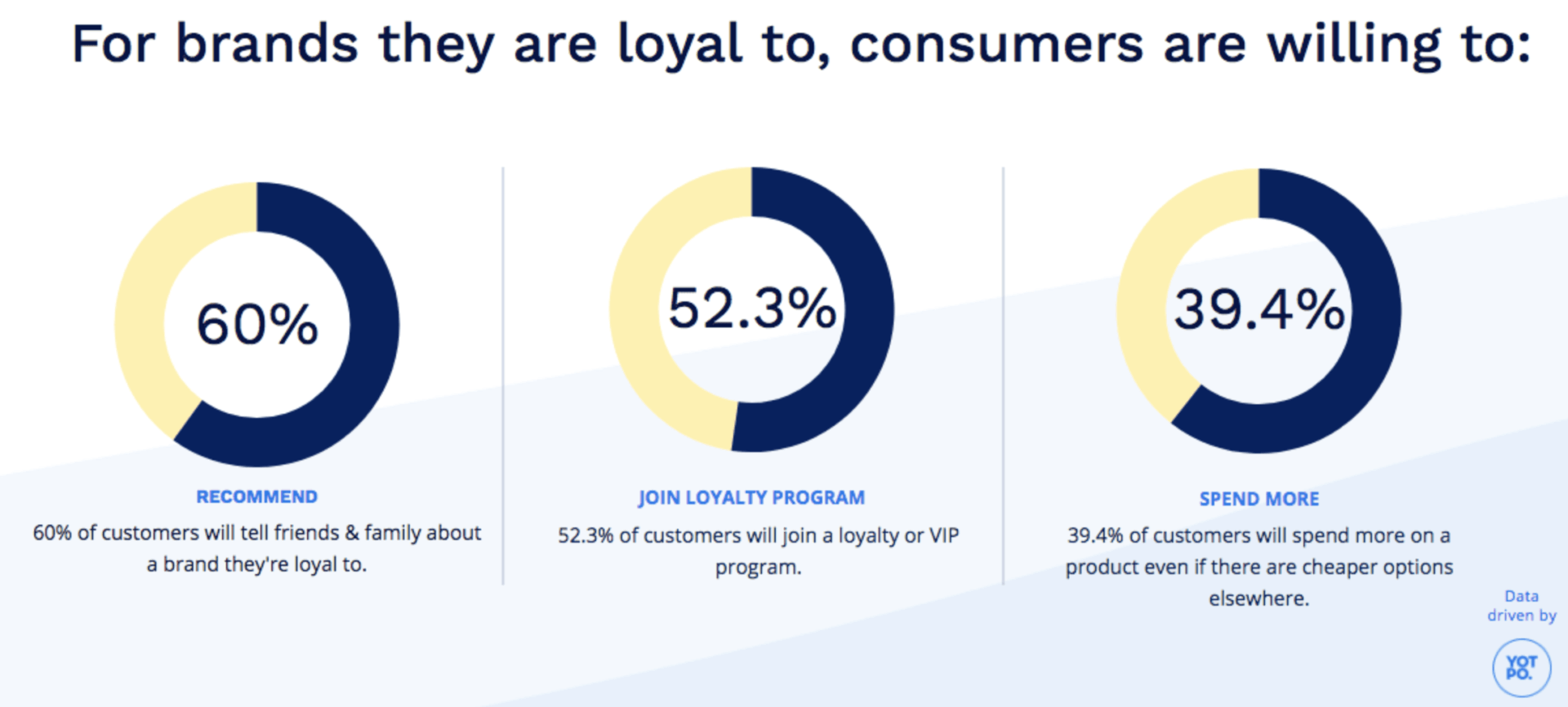 There is more to creating a successful marketing campaign than simply understanding generational marketing, preferences, and customer attitudes. Audience engagement helps lead a marketing campaign to the finish line by filling the sales pipeline with qualified leads ready to start the purchasing process. 84% of consumers will interact with advertising when they feel loyal to the brand. 
The sales cycle begins with marketing touchpoints that happen long before customers get the chance to speak with the sales or customer service departments. That means brands start building their reputation from the moment content is extended to an audience. Establishing and maintaining a credible brand is important for encouraging customer engagement.
According to Havas, over half (60%) of brand-related content fails to deliver and is considered clutter by consumers. Before taking any concrete steps to plan a marketing campaign, the team should understand that consumers value quality over quantity when it comes to brand communications. 
Generational and attitudinal marketing align when it comes to understanding what customers want to get from a brand. Not all consumers share the same attitudes, and many are loyal to the same brands for different reasons. Diving into the insights that generational and attitudinal preferences share with brands can help your team create a successful campaign that reaches the correct audience.
For example, Gen Z looks for brands who are able to provide for the greater good and offer value. As a group that has grown up connected to communities through the internet, 68% of Gen Zers say they expect to see brands positively contribute to society. On top of their overall belief in bettering society, Gen Zers look for tech-savvy brands. In fact, the majority of this group won't engage with websites/apps that are slow to upload. A brand with omnichannel marketing is bound to attract this generation.
Gen X is known for being the most brand-loyal generation. Statistics show four out of 10 Gen Xers will stick with brands with which they have already established relationships. Continued outreach and implementation of customer feedback will be important to maintaining a good loyalty program with many in this age group.
Along with preserving a good standing among consumers, brand loyalty leads to repeat purchases by customers. Studies demonstrate purchases by repeat customers are vital to success, accounting for up to 65% of a company's business. Brand loyalty helps establish long-term relationships with consumers and encourages multiple purchases from these buyers. 
In between buying cycles, marketing plays a large role in nurturing customer relationships through targeted content. This outreach helps your company and the services or products to stay top of mind for consumers. 
Creating a Generational Marketing Strategy Without Alienation
After taking a deeper look at the different generational motivations, the best place to start with campaign creation is understanding how incorrect use of this information may cause alienation. Generational marketing can help successfully reach out to consumers across different age groups, but overgeneralizations about the target generation can cause more harm than good. 
While understanding generational differences, especially with the preferred communication styles, is important for marketing, it is just as important to avoid stereotyping. A successful generational marketing strategy will combine with attitudinal segmentation to provide a positive personal experience for the target audience. 
To start a successful campaign, it is important to identify where age will play a role within your company's outreach. Knowing how generational differences factor into your brand will help your team segment audiences appropriately.
Diversity Within Generations
One of the main problems with traditional generational marketing is failing to take into account how large these groups are. For example, with 80 million Millennials in the generation, it is safe to assume not all of these consumers share the same beliefs. All of the generations are made up of diverse groups who may act differently from their peers.
Consumer age can provide insights into their preferences, but these trends do not replace a personal connection with the customer. Simply assuming your client will act a certain way due to their generation can cause tension and potentially ruin the business relationship if those assumptions are proven false.
Implementing attitudinal segmentation alongside generational marketing can be a great way to find middle ground when creating campaigns. Using data that provides insight into customer opinions, purchasing history, and lifestyle, these tactics can help companies avoid getting caught in a stereotype trap. 
This allows your marketing team to focus on creating content for groups with similar interests, rather than just age. By delivering quality content that speaks to a consumer's preferences, attitudinal segmentation can boost overall engagement and reach mass audiences.
Stick With Tried and True Marketing Tactics
Social media usage continues to grow across generations, but traditional marketing tactics still have a place in campaigns. Email communications continue to be the preferred marketing channel for most generations, except Gen Z. 
Continue to communicate with groups via email blasts, but focus on tailoring content to reach the targeted audience. Segment these groups based on preferences like the amount of communication the consumer wants or specific products they may buy. 
Quality customer service remains a high priority for consumers. According to Microsoft, 69% of U.S. consumers view customer service as an important factor when maintaining brand loyalty. Customers will continue to repeat purchases from companies they view as excellent in the customer service department. To ensure these efforts are reaching the right audiences, tailor your customer services to the needs of different generations. 
Millennials and Gen Z are known for their online presence, and online customer service options make addressing these issues easy. For those who may prefer a more traditional route, implement customer service over the phone and make sure consumers are able to interact with a real person. 
Marketing for Tech-Savvy Groups
A huge mistake that can be made during generational marketing is assuming some groups may not be active on social media. While Millennials and Gen Z tend to spend more time online than others, it would be incorrect to assume Gen X and Baby Boomers avoid the internet completely.
68% of Baby Boomers are active on Facebook, which means a majority of this generation sees Facebook advertisements daily. For those companies who want to utilize social media for all generations, sticking with traditional outlets like Facebook can help with effective outreach.
Two-thirds of the Millennial generation are active on Facebook daily. Reaching Gen Z, however, may be more successful with Snapchat or Instagram, since over 50% of this generation uses these apps daily.
Due to the Millennial's and Gen Z's tech-savvy lifestyle, digital marketing tactics are important for reaching consumers in these age groups. It is important to have a strong understanding of the way these groups interact with online communities to maximize outreach efforts.
According to Epsilon, 75% of these generations shop online with their smartphone. That means usability across devices is important for closing sales. Website compatibility and access on smartphones will help connect younger consumers with your products. The study also found that Millennials spend more money online than other generations. Having the ability to purchase items directly on a website is important for tapping into this generation's spending potential.
While Millennials lead the way in e-commerce buying on sites like Amazon, Gen Z has adopted a different tactic when it comes to online purchasing. According to Forbes, 97% of Gen Z view social media as their main source of shopping inspiration. Being able to purchase items in apps, like Instagram, TikTok, and Pinterest, helps Gen Z have a more personalized shopping experience. 
While younger generations tend to lead the way in online shopping, multi-generational households are changing the way older generations make purchases. Baby Boomers with kids are 42% more likely to shop online. 
77% of consumers in Gen Z who still live with their families say they have an influence over household food and beverage decisions. These multigenerational interactions mean it is important to maintain digital marketing with mass appeal. 
Embracing Brand Authenticity
Generalizations about age groups are nothing new, but falling into these traps can be detrimental to your generational marketing strategy. Avoid getting stuck in the belief that all boomers hate technology or that millennials are entitled. These stereotypes often find their way into conversations, but they alienate audiences and can negatively impact your brand's image.
Instead, focus on authentically presenting your brand in a way that can resonate across generations. Consumers are smart, and they will easily identify inauthentic attempts to 'fit in'. For example, unless it is already part of your company's persona, using cheesy social media lingo can be a turn-off to younger customers.
According to a study done in 2018, transparency is one of the most attractive qualities for 69% of consumers. Hiding behind generational stereotypes can cause customers to feel as though your brand is not presenting an authentic vision. Forbes points out that over one third of Gen Z follows brands that they like, which means consistent branding is important for this generation.
Not only does the youngest generation care about authenticity, but overall, brands with consistent presentation saw a 33% increase in revenue. Across generations, consumers are focused on the image a company presents and how its actions back this up. With customers holding the buying power, authentic brands will benefit and continue to rise to the top.
Key Takeaways
Generational marketing is not a one-size-fits-all strategy. Marketing teams should avoid jumping into a campaign that is based on age alone.   Instead, creating a diverse plan with attitudinal segmentation and patterns based on generational behavior will avoid the alienation of key target audiences.
Embracing technology works for all generations, but some may require more creativity to be persuaded into a purchase. Stick with traditional outlets to reach Baby Boomers and Gen X, but don't be afraid to try out new platforms like TikTok in hopes of reaching Gen Z. Maintain authenticity and transparency across all social media and email, though. Consumers will appreciate consistent branding, and this can increase your company's brand loyalty. 
Establish your target audience through a range of factors. Look into their lifestyles, communication preferences, and product interests. Segment your audience based on attitudes and opinions, as well as generation when applicable. Focus on creating brand loyalty and rewarding repeat customers. 
Overall, generational marketing can help companies better reach their targeted demographic, but it is crucial to approach this strategy with ample research. To avoid missing out on outreach to key audiences, combine generational and attitudinal marketing strategies for a successful campaign.
For a free trial on using customer insights from web traffic, check out LeadBoxer!