You've generated a new lead, now what? Conversions happen when your pipeline is filled with quality prospects that are in the market for your product. Determining which leads will turn into active accounts is an important first step in the sales cycle. Lead generation focuses on gathering potential customer contact information. Sales prospecting takes it a step further to convert leads into revenue. Setting aside time and other resources for these processes will help improve your sales conversion rates. The best way to start your customer pipeline is by outlining the ideal client profile as a way to guide your sales and marketing efforts.
Read on or "jump" ahead to these sections to learn more:
What Is an Ideal Client Profile?
Before you can begin planning, you need to understand what an ideal client looks like for your company. A client profile is a strategy that helps determine which prospects are most likely to convert. This information allows you to personalize marketing tactics and use appropriate resources to create conversions.
Your client profile is a fictional representation of your best sales leads based on research, past experiences, current leads, and your team's resources. The goal of this outline is to help discover what your target audience should be.
This strategy is crucial for successful lead generation and sales prospecting efforts. The ideal client profile illustrates that not all generated leads align with your company goals.

Creating an Ideal Client Profile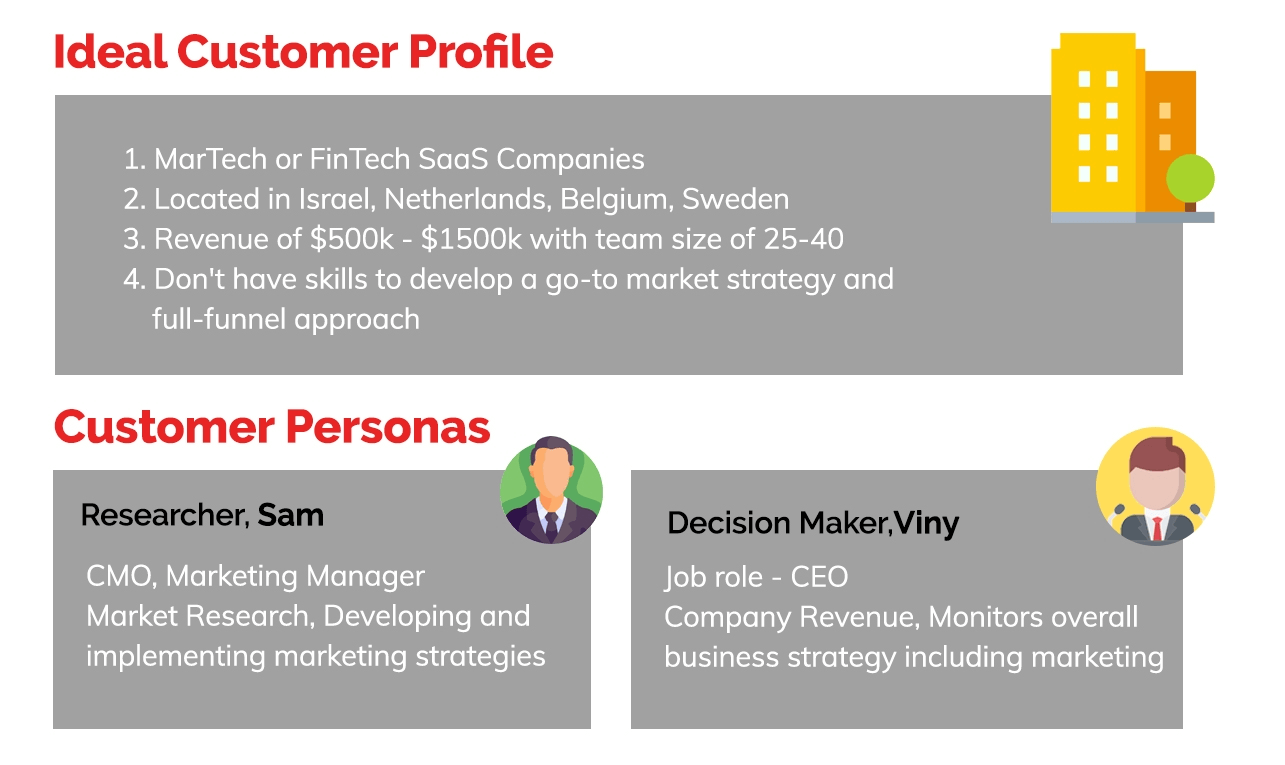 Creating an ideal client profile is an important step in taking your business development cycle to the next level. This requires research, time, and resources to properly determine your target prospects. Allowing your collected data to drive this process and maintaining flexibility are key factors in building an accurate client profile.
Conduct Research Based on Current Clients
Whether you have a developed sales pipeline or are just starting out, research is the most crucial step in the creation of this profile.
If your company is already well-established with a substantial customer database, start by identifying your top clients. Research and compile answers to the following questions:
What makes this account profitable?
How long has the account been active with your business?
Does this client provide constructive feedback on your services?
Do you provide a high return on investment (ROI) on the requested services for this account?
Next, analyze the data surrounding these businesses and their interactions with your company. Pay attention to the ways these customers are responding to your digital marketing tactics. Focus on their social media presence, website traffic, and responses to email campaigns.
After gaining an initial understanding of their role within your pipeline, set aside time to conduct client interviews. This will allow you to dig deeper into their actions while strengthening your relationship with these accounts.
Make sure to focus on gathering insight into the following:
The decision-making process for business transactions
Company data such as industry, budget, and location
Company goals and current challenges to their mission
Purchasing decisions for your product
Using these research tactics will help you gain a better understanding of the role your company plays in each customer's continued success. This gives you tangible evidence of how your product is being used while enabling you to examine the various ways companies interact with your brand.
Research Prospects and Industry Trends
While analysis of your current customer relationships provides valuable insight as to how your services are used by existing customers, it's equally important to gather data on prospects within your industry. This allows you to explore new brands and discover leads in your target audience.
Use sites like LinkedIn to investigate what experts are saying about your industry. Join social media groups and listen to webinars to keep up with current trends. Knowing the market and tracking how potential clients use social media helps you tailor your marketing tactics to effectively communicate with prospects.
Compile Your Data
The next step in creating the ideal client profile is compiling data and resources to build out the profile. This information will come from market trends, current customer data, and research on potential clients.
Use the following categories for your profile's outline, and fill in the information based on your research:
Background and demographic information
Communication style
Company goals
Potential challenges your clients may face
Decision making and purchasing processes
This profile should be reviewed by your sales, marketing, and customer service departments. Consistent communication about the ideal client profile across internal departments will allow your sales team to stay focused on high-quality prospects.
Remaining Flexible With Ideal Client Profiles
Of course, you want to reach out to potential accounts that fit your ideal client profile. But you also want to remain open to going after prospects with minor differences.
The point of determining your ideal client is to help your teams engage with target audiences, and then convert that customer engagement into sales.
This tactic is extremely helpful in determining which leads are worth your time and those that don't match your company's goals. An examination of industry leads that don't precisely fit your ideal client profile may inform your sales team and aid your attempts to expand the reach of your brand.

Ideal Client Profile vs. Customer Persona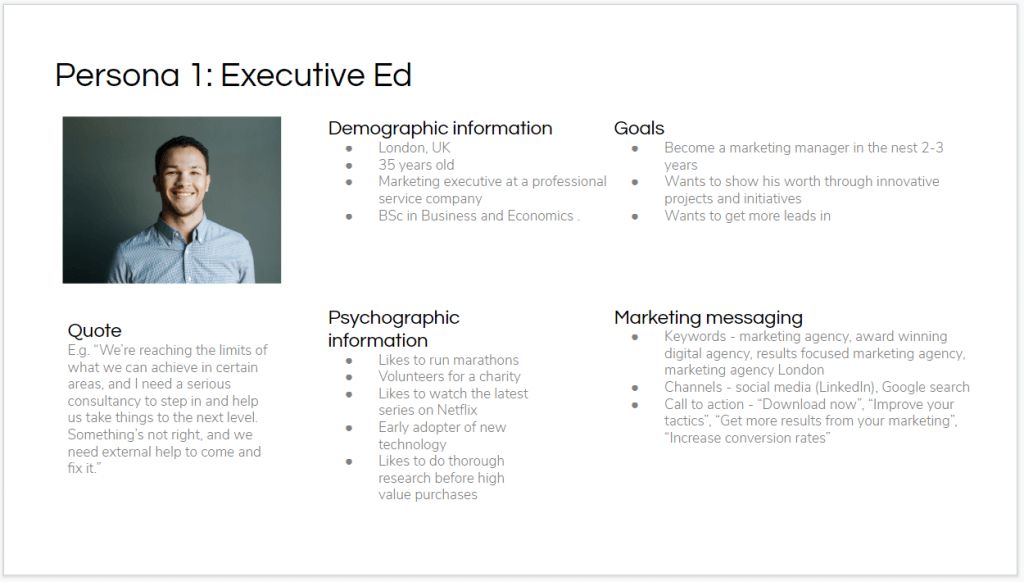 An ideal client profile shows your model sales prospects, while a customer persona is the representation of that ideal buyer based on research and data.
The two terms sound similar but serve different functions in the process. A customer persona is a detailed analysis of the employees who make sales decisions, not the company itself. This encompasses the different buying patterns seen in the profile of your ideal client.
Companies may have multiple personas. While there are specific roles you will interact with to land a sale, each employee will have a different personality. This varies depending on who your sales team interacts with and the challenges each of these employees face in their day-to-day work.
These personas help your business interact more effectively with leads. Your marketing tactics can be tailored to fit the different roles each of these personas encompass.
For example, you may interact with a "by the book" salesperson, rather than someone who is open to nontraditional pitches. Doing this allows you to shift messaging across departments as needed to show how your product can be beneficial for a range of account types.

The Links Between Ideal Client Profile and Customer Persona
A solid client profile and a well-defined customer persona can work together to inform your decisions on which leads and prospects you should pursue. Your ideal client profile focuses on identifying prime targets, and your customer persona helps find the best points for communication.
Think of it as your ideal client profile doing the front-end of the cycle by identifying qualified leads and generating prospects. Then, the customer persona continues the process by targeting messaging and communication efforts to the right audience.

Ideal Client Profiles and Account Based Marketing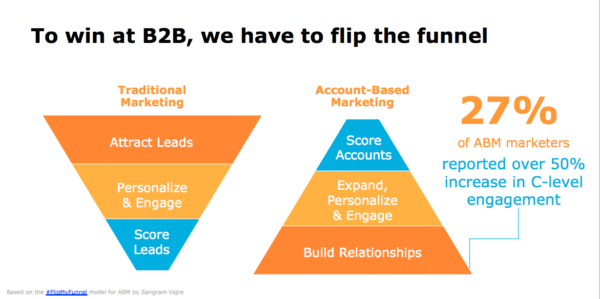 Account based marketing is a strategy that allows sales and marketing teams to collaborate to target potential accounts for high conversion rates. This allows companies to spend resources on the leads that are most likely to generate revenue.
Your ideal client profile plays a major role in account-based marketing strategies. If you understand your target audience, you'll be able to successfully communicate the ways in which your product can specifically help each prospect.
Account based marketing strays away from the one-size-fits-all messaging. Instead, it allows businesses to emphasize the parts of their services that will benefit individual companies.
Using the description detailed in your profile, your sales team gains a deep understanding of which leads will most likely be interested in your product. From there, your marketing team will be able to research and target the correct audience.
With a firm understanding of the role, your company plays in your ideal client profile's business model, account based marketing strategies allow for personalized messaging. Potential customers will be shown the benefits of your product through multiple channels.

Using Your Ideal Client Profile
There is a large amount of work that goes into creating a completed profile. To maximize the return on your efforts, proper implementation of the profile goes a long way.
Target leads with high conversion potential. This profile gives an outline of the ideal client that will be most interested in becoming a buyer. Your sales team should use this data for lead generation and prospect cultivation.
Use the information from your profile to guide the content coming from your marketing team. Develop keywords that highlight the main aspects of the ideal client profile. Use consistent themes that speak to a company's needs.
Make adjustments to your outlines as the market changes or your business grows. The best part about this strategy is the opportunity for growth as your company discovers new leads.
Continuously research current and potential clients, keep up with industry trends, and tailor your ideal client profile as needed. Also you can learn about creating sales urgency to help.
By devoting time to reach out to potential customers who fit this profile, your conversion rates will improve.