In today's digital world, your customers are skeptical. It is easy for anyone to say anything online. With all the information, your B2B customers will likely listen only to opinions from those whom they trust.
Continue reading or use the links below to "jump" ahead:
The power of referrals is undeniable. Roughly 84% of B2B customers start their buying process with a referral. Additionally, companies with a B2B lead referral program have a 71% higher conversion rate.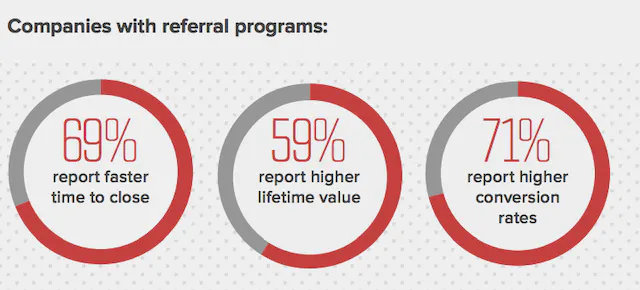 What Is a B2B Referral Program?
A solid way to close more deals is through a B2B referral program. Referral marketing incentivizes satisfied customers to recommend your product or service to business decision-makers.
A referral program involves a process, often with a web page on which customers can enter business contacts. Occasionally, contacting representatives of referred businesses is not a B2B referral program. Instead, these recommendation programs track referrals and reward your customers when their recommendation produces a sale.
The Advantages of Having a B2B Referral Network
A network of customers who refer businesses to your brand can expand your B2B referral program and improve its effectiveness. Below are some advantages of a B2B referral network:
Increased Sales
Word-of-mouth advertising is the basis of B2B referral marketing. When a prospective client is referred to you through someone they trust who loves your brand, they most likely will convert. Referrals can improve conversion rates by up to 71%.
A referral network builds relationships, improves customer experience and expands word-of-mouth advertising about your products and services. These three B2B referral program benefits increase sales.
Lower Acquisition Costs
While getting new customers boosts sales, acquiring them can be expensive. It costs five times more to get new customers than keep current ones.
B2B referral programs lead to lower acquisition costs for new customers. Leads and signups recommended by a current customer are more likely to buy. This is because these new leads trust the opinion of the person who loves your product or service.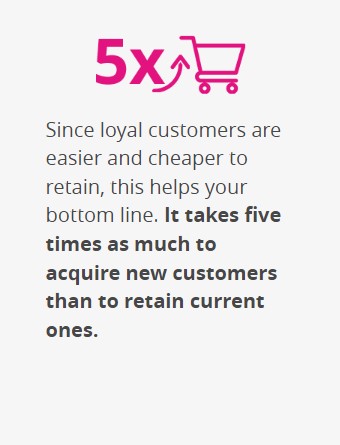 Lower Churn Rates
You will have customers leave over time. Churn rate is the percentage of customers who stop doing business with you. You must have new customers to balance the amount of existing ones.
Besides lowering acquisition costs, a B2B referral program can lower churn rate. In fact, referred customers have a retention rate 37% higher than non-referred ones.
B2B referral marketing programs are powerful lead-generation tools that attract high-quality leads. These leads will likely stay and do business with you over the long term, reducing churn.
Increase in Customer Lifetime Value (LTV)
Customer lifetime value (LTV) is the total revenue a customer generates for your business. LTV increases the more someone spends and the longer they are a customer.
A B2B referral program improves customer LTV with enhanced engagement with your company. Referred customers loyal to your business have a 25% higher lifetime value when recommended by friends, family members or colleagues. Customers will invest in your brand when the social proof and reputation of someone they trust are on the line.
Promote Brand Awareness
B2B referral programs are excellent ways to promote your brand through word-of-mouth advertising. The more people talk about your brand, the greater your exposure, resulting in more sales.
Brand awareness offers the following additional benefits:
Builds brand equity
Makes scaling up easier
Allows you to collect data on your audience for future marketing endeavors
Why B2B Referral Marketing Is So Effective
B2B referral programs increase the likelihood of closing deals. Below are some ways referral marketing is effective at producing sales:
1. Customers trust referrals.
Customers trust referrals from people they know. Reviews and recommendations from others perform much better than conventional advertisements. Studies show people are four times more likely to buy when referred by a friend.
2. Referred customers are more loyal.
When customers are referred to your company by someone they trust, they will stick around. Referral marketing helps potential customers start with a high opinion of your company.
3. Increase ROI
Referral marketing programs increase your return on investment (ROI) because it is more cost-effective than other forms of marketing. Getting customers through referrals can be up to five times less expensive than traditional advertising channels.
While there are costs with the rewards you offer, the benefits to your customers will be worth it. As mentioned, these referred customers are high-quality and will likely become loyal customers.
Your B2B referral program can be even more cost-effective with the types of rewards you offer. Awarding points or credits to people who recommend your brand can be cheaper than giving an immediate gift or discount.
4. Increase your marketing reach
Word-of-mouth marketing is an effective way to spread awareness of your brand and build credibility. Customers trust you when they hear good things about your offerings from those they respect.
People who recommend your brand to others become your brand ambassadors, offering free advertising. Referral advertising is limitless since nobody can prevent people from talking about your business. You also expand your potential lead base as your ambassadors will have diverse circles of acquaintances.
5. Easy setup
B2B referral programs are quick and easy to set up because many are automated. All you have to do is decide which rewards to offer and what people must do to earn the rewards.
You can also create a referral marketing program by asking customers to share the name of whoever referred them. You then reward them according to what your program outlines.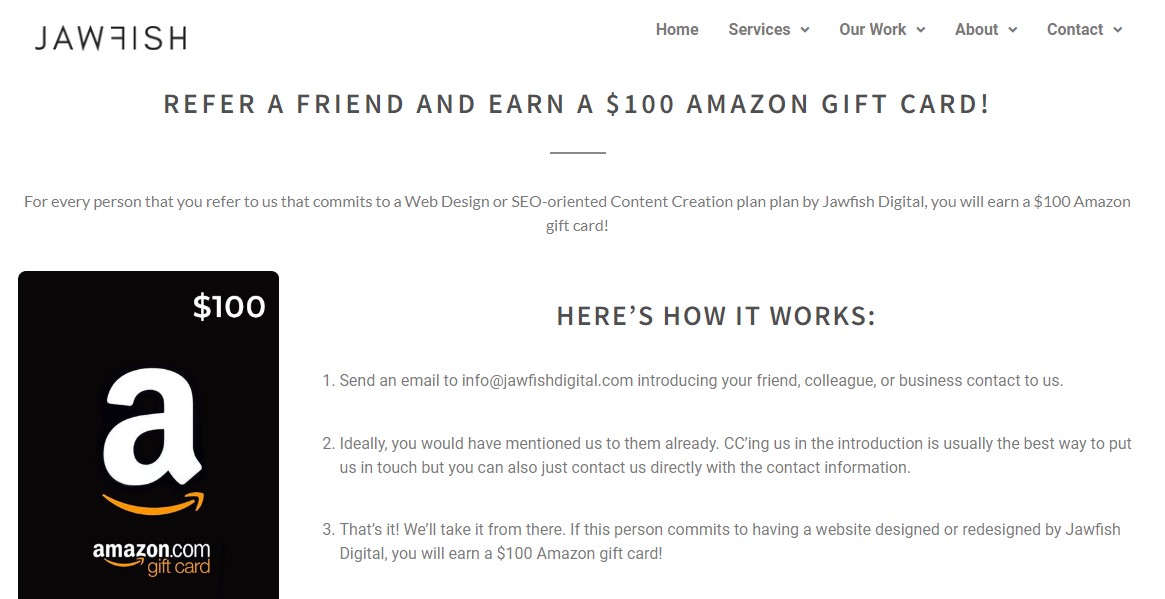 6. Collect valuable data
B2B referral programs allow you to gather information on prospective leads and market trends. When you know your referrals, you can give them an engaging and personalized experience by meeting their needs.
7. Increase customer engagement
Consumers buy from brands that are engaging with them. Customers are more engaged in sharing your brand through a referral program. A B2B referral program will drive brand advocates back to your website, increasing the chance of a sale.
8. Boost your social media
B2B referral marketing allows people to refer friends to your business via social media. Incentivizing loyal customers to promote your brand on their social networks will expand your social media presence.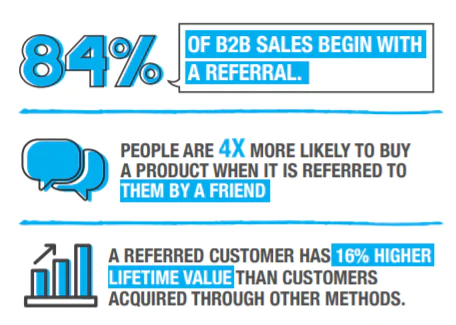 How to Build a B2B Referral Program for Your Business
You may be wondering how you start building a B2B referral program. The first place to start is to figure out the right rewards for your B2B referrals.
To offer the right perks, you must know your audience and provide rewards that your referrals will enjoy. Gift cards, discounts on goods and services and credits are popular B2B referral program rewards.
After deciding on your B2B referral marketing rewards, here are some things to consider when building your program:
Establish a service agreement with a referral section built in. When onboarding new customers, let them know you appreciate and reward referrals.
Request referrals either via phone or in-person from satisfied customers. If you get a glowing review from a customer, ask them to refer your business when thanking them.
Send follow-up emails. After communicating your referral program to customers, follow up with an email campaign.
Conduct customer satisfaction surveys and questionnaires. Ask your customers about the quality of their experiences with your brand and services. Follow up with the ones most likely to refer you.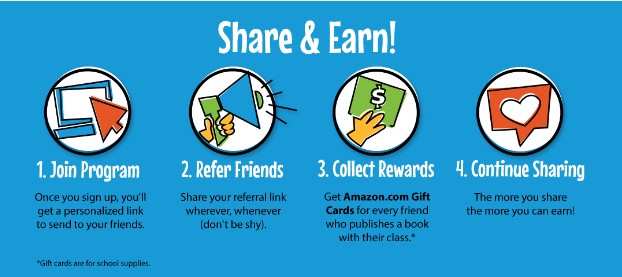 Examples of Successful B2B Referral Programs
The benefits of having a B2B referral program have convinced you to create one of your own. You know what you need to get one off the ground, but what does a good referral marketing program look like? Here are some examples of companies with effective referral programs:
1. Bench Accounting
Bench Accounting is a fintech company that provides automated bookkeeping software. Bench Accounting's B2B referral program offers a free month of accounting to friends of existing customers.
2. Airtable
AirTable offers an all-in-one solution for teams to collaborate and communicate. Their referral marketing program gives credits to those who recommend the company to others.
Those who refer others to Airtable receive 100 credits for new accounts and 25 credits should those customers upgrade. Credits go towards discounts and perks.
3. SurveyMonkey
SurveyMonkey is a SaaS company that allows businesses to create and analyze the results of surveys. SurveyMonkey uses referral software to run its program automatically. Their referral marketing program gives members $500 for every organization registering a SurveyMonkey account.
4. DigitalOcean
DigitalOcean provides businesses with a workforce management tool to help them with their IT needs. DigitalOcean offers many perks based on the actions taken by the referrals.
With their B2B referral program, members receive a $25 credit when a referral spends $25. Members receive $100 and a 60-day credit when a referral adds a payment method.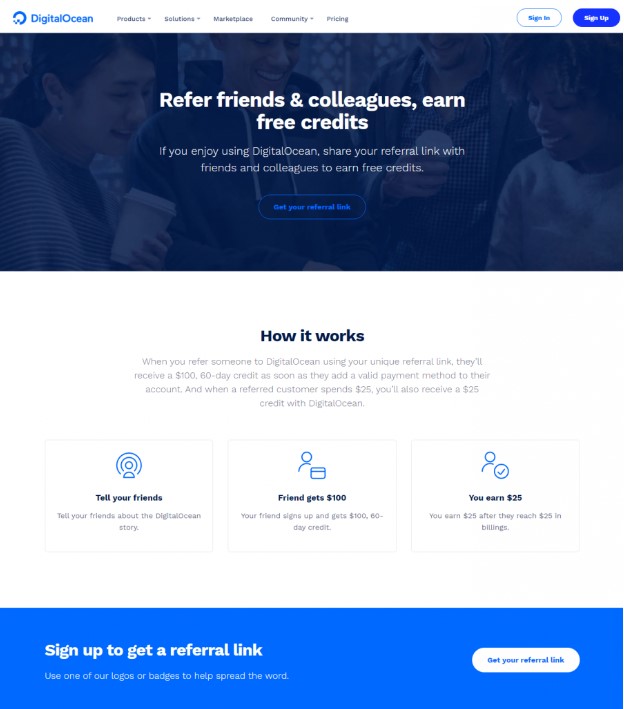 5. Hotjar
Hotjar allows businesses to analyze and understand the behavior of people who visit their websites. Their referral program offers different rewards for different levels of referrals
The top referrer receives a free lifetime business account. The top-five runner-ups get a free hoodie. Those who make five referrals get a free T-shirt.
6. Jawfish Digital
Jawfish Digital is a content marketing and web design agency offering clients content creation, web design and e-book production services. Their B2B referral program awards $100 Amazon gift cards to anyone who recommends their content or web design services.
Businesses that want to attract quality leads and close more deals need a B2B referral program. These marketing programs offer many benefits and are easy to set up and customize.
Conclusion
Check out LeadBoxer today to learn how it can significantly help your company increase its lead generation through custom lead scoring combined with 20 of the most popular and requested app integrations.